In Indiana, craft beer and philanthropy are greater than pint-sized partnerships.
With over 400 beers to sample from over 100 breweries there will be plenty of craft beer this Saturday, February 3 at Brewers of Indiana Guild's Winterfest. And as with every Brewers of Indiana Guild festival, three dollars from every ticket is shared with a non-profit organization. 
Joy's House has been the philanthropic partner Brewers of Indiana Guild's Winterfest since its launch ten years ago, annually contributing a significant portion of Joy's House scholarship fund to afford service to people with limited means.
"In 2017, Joy's House received $25,001 from [Winterfest] that went directly into our Guest Scholarship Fund. A total of $52,721 was raised for Guest Scholarship; meaning 47 percent was raised through the Winterfest event," reported Laura Weiger, Joy's House community engagement manager. She then added that the partnership is more than dollars. The presence of Joy's House personnel at the coat check leads to conversation and picking up a brochure, and that leads to referral marketing and volunteer recruitment.
The remainder of each ticket purchase directly benefits local Indiana breweries by funding the nonprofit Brewers of Indiana Guild which is dedicated to supporting Hoosier brewers through legislative, marketing and educational efforts, explained Tristan Schmid, BIG's communications director.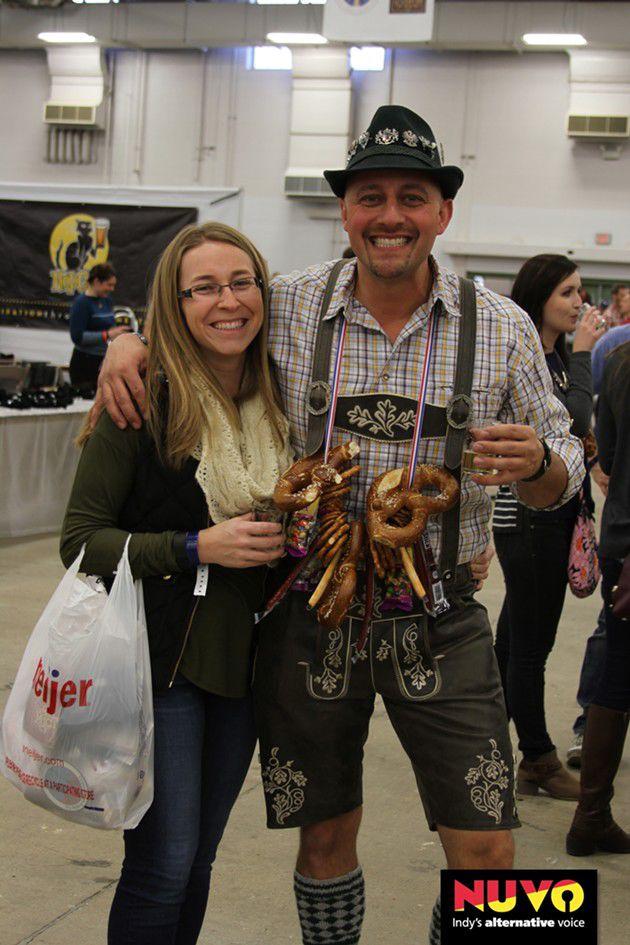 "Ticket proceeds are reinvested in projects like the Drink Indiana Beer app, DrinkIN magazine, and the Indiana Craft Brewers Conference. Paying breweries for beer and putting on a fun and safe beer festival featuring dozens of breweries and hundreds of beers isn't cheap," says Schmid.
Brewers of Indiana Guild was founded in 2000 by some of Indiana's 24 original microbrewers. Brewers of Indiana Guild Winterfest launched on Jan. 24, 2009 as Indiana's first cold weather beer event. 
Joy's House Broad Ripple opened in 2000 to provide daytime care for adults living with physical and mental challenges; this, in turn, allows caregivers to work and gain respite. They also have a location at University of Indianapolis. 
Winterfest!, originally branded with an exclamation point, had its genesis in 2008 with a long view toward the 2012 Super Bowl coming to Indianapolis.
It was a bold step, according to Penn Jensen, executive director of BIG at that time. The Guild's summertime Microbrew Festival at Opti Park in Broad Ripple, with the Lymphoma and Leukemia Society as its philanthropy partner, was a proven success. 
Now, the intent was to "do something at a time of the year, when not much is going on, to promote communication and education about craft beer," said Penn during an interview in 2008. "We're talking about winter beers," he explained, "that side of the style sheet that isn't always promoted…darker beers, porters, stouts and barley wine." 
Special to Winterfest was the introduction of the cask tent with the boldest of bold beers warming those braving single-digit outdoors temps.
But the scope was broader. Indianapolis was slated to host the 2012 Super Bowl. 
By starting in 2009, explained Penn, "We're going to have an established major event by that weekend. What we are doing is positioning ourselves to capture the high end of winter sports fever with high-quality Indiana brewed beers and other Hoosier products. The goal"is to make [Winterfest] a cultural event for Indiana's craft world." 
At the turn of 2009, the 10-year-old Indiana craft beer industry had two dozen craft brewpubs and one production brewery. They, and a hardy troupe of emerging craft patrons, filled the Champions Pavilion on the Indiana State Fairgrounds. Sun King, Indianapolis's first modern craft production brewery, did not open until July; it had an introductory presence. 
The 10th Annual Winterfest on Feb. 3, 2018, precedes this year's Minnesota-hosted Super Bowl by a day. And this year expect 100 Indiana craft breweries to be pouring samples at Indiana State Fairgrounds' largest space, the West Pavilion.
In an email exchange, Tristan Schmid directly referenced "the difficulty we had getting getting some people in the door last year due to a domino effect that started with scanners going down.
"We've implemented a corrective action plan at each of our subsequent fests to make entry as smooth as possible for beer lovers. This includes improved signage, plans for technological issues, better communication at the event between staff, volunteers and attendees, and special entrance for those who get their wristbands before the event at 'pre-wristbanding' events."
"We also reduced the number of tickets sold by a few thousand," reported Schmid, as part of the effort to make Winterfest fully pleasurable for those who do attend.
Schmid also pointed out, "New for Winterfest 2018 are raffles for those who get pre-wristbanded to win goodies, including IN Beer Brigade memberships that includes entrance to launch parties for Stuck in the Middle, recently brewed collaboratively by Central Indiana craft brewers at Sun King Brewery. Scmid advises, "visit the Monon Beverage booth next to the Drink Indiana Beer merch booth to get a taste of Stuck and sign up for membership."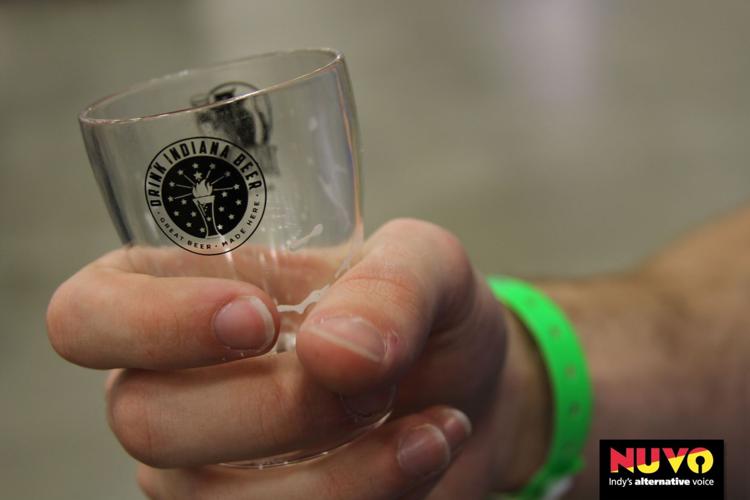 "For all intents and purposes, three staff people, BIG Events Chair Steve Llewellyn (brewer/founder of Bloomington-based Function Brewing, which celebrated their 4th anniversary on Jan. 18), and a small army of volunteers put an enormous amount of energy into this event," said Schmid. "We've done our best to make things right for those who had difficulty entering last year, and we hope that not only is the event fun and safe for all of our guests, but that there is a recognized value in this being a mission-focused event, allowing [Brewers Guild] to continue offering educational, legislative, and promotional support to 150+ Hoosier breweries, while benefiting consumers with the availability of carryout sales on Sundays from IN breweries, guidance from the Drink Indiana Beer app, and as always, fun festivals."