18th Street rang in the new year with Imperial Blud on draft at both the Hammond Brewpub and Miller Taproom and in bombers for $22. Imperial Blud is a Russian Imperial Stout that is brewed with cocoa nibs, cinnamon and Dark Matter Coffee.
While I missed that party in 'Da Region,' here in Indy I shared Indiana craft lagers with friends, who agree the bounty of flavorful options trumps fizzy and bland trucked in from elsewhere. 
Upland's Free Time Vienna lager is now a year-round option. Pouring bright copper, its perfectly balanced malt and hop profile is crisp, dry and slightly toasty with a sweet caramel finish showcasing high quality malts from Lebanon-based Sugar Creek Malt Co.
Mad Anthony's Auburn Lager, a Great American Beer Festival Gold Medal winner, delivers as an Amber Lager should — flavor that's rich and malty, slightly sweet, and closing with a refreshing hop crispness. Their Olde Fort Blonde Lager, pours pale sun rays and offers a lower malt sweetness and subtler hopping than does the Auburn Lager.
MashCraft's Delaware taproom is offering two new lagers, Pippi Lagerstocking red lager, malt-forward with a prominent caramel character, and Java Ed red lager with Julian Coffee Roasters Sunday Morning Blend Coffee. Though on a lager trail, I took a detour with Country Roads, a rich English brown ale imparting wafts of chocolate and nuts. [Adding this to my roster of fine Indiana brewed Browns.]
As a side note, New York Times Jan. 5, 2018 posted a column by Isaac Asimov with the headline: "Brown Ales May be Unfashionable, but the Style is Timeless." Should we mention to Mr. Asimov that NUVO led with a post on 11/29/2017? 
Broad Ripple Brewpub's Some Like It Bock, is a true-to-tradition balanced sweet, lightly hopped lager with a rich toasty taste, hints of caramel and a smooth aftertaste. 
Then, I again strayed from my lager trail to 'ring in the season' with BRBP's annual Wee Alec, a warming "sweet and very full-bodied Scottish ale, mahogany in color with rich caramelized malt flavors predominating."
I strayed a bit further with Bicycle Route 35 porter aged in a bourbon barrel to offer a trace of black licorice and vanilla flavors followed by a shoulder-spreading alcohol warmth from the bourbon and whiffs of oak from the barrel. By then it seemed right and proper to toast a new season of Victoria on WFYI-Public Television with Tart Lizzie [Named in honor of the current Queen of England]." Hazy pink, sweet aroma, tongue tartness from black currants for subtle balance throughout. 
Round Town Brewery's all-around favorite Vienna style lager just appeared on Big Red Liquors store shelves in four-packs, 16-ounce cans sporting cheery wrap-around artwork. As the label tells it "We put a slightly American twist on a classic Vienna lager to make what we're calling an 'every day beer.'" The beer has hints of toasted bran, with a touch of malt sweetness balanced by a slightly heavy handed use of delicate noble hops to finish crisp and keep you coming back for more. It's always on tap at RTB's Taproom and elsewhere around greater Indy.
While I planned to stay focused on the wide range of Indiana craft lagers for this column, there's a lot more enticing me and for you to explore: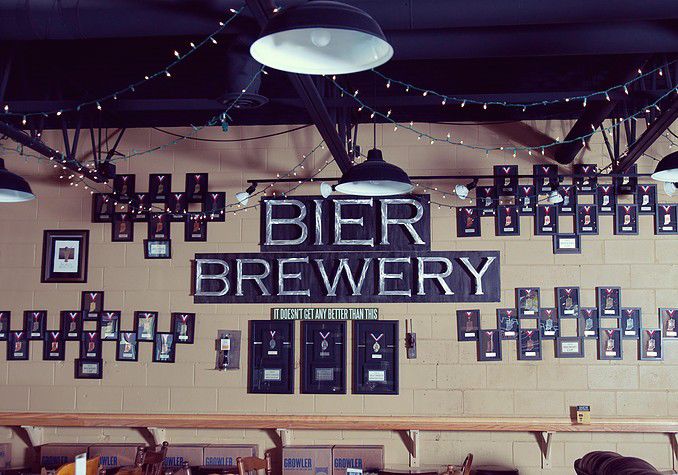 Bier is ratcheting up its line-up in cans. Baseline IPA in 12-ounce six-packs will be in stores by the end of January and joins Tracker, Kolsch, Weizengoot, Backpacking, ESB, PDG and Dankzilla already on shelves.
Sun King's SKB IPA is new for year-round availability in six-pack 11-ounce cans and on draft. SKB also offers citrusy Lupulin Astronaut IPA now in 16-ounce cans designed by in-house artist William Denton Ray and on draft at both Sun King locations. Other seasonals up now on draft are: When the Lights Go Out coffee porter [also in six packs]; and draft only Wee Muckle Scotch ale and Whip Fight Bourbon Barrel-aged Wee Heavy with chocolate. 
Flat12's raspberry kolsch and roasty oatmeal stout are on draft all over while Brett Aged Belgian pale ale is on draft only in the Taproom. Lactomatic milk stout is universally on draft and in cans; Ministry of Rye old ale is on draft and in 22-ounce bombers.
Half Moon's brewer, John Templet, attributes their Grapefruit IPA's tropical fruit and citrus aroma and flavor to Citra hops. The beers tart freshness comes from grapefruit added after fermentation. Both flavors are balanced against premium Marris Otter malt from England. Half Moon's master chef specially pairs this newly up beer with a blackened catfish po' boy, but any fish dish goes well. Also on tap is a Half Moon's regular MILF-n-Honey Wheat infused with black cherries. 
Upland's newly renamed Crimson, formerly released as Malefactor, is an American take on a Belgian Flanders-style Red Ale. "Our twist on this classic brewing style is aging the beer in previously used bourbon barrels, which contributes to a slightly higher ABV than most of our sours," said Pete Batule, Head of Brewery Operations. 
Latitude Adjustment Tropical Pale Ale is touted as "escapism in a bottle, brewed with pineapple and coconut to give you warm and sunny vibes whenever the doldrums of winter start to bring you down," said Batule. 
Black Circle's winter offerings on draft [as long as each lasts, and is replaced by a new offering] include: Spruce & Juice, created with spruce tips and grapefruit zest; Chauncey Lemon Gose; Dead Moon Petite Stout; Carney Rye'd Rye IPA; Coffee Porter and Ugly Sweater Ale with layers of cinnamon, orange zest and ginger. Expect a roster of other Indiana craft beers alongside their house beers at this combo micro-brewery, craft beer bar and music venue. Co-founder Jesse Rice reports, "In collaboration with Centerpoint Brewing, we are aging a Barleywine on oak for the Feb. 17 Frigid Digits event at Circle City Industrial Complex."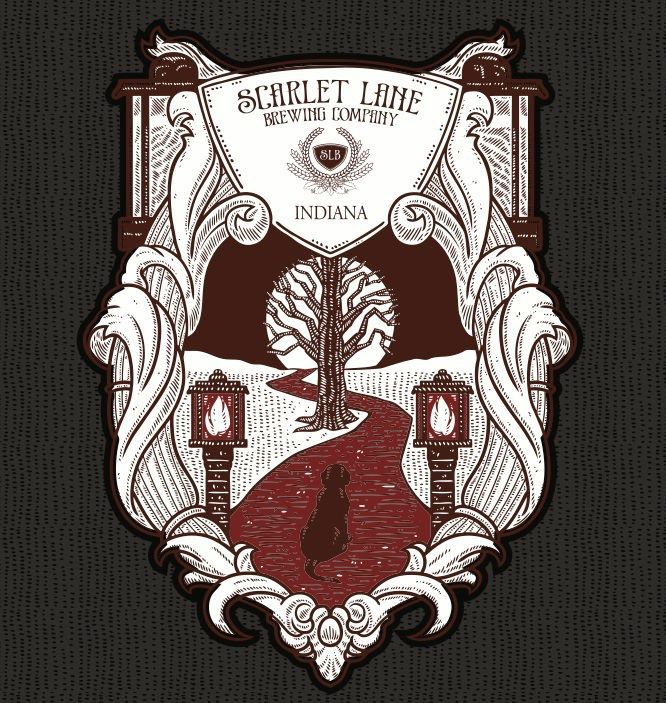 Scarlet Lane is releasing Olga Russian Imperial stout in the Tap House on Jan. 19, followed by limited keg releases. Prepare yourself for an 11% ABV kick with notes of chocolate, toffee and a medium roast. 
SLB founder Eilise Lane notes, "This beer, named after Olga of Kiev from 900 AD Russian history, will be just as big and powerful as Olga was in real life." A Google search reveals Olga rated sainthood — nevertheless someone you did not want to cross, so to speak, lest you find yourself obliterated. Commentators place Olga of Kiev as a ruthless ruler in the company of Lady Macbeth and other vengeful ladies of Greek and Roman Mythology. 
Bloomington Brewing's head brewer Nicholas Banks, reports that their 9.9 percent, 123-IBU Krampus Imperial Black IPA is on tap right now. Banks says, "This is one of the most exciting beers we make all year, featuring great aromatic hops including Citra, Simcoe, Falconers Flight, Lemon Drop and Mosaic."  Also just tapped, Apricot Blonde brewed with 140 pounds of apricot and dry hopped with Cascade hops seasonal. Java Porter is on handpull; Swashbuckler oatmeal stout and Ruby Bloom amber are on nitro." Banks says the full lineup "beats the winter time blues." 
"Oaken Barrel's Seasonal beers are Epiphany Belgian tripel and Vanilla Porter," according to owner Kwang Casey emailed.
Chilly Water's 2018 roster of new happenings starts with a Black Acre Brewing Co. collaboration. The beer is a black lager and it will be available in just a few weeks. CW will also release their first barrel aged sour beer in bottles this spring, and a German bock and a New England Style IPA are coming up as CW's newest styles on tap. 
In case you haven't noticed, The Green Room at Chilly Water is open for small private parties [around 35 people]. 
Three Floyds' newly released Behemoth is described as, "A huge, sweet Barley Wine with complex caramel notes, balanced by generous hopping and a high alcohol content." This fruity, malty beer is served in a snifter, and is best enjoyed sipped over a long conversation and hearty food. 
New Day Craft is showcasing three hard ciders in their taproom: Gold Rush, made with Indiana apples; South Cider, sweetened with honey; and Johnny Chapman, sweetened with sorghum. The latter also is served hot with mulling spices in the taproom. Five different meads feature the tastes of strawberry rhubarb, lavender and lemon, plum and black currant. Anticipating February is Washington's Folly, a cherry Mead. Gin Barrel Aged Shelby Blue Ribbon, their strawberry rhubarb mead aged in New Holland Gin Barrels, is available in bottles for carry-out only.