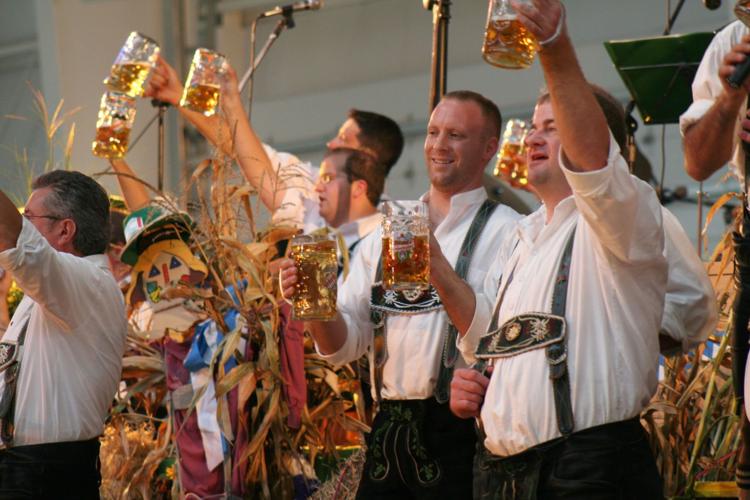 Sun King opened the Oktoberfest floodgates Aug. 3 with the launch of SK's Oktoberfest beer at the downtown tasting room, complete with dancing to the oompa-music from Alpine Express and photo ops with Fritz the Weiner Dog. Now the season is upon us. Here's the list of invites from every corner of Indiana:
Sept. 15 - 6th annual Monument Circle Oktoberfest hosted by the Columbia Club with German & American food, live music and biergarten. Portion of proceeds goes to local organizations. Admission is free and open to the public.
Sept. 16; noon-10 p.m. - Flat12 Bierwerks' 1st annual Oktoberfest in the Biergarten is a free party with the release of Dunkleprinz ["dark prince"], a bready wheat ale with light chocolate flavors from the Bavarian malt, and a hint of banana from German yeast.  The event includes a singalong with Indy Polkmotion polka band playing 4-8 p.m., a stein holding competition and "a festive menu from Hoagies and Hops. Limited edition logo glassware available for purchase.
Sept. 16; noon-6 p.m. - The Rooftop Garden in Fountain Square will be grilling Bratwurst from Claus' German Sausage & Meats, made right here in Fountain Square along with Oktoberfest favorites and Sun King Oktoberfest on tap. This is a casual dining event, you order and pick up food and seat yourself! Only for this special Rooftop event – all ages are welcome – but please note: all children under 18 must be accompanied by an adult at all times.
Sept. 22-23 - Fishers Oktoberfest at Witten Park (131st and Olio Road) will have live music, arts and crafts, kids games and German food. Beer garden is open from noon to 10 p.m. for ages 21+ with Warsteiner and Leinenkugel on tap. Domestic and import beers are $4-5. Live music begins at noon and includes Polkamotion, Big Daddy Caddy and My Yellow Rickshaw. Food menu includes a variety of German and American items including bratwurst, knautwurst, sauerkraut, pretzels, funnel cake and elephant ears. Free admission.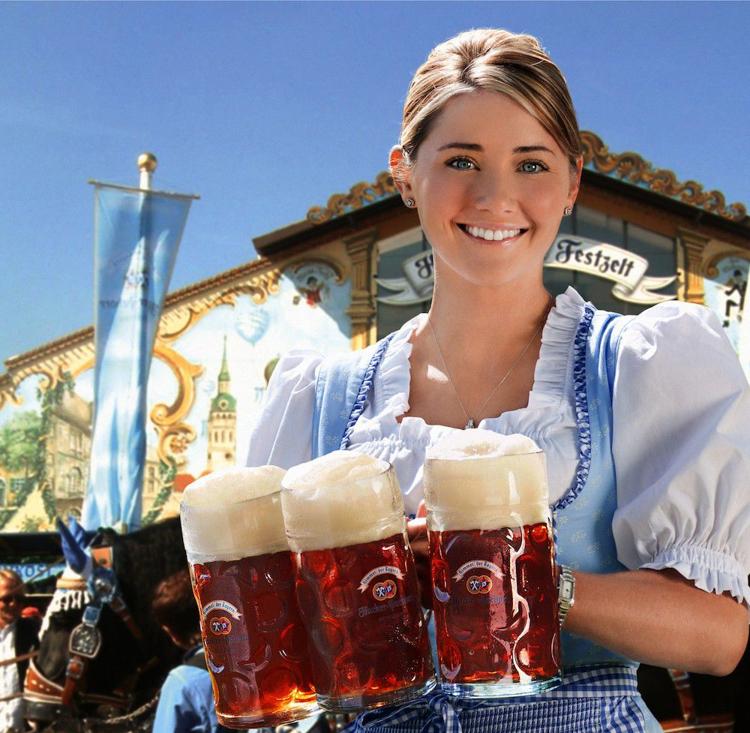 Sept. 22-24 - The 10th annual St. John Oktoberfest from St. John the Evangelist Parish includes live music, bier garden, German food, and kids activities such as pumpkin decorating and moon bounce. Also stop in at St. John Malt Brothers Brewing, 9607 Wicker Ave.
Sept. 23 - Richmond Oktoberfest features brews by the New Boswell Brewing Company, brats, games, live music, trike race and crafts. This is a huge street fair with lots of local crafts and artisans. 
Sept. 22 - The Carmel Oktoberfest in the Carmel City Center is an annual event free to the public and open to all ages with food and biergarten. Polkaboy, a 14-piece band that plays a variety of music from polka and waltz to classic rock, will perform on the upper deck of Carmel City Center, along Veteran's Way with the Palladium and the Center Green serving as a scenic background. 
Sept. 23; 11 a.m. - midnight. - Head to Upland Oktoberfest at the Upland Bloomington Brewpub, 350 W. 11th St., Bloomington. Dust off your lederhosen and dirndl and raise a stein of Oktoberfest lager with a special German-inspired menu day of beer, food and live music line-up,
Sept. 29 - The Rathskeller Oktoberfest  at 401 E. Michigan St. will have plenty of beer, German cuisine and live music by Polkaboy. 
Sept. 29-30 - The Holy Name Oktoberfest is a two day community event hosted by Holy Name Parish of Beech Grove. Authentic German food, biergarten, live music and kids zone with games. The festival raises funds to support the Holy Name of Jesus Catholic Church.
Sept 30; 5-10 p.m.  -  During the Rensselaer Oktoberfest at the Jasper County Courthouse Square, 115 W. Washington St., Rensselaer, come enjoy a festive night of German and American cuisine from local eateries, try wines from our local winery and sample seasonal beer at our beer garden. Enjoy live entertainment on the Historic Downtown Rensselaer square. $5 donation requested. Kids 10 and under are free. 
Sept. 30;  2-9 p.m. - The 6th annual Herron Morton Place Oktoberfest at the historic Herron-Morton Place Park offers food trucks, restaurant vendors, live music and beer. Kids are welcome until 7 p.m. and dogs are allowed. Event proceeds benefit the park.
Oct. 5- 7 - Seymour Oktoberfest at 2nd and Walnut in Seymour has been happening for more than 40 years featuring: Biergarten, carnival and flea market at First Methodist Church. Contests include: 5K walk/run, baking, horseshoe tournament, cornhole tournament, prince & princess, window & booth decorating, baby contest, polka & chicken dance, talent, brat eating, coloring and hot air balloon race (weather permitting).
Three stages of free entertainment nightly, including bluegrass festival, dancers, cloggers and German band, carnival rides, arts & crafts, pumpkin painting, dumpster decorating, sand art booth and cake walk for kids in the One Kids Square. Admission is free. Pets are not allowed. 
Oct. 7 - Make the trek to Fort Wayne for the Fort Scott Fall Festival, a beer festival organized by Mad Anthony that has been happening for more than ten years. Try more than 100 Indiana beers from 20 regional craft brewers. Price of ticket includes souvenir glass and unlimited tastings. 
Oct. 14  - The 8th annual celebration of German-American Day during The Original and Fabulous Germanfest at the Athenaeum, 401 E. Michigan St. will have German food, beer, strong man competition, 5k Lederhosen Run/Walk, Wiener Dog Races. ZwergenLand for Kids ($2) has play area, arts & crafts, bounce house, fishing pond, face painting and other activities. Two stages of entertainment from noon to 7 p.m. Beer Games for teams of five members 21+ includes contests such as beer stein holding, cow toss, stein relay and grape stompede. Proceeds benefit Historic Athenaeum. Tickets at door.