"We are fulfilling our dreams in Fishers," said Sun King co-founder, Clayton Robinson during a conversation with NUVO following the Jan. 23 media event announcing Sun King's new, 13,000-square-foot, specialty production craft brewery and tap room at The Yard at Fishers District at 116th Street and Ikea Way.
"Creation of The Yard as a retail and entertainment center is a shared vision with the City of Fishers," said Robinson. He then pointed out, "The gravitational pull in Fishers is moving northward. It's a shifting strategy from Downtown."  
Fishers Downtown has been thriving as part of the Nickel Plate District, described on its website as "the civic, historic and cultural epicenter of Fishers." It opened in 2012, distinguished by a quad with a multi-use year-round amphitheater flanked by city government buildings. This initiative is part of what drew Sun King to Fishers some four years ago, when the brewery was hitting up against the then state cap of barrels brewed.  
"We were seeing the potential growth of Fishers as being in line with our own vision for creative growth," said Robinson. "At the time, some of our Sun King team were asking us, 'Why do you want to do this expansion?' Our answer, 'To grow so you all can fulfill your potential.'" 
The reality of building a viable business, explains Robinson, lies in its vision for planned growth so valued employees have a way to move up. "They leave if they can't see a forward momentum for their own skills and dreams."
Sun King purchased a parcel of land between 96th St. and 106th St., just east of I-69. However, two things happened soon after to deter this initial foray into Fishers, which was Sun King's first envisioned project with Thompson Thrift, a full-service real estate development and construction company.
It turned out that the property Sun King purchased was not suitable for building a brewery and taproom/outdoor beer garden. And, in 2015, the Indiana legislature raised the production caps for breweries selling-out-of-state [such as Three Floyds] and in-state only, which was the case for Sun King at that time. 
Thus, out from under the pressure to build a new facility and gain a new license in order to fulfill demand, Sun King was able, under the new law, to increase its capacity at its original College Ave. location. But still committed to a presence in Fishers, Sun King chose a 6,000 sq. ft. site in the strip mall at 7848 E. 96th St. The mandate went from having to brew big, to wanting to brew small. 
"Our Small Batch Brewery and Tap Room here at 96th Street has allowed us to test our presence in Fishers and gave us an opportunity to experiment with small batch brews," explained Robinson.
He wasn't just putting on a happy face. Sometimes accommodating to a change in plans is part of the creative growth, he mused. With a custom-built 3 bbl system, brewmaster Dave Colt and Sun King's brewing team have been developing a third tier of brews alongside their ever-present flagship line-up and changing seasonals and specials. 
Sun King patrons have been sampling three years of unusual combinations, many of which have gone on to full production at College Ave."We won't give that up," assured Robinson.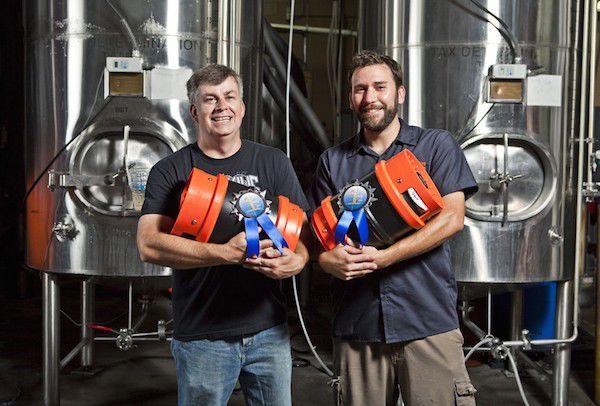 This experimental system most likely will find a niche Downtown Indy Summer/Fall 2019, after Sun King opens at The Yard District, with a 30 bbl system that brings with it a dozen years of Indiana craft beer history.
"The timing was just right to acquire the system from Rock Bottom College Park when they closed last year," said Robinson. 
As Robinson talks, the synergy of reclaiming on all levels becomes contagious, and includes co-founder Dave Colt's philosophy to tap into everyone's creative abilities, which includes building each locations furniture from discarded and reclaimed materials.  
"To continue to be awesome, to reinforce our brand, we have to take on new opportunities and engage our team," stated Robinson, recalling, "I started at Rock Bottom 20 years ago, Dave started at [the since closed] Circle V even earlier. Remembering the opportunities we were given, we're intent on giving our people opportunities for advancement."
Your choice is stagnate or grow, avers Robinson. "Being dynamic means you have to cultivate all kinds of talents for everyone on your team." 
The environment at The Yard District will generate this kind of on-going excitement. At the media event, Thompson Thrift described a plan that includes what Fisher's Mayor Scott Fadness alludes to as "iconic enterprises" such as Sun King and St. Elmo restaurants, Burger Study and 1933 Lounge, and an innovative "culinary accelerator" where chefs can experiment and test new concepts for food preparation and service.
In line with this concept, "Sun King's new brewery will focus on developing handcrafted, distinctive specialty beers that continue to experiment with different ingredients, styles and methods," summarized spokesperson Elizabeth Belange, in the Sun King news release. 
"Sun King's new Fishers brewery will be capable of producing approximately 5,000 barrels of beer per year. " 
"Sun King Brewery started in a space about the size of what we are building in Fishers, intent on experimenting with new ingredients and techniques to create what we love - delicious, quality craft beer inspired by all that is Indiana," said Robinson. "And while we've grown rapidly over the years, we remain committed to crafting the highest quality beer and are excited to open a new brewery that allows us to get back to our roots and to continue to innovate."
Construction for The Yard District in Fishers is expected to begin this spring, just about when Sun King plans to open its newly built 15,000-square-foot distillery, called Sun King Spirits, along the Monon Trail in Midtown Carmel. 
More Growth
Statewide, as I observe the trajectory of newest and coming openings, craft brewpubs have become the small town/neighborhood loci that once resided with the high school basketball gym.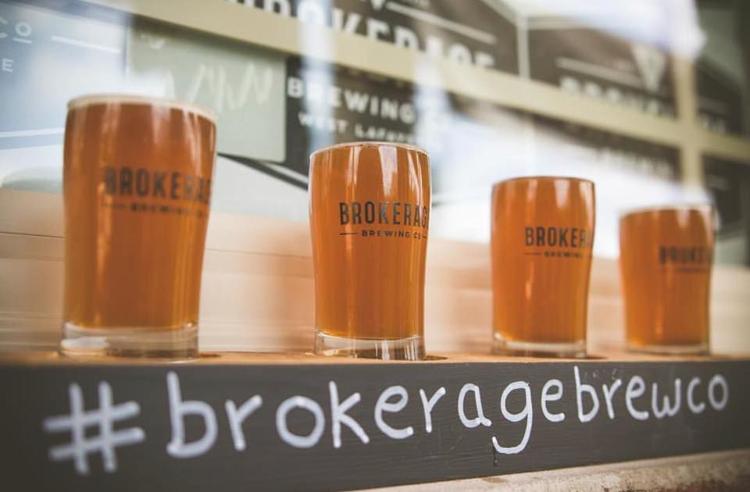 Brokerage Brewing Company celebrated New Year's eve with its grand opening at 2516 Covington St. in West Lafayette as an "unintentionally small brewery...for our community to gather over food, drink and the valuable matters of life," according to co-founder Brian Russell. Stacy Grove is co-owner.
Brokerage, the first modern craft brewery in West Lafayette, joins Lafayette Brewing and People's Brewing in adjacent Lafayette.
Head brewer Corey Patterson previously brewed at Iechyd Da Brewing Company and Evil Czech Brewery and Public House. He officially opened Brokerage Brewing with New Kid on the Hop, and followed with Walking Ashland West Coast IPA, as the first two of their intended flagship beers, on tap alongside guest brews from other Indiana craft breweries. Charlie, an American Imperial Stout, is the third house beer. Brokerage partners with nearby Greek's Pizza for pizza by the slice, and you can bring in your own food to pair with beer and conversation. 
Triton Bistro opened Jan. 17 at 5764 Wheeler Road. Co-owner David Waldman announced that, "After working with the food truck community for more than six years," it is timely to have an on-site eatery "featuring appetizers, sandwiches, soups, salads and entrees...for the whole family." 
Brewer Jon Lang's beer lineup features seven house beers and twelve seasonals and specials. 
The Bistro grand opening special, Barn Phantom Gose with Key Lime and a touch of lemon, coriander and pink Himalayan salt, sets this version apart from the other manifestations of the original Gose that won Gold at the 2016 Indiana State Fair Brewer's Cup. 
Chapman's Wabash opened at 233 S. Miami St., Wabash, in an 1837 building that started as a livery stable and subsequently has had several uses, most recently as a furniture showroom. The brewpub is a block from the 1,500 seat Honeywell Center Theater, presenting touring companies year-round. The promo for Chapman's Wabash invites, "Come by before and after the show as we are open late on concert nights." Beer will be brewed on-site, with taps also serving brews from the original Angola brewery that opened in 2013. 
If you're visiting, ask about the history of Wabash, particularly its distinction as being the first county seat to electrically light its court house and grounds; it happened on March 31, 1880 to much fanfare. Huntington County is part of the original Miami Indian Nation homeland. Currently, at least ten entities in and around Wabash are listed on the National Register for Historic Places.
Chapman's Brewing Company also has taprooms in Fort Wayne and Columbia City.
Big Lug Country Pub opened at 250 W. Reformatory Road, in Pendleton, "with a full bar, craft beer, wine and unforgettable comfort foods," according to the notice.  The outdoor patio overlooks the Fall Creek Golf Course. Though it is currently 21+,  the family friendly section will open in March.