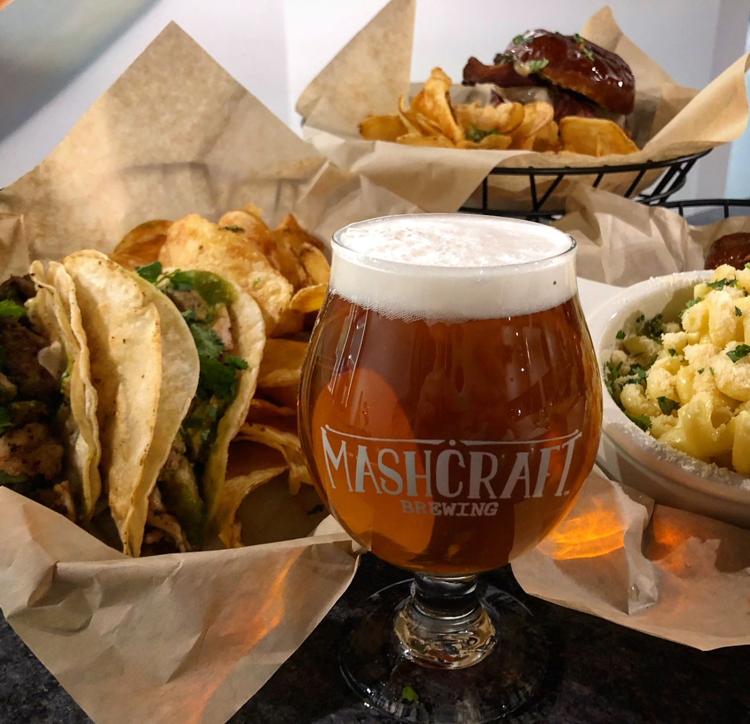 MashCraft Fishers grand opening took place on Jan. 13 at 11069 Allisonville Road. It's a heartwarming segue from the Heady Hollow brewpub, whose emphasis on historic Fishers will continue. 
At MashCraft on Delaware's first anniversary celebration last month, not only did a patron wearing a Heady Hollow t-shirt comment that the changeover comes with a good feeling, I also was assured by founder/brewmaster Andrew Castner and MashCraft partner Joe Janik that the handcrafted bar, wall paneling and tables, along with historic photos of Fishers, are fused into the new decor on site. Hewed from family homesites and salvaged from a Hamilton County barn, the homey wood emphasis will continue to provide an immediate welcome as a family-friendly location. 
This was borne out at the media preview event on Jan. 11. Heady Hollow regulars will feel at home, right along with MashCraft regulars and anyone else curios enough to wander in. 
Making the transition even more craft beer-industry embracing, Heady Hollow co-founders Keefe Pietri and George Garrison joined with Castner to brew Heady Hollow's flagship 60 Horses Scotch Ale, with the original Heady Hollow carved wood tap pull, as one of MC Fishers' opening day beers. Castner describes it as a "perfect beer for a winter opening, with its prominent elements of caramel, raisin, chocolate and roast." I admit to having enjoyed it during all seasons from 2015 forward, until Pietri and Garrison recognized juggling full-time jobs and operating a brewpub required a re-think and approached MashCraft for a brewpub continuum at the site. My vote is to keep 60 Horses on at Fishers — with HH tap pull. 
Grand opening specials also include Castner's New England-Style IPA, with balance between upfront and final taste ting clearing my palate as I checked the food menu of starters, and Skid Row Joe American Porter, an easy pairing with Housemade Kettle Chips [basket feeds three; $3]. The other MCB brews I tasted are also up at the Greenwood and Delaware sites: The Blood Orange IPA is full-bodied pleasure, enjoyed with Let Go My Tachos, a 2-way sharing or full meal [$10]; Pippi Lagerstocking pairs well with the Bavarian style soft pretzel served with MashCraft beer cheese [shared by three; $5] and Macho Taco, fulsome enough for two to share or a full meal [$8]; the complexity of Alex Milk Stout merits the conversation it engendered and is a fine way to close out an evening.  Also featured is Shelby Blue Ribbon by New Day Meadery.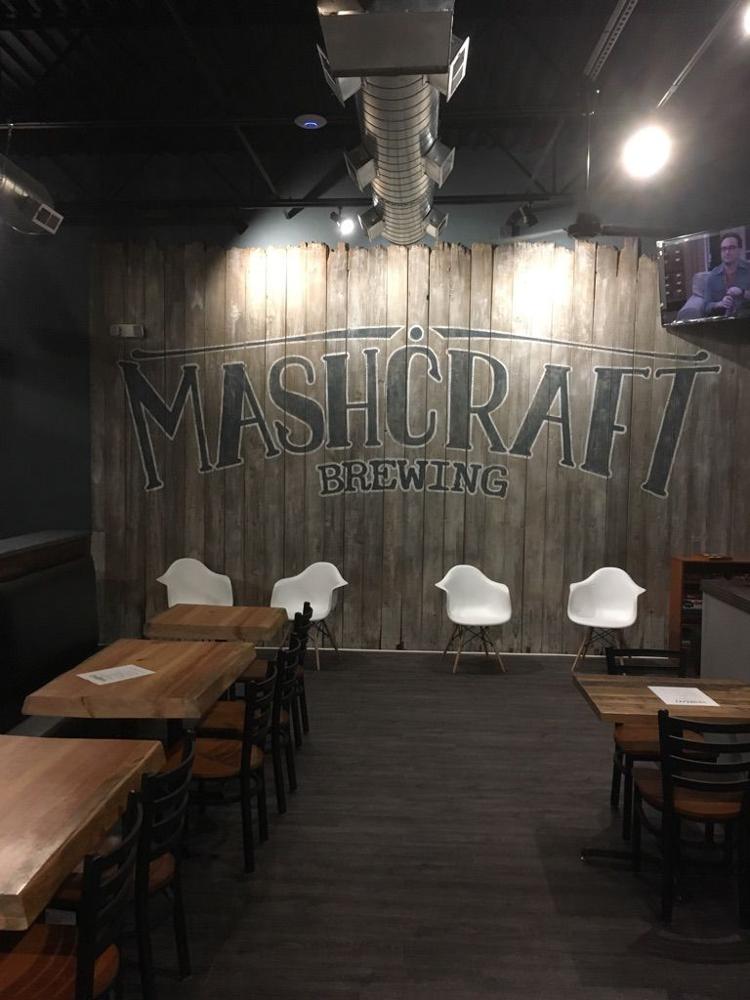 With a full kitchen, MashCraft is partnering with Chef Joe Hsu and the 5280 Bistro crew for a family friendly menu. Founded in 2016 as part of Indiana Grown and Slow Food Indy movements, 5280 Bistro is continuing Heady Hollow's original locally sourced intent. The full menu is attentive to all food choices, with meats as a side order, even for the weekend breakfast specials served all day Friday - Sunday. 
Hsu stopped by to chat. He assured me the food truck will continue to be at music venues and at White River State Park events, and 5280 Bistro will remain a regular at Fishers Farmers' Market. Finally, I had to ask, "Why 5280?" Without a pause, the answer was, "Elevation of Colorado." Duh — mile high. O.K., Hsu is from Colorado. He loves Indianapolis. We love him back.
All MashCraft's sites feature a 16-tap bar that includes year-round house brews, seasonals and specials, a cider and a featured guest. All MashCraft's beers on tap are available in house by the flight and glass and carryout. Castner and assistant brewer Dustin Sparks will brew in Fishers as well as continuing their regular routine at the original production brewery in Greenwood and small batch brewery on Delaware, assuring growler fills on Sundays at all sites.
Aaron Rambo is sharing his general manager post at MashCraft on Delaware with Fishers. Paul Whitmore is assistant manager at Fishers. Joining him are JJ Yarbrough and Mitch Garrett along with a staff of servers. While I did not meet them all at the media event, I did recognize Chad, who had been serving with Heady Hollow. Kelsey was attentively serving my guest and me.
Along with repositioning the brewing equipment into its own area at Fishers, the MashCraft re-do adds an activity area with a shuffleboard table and darts, a shelf of family games alongside a sofa, and TVs suspended in four corners. The enlarged bar has 16 bar seats and the re-configured floor space seats 76, half of which is a family section and half part of the 21+ bar area. The family and dog-friendly patio seats 30 during weather-friendly seasons.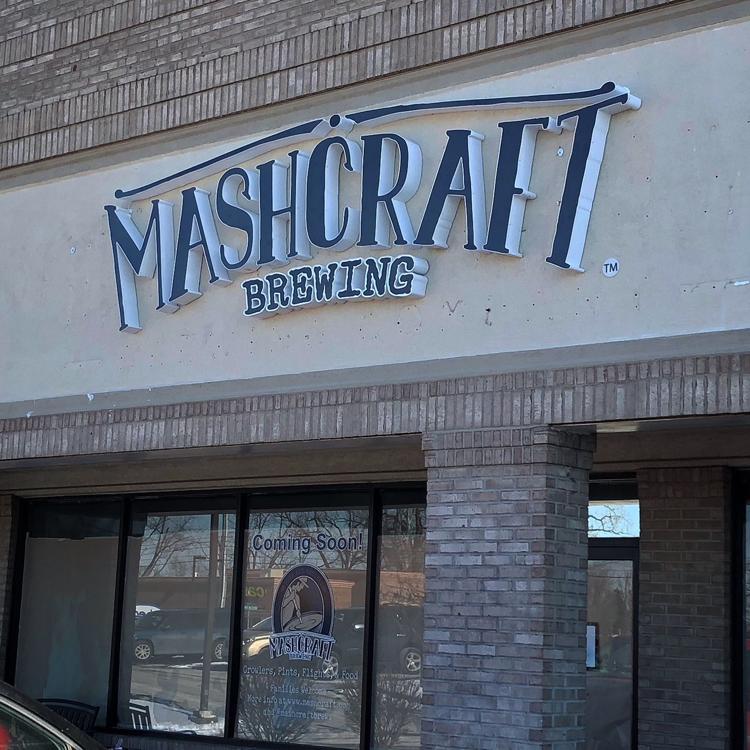 "The MashCraft team looks forward to being responsible and charitable members of the surrounding community," said spokesperson Paul Whitmore. "All three MashCraft locations are distinct and reflect the neighborhoods in which they're located." 
In preparation for the media event and grand opening festivities, Castner emailed, "We could not do this without our entire crew kicking butt and being all-stars. Shout out to Rachel Thompson and Ally Vining running our Greemwood spot!"
It should be noted the Jan. 11 email was prefaced by this note: "The stork is arriving soon, Rita. I am currently in the labor room awaiting baby Castner. This has afforded me some time to catch up."
Cheers! indeed.