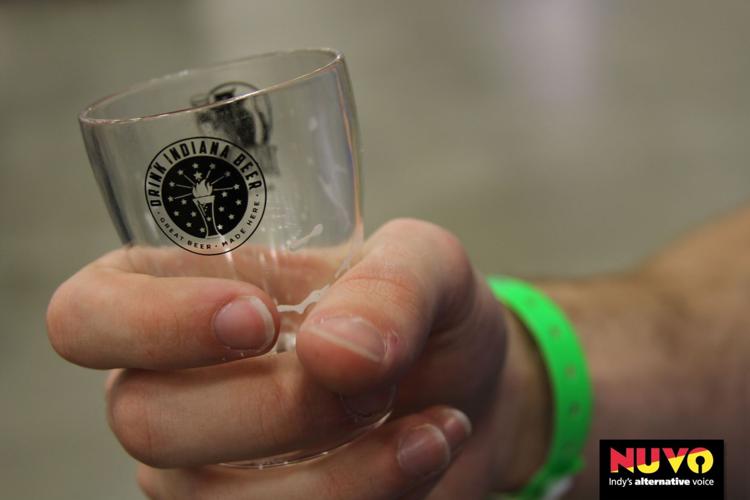 Rob Malad is back home, brewing at Flix Brewhouse after an almost two-year stint at Kindred Brewing in Columbus, Ohio. My first stop at Winterfest on Feb. 3 was at the Flix booth to say hello to Rob and learn what lured him back.
"The big move back to Indianapolis was driven by the fact that my girlfriend lives here and I was living in Columbus, Ohio. She said that we can't do the long distance thing forever, so I said I'd start looking for jobs," revealed Malad. 
Landing at Flix fulfilled two other "big driving forces," said Malad, "wanting to get out of production brewing and into the brewpub world, and wanting to work with Chris.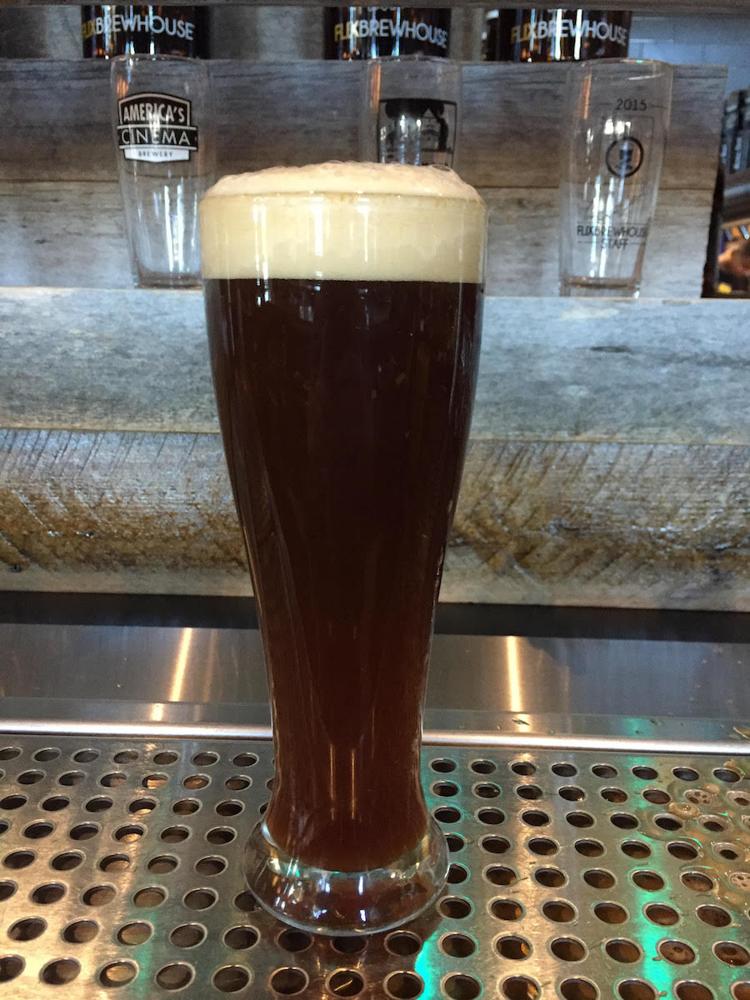 "We've been pals for a few years, and the combination of the opportunity and mentorship were too much to pass up. I would have to say the best part about coming home is being home! My family and friends are all here, along with my girlfriend, Andrea, and the brewing community that I've been entrenched in since I was 22. I quite literally grew up in this community."
Tracing back to his start at Sun King in 2012, "shortly after their third anniversary, when I was only a few months removed from a stint in the military," recalled Malad. "That job, effectively, was supposed to be a part time job while I figured out what I wanted to be when I grow up." However, adds Malad, "The infectious passion that was on display at Sun King and other breweries inspired me in a way that I didn't think possible, and I decided that my search for a career path had fallen right into my lap."
Four years later, "after doing everything at Sun King from filling growlers, to running deliveries, to brewing beer," Malad moved on as Lead Brewer at Kindred in Columbus, Ohio. He credits this experience as, "Where I learned more about the nitty-gritty of recipe development, managing brewery scheduling, inventory management, and maintaining general order in the brewery.  
"I think that the passion that was rubbed off onto me, along with an appreciation and respect for the process is the biggest thing that I will bring to Flix. I believe that Chris and I have already grown as a collaborative unit in our short time together."
Malad came on after Josh Miller left Flix to develop Backstep Brewing in Crawfordsville, along with co-founders Jim Boros and Pat Pennington. 
Malad cites the mutual affinity he and Knott have for brewing classic styles as the basis for their mutual vision for Flix's brewing program, "I think that there isn't a much more satisfying feeling out there than brewing a respectful rendition of some of the great historical styles," affirms Malad. "That being said, there will be some fun stuff that we do with both common and exotic adjunct ingredients, as well as continuing to grow our barrel program. Sometimes you have to throw out the ole rule book and flex your creative muscles a little bit!" 
Malad concluded the conversation with a reflective response to his role at Flix. 
"I tend to think of myself as a blue collar, behind the scenes personality. I prefer to let the product do the talking, and hopefully with my help Flix will continue to pump out a quality, award-winning product that Chris has made commonplace at our brewery."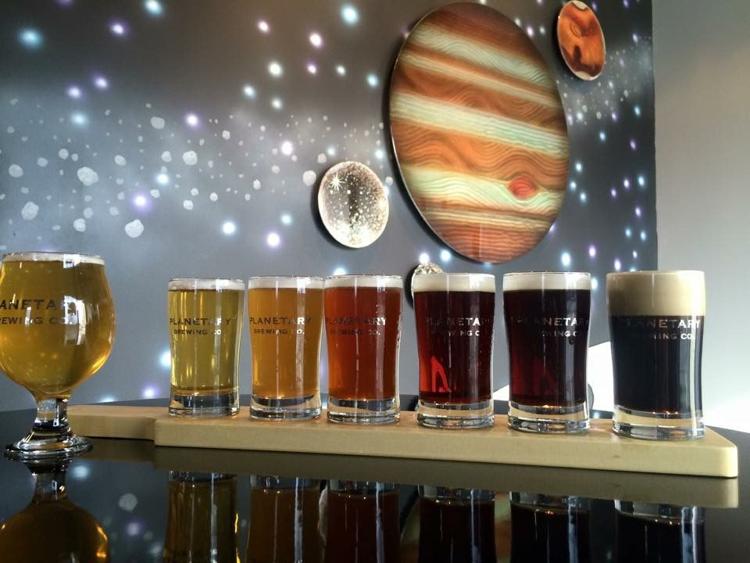 Second stop at Winterfest was with Planetary Brewing founder/brewer Andrew Groves to check on his newest build out. 
"The dream has come true," he enthused, underscoring his Dec. 15 post: "It's Official: We are no longer a Nanobrewery!" to announce a new seven barrel system, now in place, at 188 S. Madison Ave. in Greenwood. This is working alongside the original two barrel system with which Planetary launched in March 2013, in a snug storefront space off-the-beaten path. It was perfectly appointed as a space capsule, but not viable for growth.
Groves points out, "Our need to become more visible coincided perfectly with the timing of Greenwood's effort to do the same. I feel that both are on a path to help solidify a community that has been on the verge for quite some time."
That was some two years ago. Now, Planetary's planned growth is in phase two, equally in sync with the City of Greenwood.
A news release on Feb. 16, announced, "Mayor Mark W. Myers says his city is full steam ahead on efforts to transform downtown Greenwood, and during its February meeting yesterday, the Greenwood Redevelopment Commission (RDC) approved more than $4.5 million in projects that will continue the momentum for the "G.R.O.W. Greenwood Initiative," a matching grant program that seeks to improve the aesthetic appeal of businesses along some of its most-traveled corridors. 
"RDC approved what will be one of the G.R.O.W. program's most high-profile recipients, Planetary Brewing. Located near the corner of Main St. and Madison Ave. in the heart of downtown, the company plans a major exterior renovation with up to $100,000 in G.R.O.W. funding that will support the project." 
Characteristically, Groves is low-key about having purchased the adjacent building to expand Planetary's taproom and now making the brewing operation visible from the street. This matching grant encompasses both exteriors, reports Groves.
So I wanted to know what was happening inside the brewery and taproom, in addition to the Dec. 27. 2017 post announcing: "Good News Everyone!! ... Chemtrails Cream Ale is on indefinitely at the taproom! Our first year-round release is smooth, creamy, delicious, and now always available. Cheers!"
Did that signal a change in Planetary's founding forte for small batches continually revolving? What's the beer menu model now? I asked.
"The same," assured Groves. "I got into this business with the mindset that having variety is the very essence of it. The process of brewing is what I fell in love with, and its constant challenge is what provides motivation. While I've enjoyed the journey to this point, I'm always looking forward to the next. The only thing that has changed is the length of time that some offerings are available." 
What about Planetary's sci-fi branding, now that you're approaching your fifth anniversary in March? What are you looking forward to for the next five years? 
"The trajectory and mantra for the brewery has quite literally been "onward and upward," stated Groves. "I feel that constant movement and growth is vital to the viability of the brewery, at any level. If I ever feel comfortable and content, I'll know it's time to move on to something else. 
Concerning beers he's most loved to brew, Groves asserts, "It's impossible to narrow that question to a single or condensed line of sight. Every batch is unique. And while one may seem more familiar, the excitement of the voyage never wanes."
Looking simultaneously backward and forward, Groves points out, "I have an incredible support system around me, with people that sincerely care about the vision that I have for this company. While we are in our fifth year of existence, our mission has just begun. We are traveling through an ever-expanding universe of wonders and possibilities, and we'll always point outward as a reminder that our current fixed location is only as permanent as we allow it to be."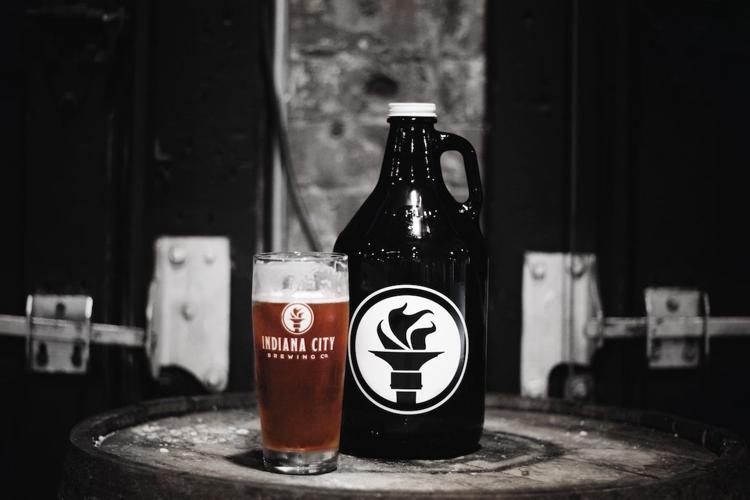 Stop three at Winterfest 2018 caught me up with the buzz at Indiana City about the Ales from the Crypt event, which at the time was just a week away, expanding the barrel-aged beer program and adding two 30-barrel fermentation vessels, to double production of beer in 2018. 
Best to follow up on-site, which we did on Feb. 10 at Ales from the Crypt, that included a tour of the brewing system and the cellar of the 1891 original Bottling House of the Home Brewing Company, which is home to Indiana City Brewing. 
"It's a perfect setting for barrel aging, and an archeological dig," said Indiana City founder Ray Kamstra.
Really?
"When we lifted up a wooden plank in the cellar, we found old cans," reported Kamstra. Well, isn't that fortuitous, because a University of Indianapolis professor just emailed for help to find a brewery with a possibility for — drum roll — an archeological dig. Connected and done. Await more on that in NUVO.
A week later, NUVO's Paul Humes, who was my escort to Ales from the Crypt, emailed Kamsta and me: "I was over speaking with [herbalist] Greg Monzel, who is a foraging buddy, and the Ales from the Crypt event came up," wrote Humes. "It just so happens a few weeks ago he was around Fort Ben and came upon a Home Brewing Company bottle. He passed along the bottle to me and I was curious if [Indiana City] would like to have it for your collection. I remember Ray mentioning finding some old cans down in the cellar recently, and wanted to be sure you had some Home Brewing bottles as well."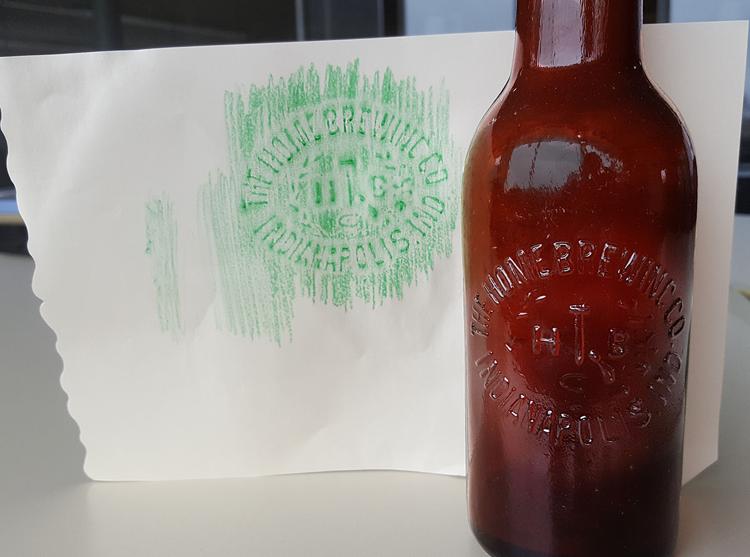 This is but one of a dozen Home Brewing/Indiana City interconnections that have been popping up over the past five years. Just ask Kamstra, and be prepared to sip through a pint as he spins out a story that borders on the occult, from similarities with the business plan, the branding image, delivering beer to homes; stuff he did not know about when he somehow stumbled upon the stately old brick structure.
Kamstra commenced refurbishing with a group that came along for the adventure, including now head brewer Nick Shadle, who shared, "I do sometimes find myself visualizing what it must have been like for the men and women of the Home Brewing Company working in this exact building 120+ years ago. There are clues to the building's original purpose everywhere that makes it hard not to wonder, "How'd they do that?" or "I wonder what that was used for?"  I truly marvel at the thought of how much hard work it must have taken for the Home Brewing Company to brew 60,000 bbl per year, package it, then distribute it by horse carriage no less!"
I followed up with a question about the newest trend surfacing in the brewing industry, including headlines about Winter Olympians closing out a day with non-alcoholic beer. 100 years ago, with Prohibition looming, Home Brewing Company created a non-alcoholic beer, while the leadership avowed a return to beer as it should be brewed. Eerily, the wave that's now washing upon us, based on national patron choice is — duh! non-alcoholic beer. What's your thoughts about non-alcoholic beer — is it a viable option?
"Brewers today have an advantage over brewers of the Prohibition era, in that, we now have access to more varieties of highly modified malts, a wide selection of hop varieties, and adjuncts flavors are readily available," replied Shadle. "With such flavorful and aromatic ingredients, I believe that today's independent craft brewer can change the awful reputation for non-alcoholic beer and craft something far superior to the likes of O'Doul's.
"Is it a viable option? I'm not sure, but anything seems to go these days and that makes me happy. I could see how making a product that wouldn't require paying an alcohol tax could be appealing to a brewery. I don't foresee Indiana City brewing any non-alcoholic beers anytime soon, however." 
What Shadle does foresee is a carefully structured trajectory of growth. "I've been with Indiana City since before it opened and I've been blessed to witness Ray's vision coming to life and growing, first-hand every day. We started in 2013 with a very modest brewing system, four 7bbl fermenters, and two bright tanks.  We were small, but we were full of gusto. The gusto resulted in organic growth. We purchased two, 30bbl fermenters from Sun King along with Pipeworks' old 10bbl brewing system [in 2016]. In February 2018 we purchased two brand new 30bbl fermenters, which will allow us to get to the 2,000bbl mark.
"Our operation incorporates a mixture of both new equipment and used equipment mimicking our taproom that is a handsome mix of new and old. The Sun King [established in 2009] fermenters we have in service now were some of the very first that they purchased; I love it that those fermenters are just a half-mile down the road from where they once stood, but now churning out Indiana City beer. And the folks at Pipeworks [established in 2012 in Chicago] are the absolute best. They've been nothing but kind to us whenever we visit. I'm convinced that our equipment from these great breweries have good ju-ju in them. We try to harness that ju-ju in our beer."
When I asked Nick what makes spending his day at ICB, and being part of Indiana's craft industry, awesome, challenging, he replied with three words: "It's the people."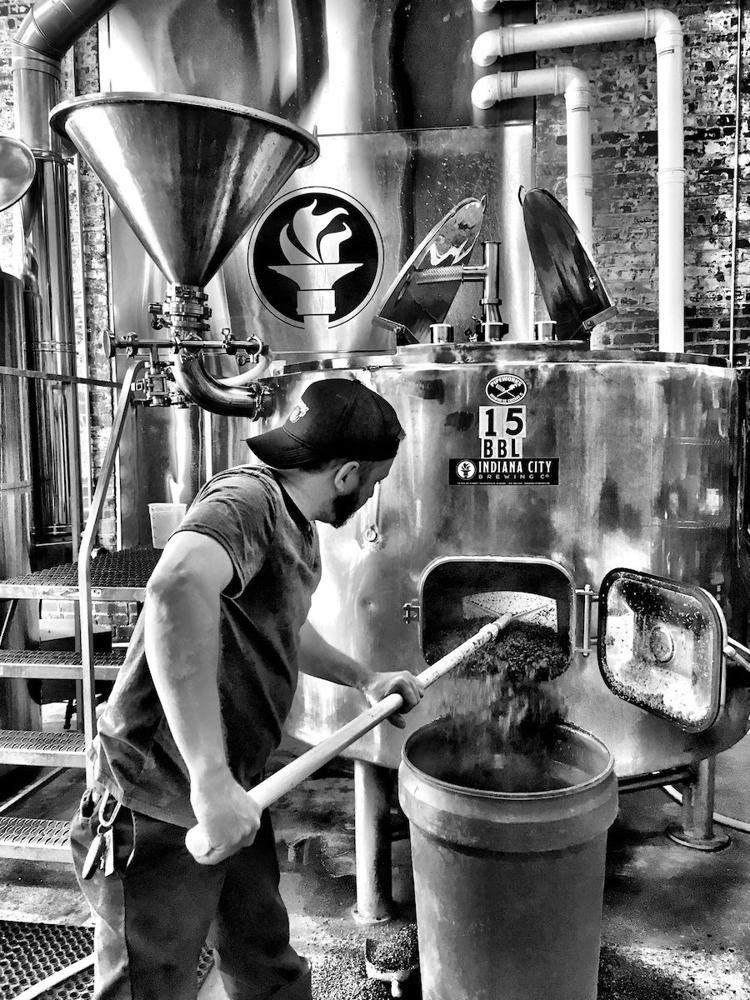 Adding, "Indiana City is not just a brewery, we're also a family. We're always there for each other and we're all committed to one goal ... quality. I've never been more proud to work with such an awesome group of smart, hardworking, creative individuals.  
"My journey is one of a homebrewer who started brewing five gallon extract batches on a stove in Richmond, Indiana and ended up in Indianapolis becoming a brewer at his favorite brewery. When I first started homebrewing back in 2011, I would've never thought I'd be doing what I do now. There's been a lot of study and hard work since those homebrewing days, but it's all worth it to be able to say I'm proud to be a brewer representing Indy and Indiana City."
The five-year anniversary continues a combination of 'old and new.' While Nick has been with ICB since day one, ICB's newest hire is Matt Clapesattle, as director of sales and distribution. He has been part of the beer sales industry since Oct. 2004. Matt's story, along with a progress report on the archeological dig is on deck for another column.