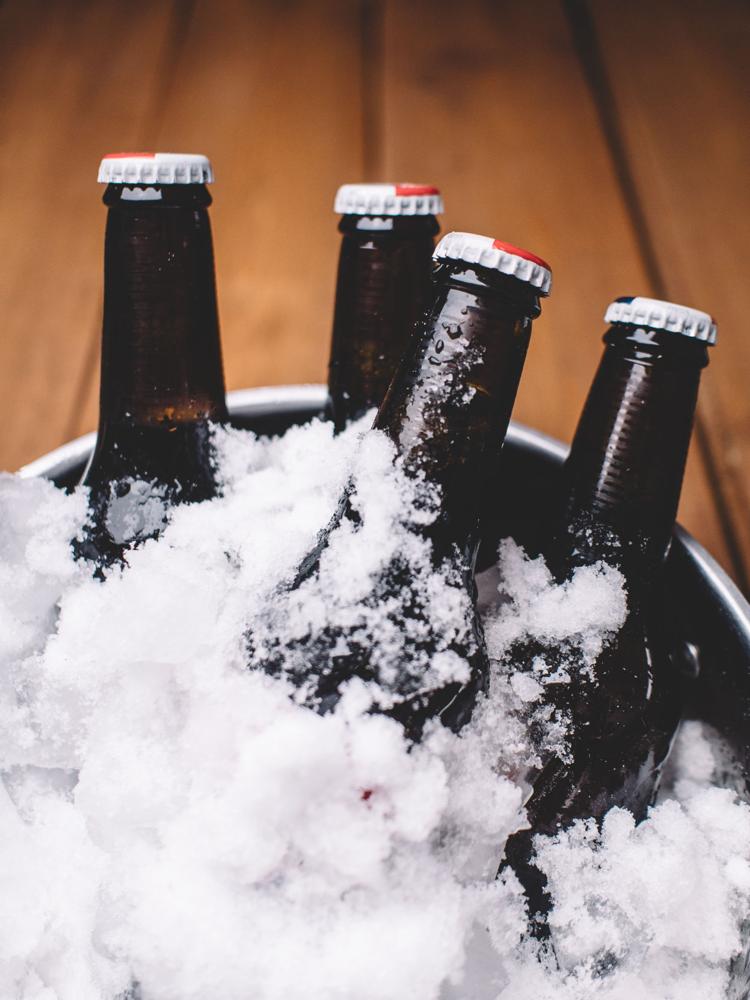 Rich and complex, warming, cheery, slow down and sip some holiday beers with jolly old Saint Nick.
Suggestions have been pouring in. Here's what's on tap from NUVO readers who are making sure I don't miss their favorites. To date the list includes six stouts, five Christmas/Winter Ales, four Belgians, three each porters and IPAs.
Leading the Stouts parade is the newly released Stuck in the Middle Brewers of Indiana Guild Brigade and Central Indiana Craft Brewers Collaboration. The Dec. 6 party at Sun King's Downtown Indy taproom toasted this S'mores spin-off, big time. "Smooth and sweet thanks to lactose sugar and chocolate malt, with a hint of barrel-stave smoked barley from Sugar Creek Malt Co.," reads the label. It further advises, "Pour the can and get roasty and toasty with this big, bold beer." Available on tap and in 4-pack 16-ounce screw top cans, as long as it all lasts. As a side note, brewmaster Dave Colt suggested a twist to my usual s'mores. "Try Reese's peanut butter cup with the marshmallow between Graham crackers." I did. Yummy and decadent.
More holiday stouts: 
Black Acre: One10 American-style Coffee Stout with Bee Roasters beans.
Chilly Water: Sticky Fingers Breakfast Stout with maple syrup, vanilla, oats, lactose, coffee, chocolate.
Sun King: Timmie Russian Imperial Stout on nitro. You know Timmie.
TwoDEEP: Jolly Old Milk Stout a sweet, English-style stout.
Upland: Teddy Bear Kisses Russian Imperial Stout with velvety roast malts, chocolate and sweet bitterness.
Another wintertime favorite, Christmas/Winter Ales, also described as Winter Warmers, re-appear as holiday one-offs.
BRBP: Wee Alec Heavy 2017 made its initial appearance as a Winter Warmer at the first Broad Ripple Beer Festival this past October.
Mad Anthony: Snow Plowed Winter (Brown) Ale has distinct maltiness and hop balance.
New Albanion: Naughty Klaus Spiced Christmas Ale shares layers of ginger, cinnamon, nutmeg and orange peel.
Thr3e Wise Men: Is Mt. Krumpit Christmas Ale 2017 a glyph off their seasonal Mt. Crumpit from years past? I missed the tapping on Dec. 7; heading that way asap to learn what's up with the spelling and the beer.
Triton: The double entendre play on words for Muletide featuring white chocolate gives homage to the Fort Benjamin Harrison mule barn that transformed into the brewery. As with mules, expect something unique, and White Christmas...the movie.
Order some porters:

Three Floyds Alpha Klaus American Christmas Porter is described as Alpha King's "festive cousin" with English Chocolate Malt, Mexican sugar, and tons of hops.
Kopecetic jollied up Porter's Porter as a peanut butter and (raspberry) jelly sharing for St. Nick.
Saint Joseph's St. Nick's Baltic Porter has layers of coffee, chocolate, caramel and dark fruit.
Quadrupel your pleasure with some Belgian-style brews.  
Bier's Sanitarium Belgian-style Quadrupel sends off dark cherry, raisins and plum notes distinctive to abbey ales. It's a winning beer with Gold at 2016 World Beer Cup; Gold at 2015 GABF, with Silvers in 2012 and 2014; Gold at 2014 Indiana State Fair Brewers Cup.
Oaken Barrel: Epiphany Belgian Trippel is full of clove, apple, caramel vanilla. This abbey ale took a Silver at 2015 Indiana State Fair Brewers Cup/.
Rock Bottom's Wicked Elf Belgian Strong Dark Ale is aged in a Red Wine Barrel.
Sun King: The Flannel Mist Belgian Quad is as warming as a beer can get.
ICA winter IPA in your future:
Backstep upped their original Florian IPA with Mackinac hops from nearby Tiger Claw Hop Farm for a holiday taste of tropical fruit, citrus and a touch of pine.
Bloomington Brewing's Krampus Imperial Black IPA has a roasty malt and piney hop scent, with sips sharing layers of citrus, spiciness, earthyness.
Mad Anthony's Old Crippled Bastard Barleywine Double IPA took Gold in 2005 at Indiana State Fair. It's been bold annually. Watch 2018 for Mad Anthony's 20th anniversary celebrations.