Five Indiana craft breweries earned ten medals at the 5th Annual Best of Craft Beer Awards in Bend, Oregon, Jan. 27-28.
Sun King Cherry Busey took Gold in Belgian-Style Fruit Beer.
The five Silver medals went to:
Taxman Triple Hopped Exemption for American Belgo-Style Ale. 
The Tap, for two, including: Apricot Parship in Belgian-Style Fruit Beer and Kill the Lights in Belgian-Style Imperial Stout;
Bier, for two, including: Barley Buddy Brown in English-Style Mild Ale or Brown Ale and Pumpkin Ale in Pumpkin Spice or Pumpkin/Squash Beer. 
The four Bronze medals went to:
Flix gained two for: Omnipresent in Strong Ale or Old Ale, a repeat winner from the 2017 fourth Annual competition, and for Keylime Mario Gose, in Leipzig-Style Gose or Contemporary Gose. Flix took a Bronze in 2017 with the variant Blood Orange Mario Gose.
Bier ESB repeated its 2017 win in this competition in British-style Bitter.
Taxman Tax Saison, in French and Belgian Style Saison or Biere de Garde.
According to its organizers, with over 2,000 entries representing 44 States, along with breweries from Colombia, Canada and Belgium, the Best of Craft Beer Awards now is the third largest professional brewing competition in the United States. 245 gold, silver, and bronze medals covering 86 categories were awarded to 152 brewery locations. 
Three Indiana breweries gained seven medals at the 2nd annual Beer Army Beer Wars competition Jan. 13-14, at NoDa Brewing Co. in Charlotte, North Carolina. Judges rated 709 entries from 43 states, five Canadian provinces, Belgium, England, and Ireland.
The Tap took Gold Medals for Frostbite in Belgian Strong Ale and for Bourbon Old Wooden Head in Specialty Wood-Aged Beer; a Silver Medal for Brickyard Marzen. You'll find this Vienna-style lager on tap at both The Tap locations now.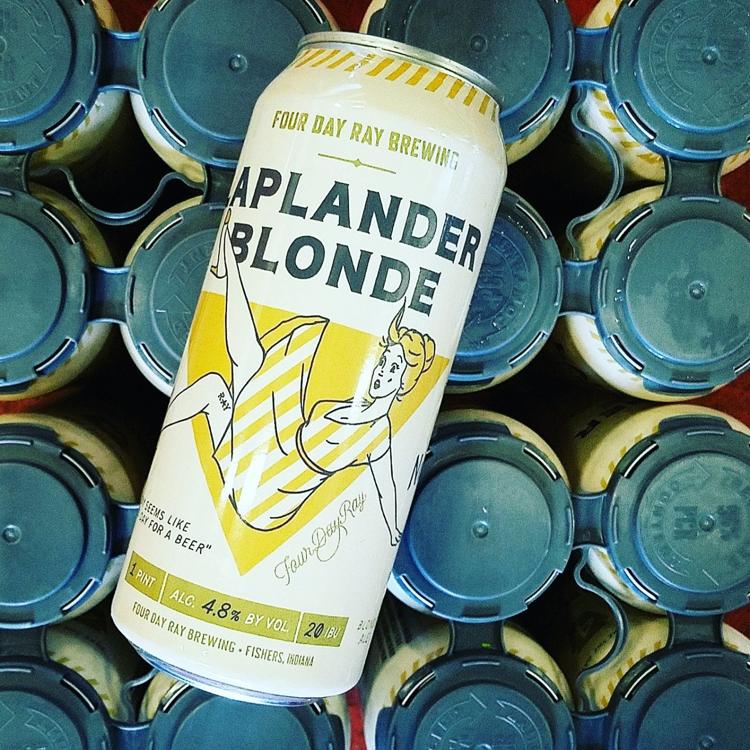 Four Day Ray earned a Gold Medal for Air Raid in Best Bitter category and a Bronze Medal for Laplander a Blonde Ale Norris English Pub and Brewery has a Gold Medal for New Golden Ale, English Golden Ale, and a Bronze Medal for Nep Scotty in the  Scottish Export category.
All About Beer Magazine and Amoretti present the Beer Army Beer Wars in association with the North Carolina Homebrewers Alliance and the Beer Army Foundation. It's open to all commercial breweries in Ale and Lager categories supported by the Beer Judge Certification Program (BJCP), with all judging being done by a double blind panel of BJCP-certified judges and beer industry leaders.
Evil Czech Brewery and Public House was awarded a Bronze Medal for O'Keefe's Irish Red in the 2017 inaugural competition.
The UpCup Competition is coming up on May 19 at Upland in Bloomington; entries from homebrewers are due May 12. 
Not by Beer Alone
Brewpub food is gaining kudos right along with beers. At the Taste of Elegance on Jan. 23 at the Indiana Roof Ballroom, Taxman Brasserie & Taproom/Fortville Chef Edward Sawyer earned the People's Choice Award for Favorite Display. Taxman also received Slow Food Indy Snail of Approval. Citations were awarded as well to New Day Craft and Indy High Bines.
The February 2018 Indianapolis Monthly cites Cannon Ball Brewing Company for Chef Erin Kem's in-house created munch featuring cashews, sesame sticks, crumbled matzo and cocoa nibs gathered into a secret sauce; Tomlinson Tap has Gomez BBQ bring up their smoked bar nuts sprinkled with chili flakes, rosemary and brown sugar; Mashcraft on Delaware offers Newfangled Confections' creation of honey-roasted Chex mix with pecans and peanut, cinnamon, cayenne pepper and honey.