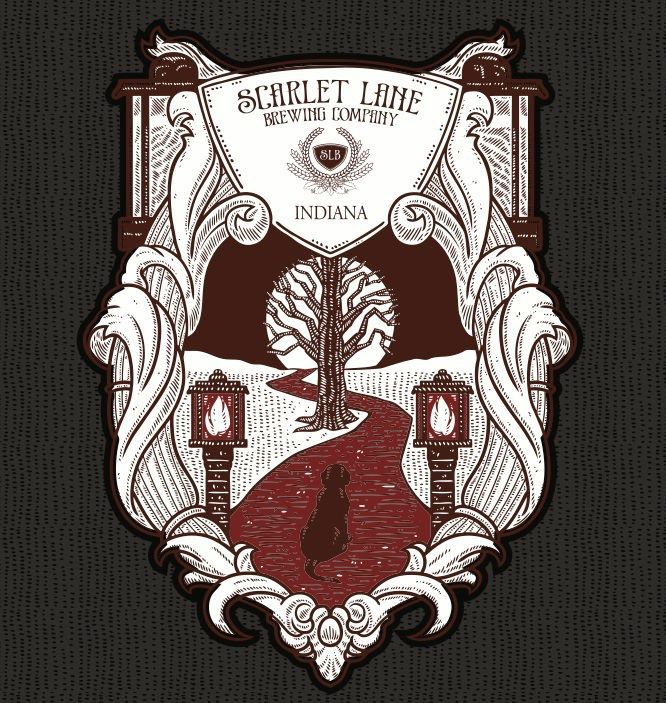 "Scarlet Lane teamed with Russian River to support our close friends and family members impacted by the Sonoma fires," emailed Nick Servies. "Nov. 22 we will tap the recipe designed in collaboration with Vinnie from Russian River and Mitch from Scarlet Lane. Loads of Mosaic Hops dancing with a blonde ale recipe to bring you a crisp and hop forward beer." Show up at Scarlet Lane in McCordsville for an all-day pint benefit to #SonomaPride Campaign
Triton emailed:  "Join our Director of Forking Awesomeness, David Waldman, on Nov. 28, 3 p.m. for a chance to ask all your questions about Triton Brewing Company. We're partnering with the Marion County Commission on Youth and their #GivingTuesday campaign to get your questions answered AND raise money for youth opportunities in Indianapolis! No obligation to donate – just ask a question!" Check out www.mccoyouth.org/Giving2017.
Nov. 30, 6-9 p.m. at the Sun King Small Batch Fishers WTTS, City Barbeque, and Sun King Brewing Company invite us to bring canned goods for Food Rescue. Sun King will be tapping Wee Muckle - a large, malt-balanced ale with huge toffee flavors and hints of port-like character. Wee Muckle was the winner of the Gold Medal in the Scotch Ale category at the 2011 #GABF. BBQ will be catered by City Barbeque. Food Rescue, a nonprofit organization that educates students K-12 on the importance of not wasting food and how unwanted, unpeeled, unwrapped foods can be given back to a community in need, will be on-site collecting cans of food. Those who bring canned goods will have the chance to Enter to Win: 2 Tickets to the WTTS Can Concert at The Vogue • City Barbeque gift card • Sun King swag! 
Puerto Rico Hurricane Relief is the focus for Bier Brewery, in collaboration with eleven other Indianapolis businesses. All proceeds and goods from P.R.O.M. [Puerto Rico Overcoming Maria] Adult event on Dec. 1 at 8 p.m. at Gallery Forty-Two "will go directly to Puerto Rico's Second Union Church to distribute money and goods directly to people and organizations who desperately need it most," said Bier founder/brewer Darren Conner in a news release. 

No tickets at the door. Tickets are $75 per person and include an open bar of beer and wine (donated by Bier Brewery and RNDC) and hors d'oeuvres (provided by Morton's Steakhouse, The Garden Table, Big Lug Canteen and Sahm's Place). Lifetouch Photography will be setting up a photo backdrop for capturing classic "prom-pose" photos. Black tie attire is optional, but all guests are invited to dress up and enjoy a fancy night out. Music will be provided by local DJ Jim Cerone for showing off your best moves.
Metazoa emailed about the safe arrival of  "African elephant Nosey at The Elephant Sanctuary in Tennessee after she was confiscated in Alabama by Lawrence County animal control officers. The Sanctuary will be a temporary refuge for Nosey until the court makes a final ruling. You can continue drinking Metazoa beers and helping out animal charities. 
"The Elephant Sanctuary is one of the charities that has received a portion of the $65,000+ that we have been able to send to our animal and wildlife organizations since our opening in 2016," said Frederick. "We try to keep tabs on what's going on with each of them as that sometimes dictates the times when they need money the most and we can have special impact," added Metazoa.
Upland's Movembeer is a pub-exclusive brew, with $1 of every beer sold going to the Movember Foundation, an organization that funds men's health programs around the world. This dark German Lager is very malt driven with a slightly sweet taste, candy-like aroma, & gentle toasty, bready notes, reads the descriptions. On draft at all Upland locations. 
Sun King invites: You can help Studio 317 Fitness & Cycling raise money to build a water pump in East Africa by attending their Workout for Water event  Nov. 18,  8 a.m.-12 p.m. 
Is Black Friday also now Brew Friday?  
Lots of beer happening Nov. 24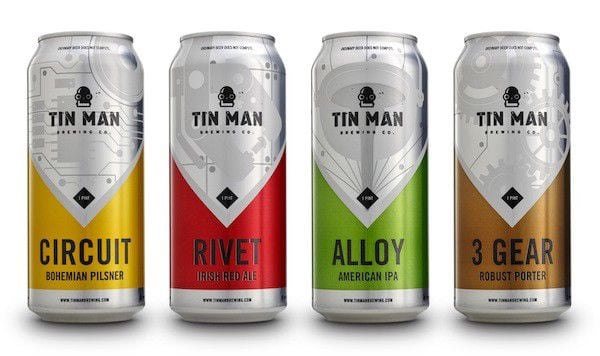 Tin Man Brewing marks their 5th anniversary, at 1430 W. Franklin St., Evansville, noon-11 p.m. central time. 

Tin Man co-founder Sara Davidson reported, "We will have our Bourbon Barrel Csar RIS can release that day. This is our Russian Imperial Stout that we've aged for 11 months in Bourbon barrels. There will be a limited quantity packaged, with a select amount going into distribution in the following week or so. Tin Man Kokomo will also have this available in draft at their location. We'll also have some special small batch brews on tap.  We'll be offering 20% off all merch, specials on gift card purchases, $5 growler fills of core beer styles."
Upland is releasing Prince Igor Russian Imperial Stout, named after the electrical contractor foreman on our building project, Igor Bushmakin. Described as black as night with a dark tan head and aromas of coffee, roast, unsweet bakers chocolate, slight malt sweetness, velvety smoothness and dry finish. This style was brewed and made popular in the 18th century by Thrale's brewery in London for export to the court of Empress Catherine II of Russia. The beer was higher in alcohol and contained more hops which made it suitable for the long export voyage. The higher alcohol content was also well suited for the colder, harsher temperatures of Russia where spirits were typically the drink of choice. This is a great beer with dessert. The roast and alcohol will go great with sweets, especially chocolate, advises the Upland news release.
Flat12 is opening at 10 a.m. for their 6th Annual Black Friday with release of specialty and barrel-aged varieties of their epic Pinko Russian Imperial Stout. Beware of the high ABV and come prepared with water, food and restraint. On tap:

Death Bear 2017: Pinko Russian Imperial Stout aged in Buffalo Trace bourbon barrels. 10.5% ABV | 86 IBU 
Solid Bold 2017: Pinko Russian Imperial Stout aged in Heaven Hill bourbon barrels with vanilla beans. 10.5% ABV | 86 IBU
Terry's Chocolate Orange Pinko: Pinko Russian Imperial Stout barrel aged in Heaven Hill bourbon barrels with orange zest and cocoa nibs. 10.5% ABV | 86 IBU
Cinn Sergey: Pinko Russian Imperial Stout aged in Heaven Hill bourbon barrels infused with cinnamon. 10.5% ABV | 86 IBU
Pinko 2015: Vintage Pinko Russian Imperial Stout. 10.5% ABV | 86 IBU
Pinko 2016: Vintage Pinko Russian Imperial Stout. 10.5% ABV | 86 IBU
Pinko 2017: 10.5% ABV | 86 IBU 
Triton is releasing Convoluted and Hazy IPA, inspired by the great, hazy and juicy IPA's made in New England. In 16oz cans and on draft. For the record, New England IPA seems to be the newest national craft beer trend.
More Newest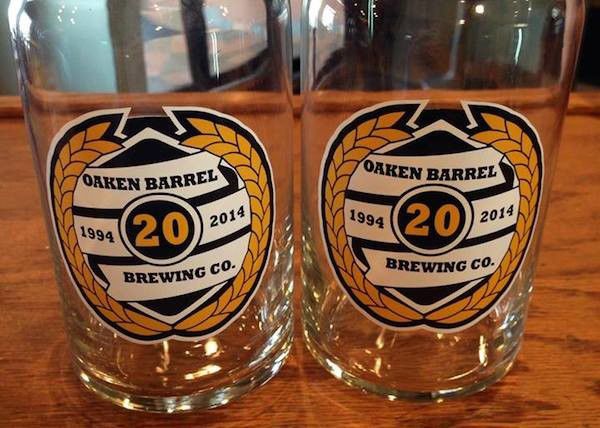 Kwang Casey reports Oaken Barrel's "Leroy Brown, a long-time seasonal favorite, is officially back and better than ever! Smooth and malty flavored with a hint of honey, this beer is copperish in color with a rich brown tint. Once one of Oaken Barrel's original house brews."
Sun King's new Caramel Apple Tripel is in 2-packs and pints at the brewery.
Tom Thumb is returning to the New Day Tasting Room. "This semi-sweet carbonated plum mead is made with North American wildflower honey and Italian plums at 6% ABV."  In glass pours and growler fills. 
Upland is bringing up a trio:

Crimson, formerly named Malefactor, an American take on a Belgian Flanders-style Red Ale. "Our twist on this classic brewing style is aging the beer in previously used bourbon barrels, which contributes to a slightly higher ABV than most of our sours, clocking in at 11.2%. Long fermentation reveals aromas of plum, red wine and cherry. Crimson will be available in our distribution areas in early-to-mid November.
Prim, a blending of plum and cardamom, is aged in wine barrels for four to six months on Basis. Prim is tart, fruity and herbaceous with aromas of plum, cardamom and fresh fruit flavors that goes well with rich recipes. 
Latitude Adjustment Tropical Pale Ale with pineapple and coconut in 6-packs. 
Half Moon brewmaster John Templet emailed "You can't get much more basic than K.I.S.S. Cream Ale. Sometimes, we as brewers, have to remind ourselves to Keep It Simple, Stupid! So, we brewed this simple cream ale with premium malts to give a creamy, smooth, crisp and clean taste."
For Your Calendar
Sun King, Broadway in Indianapolis and WFYI-Small Studio Callout for singer/songwriters/bands: There is still time for you to enter the Bar To Star Contest hosted by WFYI with support from Broadway Across America Indianapolis.
Winners receive a WFYI Small Studio Session & will perform live before the opening of "Beautiful: The Carole King Musical"....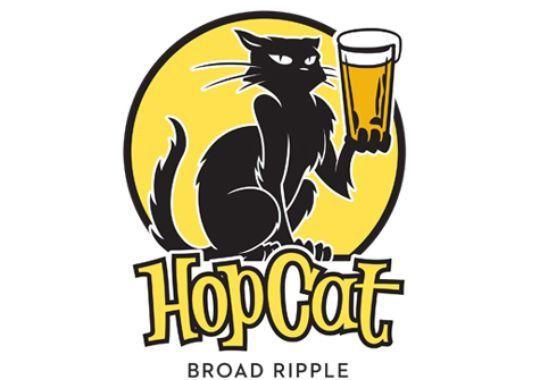 Nov. 21- Hop Cat Broad Ripple's 7 p.m. beer dinner features Evil Czech Brewing Company. Hop Cat BR Beer Program's Eric Duvall did an email chat with NUVO:
NUVO: What's special about Mishawaka & Culver-based Evil Czech Brewery sharing a 5-beer/4-course Hop Cat craft beer dinner?
Eric Duvall: The short answer to this would be their New England-style IPA is one of the most popular beers here among our staff. NEIPA's have blown up as the next big trend in beer, and they've been making one of the most consistent local ones out there. We do our best to be the best beer bar on earth, and part of that is keeping up with the trends of what our guests are drinking. Evil Czech fits the bill perfectly so it just kind of made sense.
NUVO: How are you, HopCat's Master Chef and Evil Czech's brewing staff working together to bring beer and food into perfect alignment? What will be unique about this dinner pairing? 
Eric: There are 3 different ways that we handle beer dinners. Sometimes a brewery will come to me, give me the beers they wanna pour, and my kitchen guys will build something up from their preferences. Occasionally one of our cooks will have some dishes that they are passionate about making. When that happens the event is planned kitchen first and then we go to the brewery and ask them for beers that fit the flavor profile. The last way is I'll have an idea for a theme which usually includes both food and brewery and the kitchen works around my needs.
For Evil Czech it was the first one, so we started beer first. From there I sit down with the kitchen, explain to them the flavor profiles as we taste the beers, and discuss any theme that we feel will fit the brand well. I initially wanted to do more of a viking/barbarian theme to fit in line with their logo/branding, but found more success just trying to pick foods to accentuate the flavors of the beers. Something else we do to really dial in on this is include the beers when cooking the dishes they're paired with to give them that extra oomph of flavor. Here's what to expect:
Welcoming beer: Bigsby – 6.7% - American White Stout
First Course: Citrus Deep Fried Mushrooms
Paired w/ Jesus Mexican Lager – 4.8% - Mexican-style Lager
Second Course:. Arty Chicken Barbarian Pesto Pizza
Paired w/ Col Berr - 6.1% - Saison
Third Course: Chuck Grilled Steak with Sautéed Vegetables
Paired w/ Nefarious Harbor – 7.2% - NE-style IPA
Dessert: Coffee Cheesecake
Paired w/ BBA Voodoo – 6.2% - BBA American Porter w/ Vanilla & Rye
Nov. 29: Central State Brewing takeover at HopCat Broad Ripple prompted an email chat with Josh Hambright:
NUVO: What's special about the Nov. 29 tap takeover at Hop Cat BR? 
Josh Hambright: We love working with HopCat and it's always a blast doing events with them. They've brought in some super special beers many of them on the rarer end and there definitely hasn't been a chance yet to try them all on tap at the same time. Brew schedule permitting I'll be on hand, to hand out free high fives and answer any questions folks may have. The beers on tap include: Cuvee#2-Oak BA Blonde Ale w/Brett-4%; Frugal Ginger—BBA Saison w/Ginger-6%; A Well Forged Sword-Americn Imperial Stout w/Orange, a collaboration with Green Bench Brewing Co.-13%; Unigov-American IPA w/Brett, 6%.
NUVO: What's the story about adventuring with CS's unique brews in your own place?
Josh: It's been just over two months now since we really ramped up production over here and about a month since beer started rolling out. We've been cranking out a bunch of new IPAs which has been a fun new adventure and something people may not think of us for but that we've always loved tinkering with. We've also been super busy filling barrels and already have almost 40 filled with more on the way. Our increased storage space is really allowing us to tackle some fun projects we just didn't have space for in the past. 
The building at 4001 E. 26th St. is strictly production; The Koelschip at 2505 N. Delaware is where you want to go for CS brews on tap.
December Already?
"Mark your calendars now for the 7th Annual Sour Wild Funk Fest [April 2018], a day of sours from some of the best breweries in the country, all under one roof in downtown Indy," invites Upland. "RSVP on Facebook now, so you don't miss the announcement for early bird ticket sales, available in December." 
Dec. 1: 4th Annual Indiana Taps and Touchdowns at the pavilion at Pan Am Plaza (201 S. Capital), 5-10 p.m. held in conjunction with the Big Ten Football Championship. 30-35 beer, wine & food vendors. Checkout indianasportscorp.org.
Dec. 5: Girls Pint Out, 6-8:30 p.m. at Tomlinson Tap Room [222 E. Market St.] informal night hanging out with "Ladies of Beer" including: Holly Miller - owner Black Acre Brewing Co., Leah Huelsebusch -owner Taxman Brewing Company, Keely Thomlinson - head brewer Scotty's Thr3e Wise Men Brewing Company, Eilise Lane Servies - owner/brewer Scarlet Lane Brewing Company, Megan Pelsor, Emi Grinvalds, Gretchn Ferringer, Kelly Brown - brewersSun King Brewing Company, Max Schenk - owner Round Town Brewery, Rita Kohn - beer writer for Nuvo
The tap list includes beers from the breweries of each of the ladies represented. No formal presentation - come and go as you please.
Dec. 13: Muletide (2017) Tapping and Can Release at Triton Brewing Company (5764 Wheeler Road), 3-10pm! Triton Brewing is in an old brick mule barn built by the army. Since our founding we have produced an annual holiday beer called Muletide, a combination of Yuletide and mule barn. Please enjoy this white chocolate ode to the holiday season, our annual Muletide offering! Grab a pint, growler or 16oz can and have a "Happy Forking Holiday!"
Dec. 14: Triton Good Beers and Ugly Sweaters at Eli Lilly Hall, Eugene and Marilyn Glick Indiana History Center (450 W. Ohio Street), 5:30-8pm. Presented by Payless Liquor, join Triton Brewing Company and some of friends for a special holiday hoppy hour! Wear your ugliest Christmas sweater and enjoy some holiday cheer as you taste complimentary seasonal beers produced by local craft brewers. Explore the holiday wonderland Festival of Trees exhibition, win prizes for the best holiday sweater and enjoy live karaoke. Ticket includes craft beer tastings, and hearty appetizers. Age 21+. Tickets at tickets.indianahistory.org.
Dec. 16: Bier releasing Sanitarium Belgian-Style Quadrupel in bombers.