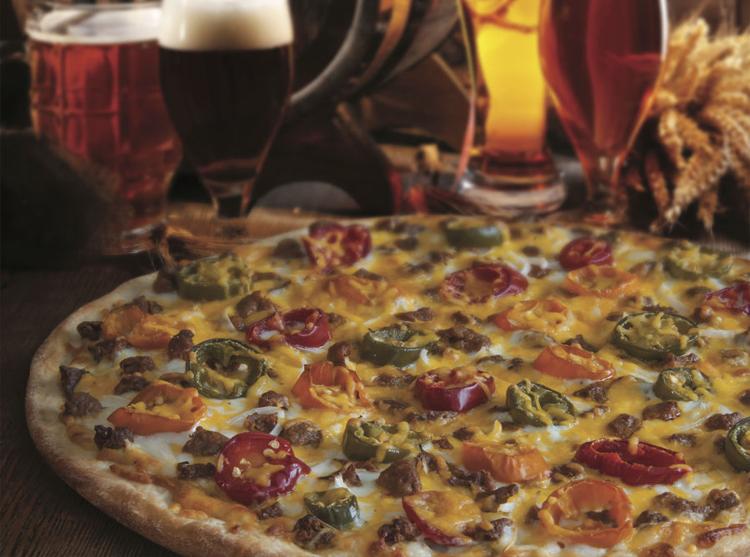 Noble Roman's email announcing a new opening in Whitestown came just as I'd been hearing about a nationwide movement by restaurants, bars and taverns to serve locally brewed beers exclusively, as a smart economic business model. Full disclosure; normally I do not cover restaurants, bars, taverns, but the timing here piqued interest so I asked about Noble Roman's beer menu.  
A food and beer attachment arrived. I studied it. Among the thirty options are Indiana's very own Daredevil, Sun King, Taxman and Upland on draft. Three Floyds is offered in bottles. Two special notices include: 'Limited Time Craft, ask about our special craft beers on tap' and 'Beer Flight, any 4 craft beers on tap,' 
Though the beer list is dominated by the lights and lite of megabreweries, and the price point is tilted to favor these 'domestics' and 'imports,' and even though bona fide craft breweries are mixed in with former craft breweries that sold out to megabrewers, I was impressed by the 'something for everybody' Indiana craft choices.
Listed alphabetically under 'Local Craft' on tap are: Daredevil Lift Off IPA; Sun King Sunlight Cream Ale; Taxman Deduction Dubbel Ale; Upland Bad Elmer's Porter, with 'rotating variety' for Three Floyds in bottles. I could imagine each of these partnering well with any menu item , that runs the gamut from bread sticks to house pastas, pizzas to salads, baked subs to desserts. 
I emailed back, "Who chooses the beer?" 
"Jim Bales," was the reply. Within a day, a call came from James D. Bales, vice president of franchise services.
"I enjoy a wide variety in beer," said Bales, by way of introduction. "What I'm trying to do is have a good variety including a choice of IPAs and a spectrum of other styles. We get more requests for IPAs, but I want to offer more than IPAs."
'More' includes imports representing England, Germany, Ireland, Mexico, the Netherlands and "An Italian import you can't find on tap at other places. Being who we are, Peroni is an important choice."

Bales says he listens to patrons regarding their beer selections. Soccer players particularly will ask, "Do you have a local dark?"
Bales chuckled when he reported, "Distributors argued with me, 'Give it up,' but I want to offer an experience.  
"I took a lot of time with the selection, and each will be served in the appropriate glass. It's part of the pageantry, part of the enjoyment," that, he explains, was impressed upon him during trips to Belgium.
The right pour for each style is another aspect of what Bales wants everyone at the bar to experience. Bartenders and barristas are being specially trained. Bales said everyone working at the bar will be knowledgeable about the attributes of Indiana craft over domestics, and how Indiana craft can enhance the food when paired. They won't be pushy, but they will feel free to offer a chance to try.
At the media opening I hung at the bar. Indeed, perfect pour in the designated glassware for that style, minus one that had not yet arrived from the brewery. I chose a pizza to go with my beer. Since the salad bar allows for personalizing, I did ingredients to pair with the beer. A group of us shared a dessert and two of us shared beers to match.
The ambiance is such that we could linger and visit, and in between I could pull back to enjoy the retro comic shorts and vaudeville acts rolling on a loop on the TV next to the ever-changing sports scene TV. Families came and went. I watched the beers being ordered.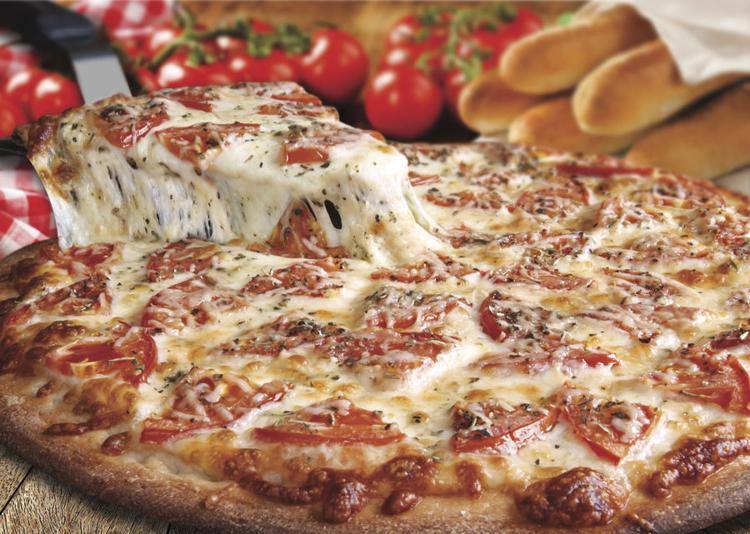 I had intended to ask Jim Bales if he'd ever consider Indiana craft only, but the reality is, this is Indiana, with people raised on one-taste beer and sugar-laden or diet sodas.
When I see people shaking salt over a deep dish pizza before they've even tasted, reality sets in. It will take a while for a significant switch to quality over quantity, flavor over bland, nuance over shake on the salt. But one has to start somewhere, sometime, and Jim Bales knows this.
"As an Indiana company, supporting other Indiana companies makes sense.  Indiana craft handles at the bar, a shelf of different shaped glassware, mention on the menu," he says "Even noticing something different served at a table nearby might spark an interest in a beer that's brewed here by our neighbors who help the local economy and support what we need to be a great city. To grow discernment takes a concerted effort."
Noble Roman's Craft Pizza and Pub in Whitestown is the second in a series of  openings of a new concept that actually returns to Noble Roman's beginnings in 1972 in Bloomington, Ind., near the IU campus. Its name then was Noble Roman's Pizza Pub. 
"This stand-alone pizzeria concept is the culmination of some of the best of our history combined with all new, leading edge technology and recipes to produce what we think will be a terrific growth vehicle for the future," read a statement in the news release.
The first, a from the ground up structure featuring a streamlined kitchen area, enlarged bar area and choices of seating arrangements, opened in December 2016 in Westfield at Monon Marketplace.
The Whitestown location is at 6428 Whitestown Parkway in the Villages at Anson IV just off the highway.
Other stores in this concept will follow as the company develops what they define as new-generation pizzerias in their stand-alone buildings, designed for what sounds like an oxymoron — quick service up front with casual dining; you're welcome to linger over your meal.