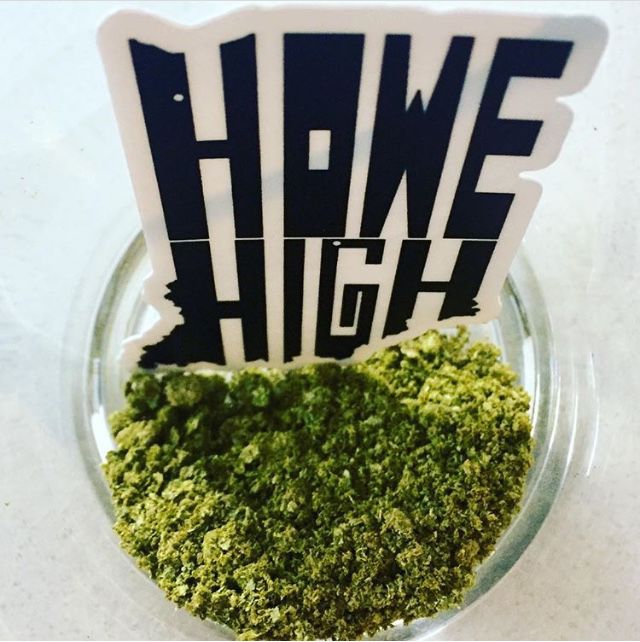 Indiana's debut hop blend collaboration will premiere statewide in February in four new brews by Indiana craft breweries. The collaboration — first to feature hops from two separate hop farms — was created by Ryan Gettum and K.C. Lewis at Indy High Bines and Steve Howe at Crown Point-based Howe Farms.
The beers include Valparaiso-based Four Fathers Brewing and Michigan City-based Burn 'em Brewing for a collaborative kolsch; and MashCraft, with sites in Greenwood, Indianapolis on Delaware St., and Fishers; and New Albany-based Floyd County Brewing, each featuring an IPA.
So, what's the backstory for the Howe High Hop Blend and the impetus to test with Indiana breweries located North, Central and South?
"Steve Howe and I started kicking around the idea last winter," K.C. Lewis said. "Our farms have become good friends from a chance meeting at a Purdue field gathering...We've grown to be more than just farm friends, really close friends in general."
Initially, Lewis described the collaboration as a simple one. On second thought, he added, "Actually, it all involved quite a bit of planning."
He filled in the trajectory of a year-long endeavor.
They started informally, testing interest and learned, said Lewis.
"The idea to showcase Indiana hops in a collaboration perked the ears of every brewer we talked to. We wanted to make an all purpose blend that could be used in bittering and also as an aroma hop for dry hopping. Both farms would bring varieties to the table that the other was not growing. We were making the freshest blend available without using proprietary hops."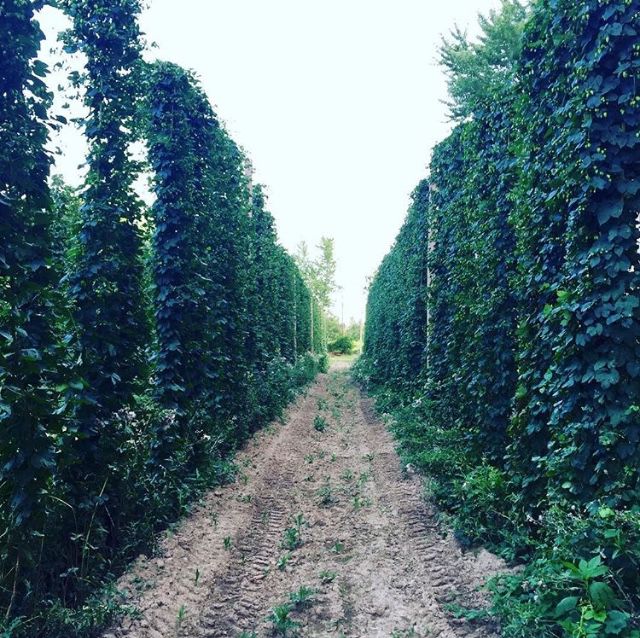 "We had a target alpha we were looking to hit and started there," explained Lewis. "Knowing the flavor profile of each of our strains, we started creating a ratio of hops to add to the blend to create Howe High. It would showcase each farm's strengths and the high standard we both set for ourselves from the hop pellet itself all the way to packaging and storage. The five hops we chose were to achieve the flavor profile we were looking for. They are also the ones that are unique to each farm. Indy High Bines brought varieties that Howe does not grow and vice versa."
"Once the blend was set we sent it to Purdue for lab analysis. We were very excited with the results. Target alpha range was nailed and flavor profile was spot on."
But then reality set in and Lewis admitted, "Although confident in each other and the product, we were a little skeptical at first of how the blend would sell."
So they started small this year and plan to expand based on popularity.
"We offered the blend initially to breweries we work with," sayis Lewis. "We saw it as an opportunity for them to use something different, a new blend with a catchy name they could market and create hype."
Their first customers, Four Fathers Brewing, Burn 'Em Brewing, MashCraft and Floyd County Brewing bought up the whole first batch.
"It sold out almost immediately," Lewis said.  
I asked the brewers what attracted them to take on this challenge of brewing with an unknown blend of five hops harvested and pelletized from two different hop farms.
"Quality, and timing" replied Jason Lacny, owner and brewmaster of Four Fathers Brewing. "I know Steve [Howe], I trust that this collaborative blend of hops will not only live up to its expectations, but will most likely exceed them.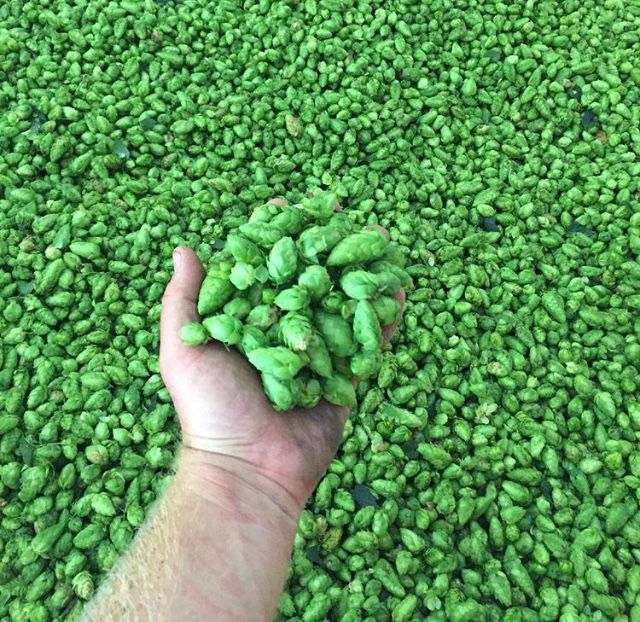 "[At Four Fathers] we started talking about this off-the-wall beer concept a couple years back, and had discussions with the gentlemen at Burn 'Em Brewing. Our idea was to brew with carrot juice and orange juice using some hop blend that would be dank and citrusy.
"When I asked Steve [Howe] what were the main characters of the blend, he told me dank and citrusy. My next text was to Steve [Murray, co-founder/brewer] at Burn 'Em Brewing, and the rest is history." Lacny cites the "unique 4-way collaboration between two hops farms and two breweries" as one of the best perks about being a craft brewer in Indiana.
"MashCraft always is looking to experiment with new products that will create flavor profiles that differentiate our product," emailed Andrew Castner, MashCraft's head brewer. "We love partnering with local vendors. We especially love to tell our guests that all four of our house beers are wholly or partly made with hops grown inside the city of Indianapolis limits."
Jeff Coe, head brewer at Floyd County Brewing said, "To be honest, I just thought it would be fun. I knew this blend would be very limited, so we had a chance to come up with something unique. Plus the idea of supporting local hop growers was something we wanted to do. Keep it local."
I followed up with a question: What in the specification about the hop blend guided you toward creating a recipe?
Lacny reports the collaborative "hopped-up kolsch with carrot and orange juice [will be] crisp and effervescent with a juicy foundation, overflowing with dank, earthy, citrusy hops. We plan to call it 'Carijuana'."
Lacny and Murray are scheduled to brew on Jan. 26 for a kolsch to be available late February, on draft as a one-time brew at Four Fathers in Valparaiso and Burn 'Em Brewing in Michigan City only.
Castner, on the other hand, is planning a series of brews with Howe High Hop Blend. "Our first release will be a dry-hopped IPA, so we will be analyzing the results more from the flavor side than anything that can be measured. From these early results, we will plan to scale up to larger batches in the future."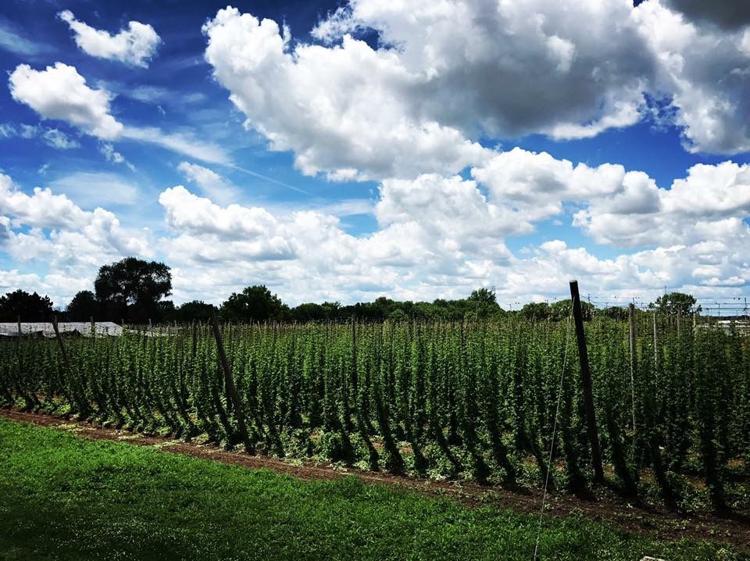 Castner envisions his first Howe High IPA recipe will feature "light malt to stay out of the way, and single hopped initially to get a complete idea of the unique flavors from this blend."
The final stage of dry hopping took place mid-January; a launch is expected in February.
Coe reports, "All I knew going in to this was the alpha and beta acid levels, along with a somewhat vague flavor/aroma description. With the high alpha acid level I figured we wanted to go bitter, and what better than an IPA? I knew we wanted to showcase the hops, not just use them as a supporting role.
"I went moderately bitter for an IPA, around 60 IBU. I used several hop additions, starting with some first wort hopping, a full kettle boil addition and an equal amount of whirlpool hops. The grain bill was kept simple to showcase the hops. Pale, 2-row and some light caramel just for a bit more color. The beer should finish up at a bit over 7 percent ABV."
Coe noted, "When I brewed the beer, I was struck by the aroma of the hops in the boil. I would call it a very herbal aroma, as opposed to the more common citrus, or tropical fruit aromas common in most of the more recent IPAs being released.
"It won't be a typical IPA," he finished. It will be interesting to see how it's received by our customers."
According to Lewis, due to the popularity, "Long range, we would like to see the blend be produced in higher quantity. We are going to tweak the recipe each year according to brewer feedback. As the farms grow and introduce new varieties, we will add them to the blend."
Adding one more layer to the all-Indiana paradigm, Both Howe Farms and Indy High Bines own pelletizing equipment purchased from [the Ossian, Indiana-based] Buskirk Engineering.
"Coming from an [agriculture] background, I really took to the crop, striving to improve our equipment to produce the highest quality product in return," wrote Ty Stoppenhagen, VP of Sales and Marketing at Buskirk Engineering.
He explained that Buskirk is "about one and a half years into the developmental side of manufacturing geared specifically towards hops and I couldn't be more pleased with our progress...Every day we continue to evolve, a lot like the hop farmer, to manufacture the absolute best product we can by hand, in the USA."
Buskirk has equipment all over the world for hop processing, including with big name breweries, however, concludes Stoppenhagen, "When it's all said and done, it's been my Midwest growers that have really catapulted our equipment to the forefront."