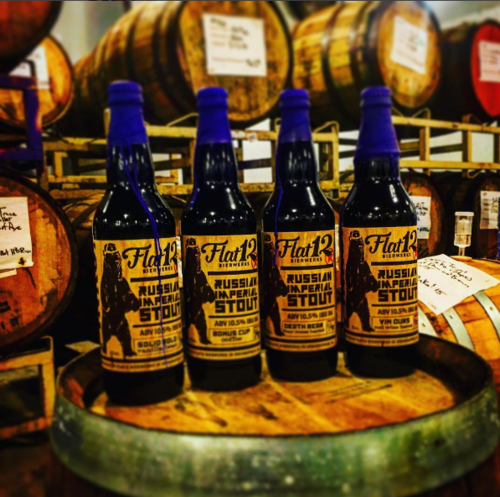 "It's been a tradition of ours from the beginning to put a twist on what we do from events to beers," touts Flat12 spokesperson Valerie Green about the brewery's upcoming Christmas in July. "We hosted the first [Christmas in July] event in 2015. Releasing a big imperial stout in the middle of July might seem crazy but it fits with our mindset and we think craft beer lovers appreciate originality. It's an opportunity to release Pinko, our biggest beer, twice a year, along with a handful of variations of Pinko, including 
Death Bear: Pinko aged in 4 Roses Bourbon barrels. 10.5% ABV | 86 IBU; 
Solid Bold: Pinko aged in rum barrels with vanilla beans. 10.5% ABV | 86 IBU; 
Chocolate Orange Pinko: Pinko RIS aged on orange zest and cocoa nibs;
Cinnamon Pinko: Pinko Russian Imperial Stout infused with cinnamon."
Green admits, "July in Indiana can be a little warm, so we open up our 30,000 cubic foot beer cooler for the event. We call it the North Pole, or "Santa's Lounge." There's really nothing better than sipping a big barrel aged Russian Imperial Stout in a 40 degree cooler with a sweater and gloves on. People really enjoy that fun aspect of the event. We usually have extra ugly sweaters around for those who don't want to unpack."
Green reveals, "Grandfather Frost, Flat12's Russian Santa takes very good care of his brewery elves and reindeer ... rumor has it he'll show up with gifts for all." 
Big beers require staying well fed and hydrated. While attendees can garnish their ugly sweaters with wreaths of pretzels, string cheese and processed meats, Green says, "We certainly encourage attendees to grab a bite at Hoagies & Hops inside the taproom during the event. They've got East Coast style hoagies and cheesesteaks that will do the trick. We'll also have free water in kegs around so people can stay hydrated."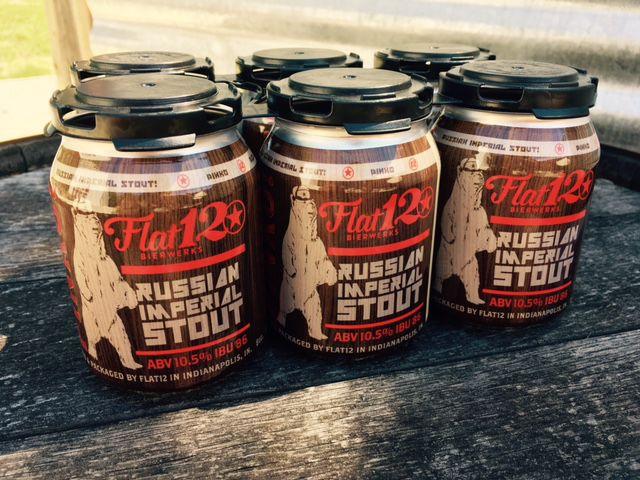 Green explains that while "as a brewery, we make it a habit to only participate and donate beer to beer fests when a philanthropic cause is involved, Christmas in July is different in the way that the price is aligned to cover our costs to produce these expensive beers and customers are getting full value with all premium/barrel aged beers for their dollar."
This, says Green, opens Flat12 to engage in year-round philanthropy at the brewery. She cites recent events including a successful fundraiser/adoption drive for Dogapalooza, Pints for Parks to raise money for Indy Parks and the Wheels of Soul fundraiser for Mr. Holland's Opus Foundation all month. 
Flat12 Bierwerks' Christmas In July: July 22, Noon-4 p.m
A $20 ticket includes entry to the event, a commemorative glass, (3) four ounce pours of our specialty Pinko varieties and barrel aged line-up, and a complimentary half pint of your choice. Attendees also have first opportunity to buy limited edition Pinko bombers and an industry first, Pinko in 8-ounce stubby cans.