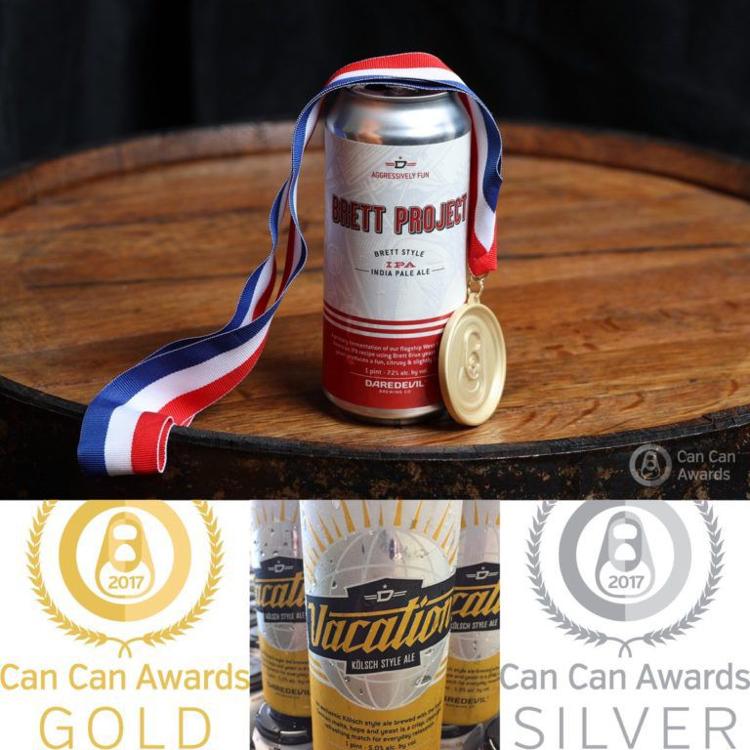 Beer competitions are proliferating alongside the growth of craft breweries. Daredevil just gained two medals in the 2nd annual Can Can Awards headquartered in Franklin, Tenn. Taking a Gold in the Experimental category, Daredevil Brett Project IPA validates the brewing team's year-long attention to expanding the boundaries of their flagship West Coast Style American IPA recipe made with "a primary fermentation of our using Brett Brux yeast to produce a fun, citrusy & slightly funky IPA," explains Daredevil spokesperson Shane Pearson. "Our Brett Project IPA is available mostly year round on draft at our taproom. We distribute Brett Project IPA as a special release on draft and cans in January each year."
Vacation Kolsch earned a Silver medal in the Kolsch category. Starting out as a summer special, Vacation quickly picked up a loyal following and now is "distributed year round on draft and in cans across Indiana as well as always a favorite at our taproom. It is an authentic Kölsch-style ale brewed with the finest German malts, hops and yeast to provide a crisp, clean and refreshing match for every day relaxation," said Pearson.
Along with Vacation, "Our Pils German Pilsner & Helles Munich Style Helles are both available in cans at the taproom among eight current German-styles to choose from and our fan favorite and taproom only release NEX IPA #3 is coming out by mid-July," added Pearson. 
While Daredevil is the sole Indiana winner in Can Can 2017, other Hoosier craft breweries earned Gold medals in the 2016 inaugural event, namely: Chapman's Valiant in the Stout category; Tin Man's Damascene Apricot Sour in the Belgian-Style Lambic or Sour Beer category; and People's Farmer's Daughter Wheat Ale in the American-style Wheat Beer category.
Pearson said Daredevil entered the 2017 event because "We liked that the Can Can Awards are focused on breweries that can their beers and we wanted to support it from an industry viewpoint of advocating for canned beer. We likely will continue to enter beers in this competition." 
Nathan Bider, president of The Can Can Awards cites, "Some brewers think canning is not good for some styles of beer." NUVO asked Pearson for his thoughts about cans versus glass bottles. 
"To date we have only used cans to package our beers. We are open to using bottles for styles that we think those are the more traditional format. The only reason we would not consider using a can as a package is if we were looking to have a beer be bottle conditioned." 
Pearson reports, "So far this year we are growing our volume about +40% compared to 2016 so lots more beer. To support demand we also continue to focus on improving both our brewing processes as well as our capacity. On the quality side of things among the investments we have made this year was an upgrade to a new digital microscope. On the capacity side we added a new JVNW 80 bbl tank in March."
Pearson also points out that Daredevil primary mission is a production brewery, ad guests to the taproom are welcome to bring in food of their choice or order from the Taproom menu that pairs with Daredevil beers.