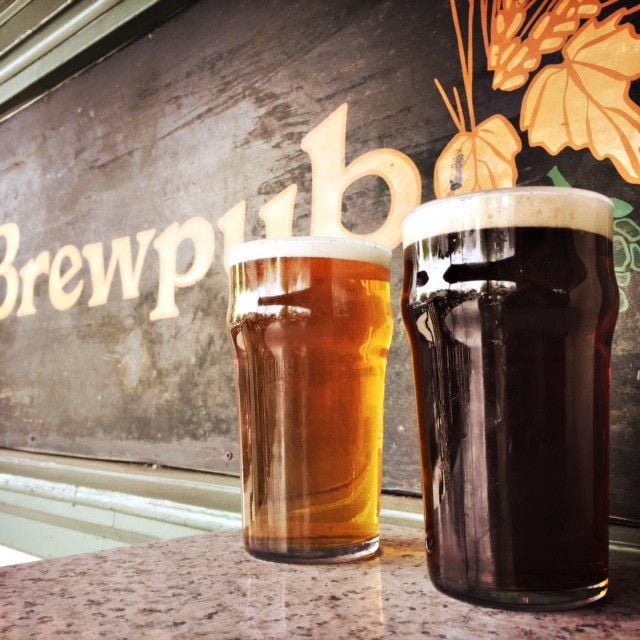 Broad Ripple Brewpub's signature Cask Ale, E.S.B., doesn't get the notice it should get, contends Jonathon Mullens, the Brewpub's head brewer. 
E.S.B. — Extra Special Bitter — is a more robust, maltier version of the traditional English pub draught. It's served in a Nonic pint, distinguished by a curved lip close to the top and holds an imperial pint [20-ounces].   
BRBP's E.S.B. is a sparkling copper. The nose is sweetish, with a slight fruitiness. 
"Perfect balance between generous amounts of malt and kettle hops," says Mullens, while we're chatting prior to the Brewpub's 27th Anniversary bash on November 11. He finishes his description of the E.S.B: "making for a subtle bitterness backed with the fuller body." E.S.B.s are not aggressively hopped. Meticulous balance, underscores Mullens, with drinkability as a key factor. 
There's a playful presence of yeast, I insert. 
Mullens concurs. Esters from English yeast strains yield a distinctive flavor profile.  
The conversation shifts from BRBP's under-the-radar house beer to under-the-radar yeast. Turns out that in addition to hustling to bring up plentiful beers for Nov. 11, Mullens is one of a dozen experts weighing in on the art of fermentation at the daVinci Pursuit event on Nov. 9, at The Hinge Bureau, two days before BRBP's anniversary party. 
"The yeast within" is the topic. 
"I'll be discussing the modern use of yeast and my work with Matthew Bochman from IU-Bloomington on collecting yeast from around the brewery and ending up using one yeast strain from cobwebs to make a beer called Mmm... Cobwebs," reports Mullens. "I am also providing samples of yeast at various generations and stages to be shown as part of the presentation by Ruben Sandoval Jr."
Mullens is the brewer on the program. Sandoval creates Tessellation art. Sun King is providing the libation for attendees. The event's a fund raiser, everyone's invited. 
In the beginning beer happened with wild yeast; top fermentation. 
"Put your barley grains and water in a container out into the hot sun and wait." Mullens acknowledges capturing wild yeast off cobwebs around the brewery and testing its ability to ferment satisfactorily may sound like going back to the beginning, but in reality it's totally different. "Now" there's a lot of science involved. "Then" it was take your luck, until maybe you figured something out about flavor by moving your container to different places to capture different wild yeasts.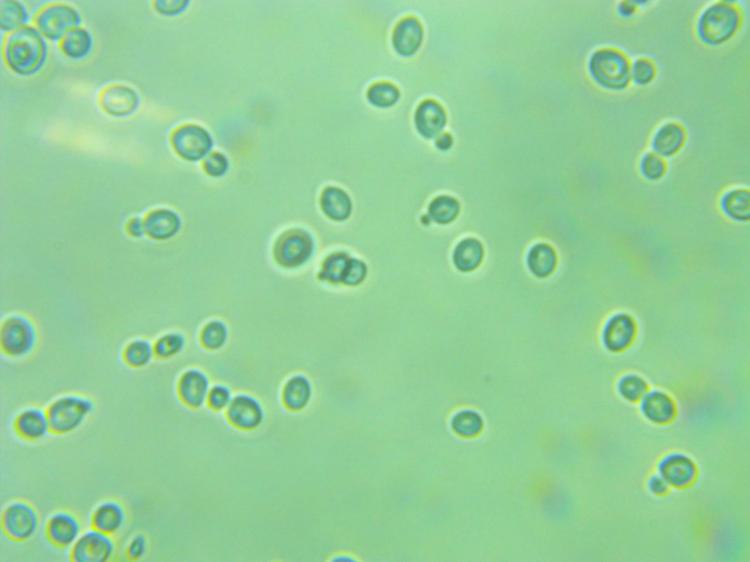 The job of yeast is to convert sugars to alcohol and CO2. This conversion differentiates beer from gruel — the not-so-tempting supper Scrooge hunkers over in "A Christmas Carol." We agree Scrooge would be less grouchy if he had an E.S.B. at hand.
Conversations with Mullens always are far ranging. Beer has context in art and culture, science and business, and Mullens has a background in each.
"Yeast is the workhorse of any and every brewery," says Mullens. "Yeast, as a living entity, can get stressed, or shocked, resulting in bad flavors."  
Mullens takes me into his world of brewer as microbiologist. Yeast relies on an ideal temperature range. Ales are top fermented; yeast bubbles at the top. Lagers are bottom fermented with yeast dropping to the bottom. 
Ale yeasts require temperatures of 10-25 degrees C. That higher heat produces esters; esters create layers of flavors. That's good, but high temps put a lot of stress on yeast. You have to pay close attention to what's happening to your ale yeast. Lager yeast strains require only 7-15 degrees C. to start fermenting. A lot less strain, a lot less worry, but a more straight-forward beer. No swirl of esters to tease and tantalize as in ales.
I pay close attention to the E.S.B. at hand. At 5.8% ABV and 35 IBUs it's pairing well with beef pot pie smothered with creamy mashed potatoes. Just as good with fish and chips, says Mullens.  E.S.B. melds just fine with everything coming from BRBP's kitchen.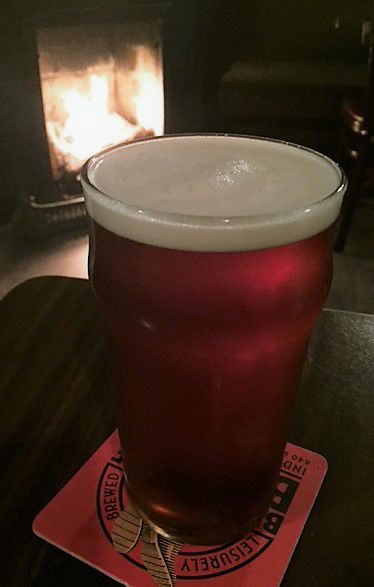 E.S.B. is always on, but it's not everyone's go-to or even try one.
We touch on the designation "Bitter" as maybe off-putting. E.S.B. is not bitter in the sense we most often think of as bitter. Here, bitter is a distinction from Pale Ales. Pale Ales are a bit less hearty.  
Is heartiness an acquired taste?
In lineage, E.S.B.s are distinguished as beers to drink, not necessarily sip. They quench thirst, enhance the taste of food, are nuanced for understatement — very British. 
Local lore has it that John and Nancy Hill opened BRBP just off the newly developed Monon Trail in 1990 so John [affectionately referred to as 'Sir John'] could enjoy a typical English pub akin to his Middlesbrough in North Yorkshire roots — with conviviality as the mantra, and a fresh cask of E.S.B. ever-present. John, a master craftsman, transformed the cozy interior from its original retail automotive function. Nancy is a Hoosier, and it's her expertise with native wildflowers as a master gardener that's the impetus for the year-round flora encompassing the entire block.
"BRBP opened with real ale as a purpose, and it still is. I keep this in mind when I brew," affirmed Mullens. "'Real Ale Mentality' is an art form." 
Real ale, says Mullens, is brewed with traditional ingredients and specifically matured by a slow secondary fermentation in the container from which it is dispensed, hence "cask conditioned." Real ale is served without the addition of carbon dioxide.
"There's confusion between cask beer and keg beer," states Mullens. "Keg beer starts out brewed as real ale, but during secondary fermentation keg beer is filtered and pasteurized."
Since coming on board as head brewer in 2015, Mullens has been reaching out to the newest generation of craft beer drinkers to bring them into the concept of real ale. Mullens wants to clear up confusion between cask beer and keg beer.
In 1973 the Campaign for Real Ale (CAMRA) specified real ale as "beer brewed from traditional ingredients, matured by secondary fermentation in the container from which it is dispensed (a cask), and served without the use of extraneous carbon dioxide. Keg beer undergoes the same primary fermentation as real ale but after that stage it is filtered and/or pasteurized," explains Mullens. 
BRBP exemplifies the British-based CAMRA movement to revitalize the local brewery making full-flavored cask ales. This was happening just about when U.S. homebrewers were bringing back full-flavored ales as an alternative to a 'one-flavor fits all' mass-produced product. John Hill was very much involved with homebrewing. The aim of the Real Ale Movement is to connect beer with social and cultural responsibility. Brewers are involved with philanthropy.
The pub, the ale house, is where people come together for real-time conversation about issues of local and national concern, confirms Mullens.
Prohibition in the U.S. meant two generations grew up on sweetened fizzy beverages. The soda fountain concept from 1919 forward had become the social institution — but not necessarily a neighborhood-builder as was the tradition of pubs. Prohibition Repeal did not revive Indianapolis' original vibrant culture of neighborhood pubs and taverns serving as a center for community life.
"Everything about BRBP ties into the idea that neighborhood pubs foster community life," said Mullens. "It's a way of life that promotes small businesses, appreciation of traditional craft and of environment. 
It's generally acknowledged that BRBP is the social and cultural anchor of 'The Hill Block' alongside The Monon Trail. It's well-documented BRBP laid the foundation for Indiana's burgeoning modern craft beer industry.
What needs more acknowledgement is BRBP's iconic E.S.B., with its surrounding culture of community building. What's not to to like about a beer with a rich texture, plentiful malt, a clean bitter finish and a penchant for promoting worthy conversation?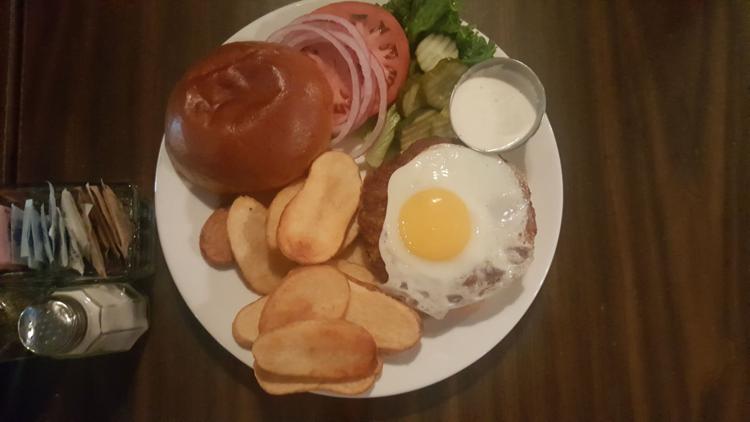 What's happening Nov. 11th?
Mullens is bringing up something new to peak interest —  "ESBourbon, our ESB aged in a bourbon barrel giving it subtle bite of vanilla, oak and alcohol warmth from the bourbon, for a slightly higher: 6.5% ABV and the same 35 IBUs."
The traditional E.S.B. will be on cask, along with Lord Treacle Bumbright Esquire IV, brewed in collaboration with Central State Brewing.  
Making a comeback is "Ron Swanson's Last Day of Camp. BRBP's 25 year anniversary collaboration with 25 other breweries that has been barrel-aged."
Bicycle Route 35, "Our Porter aged in a bourbon barrel giving it subtle bite of black licorice, vanilla, and a smooth alcohol warmth from the bourbon" will make its debut.
The inside lines will flow with: 
Porter, IPA, Lawnmower, Tart Lizzy, Bennett's Pale, Hard Target, Pumpkin Ghost (if it is still on), Vintage Porter, Pumpkin Ale, Beerdy McBeard Face, Lost Red Glove, and on the Guest Side, Blake's Grizzly Pear Cider and something fun from New Day.
In the trailer outside you'll find:
IPA, Lawnmower, Bennett's Pale, ESBourbon, Hard Target, Lost Red Glove.
Food specials include: Cheese Crock Bacon Burger, Crawfish Pie, Brewpub Tenderloin, Creamy Tomato Vegetable Balls, Vegan Brewpub Burger, Leek & Cheese Pasty.
Robert Rolfe Feddersen is providing music from 6-9 p.m. 
Here's where else you can find an E.S.B. if BRBP isn't within easy reach:
A random search of notes and a troll down memory, yields some two dozen Indiana craft breweries putting out E.S.B. as a noteworthy beer to bring to the attention of their regulars. 
"But it's a hard sell," acknowledges Mike Hofferman. I'm enjoying his full-bodied version at the Grand Junction Taproom.
Best I can recall, Grand Junction is the only other brewery with E.S.B on everyday all year-long, along with BRBP. Hofferman acknowledges he wants John Hill to be at home in Westfield no matter when he stops by.
It's a natural progression for Lafayette Brewing Company and People's Brewing Company to have classic conditioned ales. Greg Emig started his career with BRBP. You'll find three versions: EastSide Bitter, Doc Bailey's Bitter, Beatnik Bitter. Chris Johnson started at LBC; Newman ESB is a People's specialty. 
Union Brewing launched as a site brewing Real Artisan Ales with five on cask, but their ESB now is off the list.
In abc order here are the ESB's I've located; please, everyone, add to the list email rkohn@nuvo.net:
18th Street-Steel Hands; Bier-ESB; Black Acre-Dagger Punch; Black Swan-ESB; Bloomington Brewing-Cellarman ESB; Chilly Water-5-String E.S.B.; Crown-Shoe corner ESB; Evil Czech-Golem Extra Special Bitter; Four Day Ray-Air Raid ESB; Figure 8-Better Than Bitter and Harvest Ale ESB; Four Fathers Brewing-The Redcoat; Iechyd Da Brewing-Garden Gnome ESB; Indiana City-Albert's ESB; New Albanian-Beak's Best; Redemption Brewing-Urban Dusk; Shoreline Brewing-Don't Panic ESB; Sun King-Bitter Druid ESB and Sink the Clipper;Three Floyds-Lord Rear Admiral; Trubble Brewing-Yer Bitter; Wooden Bear-ESB