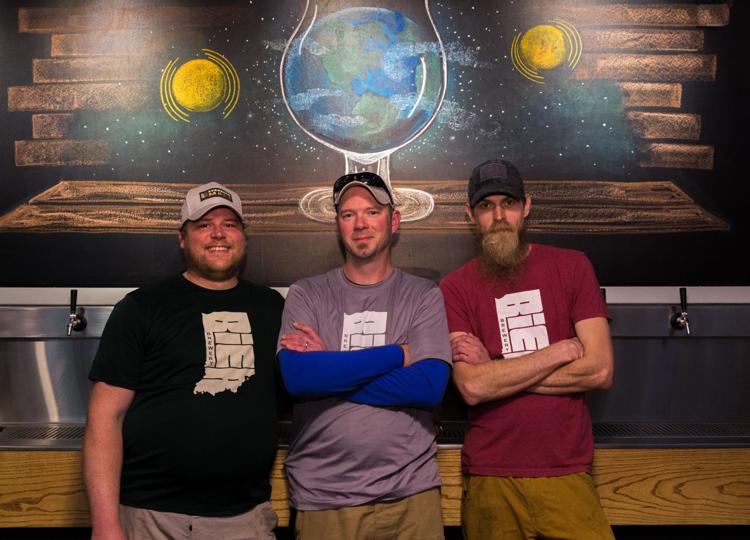 Bier Brewery opened as a nano-brewery in 2010, casting itself from the start as small, but mighty. Coming from a homebrewing background and setting up at 5133 E. 65th St., Darren Connor began his professional career a mere two storefronts from Great Fermentations, his home base for a handful of years. With the blessings of GF owner Anita Johnson, the camaraderie of fellow home brewers and the backing of his family, Darren enticed us with small batches that changed as fast as they sold out.  
Darren has stepped aside for his father, Jerry Connor, to serve as official spokesperson over the years. But, for this interview about Bier's upcoming seven year anniversary on July 28, from 6-10 p.m, Darren came forward, sharing his overview of slow, steady growth, but still preferring to 'speak' as a team. 
At first a patron of Bier had to show up to learn what was coming up, and all you got was a taste before requesting a growler to take home. Now, a typical week's breezy emailed newsletter announces newly minted beers on draft, and you can linger over a pint in the hand-hewn taproom. The spread out now is at restaurants and bars around greater Indianapolis, not only in the near neighborhood as in the early years. Upfront are images of the newest canned beers along with the regulars hitting shelves of groceries and beverage shops. and bit by bit the line up of events at the brewery and around town with Bier brews featured has increased. Seven years ago, we amused ourselves in the Bier taproom as we tasted brews, rested with our welcomed dogs, or waited for a growler fill en-route from work to home. 
In 2010, Bier was a forerunner for the now growing east side craft destination. Now it's one of the 'old-guys' sharing the block with Great Fermentations — like Bier, a family business.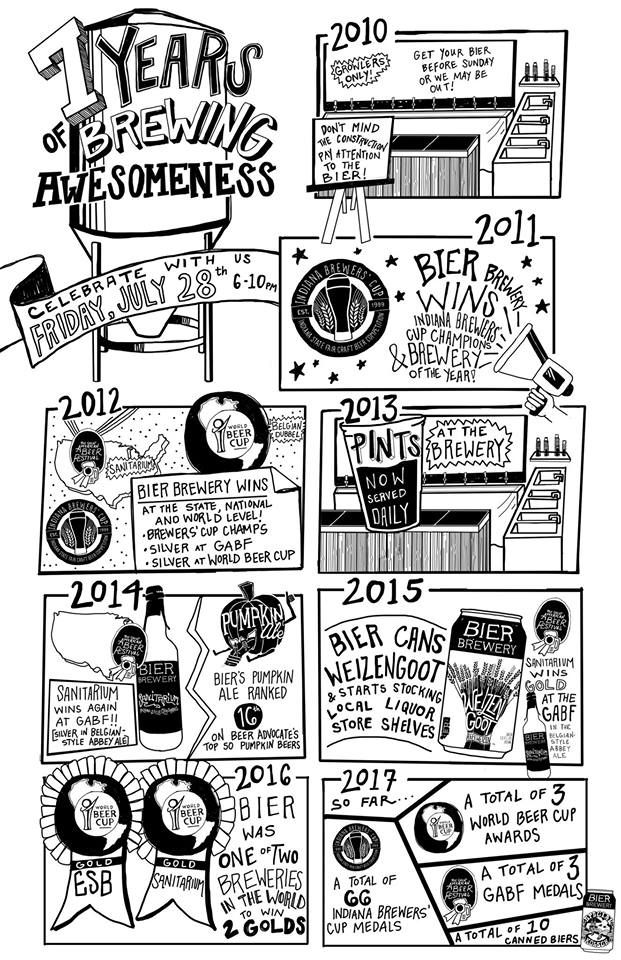 NUVO: Over these seven years what has been the most fun?
Darren Connor: Sharing our story, developing new customers for life, watching our awards-wall fill in and listening to our customers, local and from afar, talk about the awesomeness of the biers and taproom.
NUVO: What have been the most surprising/unexpected turns of events?
DC: The challenges of everyday unexpected occurrences. "Always be ready to address the normal challenges and adapt quickly" is somewhat of a daily mantra.
NUVO: The most challenging?
DC: For sales: It's a 24/7 ongoing commitment. For awareness of brand: Recognition of hard work and a great product. For production: Staying true to who we are and what we do. Taproom: Coming up with a new board drawing each week.
NUVO: The most satisfying?
DC: Maintaining the consistency of our biers and customers. Hanging awards, whether they are won at state, national or world level.
Bier started with a unique business model as a nano-brewery — how has this impacted growth of the nano-concept throughout Indiana craft?
DC: We continuously hear that smaller breweries are trying to follow our business model. We've talked to multiple ones about this over the years. The [nano] process can be slow, tedious and challenging but it solidifies customers.
Operators of a new production facility quickly realize that brewing consistent and high-quality product that steadily sells is a whole heck of a lot easier said than done. Thus, we believe that starting small is the way to go in order to have the most control over the business as a whole. Building a strong brand takes time and everyone involved has to be dedicated and passionate to see this through.
Though beyond nano-at this point, what has been Bier's growth agenda over 7 years, and what's the forward impetus?
DC: We have always let the demand pull us along. This way, we match supply with demand, which keeps us from over extending ourselves. The agenda for the last seven years has been to do our own sales, promotions, social media, marketing, event management and every other aspect of running a business. Being a FAMILY-owned and operated brewery, let alone family business, we have to wear many different hats. We aren't just sales people, brewers, delivery drivers, owners, taproom managers; we are one big family and we work together to get the job done.  Moving forward, we currently are experimenting with a distributor for parts of the Northern region of Indiana while continuing to do our own sales and distribution in Marion and Hamilton counties. We are passionate about creating local relationships and working together on bettering the community with the help of other businesses.
Bier Brewery is as local as they come.  We believe in our community and in ourselves. That is why we push ourselves to enter each year in local, national and world level beer competitions. We are Indianapolis's mom and pop brewery with a jaw dropping award wall. We want people to be just as proud of us as we are — being your local brewery and recognized on the international level. So moving forward, we want to really cross-promote other local establishments in our community, especially the other family-owned operations that are doing it the hard way. We want to strengthen our base that we have built and penetrate into other aspects of Indianapolis. There is more room to grow in this city and we are excited to be a part of it.
How has Bier's brewing strategy grown? One-offs, faves returning, still pushing boundaries? A go-to bier at the brewery??
DC: It's grown with demand. We put out a new recipe about once every couple of months. Even though we added a larger system, we still brew on 7bbl to keep variety in the taproom. A customer could see a brand new bier right next to a bier that hasn't been on for years.
How has Bier's marketing strategy grown? 
DC: Quality is our marketing and marketing is our quality. –Jerry Connor
We have had to adapt our marketing strategy throughout the years. Within the taproom, we started with growler fills and went to growler fills and pint sales.  Then, wholesale was added for bars and restaurants through keg sales. Now, cans are in the mix — in the taproom, in on-premise accounts and also in off-premise accounts. Recently, we have added a distributer for Northern Indiana. With all these various avenues, we have started to really dedicate more time to finding new tools for marketing that we can do on our own while staying true to our roots. This entails some employees wearing more hats, but if that's what it takes, then we will do it. We are proud to say we are a local business, but we are more proud to say we are a FAMILY-owned and operated local business. Our marketing has all been done in house. We are always asking ourselves, "What can we do better and more efficiently to engrain in people's minds that we are here to stay and that we make damn good bier?"
Recognition and awards — how many new walls are required to post them all? What's been the personal and business value of entering, winning?
DC: Working on our second wall.
Personal: satisfaction of knowing our dedication, focus and attention to detail has paid off.
Business: We aren't just another local brewery. We are an award winning world-class brewery.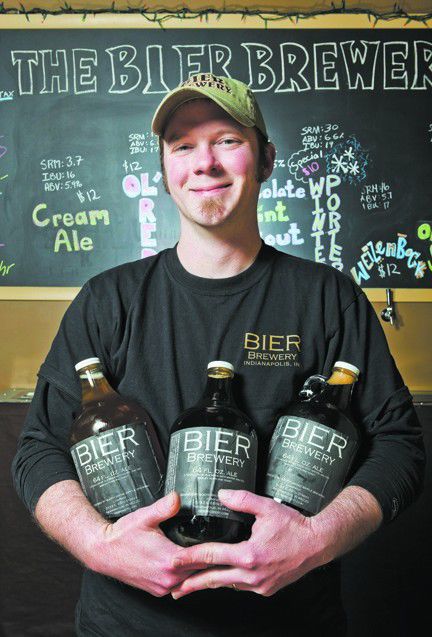 After taking top brewery at Indiana State Fair Brewers' Cup, Bier narrowly missed top brewery for the last two years at ISF Brewers' Cup?
DC: It shows consistency with being in the top and being in contention. 
What makes Bier a fixture in the modern craft beer industry—philosophy of service, excellence, engagement?
DC: All the above plus the value of our employees and their love of craft bier.
Here's what's happening at Bier Brewery on July 28, from 6-10 p.m. to celebrate seven years.
Live Music: Tory Fischetti (6-6:45 p.m.); Jack Barkley(7-7:45 p.m.); King Sheriff (8-10 p.m.)
Fun stuff: Tie-dye station; bubble station; food by Movable Feast and 5280 Bistro Food Truck; bier outside in a trailer.
Special Biers: New IPA to be released that night — "Something BADA$$." Also on tap throughout the night: Hator Dopplebock, Belgian Dubbel, Trippelle, 1.21 Gigawatts.