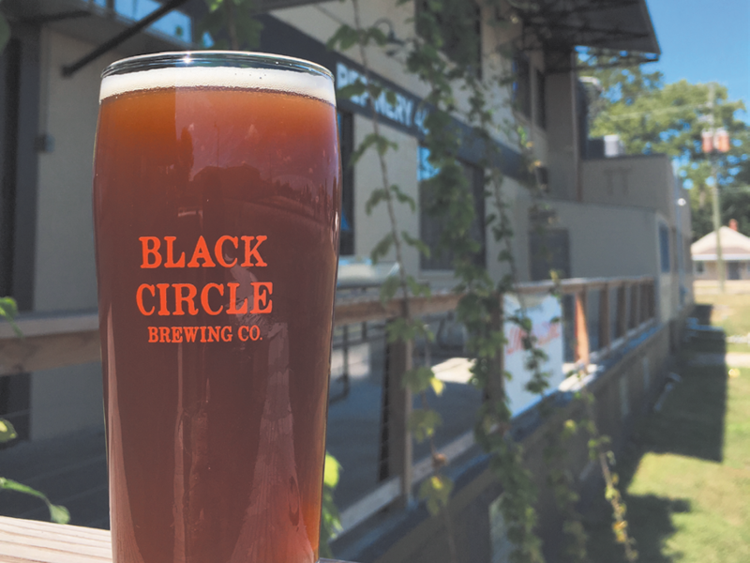 Fans of Indiana craft beer are vigorous in loyalty to a favorite spot. 
A recent email called attention to Black Circle Brewing after celebrating their one year anniversary. 
Equally dedicated to music as to brewing, Black Circle has become a Meridian-Kessler destination for good beer and food, and a small stage featuring live music a few times a week. Their Winterfest After Party on Feb. 3 will feature Black Circle brewers and owners jamming with counterparts from Burn 'Em Brewing Co., whose calendar also features vinyl and live performers at their Michigan City home place. 
While this retrofitted industrial space is developing cult status as an experience, they've got ample company. 
Throughout greater Indianapolis and across the state, some known or aspiring solo artist or group is playing their distinctive brand of music on a small stage inside a craft brewpub or production brewery taproom. 
Except when the brewpub space is so snug, there's no room to swing a cat, much less squeeze in a guitarist, or even plug in the newest music robotic gadget.
That's the case in point for Cannon Ball Brewing on Indy's eastside in the Kennedy-King neighborhood. 
So when one craft beer and music fan wants Cannon Ball brews along with music in the same place, a different paradigm happens. It's a take-out of a different kind, sponsored by the Ensemble Music Society for complimentary intermission and post-program libations.
Jan. 31, you'll find Cannon Ball brewer, Mark Swartz's brews and chef Erin Kem's snacks at the Eugene and Marilyn Glick Indiana History Center alongside the 7:30 p.m. program featuring the already multiple Grammy-winning PRISM Quartet, with two new albums nominated for 2018.
Kem, formerly with the renowned R Bistro, takes award winners in stride. Swartz admits to being a bit intimidated, even though this is a return invitation from the EMS. Cannon Ball's first foray was on Oct. 12, 2017, when the Danish String Quartet presented an all Beethoven program. This youngish foursome acknowledged acquaintance with Three Floyds and Mikkeller, and their collaborative WarPigs brand. They gave Swartz a toast.
"Jan. 31, Erin is planning on having the bar mix that we had last time and is making crackers from the spent grain left after I brew, for a smoked trout spread for them," emailed Swartz. "For the beers, last time I did the Pale Ale and Stout.  I'm kind of leaning the same way again since the crowd liked it."
"Out-takes " has been part of Sun King's model for the past seven years at a swath of arts events. 
Jan. 30, at Clowes Memorial Hall at Butler, along with "Beautiful: The Carole King Musical" you can sip brewmaster Dave Colt's latest Broadway in Indianapolis collaboration beer, Feel the Earth. And in the lobby, pre-curtain at 7 p.m. and at intermission, "From Bar to Star" winner Hayley Costas will make her Clowes debut.  
Hayley Costas gained this grand prize, that includes a Spring 2018 showcase  on WFYI's "Small Studio,"  at the Jan. 18 competition hosted at Sun King Fishers, in collaboration with WFYI and Broadway in Indianapolis. Girls Rock was the philanthropy partner.
Hayley Costas is at Fountain Square Brewery on Feb. 2. Look for her debut album, Falling.
And just as I was wrapping this up came an email with an image of page 14 from the Feb. WFYI Insiders' Magazine :
"News & Brews Pub Trivia," Feb. 19, 7-9 p.m. Sun King Brewery Downtown hosted by local All Things Considered announcer, Matt Pelsor." The free event invites you to "grab your friends, register a team, brush up on your current events and RSVP."