A splash of audacity, anchored by common sense, exemplifies the Eddie Sahm approach to creating a sustainable business model. 
With Big Lug Canteen about to celebrate its second year anniversary on October 2, Eddie Sahm is his own best neighbor with the newly created Sahm's Ale House next door. While Big Lug is into inventive food recipes paired with accessible, multi-layered brewed-on-site house and specialty beers, Sahm's Ale House offers hearty family fare with a swath of crafted brews from all over. Sahm rules both kitchens, enjoying the diversity sans schizophrenia. Head Brewer Scott Ellis oversees the Big Lug brewery.
"Masters of decent food. Genius in pretty good beer." This tart Big Lug mantra is followed by the fulsome: "Big Lug Canteen was inspired by the food, beers, and spirits that two self-identifying big lugs like to eat and drink. We make what we want. We make it for Nora, and like any Big Lug...we make it solid."
Big Lug Canteen, with kazaam colors and artwork, is all about creating a welcoming place for the Nora neighborhood and the people who want a stopping point along the Monon Trail. You can cozy up to the bar or cozy up around small metal tables — a tight space that's family friendly, fine for a loner, a tete-a-tete, whatever. It seems all-inclusive.  
At Big Lug, Sahm and Ellis and their team care about what we care about, and they nurture creativity like with their invitation to name a beer based on the topic of the week. If your suggestion wins, you'll find your creation on the brew menu.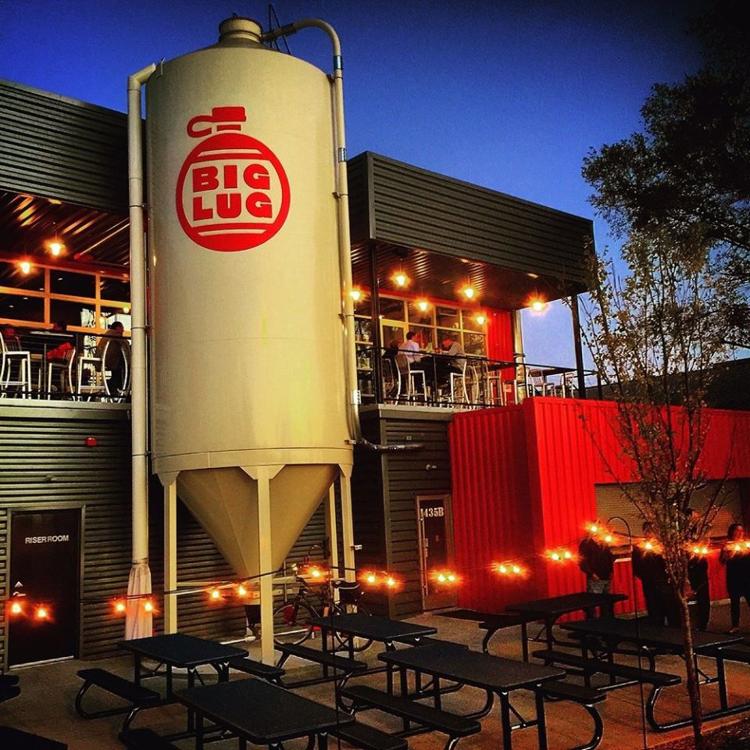 So, what's the rationale for the new Sahm's spot at 1435 E. 86th St. Competing or compatible?
For starters, Big Lug is unique, unusual, completely original from anything else in the Sahm collection of ten previously established eateries in a variety of locations following the first opening at 116th and Allisonville in 1986, explains Sahm. These represent what Indianapolis likes to see: traditional, homemade, not too much change.
Originally in October 2015, alongside Big Lug, Sahm opened a pizza place, Rockstone Pizza. It did ok, but not wow. Patrons ordinarily flocking to the Sahm's brand weren't recognizing Rockstone, while Big Lug Canteen caught on. 
"I don't brew beer, I cook, I do front of house," confesses Sahm. 
So what made the difference? Big Lug, founded by Scott Ellis with Eddie Sahm, "had vibrancy from the start," assessed Sahm. Nora residents were ripe for a brewpub with a known brewer and a known restaurateur. 
West Coast places inspired Ellis and Sahm with Big Lug. Canteen conjures up a special eatery for a special group. "Let's do goofy stuff, unexpected activities, make our own art, celebrate differently, says Sahm. "We built Big Lug to a sustainable size to make a smaller audience happy. It became an oasis along the Monon. The pizza place alongside was too big in comparison; the space didn't feel all that welcoming even though fast service and cost value bespoke a return visit." 
"What would we change to get people to that space?" mused Sahm. It had to be changed. Whatever they were doing it wasn't working. Rockstone had quality food, cleanliness, family, community, affordability. "Even if your aim is not to overcharge to get rich, you have to charge at a level to stay open. I don't want to be cheaper, I want to be better."
Sahm ticks off what you learn at Purdue to gain a degree in hotel and hospitality management and then factors what you learn through experience. "You have to balance the small stuff — my father sweated the small stuff." Knowing what he had to do, Sahm closed Rockstone and revamped the space, essentially dividing it into two locales, a pub with a sweeping bar and outdoor seating, both easily accessed off the Monon and a family restaurant with its door directly off the spacious parking lot. 
The pizza oven stayed, for the dozen pizzas still on the menu, and its use expanded for wood-roasted meats and vegetables. The Ale House menu is two-sided with plentiful choices of appetizers, soups, salads, sandwiches, signature plates and more.  The Ale House family side is a linger while enjoying food and drink ambiance.
The Canteen menu is totally unlike the Ale House. It's more straightforward: stop in, get served, have a bit of fun, conversation, stay off the smartphone, move on. 
The Ale House has become a space where events pop up and special handbills are printed to announce them. On Aug. 2, Sam's Ale House Monon was a gathering place for the Indianapolis launch of Three Floyd's newest venture, WarPigs Brewing Company in partnership with Mikkeller of Denmark. New WarPigs and favorite Three Floyd's beers appeared on tap, alongside specially paired menu items. They called out to industry professionals along with patrons of crafted beer to show up for something new and different. So we came, sampled, compared, chatted and learned some insider stuff not yet ready to be announced.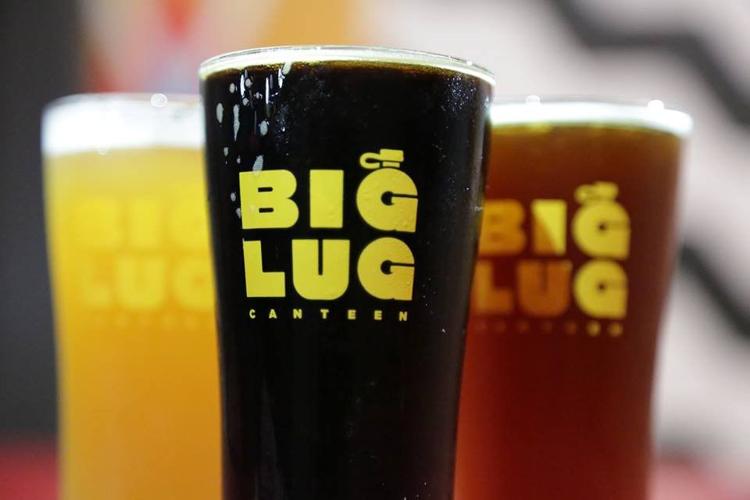 Sahm confirms the Big Lug Brewery will stay within its finite space where Scott Ellis and assistant brewer Bryan Taylor create the beers selectively on tap at Sahm locations. However, while Big Lug features only their brews on a rotation as beers come up and sell out, the Ale House offers a range of crafted beers on tap. In cans you'll find an array of premium and domestic beer and you've got a choice of white and red wines, house created cocktails and digestifs. Yes, those special treats that make a huge meal feel just right after all.
As a final learning curve, Sahm ruminates on "understanding the products and how each works; knowing the technical side, knowing the rules before breaking them." The Big Lug rule breaker is creating a Kolsch as the house beer. Flying Horse, at 4.2%ABV and 20 IBU's is perfectly suited for coming off the Monon to refresh and continuing on; for stopping in for lunch or in the evening on the way home; or for whatever other reason you have to enjoy a multifaceted sessional beer. 
At this point Ellis stopped to chat, modestly reporting the trio of Kolsch, Oatmeal Pale Ale [Kristofferson] and English Brown [Kings Jive] continue to lead as the constants alongside changing seasonals and specials. 
The rule breaker for Sahm's Ale House Monon? Know when it's time to make a change. Even though you can't hit it out of the park every time you're up, be sure you're up for the next time.