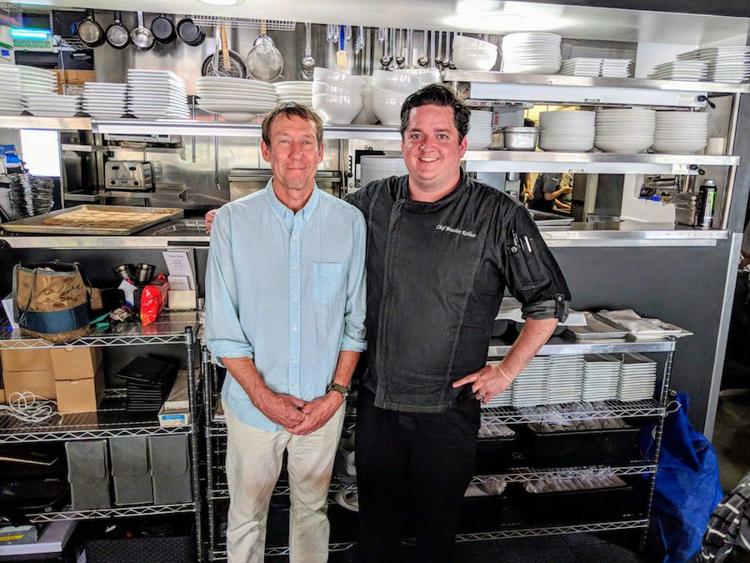 "It was super emotional when we reopened because there was this outpouring of, 'We're so glad you're here; we love this place,'" says Tom Main, co-owner of Tinker Street. 

It's been just over two months since Tinker Street went through a major controversy following a staff walkout in protest of former co-owner Peter George. Since George's departure, the Old Northside restaurant has seen some major changes in its policies, its menu, and more. Most notable is longtime chef Braedon Kellner's move into the role of co-owner. 

With Kellner in and Main still on as co-owner, the neighborhood and Indianapolis foodie community have rallied around the beloved restaurant. "We have neighborhood people walk by all the time," says Kellner. "There was one day when they saw me back in here sitting at a table working, and they just banged on the window and were ecstatic that I was in here working."

For the Tinker Street team, with the public behind them and a positive outlook, they are starting a new chapter of their story. For Kellner, it has allowed him to completely revamp the menu. "I've been wanting to redo this menu for about two years," he says. 

Kellner says that Tinker Street's menu has been somewhat confusing for a long time now. "The shared plates—I don't know how we ended up getting that name onto it. Were they really shareable?"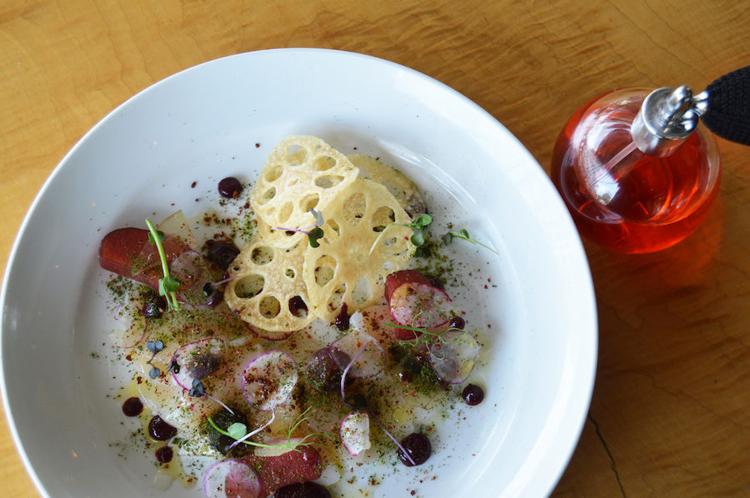 Main adds that not only the menu itself but the format was constrictive too. As someone who routinely visits Tinker Street, it's not surprising. Even with acute culinary knowledge, it has been somewhat hard to parse out items on Tinker Street's menu at times. "I think I had 18 characters to work with," says Kellner. "So trying to get a description on some of the stuff, it just got weird…It was confusing to the guest."

So that was Kellner's first big change. "Scrapping that old menu format was the first thing I did when I got back into it," he says. "I reformatted it and made it much more user-friendly."

While the menu format has changed for the better, the actual dining experience hasn't changed much at all. "Stylistically, I'm just doing what we do best," says Kellner, referencing that he and his team are still using the same small kitchen. Honestly, in case you've never seen it, it's amazing that they pump the food out of such a small area. He also mentions that he has over 300 pages of recipes that he has saved on his computer. So they have plenty to work with.

As always, they are focusing on using the best produce and meats that Indiana has to offer. "We're getting ready for the summer, seasonal vegetables to break, and then we'll have a lot of fun with it," he says. 

Main adds that Kellner has a little bit more freedom than he's had in the past. "I think Braedon has always had a fair amount of freedom. He can really do whatever he wants to do—borrowing from any kind of cuisine—as long as it fits the Tinker Street style and we can produce it in this size of kitchen," he finishes with a laugh.
Kellner's freedom is only constricted by the season and the produce he is able to source during that time.

"I just do what the produce tells me to," he says. "Summer for us is insane because not only are we super busy, but I'm going to the markets twice a week. I'm getting huge farmer deliveries. But also in the summer, I bring in stuff from the market, and half of it goes to the menu, which is super fresh, and then the other half are put in jars to stow away for winter. So that way, come wintertime, we can have all this nice, super-fresh summer stuff...You won't see a tomato in here in December unless we preserved it at the peak of [the] season in the summer."

He references a menu item that plays into this idea of preservation. During this past winter, he had a lemon bar dessert with preserved berries. In the summer, he served the same dessert, with the same berries, just fresh. "It was kind of funny. I mean, I laughed every time," he says. It is these little touches that bring a sense of joy to the kitchen for Kellner. 

And he says he's been able to feel a little better all the time since the reopening. "My stress level since reopening has gone down hugely," says Kellner. 

And Main follows up with a huge reason why everyone's stress level has gone down: "We dropped to five days a week now instead of seven," he says. "We felt like that was our opportunity to at least attempt to have lives."

So now, Tinker Street is only open Tuesday through Saturday. But Main says that they plan on using the space on some of those Sundays and Mondays for the change he is most excited about at this juncture. "I would like us to be just a little more involved with community things," he says. "We do a decent amount, but that's important to me personally, and Braedon, and a bunch of us. We have a weird little platform here, and we've done a decent job of feeding hungry people and helping with the Red Cross, but I'd really like to do more."

Main sees these two extra days as times when they can host events that give back to the community. "We can do some of those things and have private events on those nights," he says. "We can do fundraising events, which there are community things we do already, but we can do them differently and a little more grandiose." He also mentions hosting wine dinners, occasional rehearsal dinners, and more. 

"It really opens the door to not just our normal dinner service," adds Kellner.

One more major change for Kellner is learning to balance being a chef and an owner. "Tom and I were talking about operating costs this morning. Before, I wouldn't have been in that conversation...All that non-food realm of the restaurant, I was never really a part of or involved in." 

Kellner says, "If you want to run a restaurant, especially as a chef/owner, you not only need to know how to cook and do everything in the kitchen like ordering, inventory, scheduling, managing people—it's a big hat. But if you want to run a restaurant and own it, you have to know how to serve the guest as well."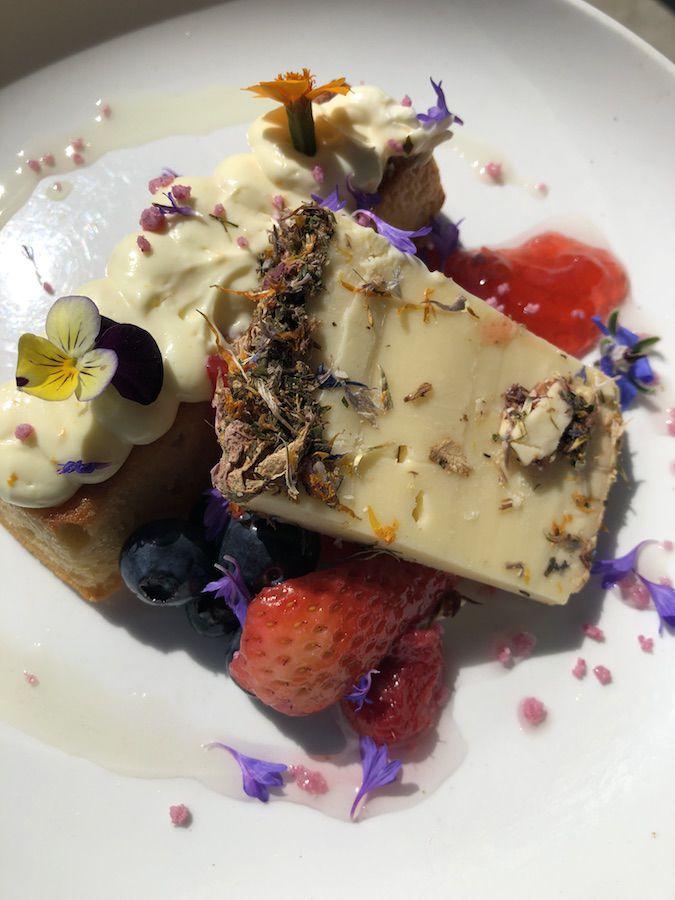 Main feels that Kellner's just the person for the job. "I believe in Braedon. This restaurant doesn't exist without Braedon...I hope at some point that Braedon owns more and more of the business and that there may be a couple of other people who have stayed with us and who earn that too."

All in all, the Tinker Street team feels as if they are in a positive space now, whether it is from the added days of rest (of which Main says, "It's just nice knowing nobody's working, and whatever they're doing, I just hope they're relaxing. That feels really good.") or being able to focus on creating a sort of family within the restaurant. "That was something that was really clear in this," says Main. "We really have a good team, and they love working together."

This air of positivity, according to Main and Kellner, allows them to focus on making the overall experience better for the team and the guests. Main says, "It's more relaxed. The crew is happy. So we want to improve our service; we always want our food to get better and do the whole hospitality thing, which is something we've always taken really seriously. I think we can do it and enjoy ourselves as a team."

Main finishes the conversation by sharing what it was like reopening the restaurant. "I get teary eyed about this stuff," he says. "But I want people to feel good when they're here; that's a big deal.

"Before we reopened, we brought everyone together to talk because this is a little place, and you feel it all and the collective goodwill of that. And I said, 'People might say they come for the food, or this, or that, but I think people come because of the way they feel when they're here.' And I said, looking at our whole team, 'That's because of all of you.'"