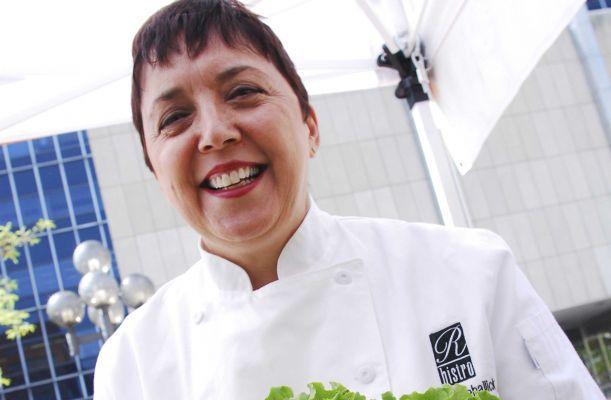 After four years of owning and operating R2GO, Regina Mehallick will close the specialty market on January 19, 2019.
We received a press release statement from Mehallick via email today explaining her decision.
"I have loved the challenge of operating R2GO but stepped away from R bistro in hopes of spending less time working" she said.
"But, I continued to work too hard with no less hours. My future plans include enjoying time with my husband Jim, dog Fia and traveling. I'm looking forward to two days off in a row!!!"
Prior to opening R2GO, Mehallick owned and operated R bistro for 15 years. Mehallick was a James Beard semi-finalist in the Great Lakes Region from 2010-2014 and received the coveted Indianapolis Ross Farris award in 2013. In 2008, she was the recipient of a NUVO Cultural Vision Award in 2008.
Although R2GO will be closing its doors, Mehallick says she will continue to host cooking classes in the specially-designed kitchen at R2GO for a few months. 
When Mehallick won her NUVO Cultural Vision Award in 2008, David Hoppe profiled the chef writing, in part:
"I have food running through my head all the time," says Chef Regina Mehallick, founder of R Bistro. Every week there's a new menu, and a fresh array of seasonal ingredients to choose from. To share a meal at R Bistro is to take a leap, to open oneself to the possibility of a culinary improvisation.
Mehallick has accomplished a lot since opening R Bistro seven years ago. For starters, by establishing her business at the east end of downtown's Massachusetts Avenue corridor, she helped to extend and define a neighborhood that would eventually be designated one of the city's Cultural Districts.
But Mehallick's emphasis on locally grown meats and produce not only anticipated what would soon emerge as a major trend, but has helped to put the culture back in local agriculture.
Mehallick moved to Indianapolis with her husband after living and working several years in the U.K. After a stint in the kitchen at the Canterbury Hotel, she opened R Bistro. "I wanted it to be a small menu with complete dishes and incorporating local ingredients," she says. It didn't take long for the city's foodies to find and fall for Mehallick's inventive interpretations of various cuisines. Asked to characterize what she does, Mehallick, who now works with a collaborative team of chefs, says, "It's kind of like whatever we want to do. It's obviously very contemporary. It has a bistro flair. I think we've established that and people are willing to come here and have Indiana food or English food or Italian or Mediterranean or all-American. 
At the heart of all these variations is Mehallick's reliance on Indiana suppliers, many of whom now seek her out. Last fall, she got a call from a woman in Anderson who had just picked 20 pounds of chestnuts and wanted Mehallick to have them. "Yesterday," she says, "we got the first-of-the-year lettuces from a greenhouse and," her eyes light up, "oh, my God, they're this beautiful color and so tender!"
Business people have urged Mehallick to expand R Bistro or open additional restaurants in other locations. She's not interested. "I don't know if in business that's the way you should be — but I am," she says. Then she takes a long look around the space she's created — from the selection of wines and beer behind the bar to the works by local artists on the walls — and says, "This is contentment."
— David Hoppe