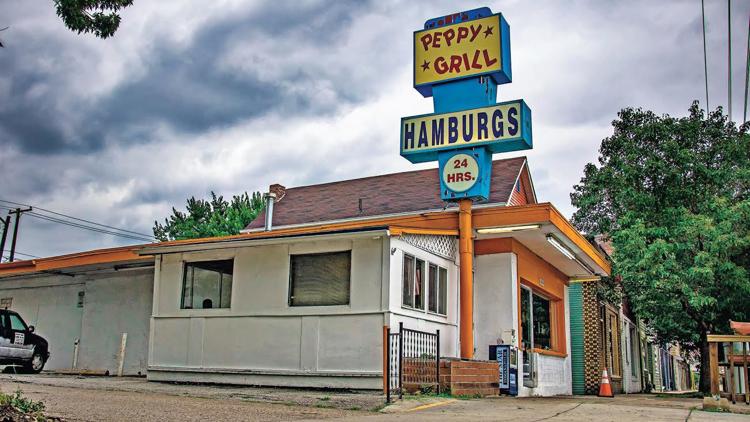 UPDATE: (Dec. 20, 2018) Peppy Grill closed at the end of November for renovations. They are currently planning to reopen early in 2019. For more information, check the Peppy Grill website.
*******************************
Peppy Grill in Fountain Square has been on the decline for a number of years, so it was no surprise when rumors surfaced this week that the iconic 24-hour diner would soon be closing its doors.

A Facebook post by a neighborhood group prompted the rumors over the weekend—rumors that turned out to be only partially correct upon a bit of investigation. The diner will be closing in August but only temporarily while the current owner makes some much-needed repairs.
Losing Peppy Grill would and will be a huge loss for the Fountain Square community, and not just because it's the last place in the neighborhood where you can still get a meal for under $10.

After 60 years, the tiny restaurant has become a cultural icon synonymous with the working-class clientele it faithfully serves. Both are now on the verge of extinction along the increasingly gentrified Virginia Avenue and surrounding neighborhood.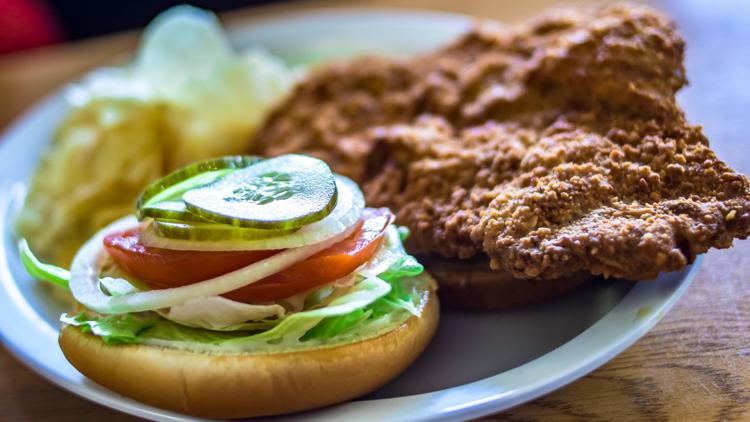 The first Peppy Grill opened in Indianapolis in the late 1940s at the corner of Washington Street and Senate, site of the current Government Center. By 1955, there were six locations around town, and by 1960, there were 10.
Gene Sluder was the original mastermind of those earliest Peppy diners. Though his father was listed as owner, young Gene opened and managed the restaurants during its 1950s heydays, starting before his 20th birthday.

Originally, Fountain Square was home to two Peppy locations, with a third just down Shelby Street in Garfield Park. The first in the neighborhood opened at 1024 Morris St., behind the dental clinic that's still in business. It operated for more than a decade before Sluder sold it to an employee who promptly renamed it Hazel's Grill after herself. 

The second Fountain Square location was at 1004 Virginia Ave., and it is the only one of Sluder's original restaurants still in operation. (The current 10th Street Peppy Grill was not an original and has no affiliation with Sluder.)

When he died in 1979, Sluder was 48. Over the course of 30 years, he'd owned and operated more than 20 restaurants and established the city's first—and most enduring—fast food chain. Husband and wife team Gerald and Mary Wyman bought Virginia Avenue Peppy Grill shortly afterward, and Mary Wyman continued to operate the restaurant until her retirement at age 74 in 2013. She died two years later.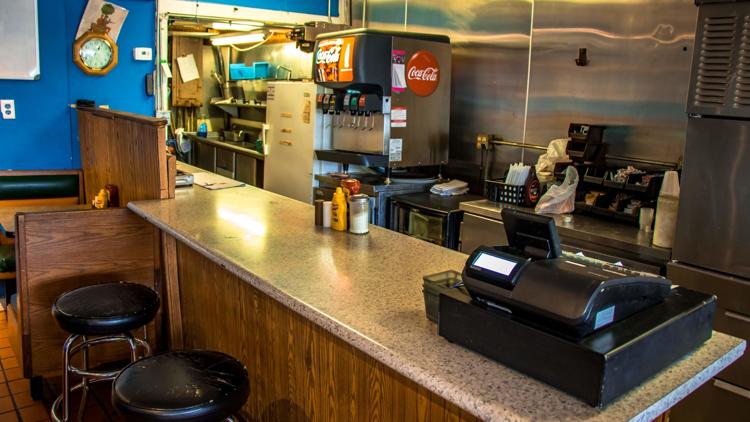 Betty Stringer began working at Peppy Grill as a waitress and cook around the time the Wymans took over in the early 1980s. Nearly 40 years later, Betty cooked my biscuits and gravy when I stopped in earlier this week, asking about rumors the restaurant is closing.

"Just for repairs," she tells me from her seemingly permanent position between the counter and the grill. "There's a lot of stuff needing fixed. I guess he's finally gonna do it."

The "he" Betty refers to is Hai Duong, who purchased Peppy Grill in 2013. Duong has been a fixture in Indianapolis dining since arriving in the city in the 1980s and then opening his House of Tokyo restaurant in 1990.
House of Tokyo was an exciting addition to the Indianapolis restaurant market in the early 1990s, and its location above the Key West Shrimp House gave it even more cachet as an upscale and unordinary Hoosier dining experience. Duong moved House of Tokyo to Greenwood quite some time ago, where it continues to do well.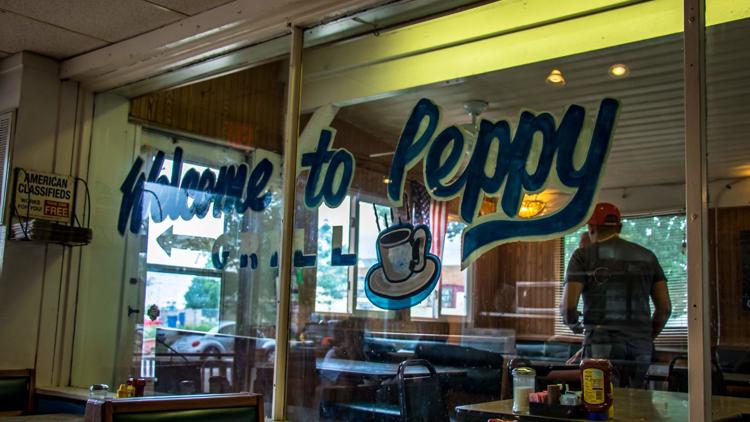 Regulars back at Peppy Grill believe Duong purchased their favorite restaurant thinking it would be a cash cow and that he has since been sorely disappointed.

"He hasn't fixed a goddamn thing since he bought the place," says Carl ("That's all you need to know. Just Carl.")
"Have you seen the hole in the men's room floor? It's the size of a goddamn bowling ball."

A customer since the 1980s, Carl has been eating Betty's breakfast for more than 30 years, and at 78 years of age, he can't imagine trying to find a new place to get his coffee, eggs, and bacon. He also can't imagine Duong is sincere about renovations.

"He's not going to fix all this shit," Carl continues. "I guar-un-fucking-tee you, once he finds out how much needs to be done and how much it's all going to cost, he's just going to board it up and sit on it."

"You don't think he'll sell?" asks Tom, another first-name-only geriatric customer who's joined Carl and me for a cigarette out front.

"Maybe," says Carl between drags. "But that would definitely mean it closes. Some hotshot will tear this down in a New York minute and put in something 'artisanal' and 'gluten free'."
There's no disputing that Peppy Grill is in desperate need of repairs. In addition to the gaping hole in the men's room floor Carl described, there's a leaky roof and several small window AC units that fail to keep the place even remotely cool in the summer, just as a relic of a heating system fails to keep it adequately warm in the winter. The vinyl booths are literally threadbare with multiple applications of duct tape failing to hold seats together any longer. And don't even ask about the grill, the deep fryer, or the refrigeration system.

When I'm finally able to reach Duong, he says any closures at Peppy in the next few weeks will only be temporarily.
"We will reopen," he says repeatedly. "We are going to fix things and then reopen." When pressed about specific repairs he's planning to make, however, Duong deflects.

"We have to see," he tells me. "We have to wait and see once we begin."

Worried what "wait and see" means for the future of Peppy Grill, longtime customers are making haste to eat what might be a final meal at the iconic diner before it closes—just in case it doesn't reopen. Myself included.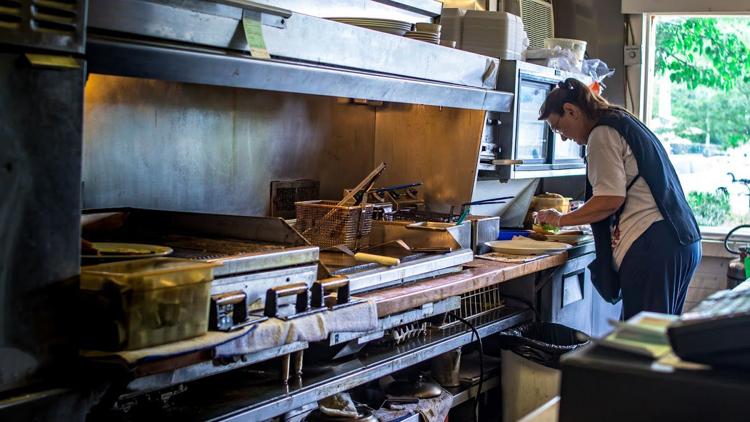 Betty is still cooking and serving breakfast all day, so my lunchtime meal of biscuits and gravy on Monday isn't a problem. Still under $4, the plate is brimming when she hands it to me over the counter. Fluffy white biscuits that melt in your mouth, flour gravy with just the right amount of sausage, and all of it smothered in black pepper.

It's exactly how my grandmother would have made it for me. Or at least I'd like to think so. My grandmother Lea died before I was born, so I never tasted her biscuits or her gravy.

But Gene Sluder would have taught her his way of making them when he hired her at the College Avenue Peppy Grill in the early 1950s, and it's the recipe she would have used at the Virginia Avenue location where she picked up extra shifts before her death in 1959.

I think about my grandmother every time I eat here, and maybe she is part of what has kept me coming back.
Sitting here now, 60 years after her death, I'm remarkably sad and proud to think of all that Peppy Grill has witnessed and withstood—not unlike my grandmother, or Betty, or perhaps even me.

Fountain Square relics, all of us.
UPDATE: (Aug. 7, 2018) We received word today that Peppy Grill has closed until further notice. According to an employee, who asked to remain anonymous, the Health Department has shut the restaurant down until necessary repairs are made to the diner's plumbing and refrigeration systems.
We spoke to Joe Wilkins, manager of Peppy Grill, who confirmed the closure.
"We're shut down as of right now," says Wilkins. "We have a lot of work to do, and thought we could do it without closing, but we can't. It looks like now we're going to have to do the majority of the work before we can reopen."
"We're going to get done," he says when asked if he believes the diner will reopen. "We aren't going to close down forever."