Liter House, a German-based brewpub, opened July 10 in SoBro. There's a bouquet of ways to embrace Liter House, space by space, according to founder Eddie Sahm.
The aesthetic transformation of the building that butts straight up to the street took 13 days from when I met with owners Sahm and Scott Ellis on June 28. They were hustling with a crew to ready both the exterior and interior toward this amazing makeover from a cavernous, forbidding warehouse that formerly housed the struggling Bent Rail Brewery.
Sitting with Sahm and Ellis on brought-in chairs in the middle of an empty room designated as a 200-seat banquet hall/meeting space, it took a bit of imagining to believe the deadline would be met. We had just walked through a lot of spaces in disarray, including the kitchen. The only functioning entity was the brewery, wafting forth Ellis' morning's mash in.
"We feel like we're giving people something to be excited about, think about," assured Sahm. The shared goal toward developing Liter House comes from "being inspired to do things to enhance the living experience," he said. "If we are successful at creating quality of life experiences, people will want to come in, share this place with others, come here for their special occasions. We'll define our area with Monon Trail access, be inviting along the 54th and Winthrop corridor. My father is from this neighborhood. Neighbors of all ages have been stopping in with their stories about the neighborhood."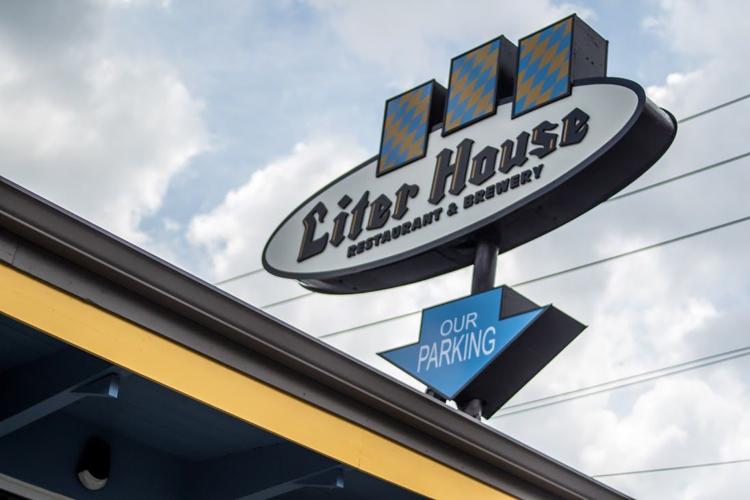 Ellis had been brewing throughout June—traditional German brews. The experimental side of craft brewing is housed at Big Lug Canteen, 1435 E. 86th St., located along a comfortable bike ride jaunt north along the Monon. One easily could make a day of it, with lunch at one and supper at the other, quipped a fellow visitor at the Liter House.
"Southern German—Bavarian—beer philosophy meets Midwest hospitality" as both Ellis and Sahm defined the cuisine and the core menu of beers that will match up with the seasons and the festivals. Expect lagers with refined depth and food compatibility.
Food ingredients will be locally sourced. Chef John Adams is in charge of the Liter House kitchen. Chef Blake Ellis is master of the enclosed, year-round smoke house. Erica Logan is the baker.
"Twenty-five percent of Americans identify with their German descent," said Sahm. The decor plays into this. Stop in, look around, and make yourself at home is the best advice Sahm can offer.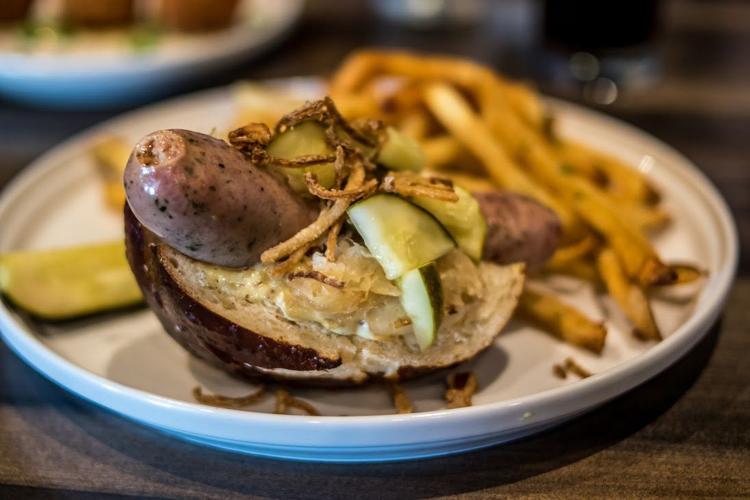 "This is a place for people to come together," said Ellis. He doesn't sanction overconsumption of beer, just enjoying at a comfortable pace.
"Balance. Access. Openness," articulated Sahm. "We're setting a new bar in a more refined light from what we set out with Big Lug. What a patron brings to a location defines the experience as much as we do," he concluded.
On the way out, I stopped to chat with General Manager Lindsay Slone, who comes with sommelier and front of house credentials from Tinker Street. She's looking forward to being at one with the neighborhood's patrons transitioning into Scott Ellis' crafted brews.
I said hello to Mr. Ed Sahm, Eddie's father and patriarch of the Sahm eateries. No two establishments are the same. That, infers Eddie Sahm, is what's intriguing. It's never seen-one-seen-them-all.  N