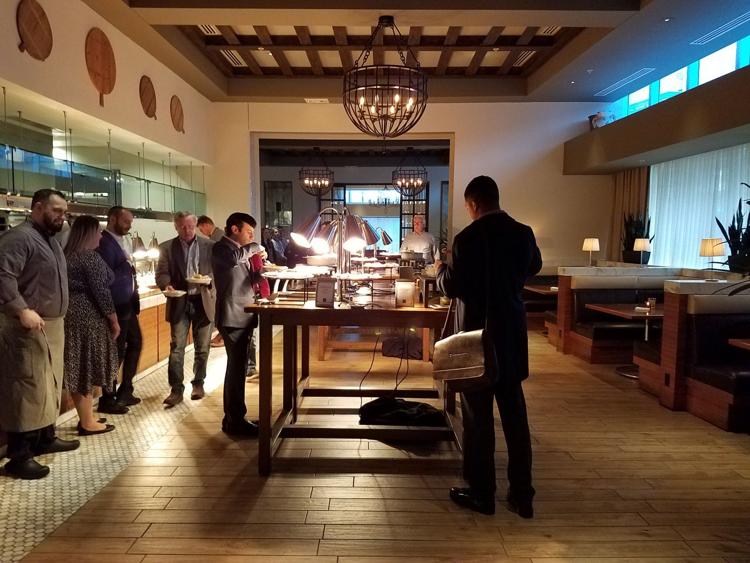 OP Italian, is a little off the beaten path for me, and it's likely off the beaten path for you too. You'll find it in the big blue behemoth JW Marriott just west of downtown. But, since I was invited to their entirely complementary media preview night on March 20, it was an offer I just couldn't refuse.
The reason for the preview was because OP Italian was a relaunch of the Osteria Pronto restaurant that occupied the same space for eight years.
 According to general manager Patrick Dugan, the old restaurant had seen a decline in business, and was due for a reboot. So, the restaurant leadership flew down to Austin, Texas to their one sister location, where they re-conceptualized the restaurant, owned and managed by White Lodging.
"We completely overhauled the menu," said Dugan. "We did a lot of work here with painting; the wine bar's all new; and the whole menu's completely new. So, it was basically just overhaul of the rest trying to get it back out into the city and our real focus, we have 1,000 rooms above our head, but our real focus is to get locals in here. That's why our pricing, if you take a look at it; it's not a JW Marriott pricing list ... We want locals to come in and enjoy our experience."
I, for one, certainly enjoyed every minute of the experience, along with dozens of others who looked like they were enjoying their experiences too.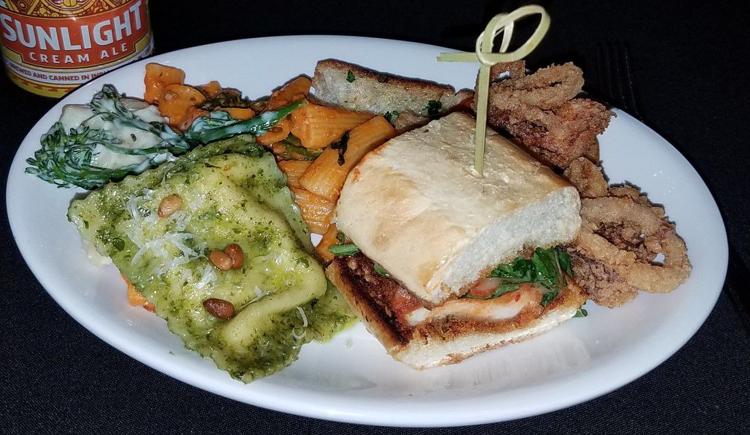 And, while I enjoyed walking down the long table lined with Neapolitan pizzas, I did not partake — on my first pass. I filled my plate instead with a chicken parmesan sandwich, cheese ravioli, gnocchi with grilled chicken, and vodka rigatoni. I also filled up with some calamari rings and smothered them with marinara sauce because, well, there seemed to be an unlimited supply of it.
The pasta was firm, all the dishes were well seasoned and tasty.  I particularly liked the cheese ravioli with the basil pesto and pine nuts.
I had barely finished my first plate when the sous chef Michael Cole came out to talk with me. He revealed to me how the sausage is made, as it were, when I asked him how much creative control he and executive chef Emilio Saucedo had over the menus.
"A lot of the menu was kind of made for us," he told me. "The corporate chefs kind of had a layout for us and they wanted us to follow it. They did give us our own responsibility to make sure that we're making the food properly. When they made it they were making it for one person at a time. We're making it for about 300 a night. The recipe doesn't exactly transfer the same way; you have to do it trial and error multiple times to make sure that your getting right amount seasoning on it and really preparing it for guest the proper way. We're not preparing for one person although it may seem that way."
One of the corporate chefs he was referring to was Joseph Rolling, executive chef, who came to OP via Morimoto and The French Laundry.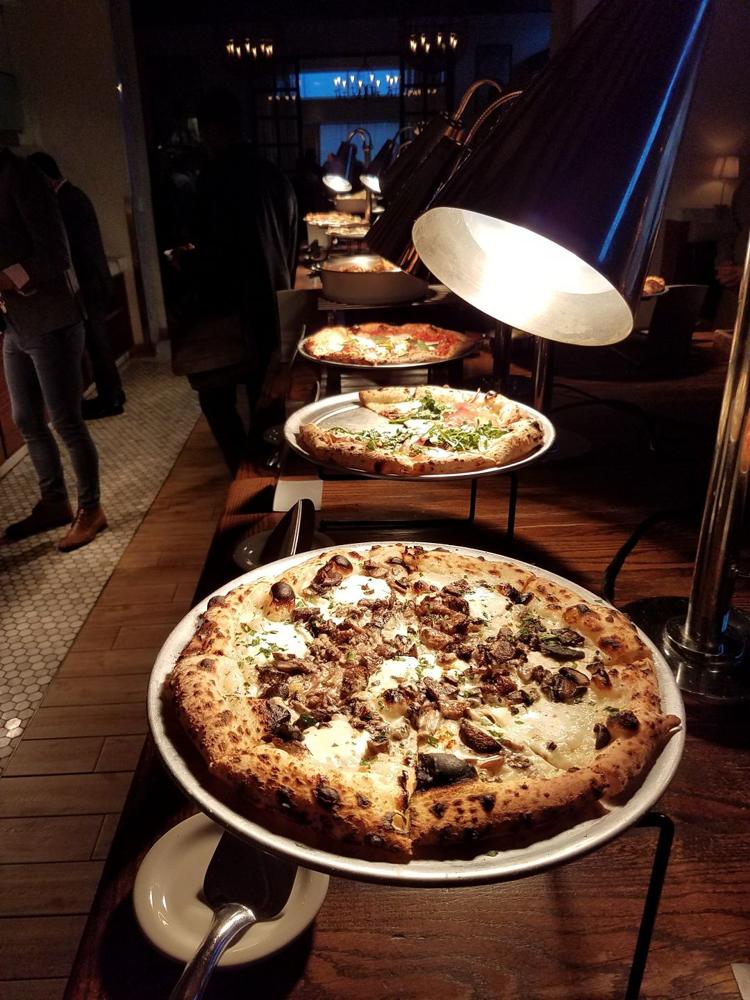 I asked Cole what his favorite dish was and he told me it was the prosciutto pizza. So, for my second plate, I got that and the simple margherita pizza. The pizza margherita has its origins in Naples, with its simple ingredients of olive oil, mozzarella, basil, olive oil, and sea salt. Italian immigrants brought that recipe across the water and it evolved into what I consider one of the greatest foods of all, the New York-style, Italian American pizza.
Unfortunately, by the time John Travolta was filmed strutting down 88th Street in Brooklyn eating two New York-style pizza slices at once —  in his classic role in Saturday Night Fever — elsewhere in the U.S. pizza had evolved into something monstrous. I'm talking about the chain restaurant pizza three-inches deep with mozzarella or mozzarella like substance, and various meats, dripping with grease.
But as restaurants like OP Italian have demonstrated, not all chain restaurants are alike. That is, you can produce food at scale without it being microwaved or tasting manufactured. But then again, OP prices, though not exorbitant, are not Godfather Pizza prices. When it comes to chains, often enough, you get what you pay for.
End of history lesson.
I ate my two slices which were divine, and I washed them down with a Hugo —  the ingredients being 1 oz. of vodka, 2 ounces of sparkling wine, ¼ ounce St. Germain, ½ ounce of simple syrup, mint leaves lime wedge.
After that I went back for my third and final plate: for what was the definite highlight of the whole shebang; the tomato braised lamb shank on a bed of taleggio polenta, roasted bell pepper, and green olive.
The lamb was tender and tasty, the polenta was at once fragrant and cheesy. But after that, I had to put down my fork down.
I wanted to try out everything for your benefit, dear reader, but there was no more space to put everything. And I have to beg your pardon for not sampling the spicy shrimp spaghetti. But that would've done to me what that one thin mint did to that poor diner in the film Monty Python's The Meaning of Life after he ate just about everything else in the restaurant. (Hint: he exploded.)
If you're on the west of Downtown Indy, and looking for a fine Italian meal you could certainly do worse.
[Editor's note: the title of this article was changed for the sake of clarity.]