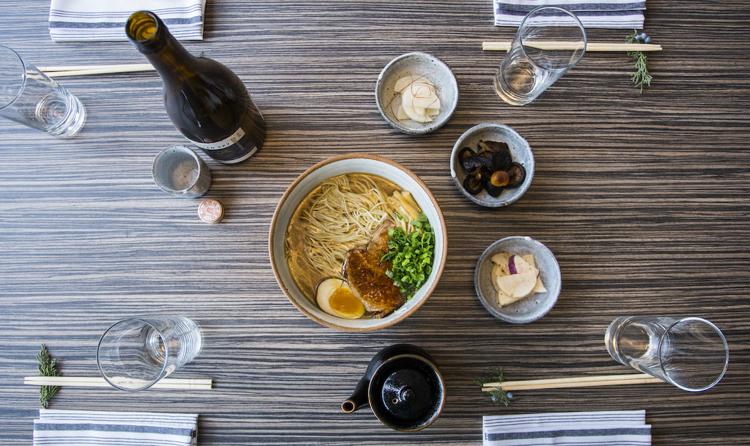 After a less than stellar 2017 in the Indianapolis food and beverage industry, we're glad to see 2018 is already shaping up to be better. In fact, it's looking to be one of the best years for restaurant and bar openings in quite a while. 
Many of the most lauded chefs and restaurateurs in the city are opening up new spots or expanding their already popular operations. Each new restaurant is bringing something unique to the table — or bar top — and the best news is, we get to enjoy them, sooner rather than later. 
Without further ado, here are our most anticipated restaurants of 2018. 
Ukiyo/Moon Rabbit Ramen (Meridian-Kessler)
Ukiyo, Neal Brown's return to sushi and Japanese cuisine, is pretty damn exciting.
The unexpected addition of Moon Rabbit Ramen as a magical lunch option only adds to the excitement. Even Brown himself has been blown away by the response. What started as a pop-up, has now become a permanent fixture in the former Room 4 space at 49th and College.
Brown tells me that Josh Boles, the ramen chef at Moon Rabbit, studied ramen in Japan right after graduating college. With that knowledge, Boles returned to Indianapolis with the desire to share true ramen with the city.
His ramen will blow you away with it's eclectic amalgamation of fatty, savory, umami flavors in three choices: shio, shoyu and a vegetable-based bowl for vegans and vegetarians.  Another lunchtime highlight is the kaarage chicken. There is fried chicken. And then there is this karaage chicken. I would choose this over any other fried chicken in this city. It's sprinkled with matcha and a light honey drizzle below, it is a nearly perfect bite.  And that's just lunch.
Brown says, "Dinner focuses on kappo cuisine and sushi, paired with both Japanese & domestic craft beers and sakes." 
For dinner expect to walk out feeling as if you just ate like royalty. There are some standards, like ribeye and chicken thigh on the dinner menu, but use the opportunity to branch out and taste dishes like the hamachi (yellowtail) collar or the chicken heart yakitori with spicy miso. 
The most enticing part of the menu are the wonderful fresh slices of fish. Grab a seat at the sushi bar and order omakase. It's $85 well-spent. The experience of various nigiri and a few other menu items paired along side well-aged sakes and unique cocktails with chef Brown serving them is unlike any other meal you'll have in Indy.
Chris and Ally Benedyk, the lovely couple behind Love Handle, are moving their operation to Mass Ave — down near Black Market, Roosters and Yats. And the good news is they plan on opening in early February.Other than the location change, Ally says, "The Mass Ave. location will be different in so many ways."
Don't fret. It's all exciting changes.
"We will now serve beer and wine," says Ally. She then adds that there is a significant size increase. "The [new] restaurant can seat 70, where at the old location, we could only do about 25." And most exciting of all — well, maybe that goes to the beer and wine — is the new location will be open for breakfast, lunch and dinner!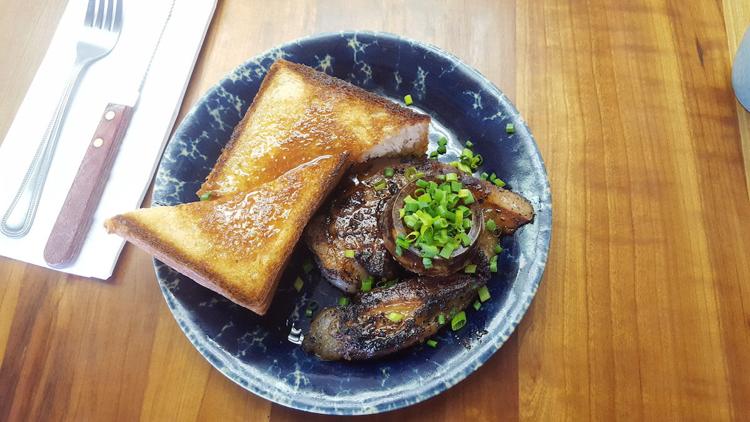 So, yes, as Ally shares, "The menu will still have the old faves (biscuits and gravy, biscuit sliders, beef tongue sandwiches, etc.)" But, wait, there's more: "We will have some really fun additions too," she says. "Like, we will do whole and half rotisserie chickens… and some fried items like pork croquettes."
 Ally says a new tradition is starting and it's what she is most excited for. "The fish fry we will do every Friday evening! 
"When we lived in Milwaukee, every restaurant did a fish fry on Fridays...So, we are kind of paying homage to the city where we got our start. We will fry a few different types of fish, shrimp rolls (think, lobster rolls), with fried potatoes and slaw."
For the Benedyks, they are ecstatic about the new space. "Mass Ave. is one of the hottest spots in the city," says Ally. "We are super excited to be a part of that. Especially at the East end where it still has a kitschy vibe...We have come along way from when from when we first opened in Milwaukee in 2013."
Liter House (SoBro)
The Bent Rail Brewing building at 53rd-ish and Winthrop is getting a facelift from a very familiar face. Eddie Sahm — of Big Lug Canteen and Sahm's Ale House — is taking it over and putting in a Bavarian-style brewpub. 
Bavarian-style brings up visions of The Rathskeller, Moerline Lager House in Cincinnati, or Garden District in D.C.. The last of these played a role in Eddie's desire to pursue this concept. Eddie says he and his business partner Scott Ellis, "left the Craft Brewers Conference this past year (after four nights in a row drinking at this bar) thinking that this was something we could sit and drink at every night; I think a switch flipped that evening."
With that switch flipped, all he needed was a location, and for Eddie, location was a no-brainer situation. "Ed Sahm, my father, grew up in this area," Eddie says. "He went north to Fishers, but his love of this area never subsided. I live in Broad Ripple and don't plan on leaving anytime soon."
He then adds, "I have had German food on my mind for a while and while South Broad Ripple has some of the best food options in the city, it hasn't fully maximized its use of the Monon. I think we can be somewhat of a stopping point for people, which hopefully gets them to explore an area we are in love with."
As for what we can expect, the answers aren't completely fleshed out, but Eddie has a pretty good idea. "I think when everyone thinks of Bavaria, the first thing that comes to mind is the beer and pretzels." He says they will have an on-site bakery to dish out pretzels. Unsurprisingly, beer will also be made in house. "These [beers] will be recipes that stay true to German recipes and respect the awesome beer culture they have already established." 
Eddie also says, while the menu will be focused on seasonality and local purveyors, he wants to keep the cost as reasonable as possible. "Our goal is to be a staple for the neighborhood," he says. "We understand this means we need to provide affordability along with seasonality. We welcome the challenge!"
And while there is quite a bit of construction to be done to reach the overall vision, Eddie says we can expect it relatively soon, "Before 2020. I plan to run for president, so it is very important for me to have some time to make a run."
He then adds, "In all honesty, we are shooting for an end of June, beginning of July timeline."
Summer can't get here soon enough. 
Tavern at Old Point (Mass Ave)
When longtime owners of Old Point Tavern, Chip and Patti Perrin, announced they were closing up shop and selling it to the Cunningham Restaurant Group — owners of Mesh, Union 50, Livery, Bru Burger and more — many people had some feelings.
Anger was one feeling. Angry that the second oldest bar in Indianapolis — behind the Slippery Noodle — would be closing to make way for another CRG property on Mass Ave. Angry about losing inexpensive cocktails, tasty nachos and yummy chili.
And still others were happy, excited to see Mass Ave make another move away from its less-flashy, '80s film set in NYC roots and come into a modern, upscale feel.
Mike Cunningham, CRG's CEO, says he hopes more people turn towards the latter after they see the finished product.
"We hope what we introduce newly to that space is what the market is looking for," says Cunningham. "We totally understand that there's going to be a handful of people that will be upset that they didn't have their cheap cocktails or the nachos at midnight kind of experience that they had in there. But with our experience, we think that what we'll do will please enough people that we can make it viable for the future."
The end of this statement — viable for the future — is a key aspect that Cunningham isn't sure many people recognize when dealing with such a historic structure. "There's a reason Chip and Patti wanted to step out," he says. "It's not a business model that can survive very long when your facility is falling apart and your bar costs are through the roof."
The necessary renovations on the building are extensive. Cunningham says, "It currently leaks when it rains, it's not insulated very well." He also says, "We will correct the current bar; if you've ever sat at that bar you really can't sit at it, you have to turn sideways to sit at it."
And while they're making the necessary structural changes, he is adamant about preserving as much as possible. "It's important for us to keep that history and the neighborhood feel," he says. And it should be, Cunningham and his wife live in the Mass Ave neighborhood. "My wife and I thoroughly enjoy living in the city, we've done it for almost three years now," he says. 
"Although we are going to fix the building … we're going to save the historic facets of the building. But, we're going to put other windows on the inside to insulate it so you're not getting wet when it rains, or the windows aren't sweating when it gets cool outside. All of those things that add personality to the building are some of those things we have to fix."
The menu hasn't been worked out yet, but Cunningham says it will be an upscale pub menu crafted by CRG's executive chef Carl Chambers along with Layton Roberts and Thomas Melvin. 
They are shooting for an early April opening, that way they can then focus on opening their new Italian restaurant in the former Cerulean space in The Alexander.
"I'm most excited about taking a historic and iconic location in name and keeping it alive for the future," says Cunningham. "[Chip and Patti] had a 25 year run there, so that's definitely a feather in their cap that they made that work for so long. So, it's exciting to introduce what Old Point should be in the next two decades instead of letting it deteriorate to a point where it would just kind of go away."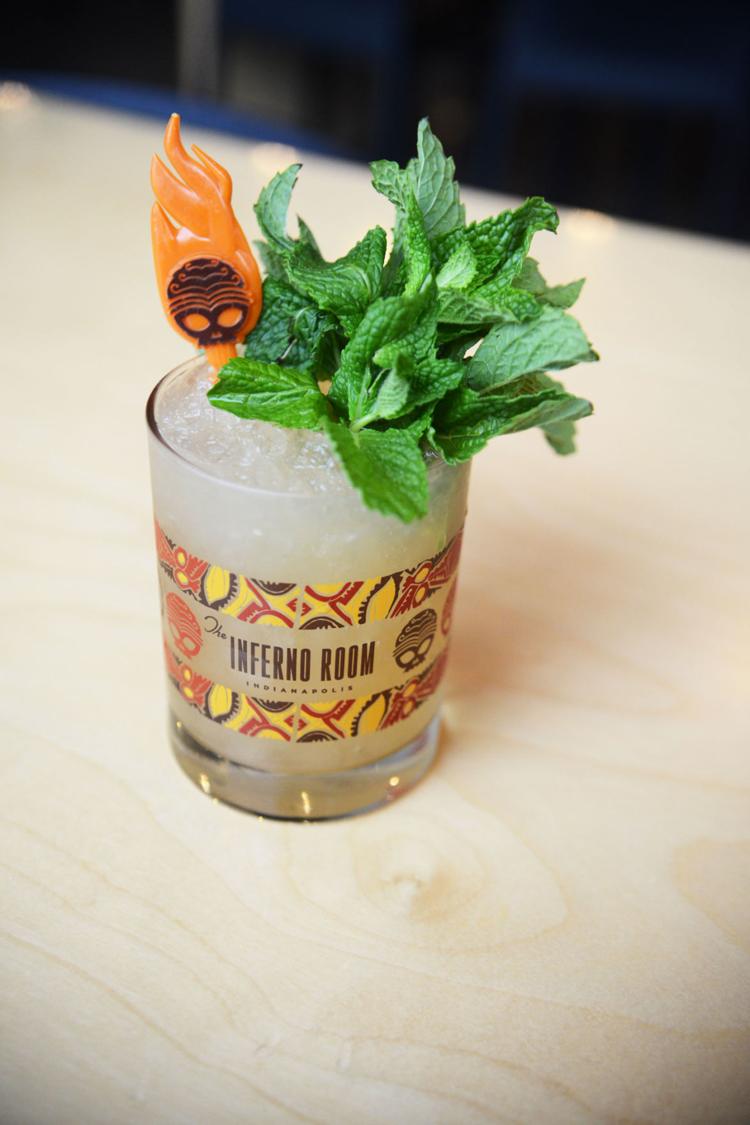 Inferno Room (Fountain Square) 
This spring, you'll barely have to step foot off of Virginia Avenue to escape to your tropical paradise. The Inferno Room will be open and it's bringing a waterfall of classic tiki bar culture along with it. 
"I think the atmosphere will make it unique, that escape," says Ed Rudisell, owner of The Inferno Room. Rudisell also owns or co-owns Siam Square, Black Market, Rook and Thunderbird. He says he is excited to bring a new style of tiki bar culture to Fountain Square. "To be able to walk through the door and not be at home anymore — I don't want to say in Indianapolis, because you're still in Indianapolis — but it's just getting away from home." 
While people in the city have undoubtedly had experiences with tiki culture, Rudisell says to expect something rather unique with Inferno Room. "La Revolucion has its outdoor tiki bar, I even think there is synergy there," he mentions. "But we're going in a very different direction than they went."
He then expounds on that thought, "We're going a little more tribal, jungle, headhunter, cannibalistic sort of route. It's a style I haven't personally seen around the United States — that doesn't mean it's not out there — I just haven't seen it."
The style has been personally crafted and curated by a handful of people including the design team at CODO, Chris Coy (who previously has been the wine director for Black Market), local members of the Fraternal Order of Moai, and a Milwaukee-based tiki artist named Dave Hansen. 
"Dave is seriously the most humble guy and his work is, just, incredible," says Rudisell of Hansen and his work at Lake Tiki Woodcrafts. "It's exactly what we envisioned. He has really latched onto it and he knows a lot about the native artwork of Papua New Guinea, especially the Middle Sepik Region. He has been killing it."
Add to the distinctive interior the fact that bartender Eli Sanchez of Rook is crafting the cocktail menu and chef Carlos Salazar, also of Rook, is crafting the menu and you're just ready for it to open. 
"We won't have just one cocktail that defines who we are," says Rudisell. "But classics will be super important to us." 
When it comes to tiki culture, this makes perfect sense. As Rudisell describes, "I mean, mai tais are a good bellwether on what to expect from the rest of the drinks. If you have a bad mai tai at a tiki bar, then you're probably not going to get anything better."
Rudisell assures there will be plenty of classics like, mai tais, zombies, fog cutters and jet pilots. Then he shares the unique way which their other cocktails will rotate onto the menu. "We are friends with several tiki bartenders and bar owners across the country," he says. "We would like to feature either their favorite obscure or under-appreciated tiki drink — because there are so many out there that get forgotten about. Or, another idea is to put on one of their signature drinks.
"It's a nice way to add a little spice to our menu. I mean tiki is very communal anyway and everybody seems to know everyone — so it's just another way to connect the dots." 
They're still testing some dishes, but they know the direction they're going. "For food," says Rudisell, "we will keep aggressively priced because it will be small and medium sized plates, pretty comparable to what we do here at Rook. Like, quick snacks. 
"I don't think anybody is going to have a sit down, night out dinner there. We're not fine dining, we're not trying to be fine dining. It's a fun place and should be fun."
Common House (Undecided)
When Cerulean closed with the New Year it left a hole in hearts and tummies. Not only because we will sorely miss the bento boxes for lunch and the whiskey selection, but more so because we miss having a kitchen where the wonderful Alan Sternberg is prepping top class food for us to enjoy. 
The good news is — as we profiled at the beginning of the year — Sternberg will be returning to the kitchen soon and prepping the food he loves, pasta and crudo. 
"I think we're going to explore pasta in a way no one else has in Indy," says Sternberg. "We're not an Italian restaurant, so we're able to draw on more worldly flavors. I've spent a lot of time over the last few years learning how to make good pasta and I'm excited to bring that to a larger scale."
That whiskey selection at Cerulean will also be a key aspect of Common House.
No matter what is on the menu, one of Sternberg's most notable qualities as a chef is his focus on hospitality. "I've always tried to accommodate my guests to the best of my ability," he says. Because of this, "we almost always will have something available for the major dietary restrictions … I do urge guests (dining at any restaurant) to call ahead and make the restaurant aware of special dietary needs. 
 "...We want to be able to make sure what we're putting out is the best dish for the guest."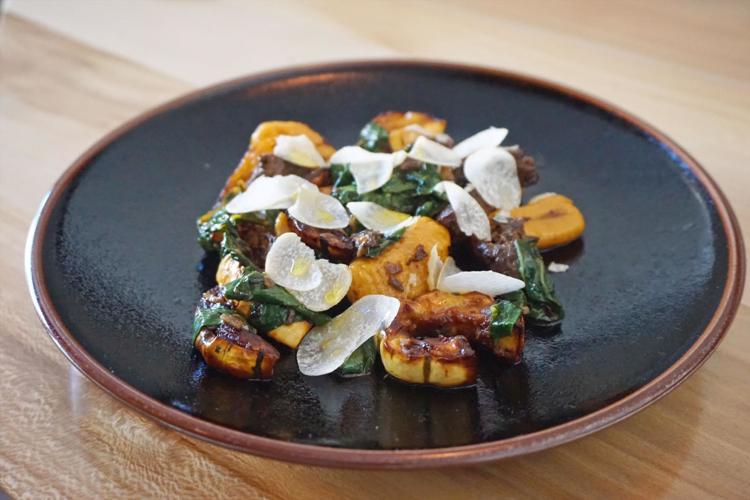 Even though all of the wheels are turning on this project, it still has quite the road ahead of it before we get to see and taste the finished product. At the moment Sternberg has a full plate while on his journey to opening his first restaurant. 
"The last few weeks have made my schedule kind of crazy for at least the first half of 2018," says Sternberg. "As of [mid-January], I took over as the Executive Chef of Cerulean Winona. Their chef had a sudden departure, so I'm filling in and steadying the ship.
"After that, I'm opening The Field in Westfield around May, and after that calms down I'll be shifting focus to Common House."
Despite being incredibly busy, Sternberg has a solid idea of what the restaurant will offer for guests, this is due to the fact that he has been working the concept out in his mind for quite a while. "I've had some good fortune to cook with some really awesome chefs the last couple of years, and I think those experiences, more than anything, have inspired us at Common House," he says. "After seeing so many people follow their own paths, it finally clicked that I should be cooking the food I'm most excited to eat, but at the same time I could continue to push myself with."
With that goal present in his mind he started to share his vision through his monthly supper club dinners, also known as Common House. "Our supper clubs have always been a lot of fun because we tried to take chances and push ourselves. Often we'd sit down afterwards and just say, 'How the hell did we pull that off?'." 
While he may not know how they pulled it off, they did and after being treated to one of the dinners, we're beyond excited for what the restaurant may hold. For Sternberg, it's an exciting time, as well. 
"I'm excited to share something that I've been so passionate about with other people," he says. "I'm also really excited about being able to work with my wife, Audra ...  She's an amazing personality and always makes people so warm and welcomed."
While they still haven't settled on a location, Sternberg knows what he's looking for in a location. He says, "Neighborhood is a huge part of that discussion.  
"Location dictates so much about a restaurant, from menu price, to target demographics, to interior design. Cerulean was kind of a special occasions restaurant, so Common House is kind of the antithesis of that. I want people to feel comfortable and like they're part of our family.  Making sure that we fit into the fabric of whatever neighborhood we land is really important to me."
Though there's some uncertainty about the timing of the Common Houses opening, Sternberg says he is shooting for autumn. Until then, we can always head to Lake Winona or Westfield. 
Turchetti's Salumeria (Fountain Square)
I first met George Turkette at a DigIN event named Slow Meat — an event dedicated to the idea that if you're going to eat meat, eat quality meat from animals raised as humanely as possible on small-scale local farms. 
Turchetti's Salumeria, the new butcher shop and deli Turkette, and his business partner, Doug Esopenko, are opening in Fountain Square, is an extension of this idea. They support local farms by using their animals to serve nose-to-tail cuts and recipes to Indianapolis. 
"Turchetti's will be the only whole animal butcher shop in Indianapolis," says Turkette. "This defines our purpose from the very beginning; to utilize that animal from nose-to-tail — reducing waste while producing product that showcases the farmers' efforts. This drives our menu and our meat case."
"Located right in the heart of Fountain Square," says Turkette, "It was easy to be inspired by the menus of our culinary neighbors along Virginia Ave — Fountain Square knows good food! We also thought it was important to provide direct access to some of Indiana's finest, pasture-raised animals."
You'll be able to go into the shop in the former Marrow space, look in that case and get all different cuts of meat from an array of pasture-raised animals. Add to that the fact that there will be someone there with the knowledge and passion to help you choose the best meat and prepare it correctly. Each step of the process ensures that the meat is being used to its full potential and that you are ending with a great meal. 
Aside from the butcher side of the business they will also have quick bites to grab in the shop.
"If you want to grab lunch, expect a fat sandwich for under $12 or a lox bagel for about the same," Turkette says. "Expect to see our products used to the best of their potential alongside seasonal produce from our family farms."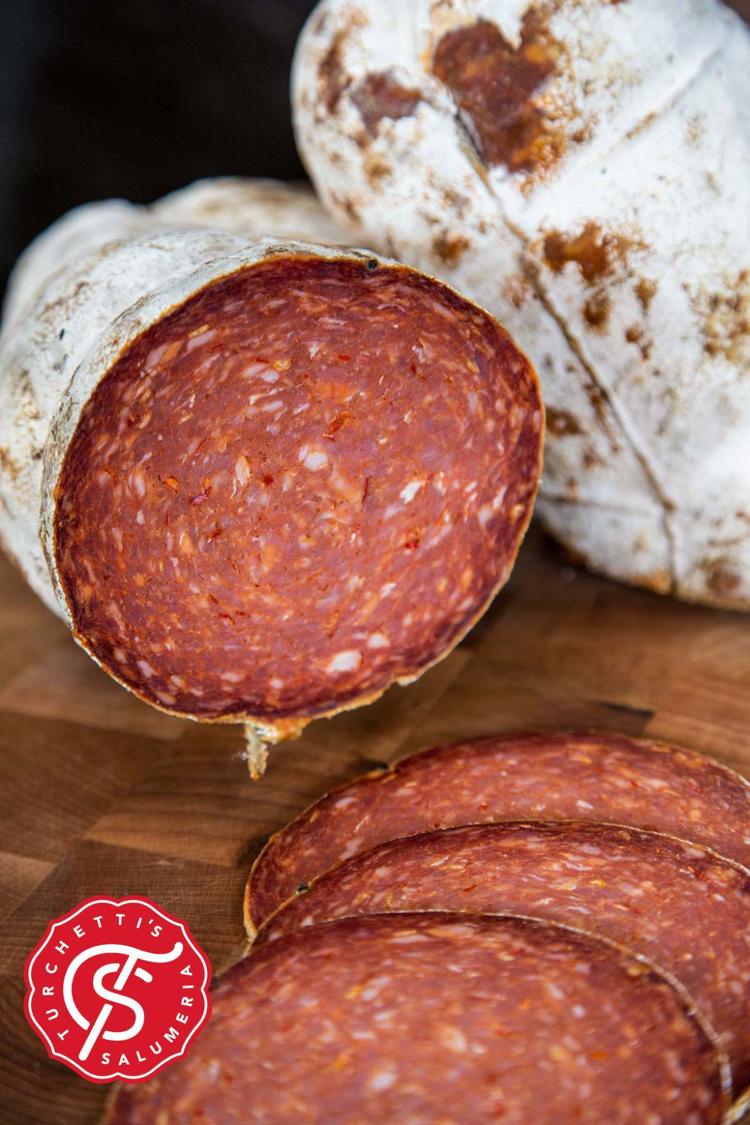 As for their inspiration, outside of a simple desire to support farmers and their community, Turkette says, "We were definitely inspired by the convenience of counter service at a classic New York City deli. The neighborhood market feel of Publican Quality Meats in Chicago comes to mind as well. 
"It's easy to find inspiration in a damn good sandwich."
Their ultimate goal is to educate the city about the butchering process, "We want to reaffirm the connection between farmer and consumer throughout the week, not just on Saturdays at the Farmers' Market," says Turkette. 
They place an immense amount of importance on being transparent. 
Turkette says, "From the window on Prospect Street you will be able to see into our butcher shop and watch our products being made from start to finish — we want you to see how the sausage is made, we're pretty proud of it." 
Beholder (Woodruff Place/Windsor Park)
To say that Jonathan Brooks has a lot riding on his shoulders with his upcoming restaurant Beholder is like saying the discovery of DNA was of considerable biological interest.
An understatement to say the least. 
With the incredible success of his premier restaurant Milktooth, which has garnered endless accolades including James Beard Nominations and spots on many best restaurants in the world lists, people can't wait to see what his next venture will bring to Indianapolis and the culinary world at large. 
Eater even included Beholder on its list of most anticipated restaurants in the country. 
And yet, for Brooks, he seems to be thinking of everyone else when it comes to the new restaurant. 
"The food and wine menu will have prices to satisfy everyone. We want neighbors to be able to afford to eat here multiple times a week, as well as offer a really baller experience for people looking for a destination experience or celebrating," Brooks says. 
The menu will consist of shareable small and large plates, and will be slightly more refined than what guests have become accustomed to at the laid back brunch spot, Milktooth. 
For his inspiration for the menu, Brooks says, "I'm inevitably inspired by every meal I have — good or bad." Followed by, "Some of my favorite experiences recently have been Smyth and Monteverde in Chicago, and Bastion and Urban Cowboy Public House in Nashville." 
And while all of those count as inspiration, Brooks says, "My goal is to cook food that is emotional, nostalgic and immediately recognizable as mine." 
A quick look at Beholder's Instagram and it's easy to see we're going to get bites that are unlike anything we've seen in this city like abalone in a black garlic ponzu, horseradish and pine. 
Brooks points out one of the aspects of the new spot that he is most excited for has nothing to do with the food at all, and once again focuses attention on others. He is excited about, "continuing to learn about wine from Josh Mazanowski and sharing that knowledge with young people in a non-intimidating environment."
Mazanowski is Brooks' business partner at Beholder and he is also the former sommelier from Recess, the recently closed restaurant helmed by chef Greg Hardesty. Mazanowski will undoubtedly bring a high-caliber knowledge of wine to Beholder, and oenophiles can expect a stellar wine selection.
With Beholder, Brooks is surrounding himself with high-quality people who have proven themselves as professionals in the food and drink sectors, like Mazanowski. 
For desserts and pastries he has Pete Schmutte, the former pastry chef at Cerulean, who helped prepare a meal at the James Beard House in NYC.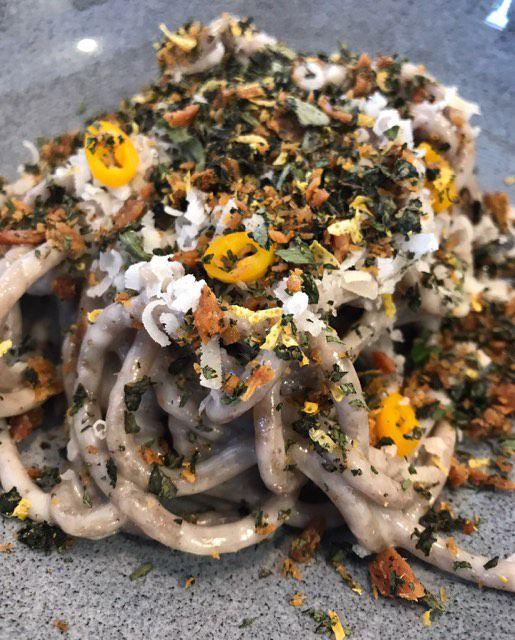 He also has Brian "Soft Dad" Brissart, formerly of Thunderbird, Libertine and Spoke & Steele and a USBG World Class cocktail competition competitor running the bar program. 
With all of these components coming together, when Beholder opens this April on the Woodruff Place and Windsor Park border, it will be bringing something special to a neighborhood undergoing revitalization. Brooks says, "I think at Beholder we have a unique opportunity to provide a neighborhood restaurant to an area that has been underserved food-wise, as well as draw folks from Downtown and surrounding areas to a part of Indianapolis they may be unfamiliar with." 
---
Editor's Note: An earlier draft of this article incorrectly stated Pete Schmutte was nominated for a James Beard Award. Though he has cooked at the James Beard House, he was not nominated for an award. It also had Beholder in Woodruff Place, it actually sits on 10th Street on the border of both Windsor Park and Woodruff Place.