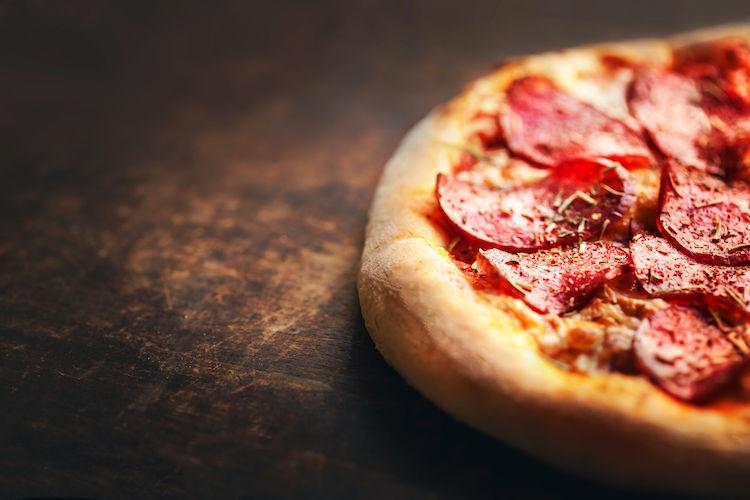 Pizza tends to elicit strong opinions.
Everyone seems to have a favorite, whether it's a classic New York pizza or something more artisanal and modern.
Before World War II, pizza was virtually unknown in America outside the kitchens of Italian-American families. But GIs returning home from Italy brought their love of the tomato pie with them. Soon, newspapers and magazines began touting recipes and Italian restaurants began adding it to the menu.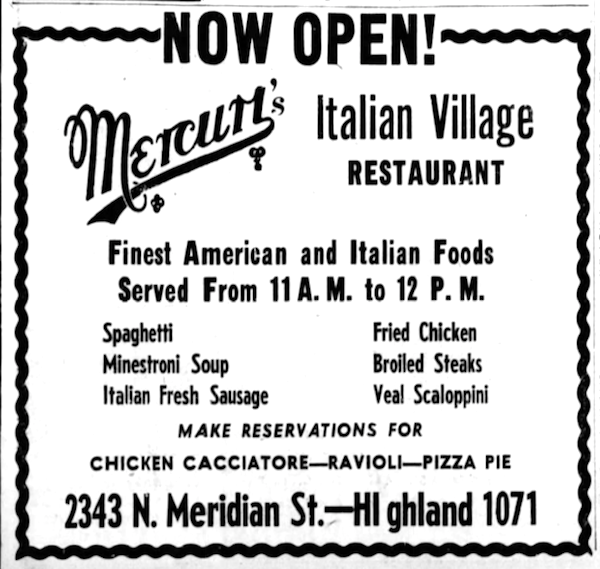 Here in Indianapolis, it was the Italian Village Restaurant at 2343 N. Meridian that first began bragging about its pizza when it opened just before Christmas 1947. The owners were Don and Mary Mercuri who would go on to own several restaurants in town, including the popular Chuck Wagon at 42nd and Fall Creek.
Don Mercuri immigrated from Italy as a child with his parents who came to Indianapolis in the 1920s.  He married local girl Mary Velona in 1933.
Mary Velona Mercuri grew up in the Holy Rosary neighborhood and attended Manual High School and Herron School of Art before her marriage. Don served in the Army Medical Corps during WWII and on his return, the couple opened the original Italian Village restaurant on North Meridian Street.
Mary ran the restaurant while Don ran the couple's other business, Mercuri's Beauty Salon in Broad Ripple. The Mercuri's owned the Italian Village until 1951 when it was sold to another Italian-American veteran of WWII, Silvo "John" Macri who would go on to make the Italian Village restaurant a legend in Indianapolis before it closed in 1994.
By the 1950s, teenagers had claimed pizza and it was soon a "late-night" favorite at drive-ins around town in addition to sit-down restaurants with Italian flavors.
The first "chain" of pizza places in Indianapolis is probably Pizza Pic-up which boasted three locations by 1956--34th and Illinois, just south of the Ritz Theatre; 22nd and Meridian, a block south of Italian Village; and a third at Rural and Washington Streets, just east of downtown. Pizza Pic-up boasted "10 varieties of Italian Pizza Pie with imported Italian ingredients" as well as a late hours and cocktails.
Closer to the fairgrounds, Merrill's Hi-Decker drive-in was selling its original Pizza Decker: "a sandwich that combines tangy italian pizza with hamburger" for only 50 cents.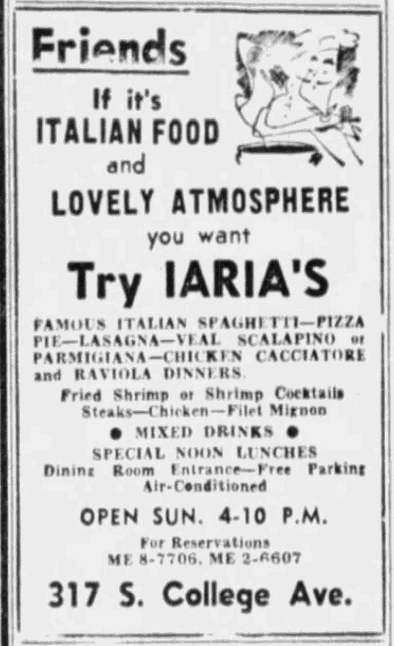 Speaking of the fairgrounds, pizza was voted one of the best foods at the 1954 Indiana State Fair. And Iaria's on South College just may be the oldest establishment serving pizza in the city. As early as 1955, the Fletcher Place favorite was advertising "pizza pie" along with their "famous Italian spaghetti" and "Raviola Dinners."
While we don't argue much about the authentic Italian-ness of pizza much anymore, everyone still has a favorite--including the NUVO editorial team. In honor of Indy Pizza Week (Oct. 15-22), we've narrowed down the best pizza in Indianapolis to six favorites.
Now one of the oldest pizza restaurants in the city, Bazbeaux Pizza opened in Broad Ripple on May 12, 1987. Having since opened two more locations, you don't have to travel far to get a city staple.
Named after a Florentine court jester, this NUVO Best of Indy perennial favorite is known for its signature thin crust pizzas and creative topping combinations. With options that vary from the exotic to traditional, Bazbeaux offers up a little something for everyone, even providing gluten-free and vegan customers with plenty of options to choose from.
Stop by at lunch and try Bazbeaux's best pizzas by the slice. After indulging in a house salad and some of Bazbeaux's award-winning garlic bread, we suggest exploring the restaurant's trademark pies like the Colossus, the Garden, and the Pizza Alla Quattro Formaggio. If you really want to impress your friends, order the Tchoupitoulas. It's topped with Cajun shrimp, roasted red pepper, green pepper, red onion, andouille sausage and fresh garlic. Plus it's really fun to say. -- Seth Johnson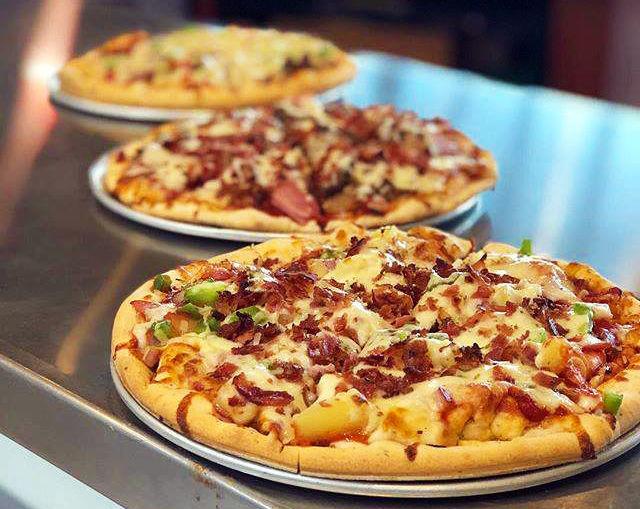 Since first opening its flagship Irvington location in 2007, Jockamo Upper Crust Pizza has since expanded and added additional shops in Greenwood and Lawrence. The family-owned restaurant is best known for mouth-watering pies characterized by delectably flaky crust.
In addition to a selection of salads, the restaurant offers several satisfying starter options that include bread sticks as well a spinach, artichoke, and cheese bread. Customers can opt to make their own pizza, choosing from a wide variety of meats, veggies, and sauces. Jockamo also offers an outstanding variety of signature pizza options as well, each of which varying in adventurousness.
For example, the Slaughterhouse Five is a pizza topped with pepperoni, ham, sausage, bacon, and sliced steak, while The Bollywood is a pizza topped with a housemade spicy masala sauce, chicken, green onion, peppadew peppers, fresh garlic, goat cheese, and a coconut finish. There's also an amazing Thai Pizza featuring peanut sauce, chicken, carrots, onion, red pepper and topped with gouda. -- Seth Johnson
Donatello's Italian Restaurant
A small, family owned establishment on Carmel's Main Street, Donatello's also made our list of favorites--and not just for the pizza. We like the ambience, the service, and pasta just as well. Maybe we've seen too many movies, but this is the type of place you can imagine John Travolta's Tony Manero (or Vinnie Barbarino) stuffing his face. 
And how's this for history: owner Patrick Aasen started his restaurant career as a chef at Macri's Italian Village more decades ago than he'd care to admit. Along with wife Beth and oldest son Adam, Aasen continues the tradition of Italian-American dishes Indianapolis has loved since the late 1940s.
On a recent visit, I started with a Caesar salad that was one of the finest salads I've had north of Tijuana--where the Caesar salad was first concocted. While the restaurant had quite a few customers at 8:00 p.m., entrees arrived in no time. My 12-inch pizza arrived on its baking tray looking and smelling just like a fresh-baked pizza should. After it cooled, I took a bite and it more than met my expectations. It had crispy crust, ample onions, the right sauce to cheese ratio, the right amount of grease.  
I also enjoyed much of my dining companion's scampi. The shrimps were huge. The light sauce tasted of butter, white wine, olive oil, and parsley. The linguine wasn't overcooked. It was subtle, not bland. I could've eaten two plates of the stuff. It was the perfect accompaniment to a Saturday night pizza. -- Dan Grossman
If you're looking for New York pie in the Circle City, you're in luck. Goodfellas Pizzeria has brought all the thin-crust goodness of the Bronx straight to Indianapolis where you can find it on Mass Ave and in Broad Ripple. 
One of our favorites is Jimmy the Gent, a Greek masterpiece that uses olive oil in lieu of red sauce and is topped with bacon, olives, garlic, spinach, and feta cheese.  The use of oil gives the pizza a much lighter feel that's perfect for quenching the munchies without weighing the whole thing down.
If traditional pies are more your dish, the namesake pie, "The Goodfella", will get your mouth to water with some of the best Italian sausage we've had the pleasure of tasting along with pepperoni, beef, and bacon.  A meat lover's fantasy.
Speedy service, a friendly staff, and plenty of indoor and outdoor seating make this a no brainer stop for some of the best slices Indy has to offer.  And make time to enjoy a drink at the appropriately named Wiseguy's Lounge in back; it hosts one of the best whiskey selections in the city.-- Larry Konowalik
There are ample choices for delivery of good pizza in Indianapolis, but we tend to favor our old favorite Hot Box. A local franchise, there are now more than a dozen Hot Box locations around Central Indiana, meaning there is no excuse to pay someone else to bring you pizza when you're too lazy or it's too cold to go outdoors. 
The Hot Chick is top of our list. Chicken, tons of Wisconsin cheddar, jalapenos, and Buffalo sauce make this a meal in itself. But we're also a bit crazy about the Pesto Mambo and its artichoke hearts, feta, broccoli, and pesto sauce topping. There are several veggie options we've tried and liked, plus some terrific pies heavy on meat. In all cases, you can get an extra large one for under $20.
And don't forget the stix! Hot Box has some of the best bread sticks around, and at under $5 for a bag of six, you'll be glad you did. -- Laura McPhee
If you're looking for a craft pizza experience, Neal Brown's Pizzology is where you want to go. Brown is one of the city's top chefs, and the same care he brings to sushi at Ukiyo he also brings to the pie at Pizzology. 
Emphasis is on fresh and local ingredients here, so start with the Grilled Romaine appetizer featuring grilled romaine heart, fresh grape tomatoes, shallot, housemade mozzarella, and yogurt-herb dressing from Traders Point Creamery. If you like seafood, the Grilled Octopus is stellar: grilled Spanish octopus braised with lemon and herbs, San marzano tomato, capers, lemon and bagna cauda.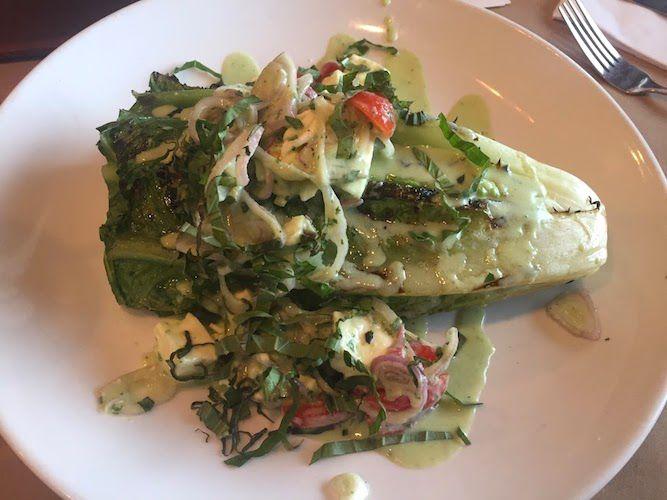 But you're here for the pizza, right? Meat lovers should try the Homemade Sausage Pizza that, in addition to the sausage, comes with mildly spicy peppadew peppers, fresh oregano, and Parmesan Reggiano. Also, don't miss the Vesuvius Pizza featuring smokey roasted red pepper sauce, Italian-style sausage, green peppers, fresh mozzarella, and provolone.
Pizzology is pricey, but well worth it. -- Rob Burgess