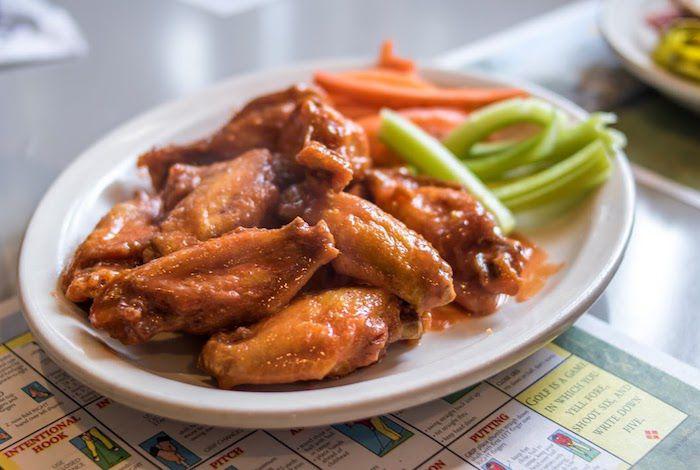 If you're ever curious enough to google "when did chicken wings become a thing?" you will be flooded with responses that all contain the same story.
According to the collective wisdom of the internet, the first plate of spicy wings was served in 1964 at a family-owned establishment in Buffalo, New York called the Anchor Bar. The wings were the brainchild of co-owner Teressa Bellissimo, who covered them in her own special cocktail sauce and served them with a side of bleu cheese and celery to her son and his friends one night, because that's what she had available.
Turns out, there had been a delivery mistake. Instead of the chicken backs and necks she'd ordered for her spaghetti sauce, she got wings. Making the best out of the mix-up, she coated them in sauce and served them up as hors d'oeuvres.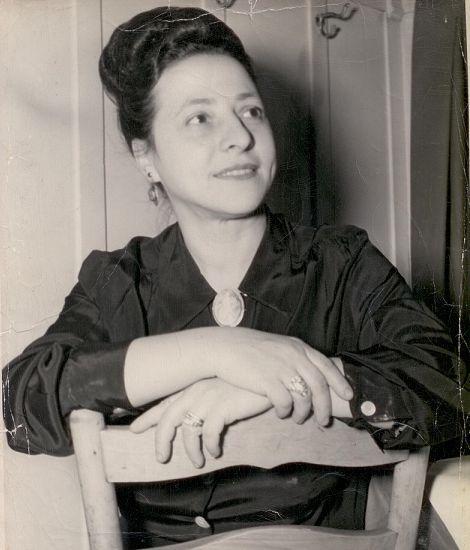 According to the National Chicken Council, the guys at the bar liked them so much that Teressa put them on the menu the next day. Seemingly overnight, "Buffalo Wings" were an instant hit. Restaurants and bars all over the city started doing the same, and within a few years the local delicacy was growing in popularity around the country.
There was even an official proclamation from the City of Buffalo declaring July 29, 1977, Chicken Wing Day, though by then Mr. Bellissimo seems to be taking all of the credit: "whereas, the success of Mr. Bellissimo's tasty experiment in 1964 has grown to the point where thousands of pounds of chicken wings are consumed by Buffalonians in restaurants and taverns throughout our city each week. . ."
The concept of a spicy chicken wing hit the big time in 1990, when McDonald's began selling them.  KFC rolled out Hot Wings a year later, and Domino's Pizza in 1994. Not long after, the NFL's Super Bowl turned into a mega-event and wings were back in a very big way. 
It helps that chicken wings are ridiculously cheap to buy and serve. Bars figured out pretty quickly that "all you can eat" wings--especially the very spicy ones--would lead to increased beer purchases. Turn on an hours-long football game, and the bar tab more than makes up for whatever those wings cost you.
Unfortunately, the story of the Bellissimo family bar being the origin of the chicken wing craze can be pretty easily debunked for the more vigorous of researchers.
For one thing, there's been another resident of Buffalo who was cooking up spicy wings and selling them like hotcakes before Mrs. Bellissimo served them to her customers. From the moment she started getting press, this gentleman was out there trying to set the record straight.
John Young's Wings-n-Things was selling wings first, said John Young from day one. And, at the time, he had documentation to prove it. While preparation methods of the two wing dishes was different, the Anchor Bar's wings were chopped, fried, and dipped in bleu cheese dressing, while Young's wings were whole, breaded, then dipped in his mambo sauce, the concept was pretty much the same.
Maybe it's because Young was Black and Bellissimo was White that her version of events seems to be the one most remembered now by google searches and historians alike. It's a theory Calvin Trillin found plausible when he tried to find out the origin of the chicken wing for a 1980 New Yorker piece.
"Was the Buffalo chicken wing invented when Teressa Bellissimo thought of splitting it in half and deep-frying it and serving it with celery and bleu cheese dressing?" writes Trillin. "Or was it invented when John Young started using mambo sauce and thought of elevating wings into a specialty? How about the Black people who have always eaten chicken wings?"
Yeah. How 'bout the fact that people, especially in the South, especially people of color in the South, have been eating chicken wings since way before 1964?
INDY'S WING HISTORY
Even in Indianapolis, you could find spicy chicken wings on the menu of bars and restaurants at least 50 years prior to the Anchor Bar in Buffalo.
As far back as 1910, Smith's Cafe at 39. N. Illinois St. was advertising a lunch special of Creole Chicken Wings, while a few blocks away on Meridian Street the Budweiser Cafe was competing with Southern Wings and Giblets in Gravy.
Heck, by 1935 Emily Post was answering desperate pleas from hostesses wondering how best to serve messy, sticky chicken wings and whether they should be eaten with a fork or with your hands (answer: a fork, unless you are at home then fingers are okay).
In 1960, The Indianapolis Star ran a recipe for "Cocktail Wings" that sounds suspiciously like whatever it was Teressa Bellissimo served up a few years later. Here, the recipe calls for wings batter dipped, rolled in crumbs, and then deep-fried; served with a "tangy dipping sauce" made up of chili sauce, catsup, horseradish, tabasco, worcestershire sauce, and lemon juice.
The best example of Indy's chicken wing history, however, comes in 1969. On the night the old Claypool Hotel downtown was being demolished, a "Destruction Ball" was held in the lobby. Guests were entertained by a band and offered champagne, beer, and chicken wings for refreshments. At midnight, they were hustled across the street, large exterior flood lights were turned on, and they cheered as a demolition crew brought down the building 
It's hard to say if any tailgate party in the vicinity can rival that night, but Indianapolis hasn't lost its passion for wings in the decades since. If anything, they are ubiquitous at this point.   
Without a way to determine the "first" to serve the coveted chicken wing, perhaps it's best if we simply focus on who is serving the best plate of them today.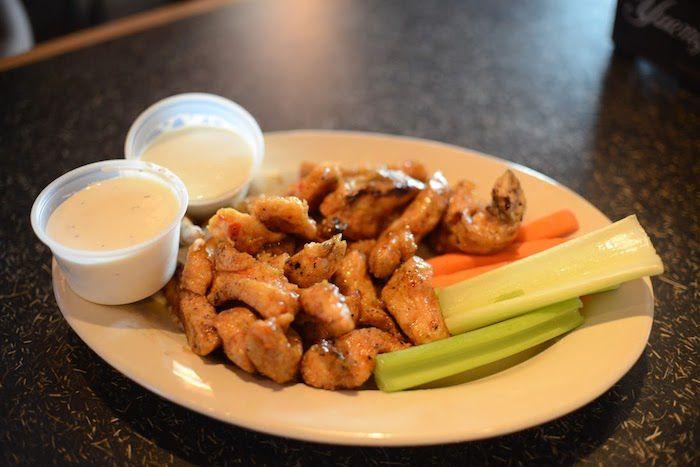 The Best Wings in Town
For the past four years, Ale Emporium at 8617 Allisonville Road has taken top honors in the NUVO Best of Indy Readers' Poll for Best Chicken Wings in Indianapolis. Don't believe me? Visit their website or the restaurant and you'll the BOI logo proudly and prominently displayed.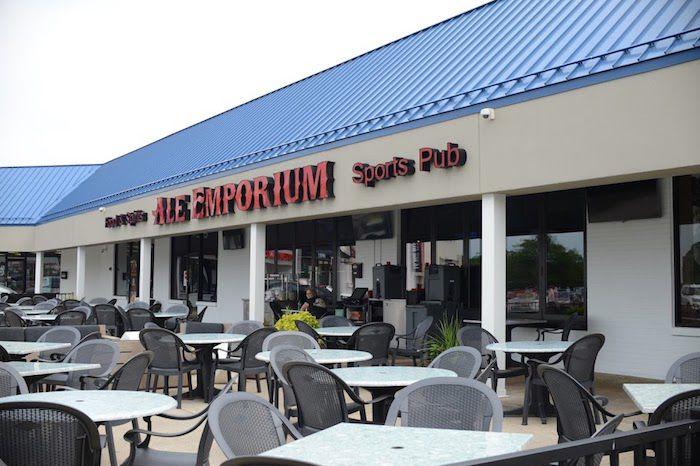 Asked why the wings at Ale Emporium deserve such a long winning streak, fans answer nearly unanimously, the Herman sauce--of which there are four different types: Herman-Style, a "secret" blend of peppers and spices mixed with "secret" sauce, (gee, that's helpful); Hermanki, the secret stuff mentioned above with teriyaki sauce; Hermaican, secret stuff plus jerk seasoning; and Hermazian, secret stuff plus sweet and sour sauce.
We visited last week and went with the boneless, because we had the choice, and we picked the original Herman sauce. No regrets. Even without bones, the wings are huge. The dry rub of spices seeps into every bite and whatever that secret sauce is sets taste buds into overdrive.
Ale Emporium sells wings by the pound, so if you pick the boneless you can choose between a $7 snack of  half a pound; $14 small order at one pound; or a $25 large order at two pounds. Celery, carrots and bleu cheese available as sides.
If you go the traditional bone-in route, you'll pay just a little more but these are JUMBO wings, so you'll feel like you're getting your money's worth. $8 snack (one pound), $15 small (two pounds), and $26 large (four pounds).
Keystone Sports Review is also a fan favorite, finishing in the top three of our Best of Indy best wings category often. It's definitely the answer I get most often from my friends when asked who has the best wings in town.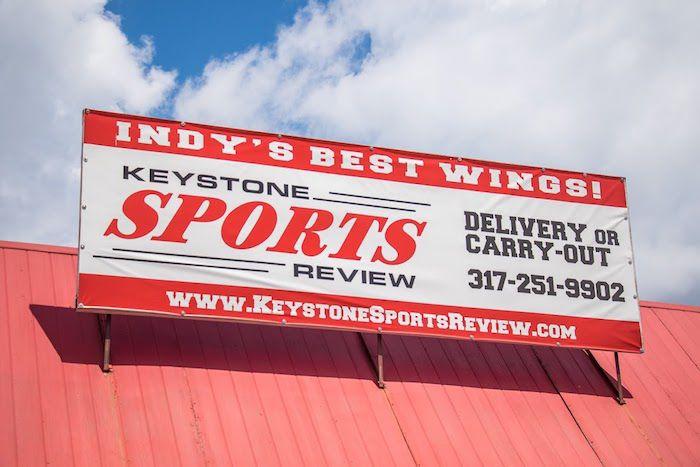 Located at 5202 N. Keystone Ave., KSR has been around for as long as NUVO, and that's 1990 for you new kids. It's a neighborhood bar no matter where you happen to live with good food, good music, and good people. Each year, they sell about a half ton of chicken wings during the Super Bowl. What else could you possibly want in a sports bar?
Wings are sold by the number at KSR, and your choices are a half order of five at $5, a full order of 10 for $9, or a bucket of 20 for $16.50.
We recommend the bucket.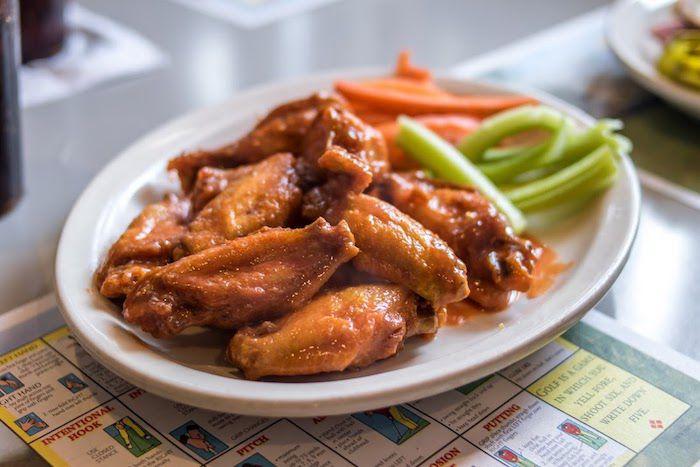 The sauce choices are more plentiful than at Ale Emporium, and much less secretive. They are no less delicious, however. You get a choice of mild or hot in most cases and the available flavors are barbecue, honey, garlic, teriyaki, Cajun dry rub, Caribbean jerk, Asian chili, and Korean bbq.  Celery, carrots, and bleu cheese are also available.
We stuck with the traditional hot barbecue and the cajun dry rub on our most recent visit, though the honey has been a long favorite as well. We've tasted all the others at some point in the last three decades, and can't say we ever remember a bad batch, so you run no risk of trying something new. Also--the there's something special about the bleu cheese dip at KSR that we can't put our finger on, but it's better than most.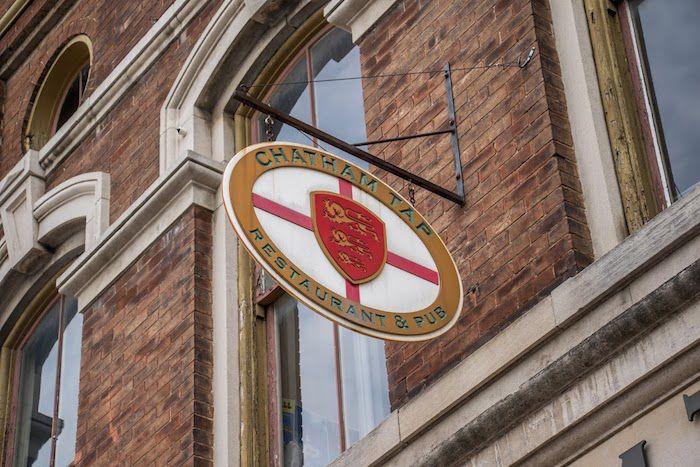 Rounding out our top three places in town to get wings is the perineal favorite Chatham Tap at 719 Mass Ave.
Chatham Tap is as close to a proper British pub as your likely to find in Indianapolis, and it's one our readers consistently choose for a number of Best of Indy awards, including best wings. While they were second place in last year's poll, their Prince Dean's Angel Wings are so unique, it's hard to see them as rivals with the others in the category.
We stopped in last week for lunch and they were as good as we remember. The ingredients of the sauce remain a mystery, but there's a hint of something earthy or smoky, that plays just right with the overall flavor. The skin is crisp, which is nice for a change, and the wings themselves fairly large. A plate of 12 ($14.99) is more than enough for lunch, especially if your lunch companions keep taking them off your plate to try one. There's also a half order available for $7.49.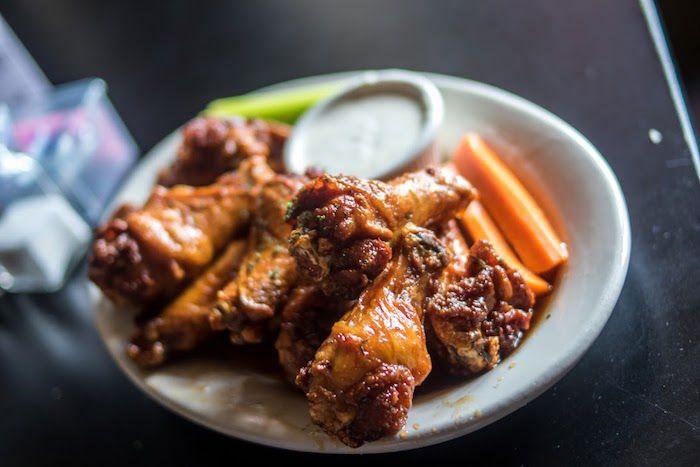 Luckily, we also ordered a plate of the teriyaki wings at Chatham, and they are just as good, if not better, than the angelic ones. A lot of places get the teriyaki sauce all wrong with the balance of soy, but not Chatham. These were perfect and gone within minutes.
As the top three finishers in our 2017 Best of Indy poll, Ale Emporium, Keystone Sports Review, and Chatham Tap come highly recommended by readers and NUVO staff. We've tasted them all, and concur. Now let's see if Ale Emporium can make if a five-year streak when voting opens for the 2018 poll.
Want more choices for where to find great wings? Check out indywingsweek.com for restaurants and special offers Aug. 20 - 26.