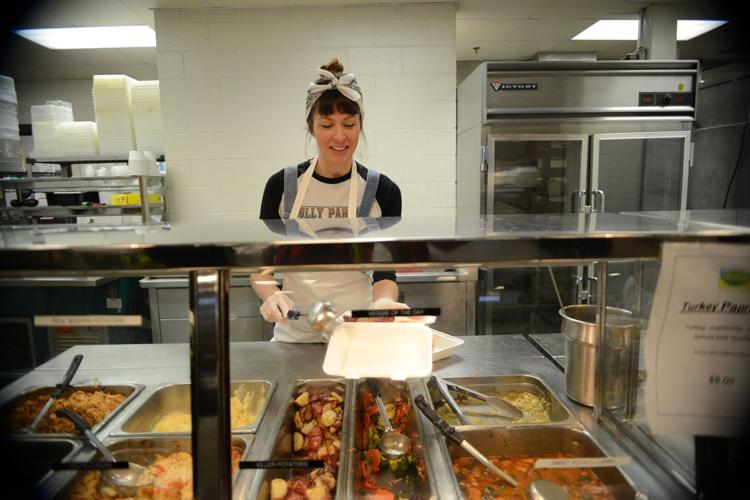 These places will make sure you keep to that healthy eating plan that you've scrapped multiple times before. 
1 //
Artie's Paleo on the Go
For years, Artie's has made it easy to eat like a caveman. The food delivery service preps paleo and macro meals and sends them to pick-up locations all around the city. While it's easy to conclude the food will suck because it's microwaved, this ain't no Stouffer's and Artie's food is as good as any sit down restaurant. The menu changes weekly and the dishes range from shepherd's pie and shrimp and grits to more basic dishes like a turkey burger.
2 //
CoreLife Eatery
Rarely do we add chains onto a list, but this spot gets a pass because it's fast, easy, healthy as kale, and damn good. It's basically like ordering at Chipotle, but instead of ending up with a burrito as big as a yule log, I get a balanced meal made with fresh, scratch-made ingredients. Go with a spicy ginger steak and rice noodle broth bowl or the vegan sriracha ginger tofu bowl, or anything else on the menu. It's all fantastic both health- and flavor-wise.
3 //
Duos Kitchen
There's something magical about Duos, from the extensive salad bar that is maybe the best in the city, to the balance bowl with a side of collards. They offer so many great healthy options and every single one is fantastic. Anytime I'm feeling like being healthy and losing weight this is where I turn for lunch.
4 //
Ezra's Enlightened Cafe
This spot serves up a veritable rainbow of health-food goodies. They do use honey in some products, so it's technically a bee-gan restaurant, but there's plenty here for vegans, vegetarians and meat-lovers alike. Here's a place that offers eats that taste good and make you feel good on top of it. While ordering anything on the menu will be a good decision, the Nacho Mama bowl is the truth.
5 //
The Garden Table
So many great things are on the menu at both the Mass Ave and Broad Ripple locations, but for health and happiness, I need the acai bowl in my life. The cool, sweet bowl with its nice crunch from granola is always tasty and filling. If I'm feeling more like a savory dish the quinoa breakfast bowl is awesome. And if I'm looking for an extra light breakfast, they always have fresh cold-pressed juices; for me, it's the emerald elixir, all day, every day. 
6 //
Healthy Food Café
The name says it all. This Southside spot is similar to Artie's and Herculean, where you order online and pick up at their store front, but they also have a food truck. They offer options for people on nearly any style of diet, whether it be paleo, gluten-free, vegan or vegetarian they've got it and trust me, it's good. 
7 //
Herculean Prep
While this is a list of restaurants, no list dealing with good, healthy food in Indy would be complete without mentioning Herculean. They prep nutritious, balanced meals to toss in the microwave or the oven and make it easy to stick to that diet plan with minimal effort and while still having new, exciting meals every day.
8  //
Natural Born Juicers
There's no better way to start a day than with a vitamin packed juice and Natural Born Juicers has a crazy number of options. The team helps in choosing the right juice for whatever ails you. They also make it easy to detox that liver after a holiday season of drinking or just jumpstarting the path to health. They offer one-two-and three-day juice cleanses for beginners. It's a great way to start 2018.
9 //
Public Greens
Quite a few of the restaurants under the Patachou umbrella could fit in this list, but none would be as perfect as Public Greens. The cafeteria style ordering lets me choose a few healthy options to make a well-rounded lunch. Plus, the food is about as fresh as it comes due to the fact that much of their produce comes from their urban garden directly across the Monon.
10 //
Three Carrots
If there is one place that people equate with healthy food in the city, Three Carrots would probably take top spot. Since its opening, this veggie-heavy stand has developed a loyal following (including carnivores). Now with a second, full-service location and with dishes like their vegan biscuits and gravy, to their vegan play on a Po' Boy, aptly named the Rich Girl, there is no lack of healthy, flavorful vegan options to choose from.