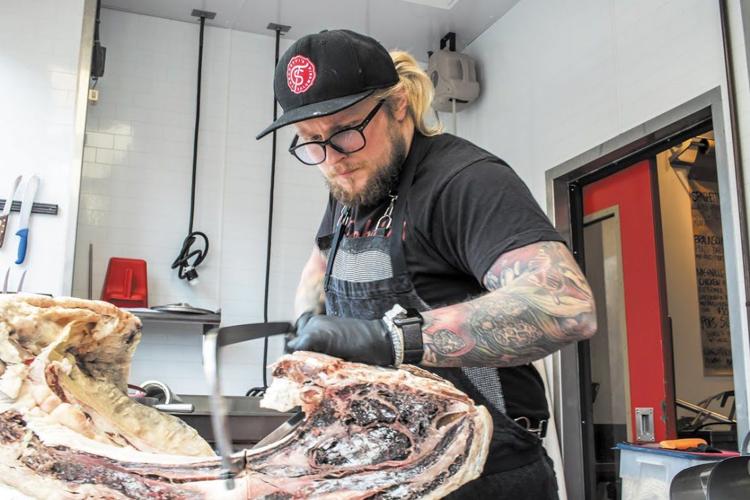 Holidays and food go hand in hand. And this time of year, that means an abundance of turkey, ham, prime rib, and, yes, bacon!
For those who like to know where their meat comes from, buying local and fresh is a priority. While we've always had butcher shops in Indianapolis, these small independent businesses are beginning to make a comeback in recent years thanks to a customer base seeking Indiana grown meat as an alternative to chainstore supermarkets where it's often impossible to trace the source.
Chris Eley of Goose the Market and Smoking Goose is largely responsible for this resurgence. Since returning to Indianapolis in 2007, after a stint working in Chicago, Eley realized he'd prefer chopping and curing meat to cooking the whole meal and soon dedicated himself to opening one of the best charcuteries in the country. Among other accolades, Food & Wine named Eley one of the country's 20 best "food artisans" for the work he's doing.
While Smoking Goose is only open to the public once a month, you can easily find their products at Eley's Goose the Market every day of the week, as well as several other meat shops around the city. Chances are if you're dining at a locally-owned fine dining establishment in Indy and enjoying a good piece of meat, you're having Smoking Goose.
George Turkette of the newly opened Turchetti's Salumeria has also received some pretty impressive attention for what he's doing with meat. Just this month, Forbes named Turkette as one of the 30 under 30 Rising Food Stars for his old-world Italian techniques and the high quality meat he's procuring from heritage-breed local livestock.
For the past few years, Turkette has been selling his meats at local farmers markets and wholesale to local restaurants but opened to the public in August with a charcuterie and cafe in Fountain Square.
The large space is part charcuterie and part sandwich shop (that also happens to have a bar). Open to the public Thursday-Sunday, you can stop in for fresh bacons, sausages and smoked items, like chorizo, mortadella, pickled beef franks, or salami. You can also pick up great sandwiches or dine-in. On the weekends, there's a new brunch menu Saturday and Sunday starting in December.
Watching Turkette butcher of a gigantic piece of meat is impressive and intentional. Rather than keep the butchering process behind closed doors, Turkette has set up a special section of the shop with windows so passersby along Prospect Street can watch him at work as easily as his customers inside the shop.
It's a welcome transparency, even if you don't eat meat. Knowing where food comes from and how it's prepared was once an everyday occurance. A return to old-world techniques and traditions also seems to mean a return to old-fashioned farming and local vendors--a welcome trend for anyone who wants to eat healthy.
Check out any one of these 10 great local options for fresh meat as you think about the holiday meals you're preparing this month and celebrating Indy Bacon Week (Dec. 10-16).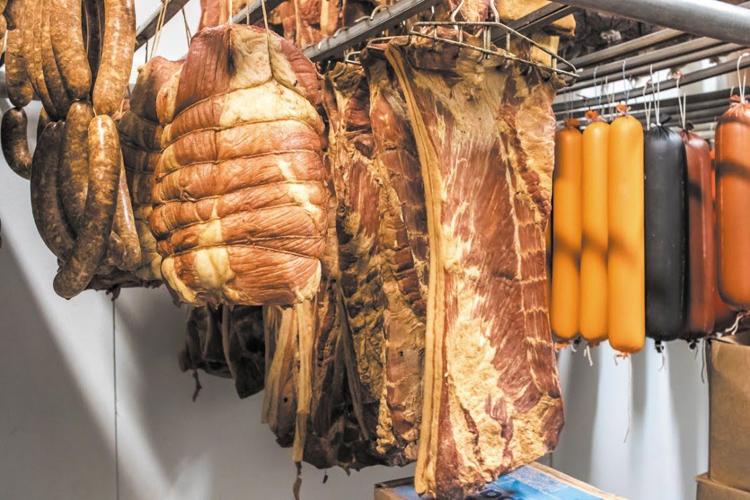 Claus' German Sausage and Meats