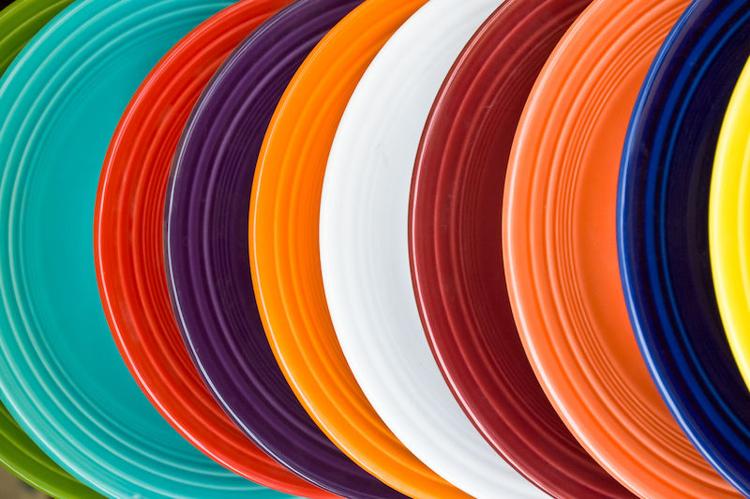 October 14, art will meet food at two different locations in Indianapolis. Patrons will sample the food of some of Indy's finest chefs plated in the plates made by Fountain Square Clay Center potters during Setting a Place. On the same day, at Art Dish, Patrons will savor multi-course meals in the Harrison Center's main gallery, paired with a Harrison Center artist talking to them about his art.    
During the last Art Dish, on Sept.12, Harrison Center artist William Denton Ray gave a short talk about his paintings that were part of his exhibit Configurations, many of which were in the same style as his four panel "Ethereal Heart" which hung in the Indianapolis Airport earlier in the year.

You might describe this four-panel painting, in terms of its playful abstraction, as Picasso's "Guernica" meets Harley Davidson.
The Cubist leanings of the artwork were a fitting accompaniment for a super-fancy four-course meal that was served on a table that descended from the ceiling on wires rigged up by Ariel Arts.   
The table descended from the ceiling to a dance performance by Herron High School students.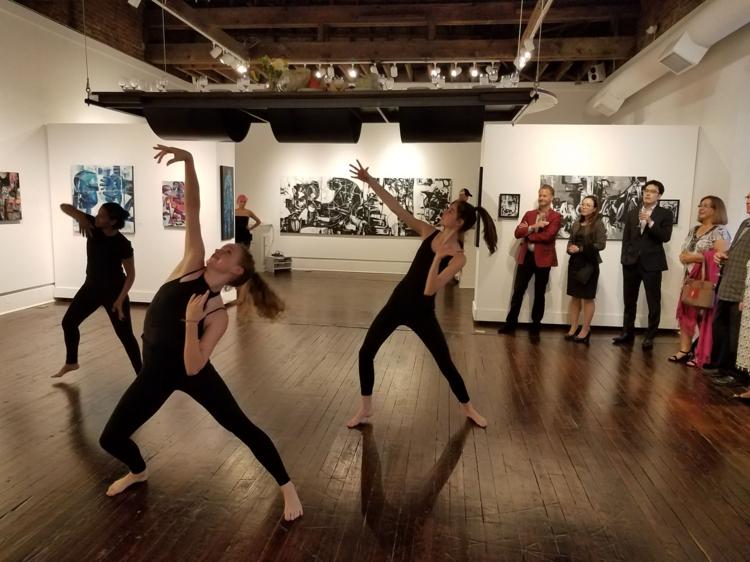 The story of the descending table begins with the Harrison Gallery renovation, completed last year.
Joanna Beatty Taft, Executive Director of the Harrison Center, explained to the Art Dish guests how, after renovation, there were a lot of wood beams left over from recent gallery renovation that she didn't want to get rid of.
"We commissioned an artist to build the table: Matthew Osborne," she said. "But we had no space to store the table. And everybody told me that I was crazy. So it took us a year and a half to figure it out. Eventually we hired a theater rigging company because that's what they do, right? They lift and they drop."  
Once all the patrons were seated, they had a four-course meal with choice wines such as a 2006 Sauternes from Chateau Luduirant. The highlight (for meat-eaters) surely must have been the Miyazaki Waygu Beef Strip Loin in a Persimmon Emulsion with kale and pistachios in a demi glaze.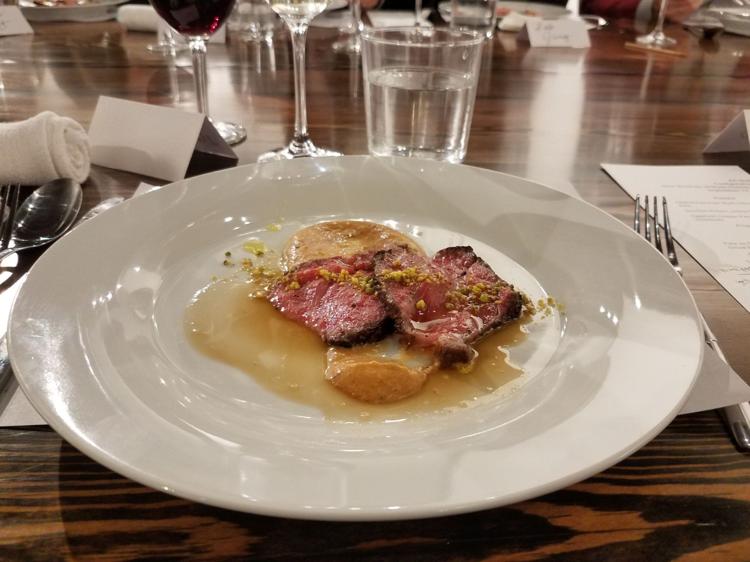 The meat, which hadn't spent all that much time in the oven, could be described as super-rare.
The cook responsible for said meal was Chris Eley, owner of Goose the Market and Smoking Goose. On hand for the meal, he explained to the guests that he cooked the meat super-rare because the quality of meat was super-high, although those weren't his words exactly.
And to prove the quality of said meat Eley handed out a Xeroxed certificate of quality to each diner. On each Xerox was the snout print of the animal on which the diners were feasting, which confirmed the source of origin of said animal. (Diners had to take Eley at his word, since the writing on the certificate was in Japanese characters.)
At the Sunday, Oct. 14 Art Dish event, Neal Brown, owner of Pizzology, The Libertine, and the Ukiyo Japanese-inspired restaurant, will be the featured chef.
At that same Art Dish, Harrison Center artist Kipp Normand will have the chance to talk to diners about his exhibition Historicity, which uses historical photographs and artifacts as its media, and takes the history of Indianapolis as its subject. Check the Harrison Center website for more information about upcoming Art Dish events which are sold out through March, 2019. (The Art Dish ticket price is $150, with a third of that going to the Harrison Center as a donation.)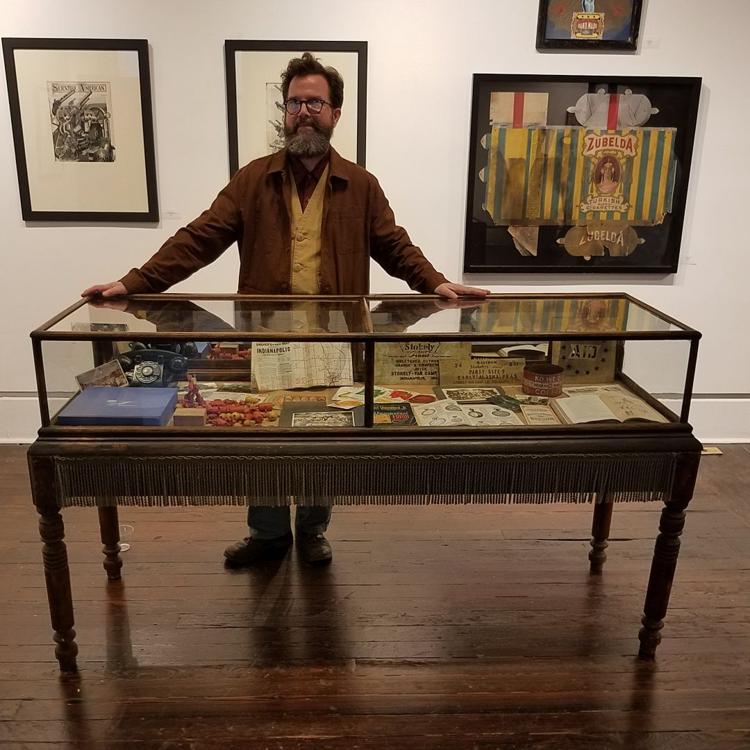 For foodies who want to also receive a handmade/fired plate with their meal, you can go to Setting a Place: Local Potters and Chefs at the Fountain Square Clay Center. In addition to being able to talk to local chefs, you'll be able to learn about this no-nonsense art space which offers classes in pottery, and caters to both amateur and professional ceramicists.   
Ceramicist Chris Deprez, who started the Center back in 2013, started the first Setting a Place event last year.
In this event, attendees got to sample the culinary creations of Indy's best chefs on some of Indy's best handcrafted dinnerware.
Deprez came up with the idea of doing Setting a Place at Milktooth, the world-renowned brunch spot owned and operated by chef Jonathan Brooks, but he wasn't eating a fluffernutter dutch baby at the time.
He said he was doing some painting work for Milktooth before it opened and one thing led to another.
"I started discussing this show like a chef show with tastings," he said. "We didn't know if we could sell the pottery with the tastings so we decided what we could do was like a place setting show."
Since the market for hand-crafted ceramic dinnerware isn't up there with iPhones, Deprez said that it's important for ceramicists to establish relationships with local chefs as well as the people who eat at their restaurants.
Last year, in addition to letting participants sample the food of local chefs, potters did demonstrations and explained their process.The chefs talked about the kind of dinnerware they liked to plate on.
"And then they'd plate on a few of the dinnerware sets," said Deprez.
At the event 16 potters will demonstrate just how times have changed in the way we share meals—since, say, the days of your grandparents—and in the handmade wares in which we serve them.  
Participating in the event will be some of Indy's biggest culinary names as well: Alison Keefer and Ben Hardy from Gallery Pastry Shop, Greg Hardesty (Elements, Recess, and H20 Sushi), and Dean Winkerman of Cardinal Spirits of Bloomington. They will provide patrons samples of their culinary creations on handmade plates that patrons can take home.
Last year the Setting event had 175 patrons, so Deprez (and fellow ceramicist Ryan Vincent VanHoy) have their work cut out for them. 
"With the show you get the three tastings so with Ryan and I making the plates everybody gets a plate which is kind of a big deal because last year we didn't do that," said Deprez.