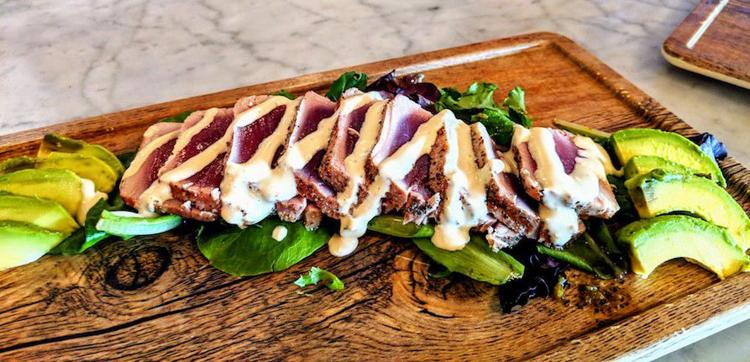 In a city inundated with burger joints, it takes something truly special to stand out in the crowd. Some do it by sticking to tasty and simple classic burger recipes that have stood the test of time. Others make over-the-top burgers, focusing more on their toppings, such as maple-bacon jam, PBR-battered Nutella, and wilted arugula. But when Henri Najem set out to open Flamme Burger, he focused on the meat itself, making sure to use quality hormone- and antibiotic-free beef and bringing out its best flavors by preparing it over a wood-fire grill.
Originally, Flamme Burger kicked off in Fishers and then added a second location in Whitestown. But this past week, Flamme Burger made a big move by closing the Fishers location and opening a new spot at Keystone at the Crossing in the Fashion Mall Commons, which also houses Fleming's Prime Steakhouse, Kohl's, and Reis-Nichols Jewelers.
Related: Celebrate Indy's Burger Week June 24-30 with $5 burgers at more than 50 participating restaurants!
Najem cites parking woes as the inciting cause of the move from Fishers. The Fishers location was right in the heart of the Nickel Plate District, which is the cultural epicenter of the town. Because of this, it's a high-traffic area with very little parking to speak of. "It's amazing what they've done in Fishers, but with the growth and development there and all the activities, they don't have room for all the parking."
Najem mentions that there is a public parking garage available beneath the apartment complex that housed Flamme and other local businesses such as Brixx Wood Fired Pizza. But Najem says, "People thought it was just for the apartments." This confusion led many people to pass up a meal and go somewhere with a parking lot instead.
"So we had no parking and saw this opportunity here in Keystone...So I thought, 'We'll give it a shot here.'" For Najem, who has worked as a chef and restaurateur for over two decades, the move offers a lot of exciting aspects that the Fishers location didn't.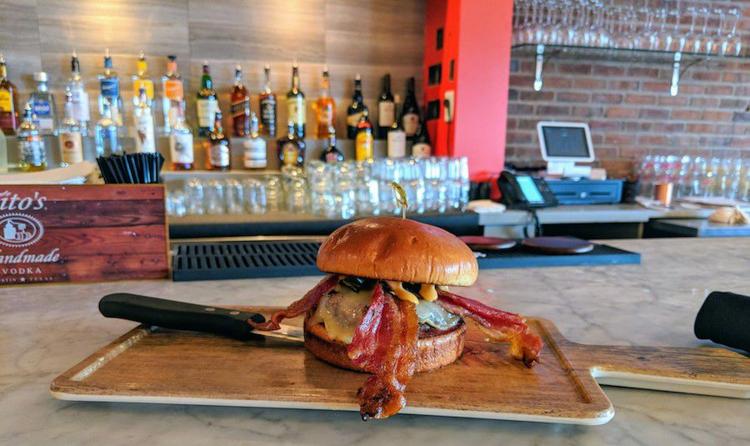 "What we've done is a little different than your fresh, casual concept," he says. The new location has more space and came with a full liquor license. So, Najem says, "We have a full-service bar in here, and we're doing table service." With that full-service bar, they're mixing up some interesting drink options such as their spiked gelato shake, which is a salted caramel shake with Wild Turkey bourbon to booze it up.
They're also making some major additions to the menu. "With the name Flamme Burger, everybody thinks it's just burgers," says Najem, "but it's all about the wood fire. Cooking over the wood fire, it's a lot different than the more traditional gas grills and flat tops."
Najem says, "It's funny because as food trends change, people's palates change, and people are more educated on food now. I just thought this was a good opportunity to start exploring with some ingredients." With the wood-fire grill as a tool, he thought seafood would be the perfect world of ingredients to incorporate into the menu. "What I'm trying to do is enhance more of the fresh seafood," he says.
They've added wood-fired lobster and ahi tuna to the menu. "I'm telling ya'," says Najem. "The fish, off the grill, just those flavors, it's so good." He is playing with some new wood types for the seafood additions' flavors. Their traditional method has been using oak and apple wood chips.
"I'm not too into the cedar and hickory," he says. "They're too overpowering, and I want people to taste the protein. But the apple, cherry, and oak mixed together give such a great mix of flavors."
The new location had a soft opening on June 19, and it is now officially open. Najem says that the grand opening on Thursday, June 28, which begins at noon, will be an afternoon filled with fun and celebrations. The event is hosted sports radio host Dan Dakich, and will have food samples, live music, giveaways and more. Najem also says, "For the grand opening, we're pairing up with Building Tomorrow."
Building Tomorrow is an Indianapolis-based nonprofit that focuses on building and maintaining schools in Uganda. Najem first encountered the organization when Flamme Burger participated in Building Tomorrow's annual fundraising event, Indy Burger Battle. Flamme Burger has won the Critic's Choice Award at the Indy Burger Battle multiple times. While Najem is happy to have the accolades, he is more interested in the charitable side of working with Building Tomorrow.
In an interview last year, Najem said, "For me, the success of a business isn't measured by how much revenue you do or how many customers you have; it's about being a part of the community."
Because of this commitment, he is happy to tie the grand opening to Building Tomorrow's mission. "I think they just do great things," he says. "So we want to use the grand opening to help with their charitable cause."