Blessing Boxes, made using former NUVO kiosks, are showing up in Wayne Township. Their contents of food items and encouraging messages are for the taking; and giving.
If these boxes seem familiar, yet out of context, it's not so much an anomaly as it is a repurposing in the service of social justice. Debbie Parish has a history of seeing a community need and perceiving a way to meet that need. 
Parish entered my world mid-May 2020 in the midst of all of us living within the bubble of COVID-19, which was becoming an everyday topic for NUVO columns. She had reached out to NUVO publisher Kevin McKinney with an idea: Repurpose the no longer required print edition kiosks as containers for nourishing food in neighborhoods where COVID-19 has deepened the need for easily accessible non-perishable food to offset everyday hunger.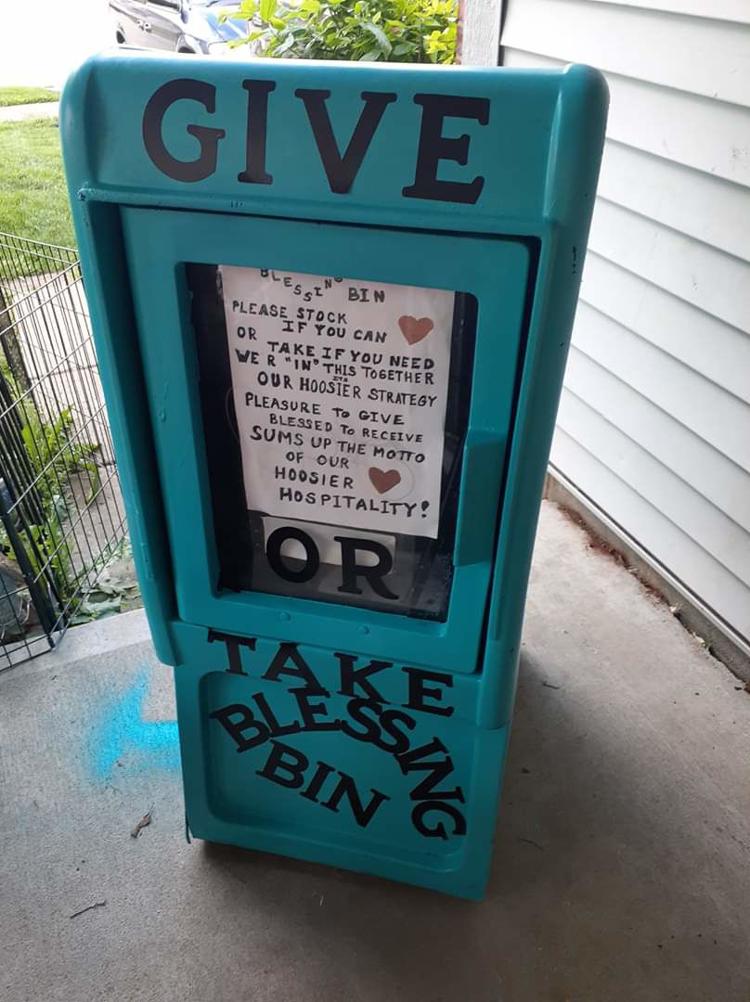 With a carte-blanche letter from McKinney in hand, Parish recruited helpers in a seek and find initiative. When the boxes are brought to a designated rehab site, another crew of volunteers repurposes the kiosk into an attractive "take what you need, share what you can" neighborhood pantry.
Parish and her neighbors got their original blessing box idea from the Mars Hill neighborhood back in 2018.  "One of our residents built the huge blessing box and it did not take long to see how much it was needed," she explained.. "We built it with the thought of kids being able to get food after school, but families and the homeless started using the box. I go around to other food pantries as a way to keep the box filled, and we get a lot of donations now."  
The people who rely on the original wooden blessing box, which has been in place for a year and a half, share the donated items found within with one another.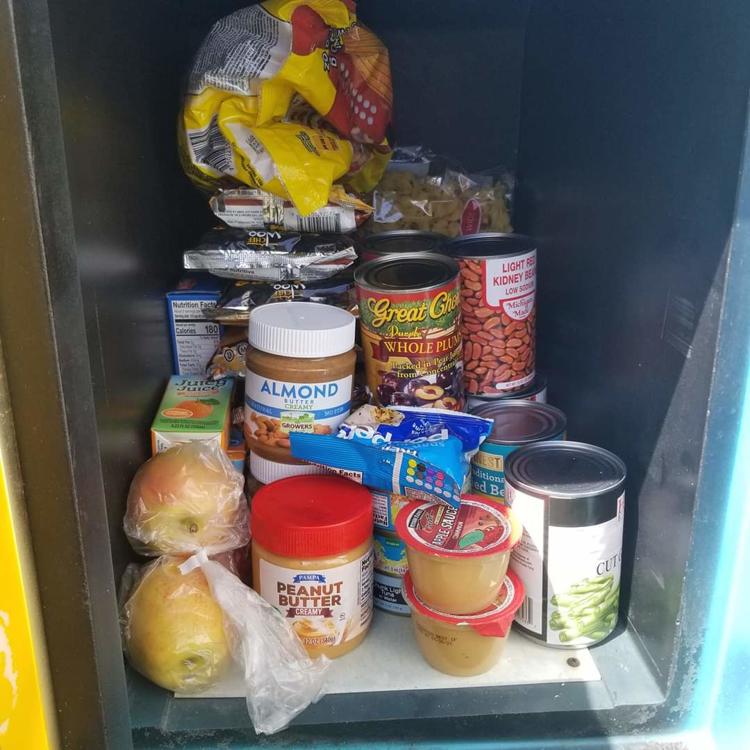 "Miracles have happened with this box because instead of people fighting over the food in it I see people that are so desperate, but they share the food with each other," she said. "It has made our neighborhood closer and also brought other neighborhoods closer within themselves and closer to us."
Parish and her partners recently saw a need to expand their blessing box project. across Wayne Township, but the need became more acute with COVID-19. But costs for a wooden box were prohibitive, around  $200 to $400. So they contacted another newspaper company about getting an old newspaper box, but that company said no. 
"I knew that NUVO was very giving to the community so that's when I reached out to NUVO," said Parish. "And it exploded from there. I'm working on this second round now but I haven't quite got it fully together yet. I'm a single mom who works full-time and I help my mom with her health. And I'm also a grandma from my oldest son. But I make both my kids help me with projects and they love to do it."
Because the NUVO kiosks are free, they can expand the project as much as they need in order to assist the food insecure. 
"The beauty of this [new] project is we can make it as big as we want," she said. "I'm getting a lot of requests for the boxes and our Wayne Township superintendent is ready to help, if I need it, along with the people who are helping with the first round." 
The food pantries should assist the community in feeding everyone in the neighborhood.
But what neighborhood?  I emailed Parish with this question; I could not locate any official documentation for any Wayne Township neighborhood called Shelton Heights. 
 She emailed me back to say it's not an official neighborhood designation. "[It's] just a meaningful rallying designation for the neighborhood unofficially described as located 'near West Washington Street and South Holt Road."
It is, however, a name steeped in the history of the area. 
"Shelton Heights is the name on our house deeds," explained Parrish. "We started using the name a couple of years ago when I started the crime watch.  We wanted a name to cover the whole neighborhood, not just the street I live on.  I believe Shelton was one of the names of the people that first built in the neighborhood."
The house that Parish lives in was one of the first that was built in the area.  "When my parents moved to this neighborhood I was only a few months old and we lived in the trailer park," she said. "When I was two they moved to the house that I still live in. When I was very little I remember the trailer park in the neighborhood being home to the very poor. Kids would knock on our door and ask for food and my parents always fed them. My parents always fed a lot of kids."