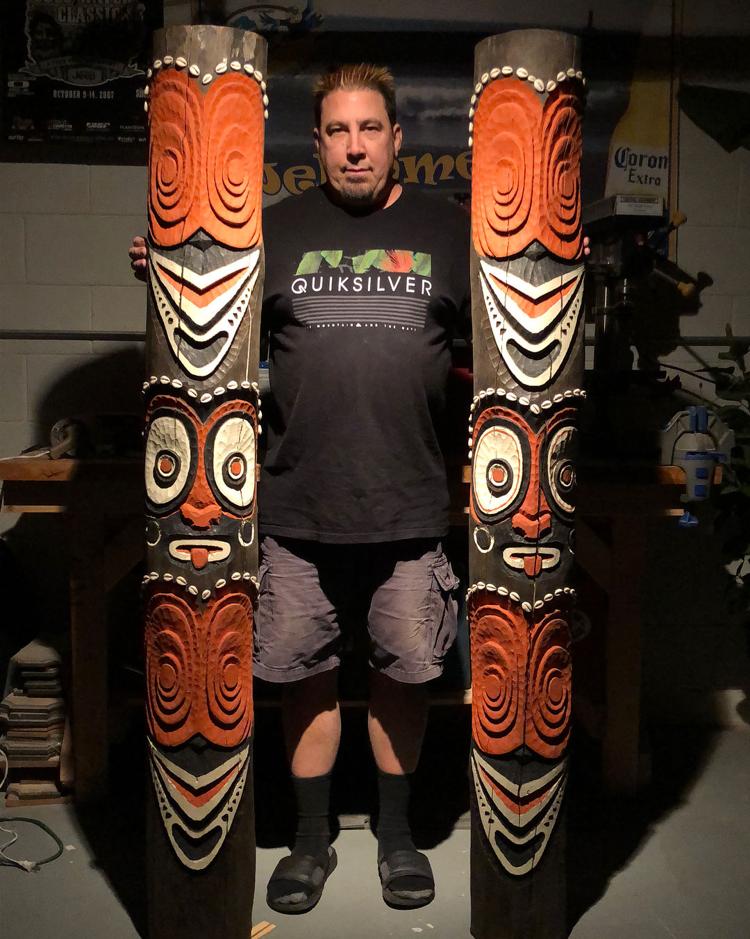 Tiki culture has seen an explosive renaissance in the past decade or so, leading to numerous Tiki bars taking top spots on "Best of" lists around the country. And while much of the attention has been directed at the coasts—specifically the West—the Midwest has a thriving Tiki culture as well.
While big-name bars such as Lost Lake and Three Dots and a Dash in Chicago and Psycho Suzi's in Minneapolis are leading the charge, there are a series of behind-the-scenes characters who have been investing in the Tiki lifestyle for a long time.
Milwaukee-based Tiki artist Dave Hansen is one of these people, and soon Indianapolis will get to see and interact with some of Hansen's incredible work when The Inferno Room opens. Hansen's initial interest in Tiki culture stemmed from a fascination with West Coast life. He says he and his friends spent days skateboarding in Milwaukee and surfing on Lake Michigan. "I just sort of lived that surfing lifestyle in the Midwest," says Hansen.
Also Read: The Inferno Room will highlight the Americana history of Tiki bars
In 2001, Hansen was between advertising jobs when he decided he wanted a Tiki. He says, "I was like, 'Where do I get a Tiki?'"
Hansen, who has a degree in graphic design, says, "I thought, I'm a creative person. How hard can it be? So I sat down with a hammer and a chisel on my front porch and tried to whittle out a Tiki."
From that first experience, he decided to make a couple dozen Tikis to take to an annual Great Lakes surfer's party, and "Everybody was jazzed on them," he says. "They went like hotcakes."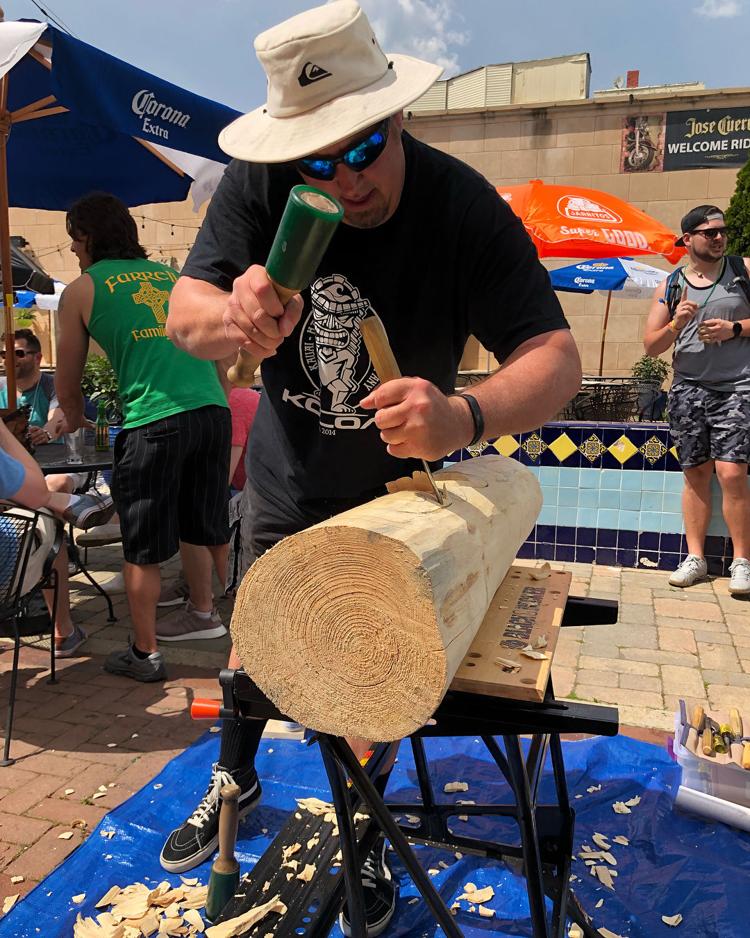 In subsequent years, Hansen opened a Tiki studio named Lake Tiki Woodcrafts  and spent his time diving further into the world of Tiki and studying the history of it. He says he initially didn't really have a community to learn and grow with, unlike his contemporaries in California. "I started going to the library Downtown, to the arts and humanities, and checking out books that haven't been opened in 40 years," says Hansen. "That's where my work started to take a different direction. In 2007, where everyone was kind of doing Hawaiian Tikis and monster-type Tikis, I got burnt out on all of that and started discovering Papua New Guinea art."
This is the distinct style of Tiki that will be showcased in Fountain Square's The Room. The initial thoughts were leaning toward fire, monsters, and skulls, but then the team got their hands on some authentic Papua New Guinea artifacts. "That's where Inferno Room really started to get interesting for me," says Hansen. "I thought, this is perfect because there are headhunters and skulls and fire in New Guinea, and now we can build on this authentic collection they have and go off in this weird direction with it."
Once he had a clear vision of where to go, Hansen got to work on pieces for The Inferno Room. "I did my first piece for them last September," he says. "It's a great-big six-and-a-half-foot mask, which is now going to be a feature piece within the place when you walk in."
Any conscientious conversation about Tikis, which represent gods in Polynesian cultures, will inevitably lead to a question of cultural appropriation. For Hansen, he says, "There are bars that do right, and there are bars that do it horribly, horribly wrong." He says he initially was worried about it with the art he was doing, but after meeting people for whom this is their culture, he says, "I've learned that they actually give me props for the work that I do because I keep it traditional."
As for The Inferno Room, he says, "I think the fact that they have authentic artifacts in there, it is more like an homage or museum piece toward this culture...It's just a tough thing that you have to approach and have a little decorum with."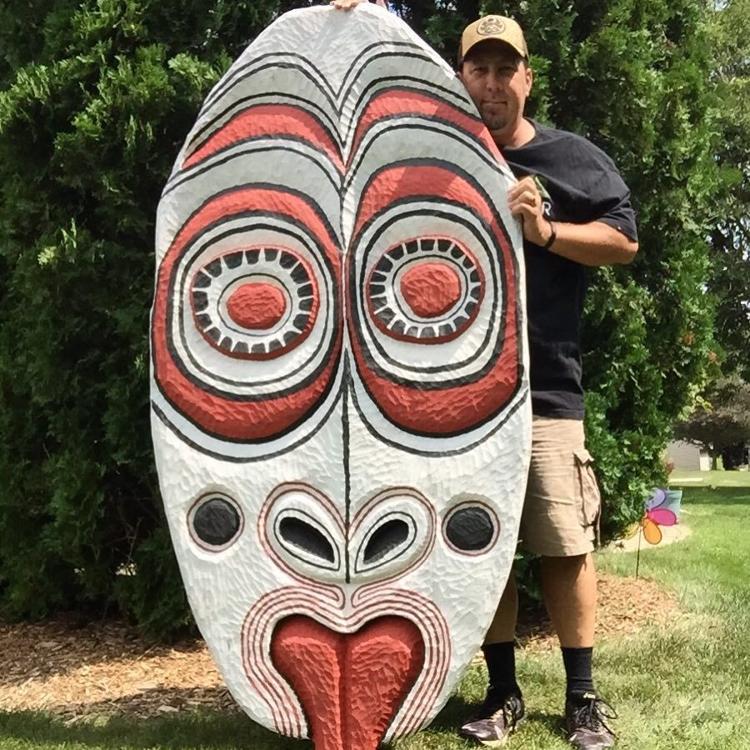 When The Inferno Room opens, Hansen says we can expect something wholly unique. "I keep telling people, it's going to turn a lot of heads...It's something different; it's going to be almost like a museum because you're going to have these authentic artifacts that are going to be jumbled in there to look at while you're enjoying cocktails. And the atmosphere, I mean, Chris [Coy] is having lightning, thunder, and smoke coming out of the nose of Tikis."
Hansen, who has done work for many Tiki bars, including Foundation in Milwaukee, feels really positive about the finished product at The Inferno Room. He has crafted literally dozens of pieces for the bar, and he says, "It's been the opportunity of a lifetime to work on this project...This is definitely going to start a new standard for Tiki bars because of the authentic artifacts that they have in there and just the whole general theme. It's going to be interesting to see how it's perceived. It's really cool."