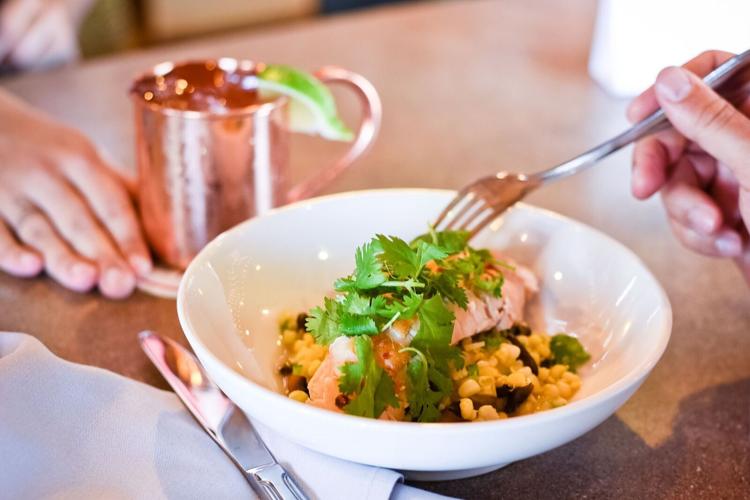 When Cardinal Spirits opened in Bloomington with its variety of locally made and often intriguing spirits it was filling a niche in the college town; and in the ensuing years the team behind the company has turned itself into a important facet of Bloomington's drinking culture.
Now the spirits company is looking to branch into the world of food with its new culinary program at its bar and taproom. They have brought on executive chef Dean Wirkerman to create a menu that is higher-minded than typical tavern fare, and Wirkerman has brought a lifetime of experiences into the kitchen to serve shareable and seasonal dishes with Cardinal's guests.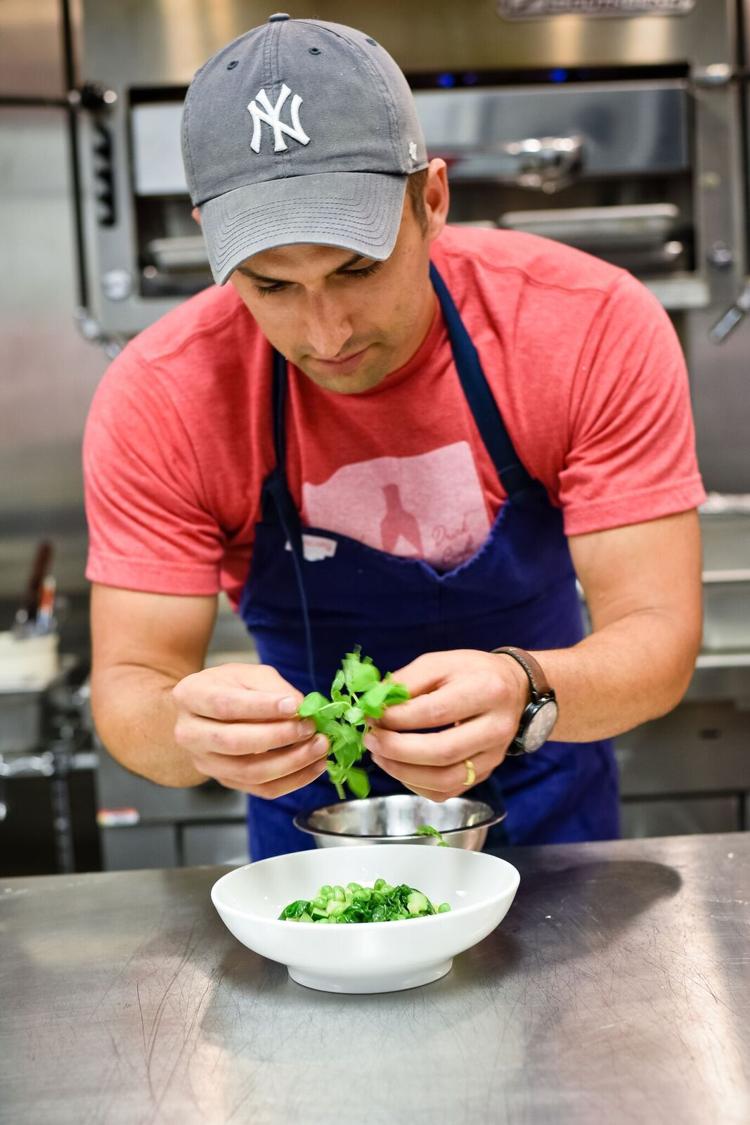 "My focus is a balance," Wirkerman says of his goal with the menu and kitchen at Cardinal. He says it is a balancing act of "developing a professional and positive staff," utilizing Bloomington's "top notch farmers," and focusing on "ease for the kitchen." He also mentions that he is crafting dishes that are sharable because he wants "people to be leaning forward into the table and collecting off plates instead of leaning back into a chair with their one plate." This style of eating leads to conversation amongst groups instead of closing off and falling into introspection.
Wirkerman wants to promote this communal style of eating that is seen in the countries where he did his culinary training. He spent years abroad in France, Italy, Japan and in New York City at high-end restaurants like Per Se and Charlie Trotter's in Chicago, training as a cook and baker. He hopes to bring these experiences to the table in Bloomington with dishes like the highly popular stracciatella, different plays on yakitori, and once it starts to cool down a bit, dishes like the highly shareable hotpot and chicken pot pies will make their debuts.
One thing that Wirkerman says he is taking into account is not pigeonholing the food by trying to make it based around the liquors on offer from the booze side of Cardinal Spirits. He says a few sauces and maybe a few desserts will utilize the booze, especially rum, "I think rum and desserts are a match made in heaven," he says with a laugh. "So that works out really well." He goes on to say, "When people come in we don't want them to worry about if that cocktail is going to go with this dish or that dish. We want it to be very accessible all over, any cocktail you want, any food you want, relax have a good time don't make it a bigger deal than it is and we'll take care of everything."
Another focus for the kitchen is making sure that the staff is well-trained and in it for the long haul. Wirkerman says, "One of the daily things that I'm always coming back to is developing a professional and positive staff that have career goals, not just hiring people that want to cook." By approaching the hiring through this lens the Cardinal Spirits team is able to focus on food quality and Wirkerman can hope that down the line he will have a team that helps take some weight off of his shoulders. He wants his team to get to a point of awareness where they can help suggest and create new menu items. He says he is "taking this as a great opportunity to be a chef and teach these guys the little that I know and to better myself and explore ideas and explore concepts."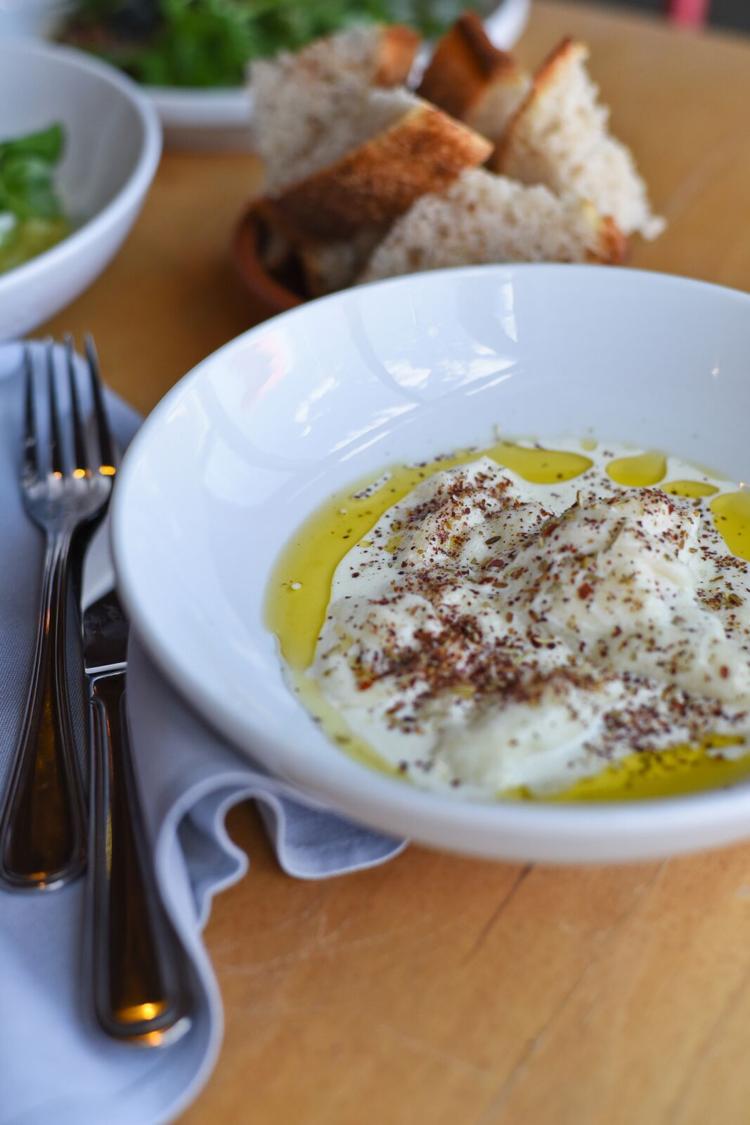 One of those concepts he mentions multiple times and gets excited about is the idea of yakitori- — a Japanese style of meat preparation. He learned the art of yakitori after spending some time in New York City and visiting a Michelin-starred yakitori restaurant there named Torishin. He then traveled to Japan and met with Torishin's chef's mentor and upon returning to NYC he joined the team at Torishin.
While the kitchen staff is being trained to make sure that they are approaching the food in a professional manner, Wirkerman says he is also working with the serving staff to make sure that they are on the same level. "Something we're focusing on is getting the servers more engaged," he says.
 "We have such a strong liquor and booze identity and everyone was really trained up on that and now we're trying to ask them, Can we also be foodies? Can we know what a puff pastry is? Can we know what panna cotta is?
"I'd say staff is our greatest asset in the sense that we have so much room for growth and they're already doing such a great job. I think if we stay consistent with our food that staff will continue to get better and cleaner and sharper."
 With this dedication to creating top-notch food and making sure it is prepped and served perfectly Wirkerman admits that the prices reflect this quality. He also admits that he recognizes that this could pose a problem in Bloomington where the majority of the people that live there are college students who don't have unlimited funds. "It's something that we're challenged with because we're sort of putting ourselves into a price bracket that makes us inaccessible to some," he says. There are some people that won't eat "when you can't just come in for a $7 meal."
But the people that are coming in to eat are getting interesting, quality, locally sourced meals. One of the upcoming dishes that Wirkerman is excited for is "a sashimi dish with a lot of fruit in it," he says.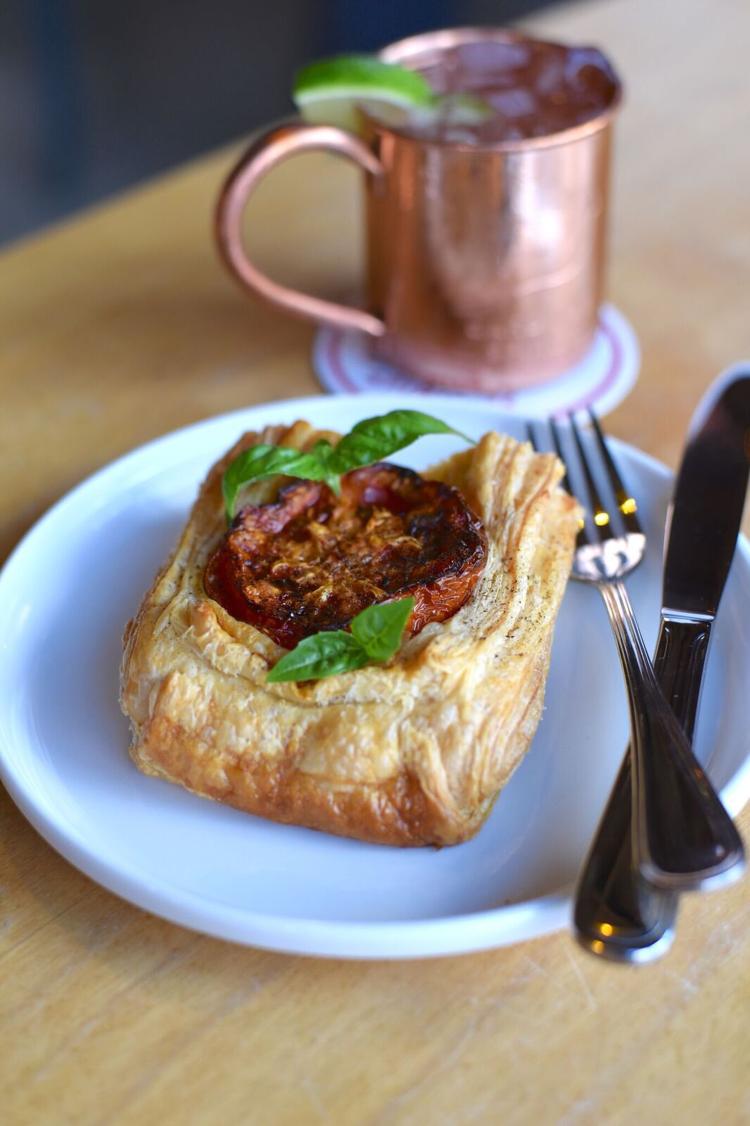 "It's hamachi, which isn't the lightest of fish, but it is approachable." He also says, based on his past working in the pastry and dessert world at Per Se, "We're busting out puff pastry. I want to have my guys be able to make that for dessert and for savory — it's so universal.  We're also trying to get our ice cream program developed and spinning ice creams everyday. And our bread program. I can't wait for that to take off, but at the moment we're just doing our tartine style sourdough."
He also is looking forward to their upcoming brunch program. He keeps details on that menu under wraps, but he says it is coming sooner rather than later. He says "it's on the top off the radar." And what is better than local booze and brunch? All and all, Cardinal Spirits' food program is about making good food to go along with good times. Wirkerman finishes with: "We want someone to come in on a Tuesday and have just as great of a time as if it were a Saturday."  
Get a look inside the art of making spirits at Cardinal Spirits' in this month's episode of Indy's Table.