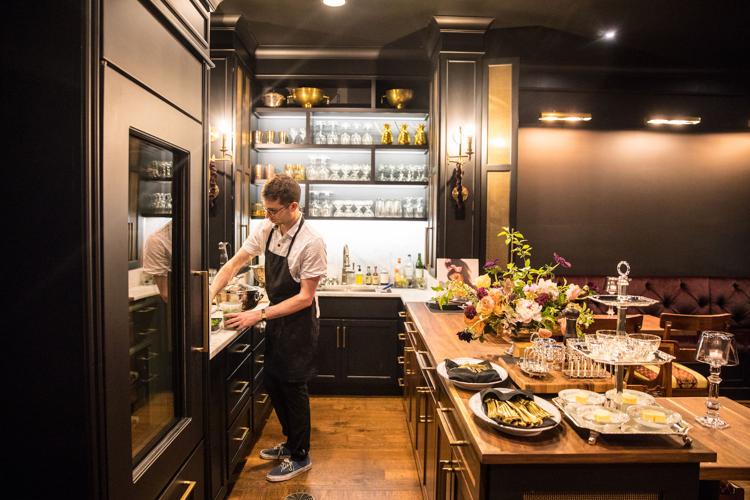 Walking through Bar One Fourteen's unassuming, simply-labeled glass door at 49th street and Pennsylvania, you feel like you're not supposed to be there.
Not because it's uninviting — it's one the most inviting rooms you'll find in Indianapolis — but because it feels like you just walked into someone's private party. 
That's because Bar One Fourteen, the newest member of the Patachou family, is about as intimate a space as you will find in the city.
According to David Hoover, Bar One Fourteen's chef and the son of owner, Martha Hoover, that is because the place was designed for the Hoover family and friends. 
"I really think when [Martha] built this she literally wanted it to be for herself and her friends and our family," he says with a laugh.
Once he mentions that, it becomes obvious that Bar One Fourteen looks like a parlor you would find in someone's mansion; picture a scene filled with close friends listening to music and having frivolous conversation. The fact that there are only 16 seats available in the space adds to the exclusivity of microbar. 
"I think there's something nice about it being so intimate, it makes it feel fun," Hoover says. "I love it in here once the lights dim down and it gets very sexy." He then looks around the room, "I mean even with the fridge and the way it's setup it feel like someone's home, which is nice."
In that kitchen Hoover crafted a menu that fits the opulence of the gilded room. After spending the past few years abroad — first in culinary school in Paris and then in the kitchen of a Michelin-star-holding restaurant in Copenhagen named Relæ — he credits these experiences as the inspirations for the menu. 
"I try not to directly copy what they're doing," he says. "But I steal techniques. It's hard not to once you see some amazing technique they're doing." 
This inspiration led to menu items like a soft scrambled egg with white sturgeon caviar atop and morels with asparagus, ramps and egg yolk. Bar One Fourteen has a burger, aptly named the Fancy AF burger, that is topped with shaved black truffle.
While it's luxurious, prices range from $5 to $28, with an average price of around $16. Everything on the nine-item menu is intriguing — you'd be hard-pressed to find them on any other menu in the city — and crafted with the utmost care. 
"Starting with the simplest thing, we have a baker just a couple of blocks down who works for Patachou and he makes an amazing sourdough bread," Hoover says. "And then I culture cream and make my own butter here. So it's very simple, but it's homemade and super tasty. We also have a crudité plate which is an assortment of raw vegetables, but with each vegetable I try and do something interesting, whether it be marinating the vegetable or an individual sauce — it's very beautiful."
Much like the food menu, bartender James Langten crafted a small but well-rounded bar menu. The mai-tais served in golden pineapple chalices have garnered early acclaim. While those gilded drinks are the most popular cocktail choice, David says bourbon-based Chomsky and Blood Orange Paloma are also favorites.
One cocktail, The Sage Foundation, has an interesting build which includes botanicals from another Patachou restaurant Public Greens. All proceeds from The Sage Foundation's sale benefit the Patachou Foundation, which serves nutritional after-school meals to food-insecure students in Indianapolis.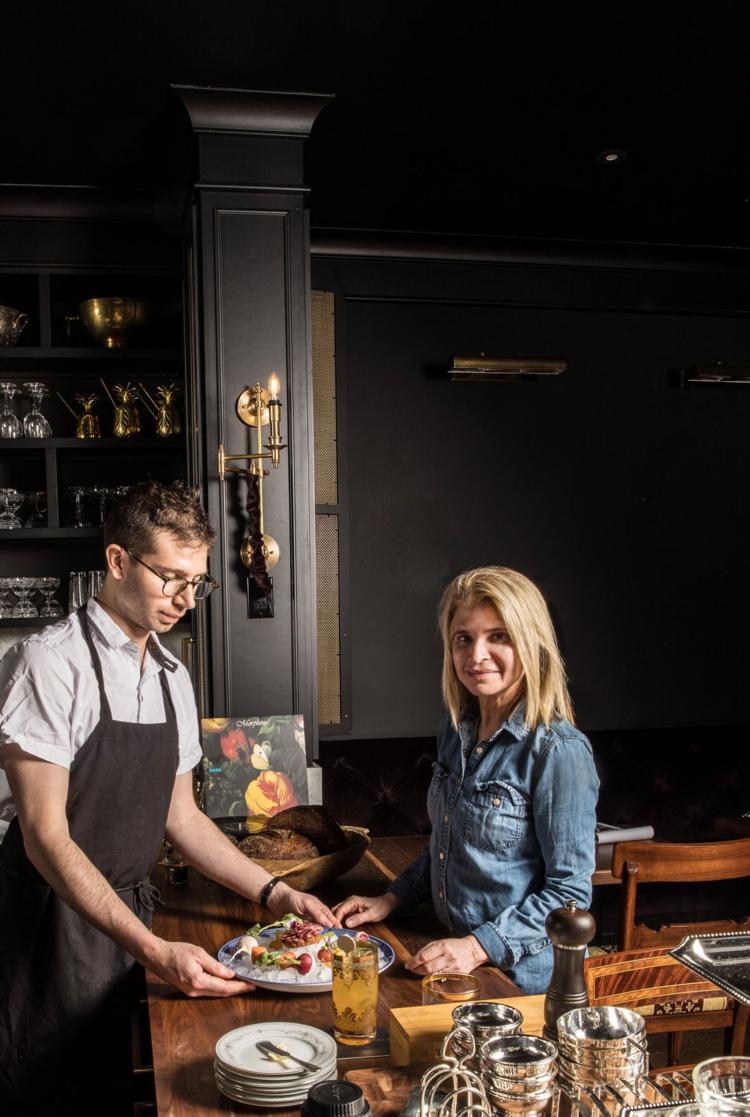 Little aspects like this that make you realize that, despite the seeming extravagance this bar fits under the farm-to-table Patachou umbrella. Small accents make sure Bar One Fourteen doesn't feel too pretentious, like the black wall near the entrance that has a display of vinyl records ranging from Bowie and Radiohead to Winehouse and Marley. The albums are a conglomeration from the personal collections of Martha and her family. 
"My grandpa was a huge music fan," Hoover says. "He had like a thousand records I've been going through. He was a huge jazz guy, classical music. And then my mom, and her sister, and her brother, all have a ton of rock and roll albums. And that's what we've been going through." 
The albums are played nightly on a custom record player. The team wants guests to bring in their own albums to play throughout the evening as well.
Bar One Fourteen is open only three nights a week (Thursday, Friday, Saturday) and reservations are a must — even though Hoover says they try and always have at least one two-top available for a walk-in. Like David says, the miniature space was created as a haven for Martha Hoover from her busy life as an Indy restaurateur, and so it truly invites guests to come in with a close group of friends to escape from the outside world — just pay attention to each other, the food, the drinks and the music.