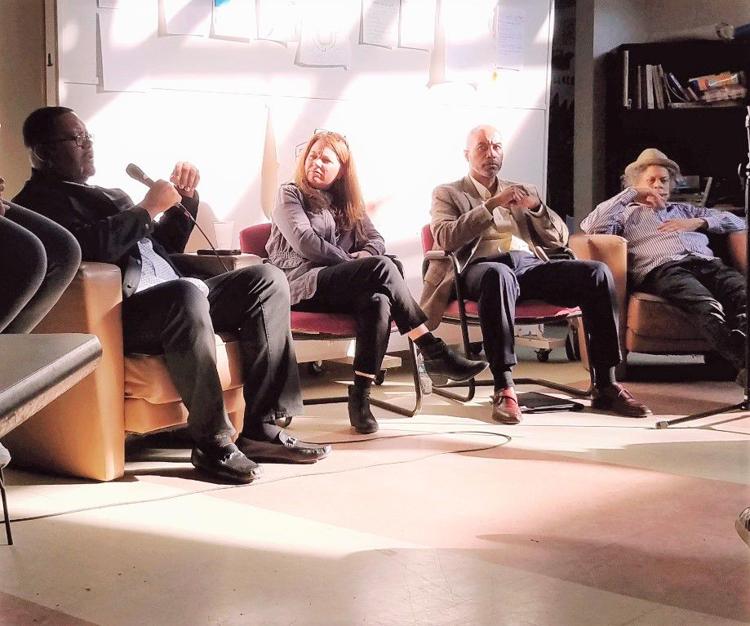 On Feb. 24, Kheprw Institute held a panel discussion called Opportunity Zones, Benefit of Curse for Low Income Communities? the inaugural program in their Creating the Future discussion series.
You can watch the video of that discussion here.
Kheprw Institute's executive director Imhotep Adisa, who directed the panel, lent a casual air to the discussion; he asked all three panelists to name their favorite movies, books, and restaurants before they got down to the serious subject at hand.
More than 50 people — a number of whom voiced skepticism of the program  — were in attendance as Gary L. Hobbes, Sr., one of the three guest panelists, detailed his involvement in evolving legislation that would allow people to invest their capital gains in minority-owned businesses.
Hobbes is president and CEO of BWI LCC is a minority owned real estate development and construction services business which develops strip centers and apartment complex in the Greater Indianapolis area.
"I want to address something about how opportunity zones from my perspective started," Hobbes said. "I was tapped by Sen. Tim Scott within a couple of weeks of President Trump's inauguration. I got this phone call: I didn't know who it was from. They didn't know me. It was like 'Vice President Pence said we need to put you on this team. We're wondering if you're interested in this team that's going to help firm up this thing called The Invest in Opportunity Act.' That's what it was called before it became Opportunity Zones."
What are Opportunity Zones?
Opportunity Zones were created by the Tax Cuts and Jobs Act of 2017. The act allows investors, who put their investments in lower income neighborhoods deemed as opportunity zones, to receive tax advantages. That is, they could invest their capital without triggering a capital gains tax.
"I didn't think this would ever get past Congress," continued Hobbes. "Because it was too good to be true, right? Because the whole premise was taking money that's locked up in three main areas in the U.S.; capital gains are locked up in Silicon Valley, New York, Boston, and the money was staying in those areas and not getting to the rest of America — rural America as well as urban cities like Indianapolis."
The question on the table in Washington, D.C., Hobbes explained, was how to unleash billions of dollars of capital gains and incentivize investors who might have anywhere from $2,000 to $20,000 worth of capital gains.
"You had to incentivize everybody," he said. "You had to incentivize the wealthy who have the capital gains; you have to incentivize the middle class who have a little bit of capital gains;  but you also want to incentivize them to invest in communities like this and that's where the deal seemed too good to be true is that they can take those gains at a very high level. It's a deferred tax; you gotta pay it back later with a discount; but the big thing is that they can put it in your business, a restaurant, an IT business; a video business."
In his committee in Washington D.C., Hobbes said he pushed to make sure anybody could enter into the opportunity zone investor process, so it isn't limited to a dozen or so big firms.
"Each of you if you have a capital gain whether $100 or $10 million you can go to the IRS, fill out the form to invest your capital gain, in an opportunity zone qualified opportunity fund and put it into a qualified opportunity business right now," continued Hobbes. "It just takes a little bit of Google research. You don't really need 20 accountants to figure this thing out, you really don't."
Panelist Keith Broadnax, senior vice president of the Indianapolis office of Cinnaire, which invests in underserved communities, sees Opportunity Zones as a useful financial tool to provide benefits to these communities, but said that there are things that need to happen before the Opportunity Zones ball gets rolling, as it were.
"We're still waiting for the final rules and regulations to come out on this," said Broadnax. "Most of our investors — and we raise multi investor funds; $150 million $200 million a year, and most of those banks and insurance companies — right now they're not going to move on this till they know final rules and regulations. For us as a company, as I said were still learning … it's forcing us to go out of our comfort zone and look at different investors….  All these banks and also foundations have wealth management departments for people who have capital gains. We're trying to build our relationship with them."
Skepticism in the audience
For many people in the audience, the Opportunity Zones as described by Hobbes in particular seemed too good to be true, especially as it was conceived under an administration viewed by many to be hostile to the interests of the people who actually live in opportunity zones, many of whom are poor and African American.  
Some of that skepticism was voiced by Andy Beck, 45, who lives on in Near Eastside Indy, during the question and answer session.
"Opportunity Zones under this current administration were a project of Jared Kushner. Trump and [his son in law Jared] Kushner are known for being real estate grifters," he told NUVO. "They find the loopholes, they use federal programs to take more money, so my specific question was, did the panelists know or have an idea of how much investment would be for business development, or how much would be for real estate development?"
The best case scenario, Beck said, was that there would be small businesses that get investments and are able to grow.   
"The worst case scenario is its all real estate development, and property values go way up in low income neighborhoods from a massive influx of capital, and then low income communities are crushed," he continued.
(Beck was a panelist in the March 24 Creating the Future panel discussion titled Development without Displacement: Is it Possible? You can see the entire discussion on video here.)
Rachel McIntosh, senior opportunity investment office for Local Initiatives Support Corporation (LISC), provides support in her work for growing Opportunity Zone consortiums. She geared some of her discussion to skeptics, praising the lack of paperwork in the program, and describing the program in a distinctly nonpartisan way.
"Opportunity Zones is the latest White House initiative," she said. "It doesn't matter who's in the office; they always come out with initiatives."