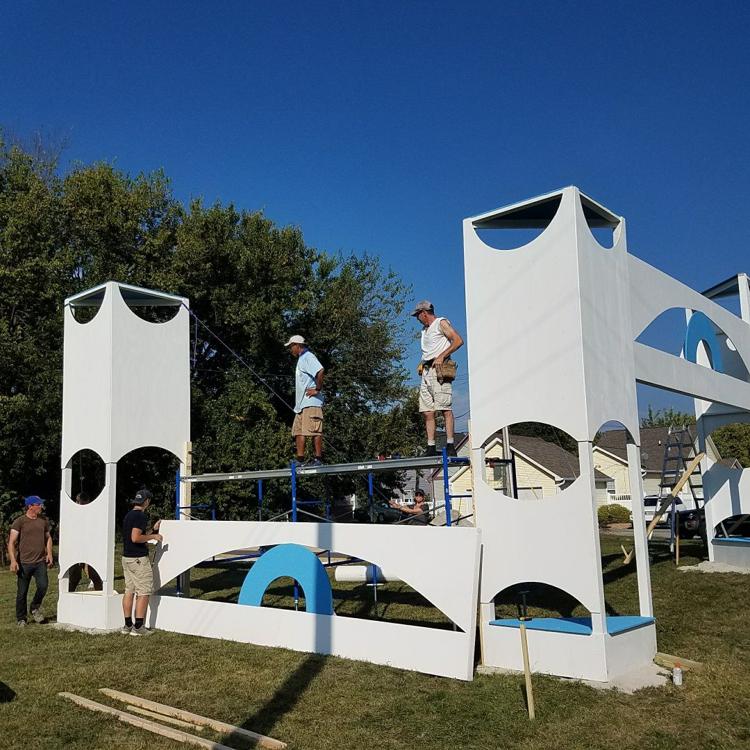 If you're driving along 16th St. between the Monon Trail and Andrew J. Brown Ave. over the next week on Indy's Near Northside and see some unusual structures along the road, don't pinch yourself to see if you're dreaming.
Those structures — plus some in the middle of the road too — are part of a free outdoor theater extravaganza set for 10 a.m to 5 p.m. on Saturday, Oct. 7 that imagines what this community, with more than its share of vacant lots and buildings, could be. 
Call it an attempt at revitalization — or pre-vitalization. 
"The idea is to create an ideal Saturday," says Bonnie Mill, artistic director of the Sapphire Theater, which is directing much of the programming during PreEnact Indy. "The neighborhood and the community and the organizations have come up with this plan of things that people would love to have."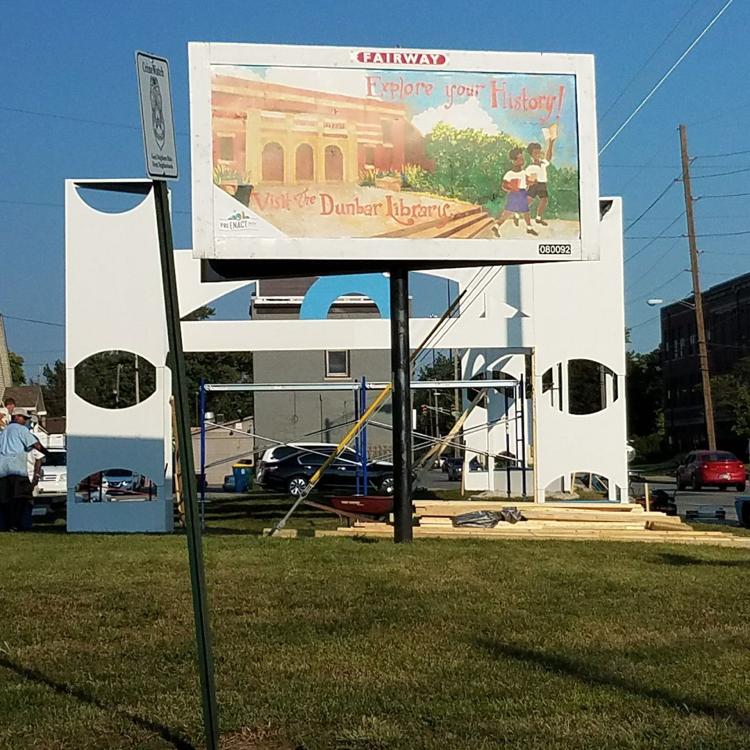 The structure at the intersection of 16th St. and Yandes, the DREAM Cultural Community Center, will be a showcase for said things. It includes a temporary overarching façade and an outdoor stage built on a vacant lot and will host many PreEnact Indy activities on Oct. 7, including dance, music and theater performances.
The DREAM Cultural Community Center takes inspiration from the past. From 1916 to the 1960s, a theater called the Dream Theater had served the nearby Brightwood community. 
"We wanted to create a place where the community could come together and socialize," says Sapphire Theater Producing Director David Orr, who designed it, as well as other PreEnactment structures. "Not just a theater."
While the adjacent Middle of the Road Café will also serve as a community gathering place for PreEnact Indy, there is also an ulterior motive, according to Orr.
"The Middle of the Road Café was about slowing down the traffic," he says. "We heard about when the interstate [I-65] came in, it really hurt the neighborhood. And so, the way the interstate divided the neighborhood,we're cutting right through 16th st. and taking it back for the pedestrians and the neighborhood from the cars." 
Traffic on 16th St. will still be reduced to two lanes during PreEnact Indy's programming and there will be orange-colored barriers up to protect pedestrians.
Meanwhile the DREAM Cultural Community Center will be abuzz with activity. 
"The Asante Children's Theater is kicking it off with a two-hour program that their kids are already involved in," says Mill. "So instead of going to Asante, they're coming here and doing it here. There's other educational organizations: Arts for Learning is bringing programs;  and there's a Kwanzaa choir that's going to perform...  There's seats for people to sit and watch and enjoy. The seats inside are going to be exercise balls; so it's very inviting, it's very multigenerational. That's one way we have pre-enacted what this neighborhood wants and needs and we're going to program it all day."
Essentially the entire three blocks of Andrew J. Brown to the Monon Trail will be a stage. The day's programming involves 13 professional theater groups and a dozen or so venues, from the Dunbar Library to the IPS Building to the True Victory Church, not counting temporary stages. Local businesses will also be involved; from Tinker Coffee Co. to the Hat Kings retail store to the new restaurant Festiva operated by Peter George and Thomas Main.

In order to honor the prominent role churches play in these neighborhoods, Harrison Center artist Quincy Owens was commissioned to create installations on Indianapolis Power & Light poles, electrically lit installations that recall stained glass windows, with each installation honoring a particular church, entitled "Visionaries."
On Saturday, you'll be able to hear Mayor Hogsett and Congressman André Carson speak at Beckwith Commons (a stage named after neighborhood resident Frank Beckwith, the first African-American to run for president), take in a gospel choir performance by Indianapolis Choral Artisans, get some grub at Brother Nature Market or Festiva, test your financial fitness at the IPS Building, take a table at the Middle of the Road Cafe and watch a parade. The list of activities, many of them highly interactive, goes on and on.  
PreEnact Indy was envisioned —  and produced — by the Harrison Center for the Arts. Its evolution can be traced back to the Harrison Center's opening in 2000, according to Executive Director Joanna Beatty Taft.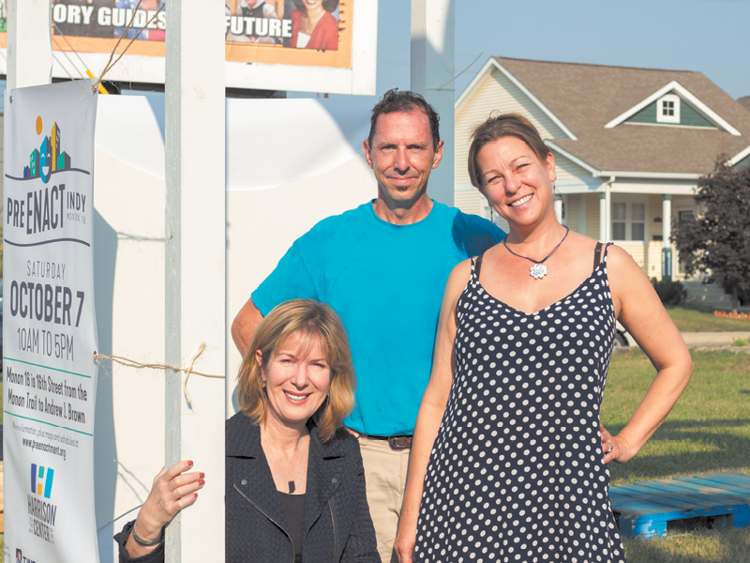 "When the Harrison Center first started, we didn't have a healthy neighborhood at 16th and Delaware [where the Harrison Center is located]," says Taft. "We had a lot of vacancy.  There were no businesses along 16th Street.  And so Mayor Peterson's cultural development initiative... gave us an invitation and permission to get involved in community development. That was a real turning point for me because before I was trying to be good and neat and careful and keep all of our art inside the building. But finally I got permission to actually go out and bring cultural solutions to community problems. 
"For a long time we focused on our neighborhood at 16th and Delaware. We started a high school [Herron High School in the former Herron School of Art & Design building] and worked along that corridor."
Then the Harrison Center started working farther afield. The nonprofit arts organization began various projects at 38th and Illinois under the auspices of the Great Places 2020 initiative led by the City of Indianapolis and various nonprofit partners –  an initiative to improve livability and walkability in six selected areas in Marion County.  
"Through that work we thought initially that we were supposed to go in and create vitality," says Taft. "But the longer I worked there the more I realized that in a neighborhood that is gentrifying or a neighborhood that's changing, long-term residents can often feel scared or nervous... We all want to be remembered. We all want to be known and loved. And so I realized that arts had a very important role in elevating those long-term businesses and those long-term residents so that their story was known in the community and when new people move into the community they will be invited into that story, not see the neighborhood as a clean slate."
A project that embodies this idea of inclusivity is the Harrison Center-produced "Barbershop is a Blessing" video for the long-standing Cheatham & Moore Barbershop at 3828 N. Illinois St.  
"We had a hip-hop gospel artist [Nabile Ince] come in who was a very appropriate artist, an art form for that barbershop," says Taft. "And we've had 40,000 views already for that video. It really struck a chord in that community. So our work at 38th and Illinois helped us learn a lot about the importance of art not just to add vitality but to also elevate history and connect people."
Adding vitality and elevating history and connecting people are what Taft wants to see, but she doesn't want to see neighborhood revitalization lead to gentrification where development takes place at the expense of longterm residents, forcing them to move.  
 "I haven't seen a model in the United States where the market doesn't take over and everyone feels included, right?" says Taft. "So what if we could use theater to kind of show us what it looks like?"
The theater-heavy component of PreEnact Indy's programming certainly seems like a new model for community revitalization, at least at first glance. But it's not entirely without precedent. There have been numerous projects organized by the Better Block Foundation, originating in Dallas Texas, which inspired initiatives in Indianapolis along Shelby St. and Washington St. in 2013 by Big Car Collective. (During these three one-day placemaking demonstrations, Big Car temporarily redesigned blocks, and populated them with pop-up cafes and art galleries.) 
A sense of urgency comes across in talking with Taft.
"The Monon16 neighborhood will not be recognizable in two years: there are so many vacant lots right now that in two years it will be completely built on.  The neighborhood's going to change like that," Taft says, snapping her fingers.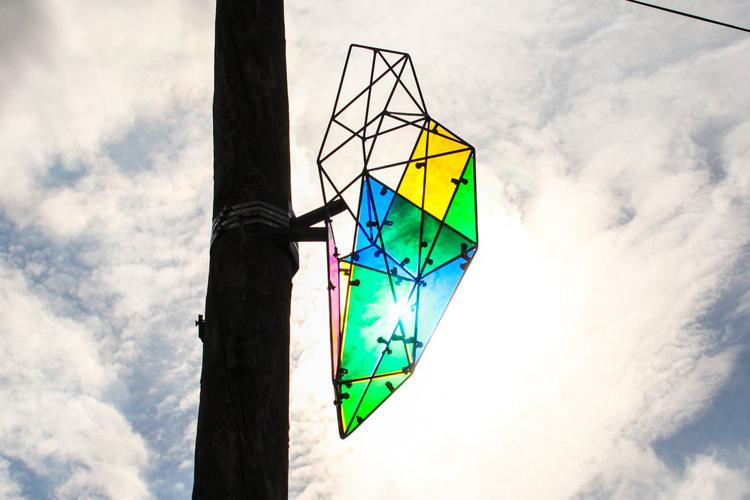 And the question, to which no one really knows the answer to at this point, is if and how gentrification will adversely affect this neighborhood.
One PreEnact Indy activity that will address gentrification head-on is a community conversation on inclusive revitalization with Democratic City County Councilor Vop Osili at Beckwith Commons, scheduled for 2 p.m. at PreEnact Indy.
Osili is a proponent of Indiana State House Bill 1056, currently in study committee, that would provide tax relief for longtime residents in areas under threat of gentrification.
A question for Osili might be whether he thinks initiatives like PreEnact Indy can succeed in building inclusive communities independent of legislation.  
"I believe that efforts like PreEnact Indy help people better understand and appreciate the human and social differences which make for a community's cultural richness and diversity," says Osili.  "These efforts are of a more social nature and help with preserving and celebrating the social characteristics of a community which make that community attractive."  
However, the issue of gentrification addressed in the bill is economic, he says. It concerns under-resourced, poorer neighborhoods beginning to experience rapid reinvestment.  In such circumstances, longtime homeowners often find it difficult to pay increased property taxes, based on higher assessments of property value.
"It is this ability of a longtime homeowner to afford to remain in the family homestead, in the face of rapid neighborhood reinvestment, that HB1056  addresses," says Osili. "And while both efforts, social and economic, are very important in the preservation of the character of a neighborhood, slowing the process of gentrification would be unachievable without the financial ability of that longtime homeowner to remain in the family homestead.