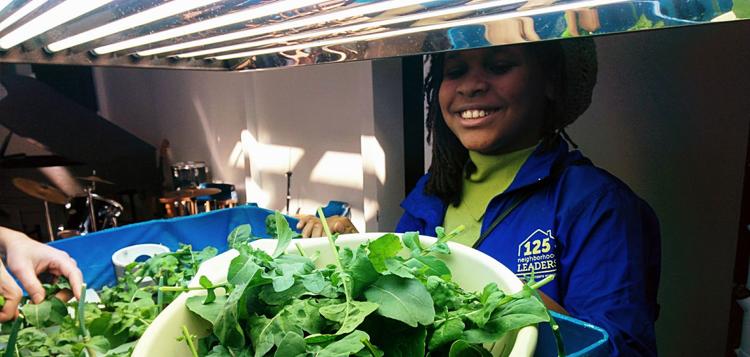 A recent economic impact study entitled  "Arts & Economic Prosperity 5" by Americans for the Arts found that Indianapolis's nonprofit arts and culture "industry" generates $440 million in economic activity and supports 14,729 jobs.  
But for Kheprw Institute (KI), selected in June to partner in EmcArts' first ever Community Innovation Lab —  it's not just about the money.
"KI is really a classroom on training community members," says Executive Director Imhotep Adisa. "We train primarily young people but also some of our elders in the art of the start; how to start something with little or no material resources:  and how to provide a service to the community, and also how to run a business...  So a lot of the enterprise is not just about monetary value, but creating social capital and skill development for folks."
KI, located at 3549 Boulevard Place on Indy's near northside, has its fingers in many pies, including community gardening, aquaponics, the creation of colorful Express Yourself Rain Barrels, and various support mechanisms for local artists, just for starters.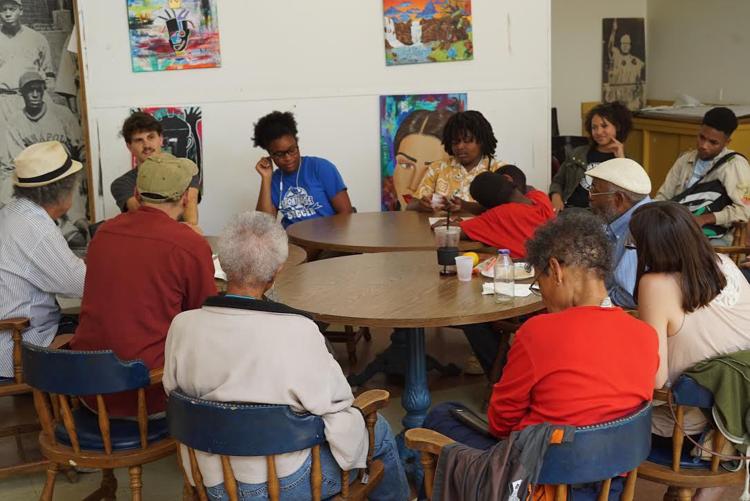 KI's  Express Yourself Rain Barrel program is one of KI's social enterprises, overseen by  30-year-old Alvin Sangsuwangul.
"A lot of our orders come from folks who want to put on rain barrel workshops to make them available to communities, particularly to people who can't afford to buy them for the full price," he says.  "About 3 weeks ago, we did a workshop in the Garfield Park Library, where people got to sign up with the library for their activities."
Express Yourself Rain Barrels are hand-painted 55-gallon barrels that can be placed under a downspout, and are often placed in gardens. KI makes about 50 or 60 a year, priced at $100 each, making an approximate revenue stream of $5,000 for KI. 
The newest program that they are pursuing is EmcArts' Community Innovation Lab.  In June, Indianapolis was selected as the first city to pilot this project, focused on economic inclusion.  And KI was one of the non-profit organizations chosen to partner in this program.
"EMC is this organization that does these Community Innovation Labs around the country," says project coordinator Stacia Moon. "So we're doing a partnership with Spirit and Place Festival and Groundwork Indy, and basically the question that we're looking at and wanting to dig in deeper with residents here is around economic inclusion for those previously incarcerated and youth who are aging out of foster care."
Moon has put out a call looking for artists with their skills in any area to apply and facilitate this program.
"The next step is to bring in our champions which are our other institutions or individuals who are connected to community and then also residents and we want to try to make that the lab itself, which is a combination of all of us coming together," says Moon. "At least 40 percent resident based, and the rest institutions, nonprofits, and other people."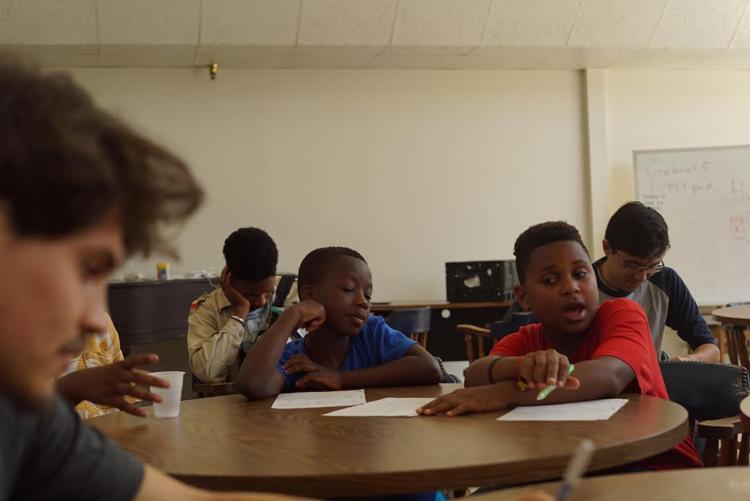 EmcArts' $100,000 contribution to this project is contingent on a matching grant, with fundraising still actively in process when NUVO went to press. But KI's community-building does not rise and fall on fundraising nearly as much as on the time and effort of those invested in its programs. If you walk into their facility on any given day, you'll notice participants of all ages engaged in KI activities — from summer camp attendees to retirees.
Ali Taziyah, 11 years old, is one of the summer EcoCamp attendees.  
"We made the plants over there in the soda bottles,and we had someone come and speak about lead," says Taziyah, who also has learned to edit videos with KI.  "And we went outside and dug up some dirt and checked to see if lead was in it."
The person who came to talk to the kids was Gabriel Filippelli, Professor of Earth Sciences and Director of the Center for Urban Health at IUPUI. The soil samples dug by the campers go to IUPUI and are then tested for lead content. 
Whatever projects KI is involved in, the organization is, according to Imhotep Adisa, focused on people first, and all other things second. "That's always a difficult dance in any organization," he says.