On a recent Wednesday, a 1998 Honda CRV arrived in the parking lot of Jonathan Brooks' Beholder Restaurant at 1844 E. 10th St. Four people got out of the van and proceeded to carry an old repurposed NUVO newspaper dispenser to the bus stop in front of the restaurant.
On that sunny, chilly morning, they set the dispenser upright and make some last minute adjustments to the text on the box with yellow paint.
People in the neighborhood who need the food will be able to take non-perishable food items from this box. Those so inclined can leave items.  
The founder of the Community Food Box Project, Sierra Nuckols, was one of the four who installed the food box. Michelle Johnson, whose collage artwork is depicted on the dispenser, was one of the four installers, along with Elysia Smith, owner of Irvington Books and Vinyl.  

This particular installation was a milestone—the 50th in the Community Food Box Program. But it was also notable for another reason.  
By placing this food box in front of Beholder, these women wanted to make a statement about the restaurant and what they see as its role in the ongoing gentrification of the area.
Fornicating Bunnies and Poverty Tourism
The spark that lit the fire on 10th St., as it were, was a mural.
In October, Brooks invited California-based artist Jules Muck, aka muckrock, who was travelling around the country painting murals—and not charging official prices for them—to paint the side of Beholder.
Muck painted a mural depicting a pair of bunnies having sex.
Some in the surrounding neighborhood, which includes Woodruff Place, took exception to the mural before it disappeared under several coats of gray paint on the morning of Oct. 19, less than two days after it was painted. Some took exception on social media.
Brooks responded to critical postings on Facebook, writing, "Everyone can hold & suck. 'It's not my favorite mural' WHO FUCKING ASKED. Go do your own thing…. And you're welcome for the rising property values. Bye."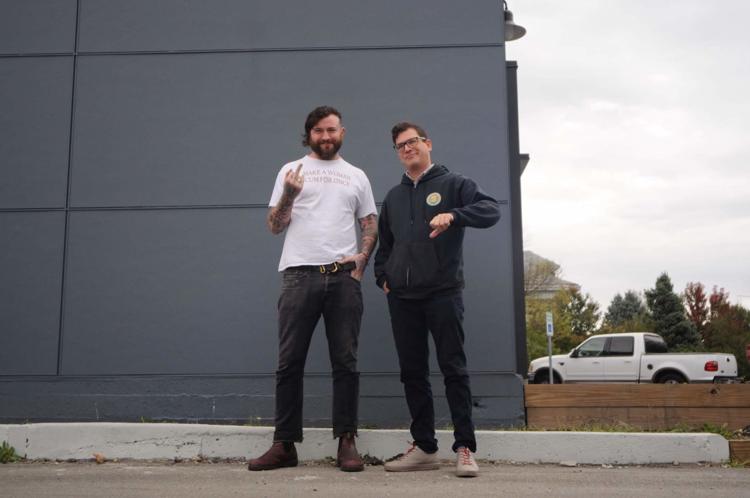 Smith also took exception to this particular post.
"A large majority of people who live just north and east of Woodruff place shop at the Family Dollar across the street from Beholder, because that's what they can afford," says Smith.
 "I can't imagine any one of those neighbors would feel comfortable walking into Jonathan Brooks' establishment even if they could afford to eat there," she continues. "I'm not one of those people saying that should have been a grocery store but I am one of those people saying that was an intentional choice."
"You put your restaurant here. What reason is that? Is it poverty tourism? Or is it because it's in a run down cool area? Is it because he's trying to gentrify that area and he wants to be the harbinger of gentrification?  That's what it seemed like when he made a public post."
Smith decided to do something. She came into contact with Nuckols and they decided to collaborate together.
"We decided to do the 50th food box as more of an art installation against gentrification," says Nuckols. "We wanted to show the juxtaposition of a restaurant that's serving food for up to $100 a plate and the fact that the neighborhood still needs a food box because it's an area without access to a nearby grocery store."
Ball State graduate Michelle Johnson's artwork for the box was inspired by  Leonardo da Vinci's "The Last Supper."
Her idea for using that painting as a starting point for her own work came after a conversation with Smith.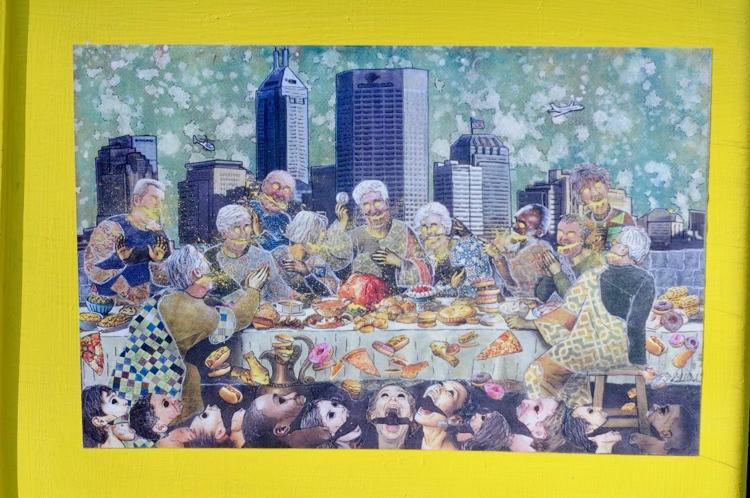 "It was pretty much her reaching out to me saying 'Hey we've got this thing going on and I had this idea and I want you to execute it,' says Johnson. She really wanted the idea of food inequality and how that occurs between classes. Her thought was having this table with things falling off and I saw "The Last Supper" and I thought 'hell yeah.' I just decided to used that.  For me it's just mainly about food accessibility…"
"Her piece ties everything together," Nuckols says. "It shows people of a wealthier class feasting on food while the people underneath are eating their scraps and leftovers with their mouths open. It shows how they're desperate for the food while people are eating at Beholder and eating this really expensive food."
Smith hopes this juxtaposition might encourage the patrons of the restaurant to take action.
"[…] If there's press about it, people that go eat there might realize they could bring some canned goods," she says.
Before the restaurant opened in June 2018, Brooks posted the following on Facebook:
"I think at Beholder we have a unique opportunity to provide a neighborhood restaurant to an area that has been underserved food-wise, as well as draw folks from downtown and surrounding areas to a part of Indianapolis they may be unfamiliar with."
In a September 2018 Indianapolis Monthly article titled "The Messy Genius of Jonathan Brooks,"  Brooks cited more practical reasons for locating on 10th Street: namely, the landlord who was willing to let them "work with the space."  
Then in October, 2018—on the day that the mural was painted over—Brooks defended his business to NUVO, citing Beholder's reliance on local suppliers, craftsmen, artists, designers, and farmers for his restaurant. (The other Brooks venture, Milktooth in Fletcher Place, has brought Indianapolis national renown and made the Condé Nast Traveler list of best restaurants in the world in 2016.)
"We rely on local all fucking day," he said.
On Instagram, Brooks also eventually apologized for his "hold & suck" comment, writing "It was not my intention to make anyone in our neighborhood feel unappreciated or disrespected."
But Beholder certainly didn't improve its perception among those in the local community who believe he's out of touch by offering $1,000 fried chicken wing dinners on New Years' Eve. The meals, designed to serve two-four people, included, among other offerings, a bottle of Roederer Cristal champagne, a jar of Osetra caviar, in addition to 24 twice-cooked wings.   
NUVO reached out to Beholder for their reaction to the food box but has not yet received a response.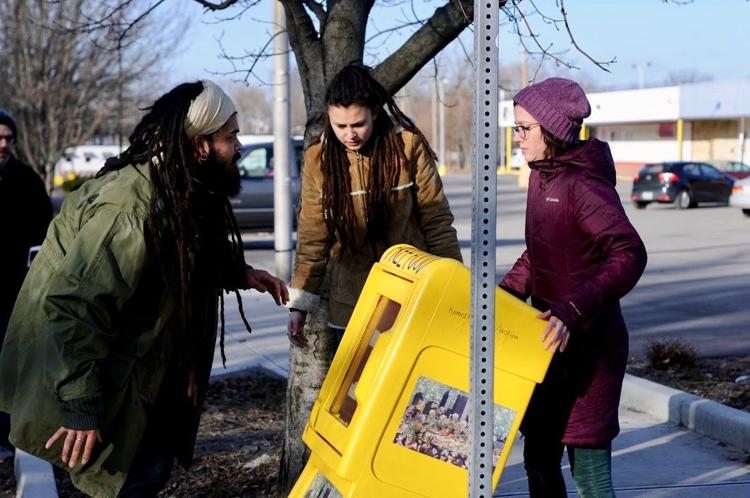 The Community Food Box Project  
Nuckols, who graduated from Hanover College in May with a degree in anthropology, founded the Community Food Box Program in August, 2016. She installed the first one adjacent to School 56 off of Andrew J. Brown Ave, using a repurposed NUVO News dispenser.
And it rapidly grew from that point on.
The Food Box program was inspired by an existent food box program Nuckols read about in The Huffington Post.
This article focused on Jessica McClard's "Little Free Pantry" program in Fayetteville, AR, which took the Little Free Library concept—which Indianapolis residents are familiar with—and applied it to food and basic personal hygiene items. In this manner, McClard addressed the issue of food insecurity in her city by making said items easily accessible to anyone who needed them.  
Nuckols believes that the potential problem of quality control of items placed in the boxes is mitigated by rapid turnover of items placed inside. There's also monitoring by business owners and others recruited to sponsor individual boxes, she says.
"Right now it's mostly word of mouth, people sending pictures," says Nuckols of current efforts to keep tabs on the boxes. "They reach out to me and I reach out to them. They have the responsibility of keeping the box filled.  It's going to get better in terms of measurement because I'm going to turn [the project] into a 501-C3 [nonprofit organization] soon and that way I'll be able to get funding for a truck and I'll be able to monitor them."
Nuckols started the project almost immediately after her return from South Africa as part of the Desmond Tutu Youth Fellows Program. "I came back and part of the program was to start your own social justice project in Indianapolis," she says.
The program was sponsored by Christian Theological Seminary and Butler University, and established through a gift from the Herbert Simon Family Foundation. Nuckols was part of the inaugural cohort of the program through which she was able to take part in an educational tour of Cape Town, South Africa in 2016.
Members of the cohort explore social justice and community development issues in a South African context. They visited townships, which were created under the racist Apartheid system, which ended in 1994. But the inequality and poverty, passed from generation to generation, didn't end.
One of the South Africans they met on the trip was Anglican cleric and theologian Desmond Tutu.
"It was inspiring and empowering," Nuckols told NUVO in 2016. "Desmond Tutu told us, 'Don't sell yourself short, you can dream. Reach for the stars.' I think the experience in South Africa really changed my life and inspired me to make a change!"
Community food boxes can be found throughout Indianapolis, and stretch all the way down to Southern Indiana.
Nuckols, who has a particular attachment to 10th St., having grown up at 10th and Sherman,  likens some of the development happening in that corridor to a wave "coming from Mass Ave down."
"A lot of the development projects are not necessarily development projects for the people who are already living there," she says.    
A Different Perspective
Gary Reiter is board president for the Riley Area Development Corporation, an organization that has been involved in small business development and increasing affordable housing opportunities in Indianapolis. 
Reiter doesn't take issue with Beholder when asked for his perspective.
He says, instead, that controversies, like the one over the Beholder mural, can be "overblown" by social media.
"The artwork that Jonathan put on that building was art for art's sake and it probably created a discussion in the community that needs to happen when someone comes into a neighborhood and creates a new identity," he says. "I believe there's more people in the community that appreciate what Jonathan does than portrayed by that particular instance so I think the problem for me was the building owner was the one who took the painting down and I wish Jonathan would have owned the building and kept the painting up."
Reiter also thinks that the word gentrification is a word that means different things to different people.
"What happens is culture comes into a community and starts to make it more attractive," says Reiter about the gentrification process. "People move in and the people originally responsible for making the neighborhood attractive get gentrified out. Some people say, well, I own a house. I'm going to be displaced or it could be I'm living in a neighborhood I don't recognize anymore because I go into the coffee shop and it's all these people with man buns and hipster-looking and that's not what this neighborhood was. It's different, I don't feel comfortable, it doesn't look like me anymore."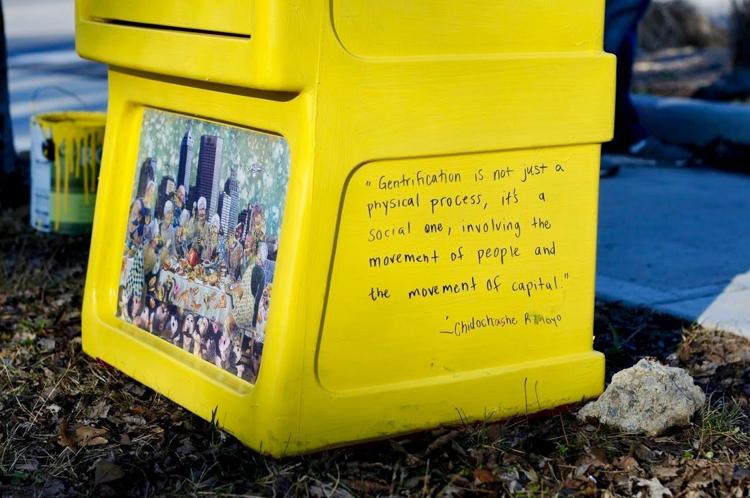 A Different Business Model
Elysia Smith, who has not approached Brooks directly with her concerns, at least not yet, is determined to run her business differently.
She began operating  Irvington Books & Vinyl in June, 2018 after she acquired Bookmamas and Irvington Vinyl, which simultaneously closed in March.
Her store is as much a community gathering place—and a community organizing space—as it is a business.  
"We are doing a ton," says Smith. "We center a lot of events around DIY and zine making, and that includes writing letters to incarcerated people, teaching people how to hand make their own chapbooks and zines, and teaching people the kind of anarchist history of the zine. I'm [also] working really hard to build the local poetry scene [...]"
They also have book a radical book club called Queery, and For Colored Girls, which features books written only by Black women.
"We're working with Musical Family Tree as our fiscal agent to build a recording studio in our basement and it will be for community use, much cheaper than traditional recording studios with access to professional recording equipment," she says.
On the horizon for 2019 are plans to partner with the city and/or nonprofit organizations to work with youth.
"I believe that business owners have to be intentional about their choices," says Smith. "If you aren't intentional about the choices you're making, your business will suffer from it."
Forward into the Future
After the food box was installed, after it was stuffed with nonperishable food items, the installers took pictures and video of the food box to post on social media. Then Smith, Nuckols, Johnson and their friend Torian Jones got back in the van and drove out of the Beholder parking lot.
"This is the first time I've gotten really angry and instead of getting angry I've done something," says Smith. "I've been angry about the process of gentrification but just angry that people know that its happening and it's comfortable for them to ignore it.  And it's comfortable for me to ignore it, but then it wasn't."
Irvington Books and Vinyl is giving a 10% discount to patrons for non-perishable food to stock the boxes. In addition to the box at Beholder, Smith has also partnered with Nuckols to stock a foodbox at her store.
Smith promised to be back following day to check on the box at Beholder and to make some adjustments in the text written on it.  
"They're going to help monitor it and make sure that nothing's wrong with it," says Nuckols.
If you'd like to help support this community food box or find out more about the project, contact Elysia Smith at Irvington Vinyl & Books