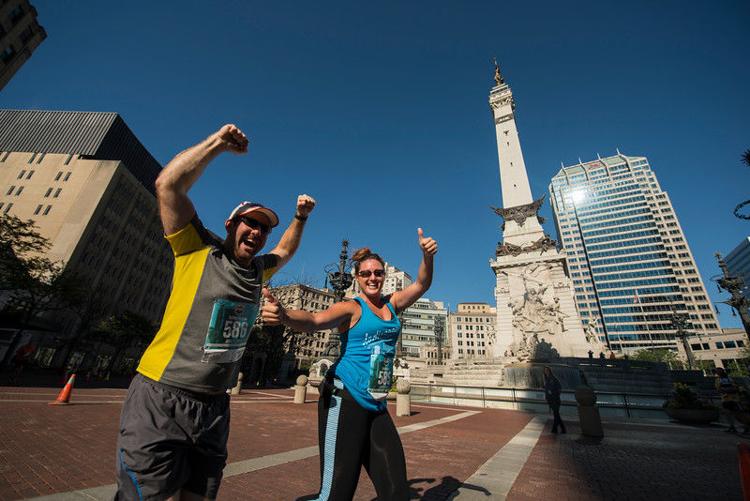 If you're in Downtown Indy on September 8, chances are you'll see hundreds of walkers, runners, and joggers along the five mile course of Indy's Ultimate Race. Runners will start and finish the race at Monument Circle.
The Indiana War Memorial will be a stop along the route as well as the American Legion Mall. Along the route there will be obstacles set up where participants can test their agility and their parkour ability.
Participants will run through the new Phoenix Theater, where they will get a chance to see and be on the Russel Stage. The Canal Walk will also be one of the new elements in the race. Participants will experience the beautiful sights while using paddle boats on the canal. Another new stop on this year's course will be the IU Natatorium, where runners will be guided through the venue that has hosted famous swimmers like Michael Phelps and IU swimmer Lily King. Finally, participants will kick field goals, toss footballs, and attempt soccer goal kicks at Lucas Oil Stadium.
The urban adventure race, sponsored by the Central Indiana Community Foundation, will have a lot of exciting new elements. The idea is to give participants the opportunity to experience facets of Downtown Indy to which the average person doesn't always have access.
"We want to showcase Indianapolis and all the great things about it," says Brett Williams, Indiana Sports Corp public relations manager. "A lot of people come downtown, a lot of people see downtown but how many people really get to experience it?
"The fact that we're highlighting the sports, the military, and arts culture along the way makes it very well rounded in what we're showing people," he continues. "You don't necessarily have to like one certain thing to enjoy this. If you just like grabbing a good friend and having a good time, you're going to enjoy your time out on the five mile course. You don't have to run. You can walk or you can jog."
The Indiana Sports Corp is looking forward to hearing about the experiences of fans.
"The last two years we've surveyed the participants as they came across the finish line." says Craig Lippincott, director of business management at Indiana Sports Corp. "Just seeing how it appealed to folks of all different varieties was the most exciting for our staff. It showcased how unique Indianapolis culture is downtown and all the varieties that we do have to offer."
NUVO Intern Edward Redd is a sophomore at IUPUI.