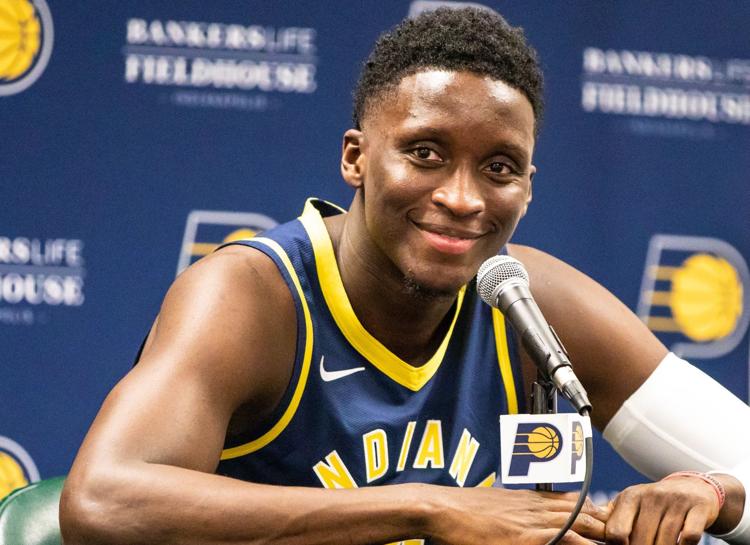 It doesn't take a sports fan to see Victor Oladipo is more than your average NBA player.
Take the last few weeks, for example. 
On opening day of the Pacers 2018 preseason schedule, the musically talented basketball star dropped a new R&B song called "Lights On" featuring Grammy-nominated artist Tory Lanez. The song marked the latest single from Oladipo, who also owns his own record label aptly titled Feathery Music Group Inc.
Eight days later, Oladipo appeared alongside former Vice President Joe Biden at a rally in Hammond where he endorsed Democratic Sen. Joe Donnelly. After expressing his love for Indiana, the All-Star guard urged Hoosiers to "Vote Joe," making a bold political statement in a state that's historically red.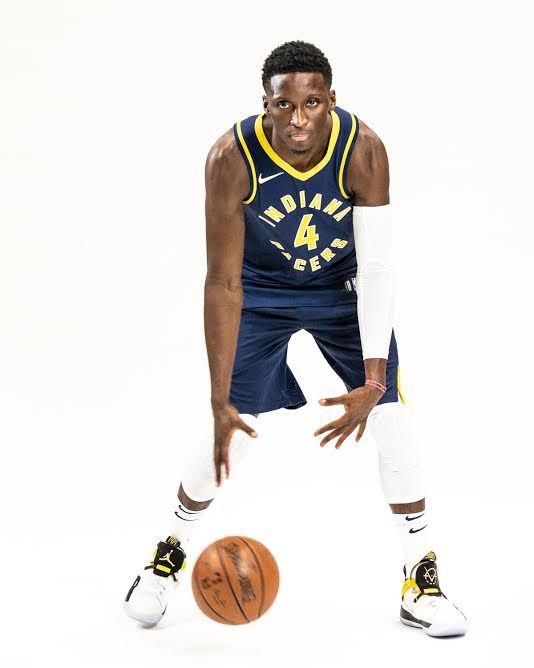 That same day, Oladipo also appeared in an episode of LeBron James' HBO Sports show The Shop, which featured a guest appearance from Drake.
But make no mistake. While Oladipo has his hand in all sorts of extracurricular activities, there's no questioning his prowess on the basketball court. 
After being traded to the Pacers in a deal that sent Paul George to the Oklahoma City Thunder, Oladipo had a breakout 2017-18 season, averaging 23 points and earning the league's Most Improved Player award. Oladipo's efforts emboldened a young Pacers team, which finished the season with a 48-34 regular season record and pushed LeBron James and the Cleveland Cavaliers to seven games in a first-round playoff series. 
SINGING IN THE SHOWER
It's 2018 Pacers Media Day, and Victor Oladipo is up at the podium. Knowing his love for music, I ask if he had a song or artist of the summer.
"That's pretty tough, man," he says. "I'm a real big Lil Baby fan. That's what I listen to right now. It gets me ready for the games. It gets me ready for life in general honestly."
He continues, "Eminem had a crazy album that just dropped that was awesome. It's crazy to see how he hasn't lost anything really. Some great music dropped this summer. Hopefully, mine drops pretty soon."
Music is not a new love for Oladipo. "I used to sing in the choir," he shares with me one day after practice. "Probably when I was 7 years old is when I started." 
Over time, he began to realize he had a gift for singing.
"I just started getting better and better," he says. "I didn't know until I was in high school that it even sounded good. Hopefully, I continue to keep having opportunities to share music with the world."
Spend a few minutes with Oladipo off the court, and you're sure to get a taste of his vocal range. "[You'll hear him singing in the] locker room, shower, anything," says Myles Turner. "He's just an exuberant guy. He's always up. It's a good thing because it gets everybody else in a good mood too."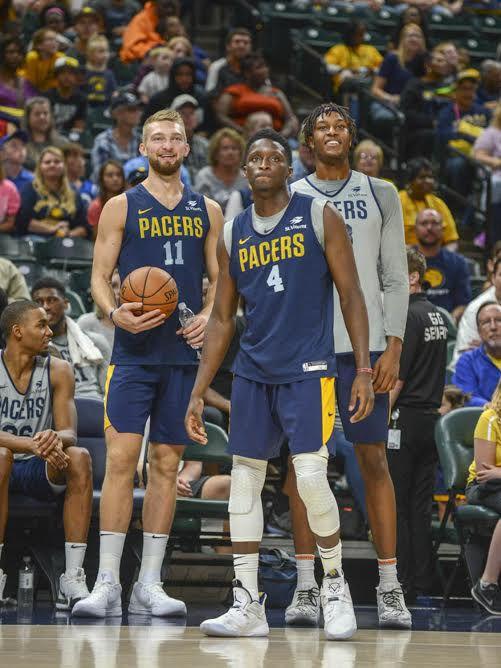 New Pacers addition Kyle O'Quinn says Oladipo uses his singing in the process of recruiting players to come to Indy.
"A guy like Vic can pull people here," O'Quinn says. "He makes that FaceTime call and gets to singing on there. I think he's in a good place, and he's not really surprising people that have seen him since day one."
Much like O'Quinn, Doug McDermott and Tyreke Evans were drawn to the Pacers because of the team's chemistry. 
"You could just tell from day one they care about each and every player," McDermott says. "It's like a family here. Everyone is in it together from top to bottom. It's just a great overall environment." 
This atmosphere is one that's fueled by Oladipo and his character, says Pacers starting point guard Darren Collison.
"He's the reason why the whole team is so positive," Collison says. "With him being the best player and him being so positive, you've got no choice but to be positive. I can't say enough about Victor. That's how he was last year, and that's how he always is. That's how it's always going to be."
A four-time Olympic gold medalist and WNBA champion with the Indiana Fever, Tamika Catchings could be on a list of Indiana's all-time great sports stars. Currently working as the director of player programs and franchise development with Pacers Sports and Entertainment, she now has a front row view of Oladipo's impact on this Pacers team.
"From the Pacers side, [he brings] a new life," Catchings says. "Not to say that any of our other stars before didn't have it. But you look at him and what he represents: he's always smiling, singing, laughing, and having a good time. He keeps things light."
When it's time to ball out, however, Oladipo makes sure to buckle down and give it all he's got. Those who watched the Pacers last season are fully aware of that as well.
"When you step on the floor with Victor, it's serious business," says Kevin Pritchard, Pacers president of basketball operations. "And then, he has this great way of saying, 'Okay. Now we're off the floor. Let's have some fun.' He hits that reset button of serious and having fun better than any person I've ever been around."
BIRD OF A DIFFERENT FEATHER
It's not often that you hear of an NBA team meeting up in the summer prior to the start of training camp. This Pacers team, however, doesn't go by the book.
At the request of Victor Oladipo, the entire Pacers team (aside from Bojan Bogdanovic who was playing for his national team in the FIBA World Cup Qualifiers in Europe) made their way down to Miami for an offseason mini-camp a month before the team's official training camp kicked off in September. 
Over the course of the week, players got to know each other a little bit better at the camp, taking part in fun non-basketball activities as well like bowling and Topgolf. Oladipo made sure he covered the dinner tabs too.
"I think that was a huge step for Vic as a leader," says McDermott, who finished the 2017-18 season as a member of the Dallas Mavericks. "I thought it was really good that we were all around each other for a week down there, not just on the floor but off the floor."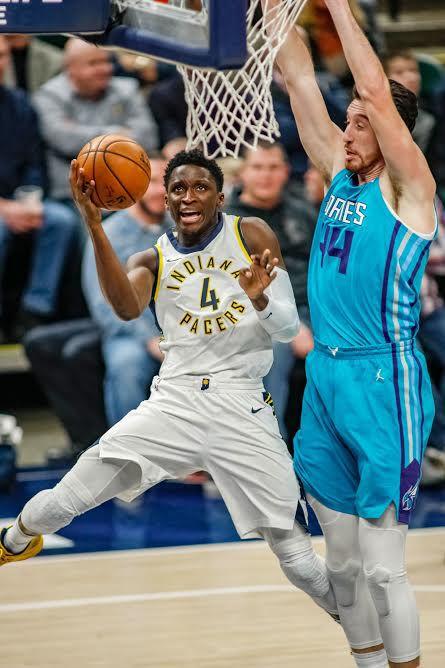 After building such great chemistry with last year's team, head coach Nate McMillan saw the mini-camp as a great way to head into this new Pacers season. "I think Victor understands how important it is for the team to be connected," says McMillan, who let Oladipo handle the mini-camp on his own. "I wanted the coaches to stay away from that. That was a moment and a time for them [the players], and I thought it was important that they handle that on their own." 
Much like McDermott, Turner saw Oladipo's mini-camp as an excellent leadership move.
"He had all the accolades and stuff coming in last year, but it didn't really change who he was as a person or as a team player," Turner says. "To be able to have one of your leaders step up and do something like that and [have] guys to be able to fall in line with him just like that is huge."
Currently, the color analyst for Indiana Pacers games on Fox Sports Indiana, Quinn Buckner also played for the 1975-76 Indiana University basketball team that went undefeated under Coach Bob Knight. He knows full well how important chemistry is to a winning basketball squad.
"I think Victor's unique in that he brings this terrific work ethic," Buckner says. "He has an inclusive perspective on the way things need to be done. But he will challenge you and accept challenges from his teammates. I think that allows chemistry to become better."
Having such a hand in the team's chemistry, Oladipo's effervescence rubs off on other players as well. "It's all smiles, it's all positive chemistry," Collison says. "This is our second year, and everybody enjoys being around each other. It's just genuine. You just feel it." 
Looking at the bigger picture, Pritchard hopes this Victor effect will draw more talented players to Indianapolis.
"This is the first year in a long time where when we went out into the free agent market, people said, 'This is a place I'd wanna be,'" Pritchard says. "I think that starts with your culture."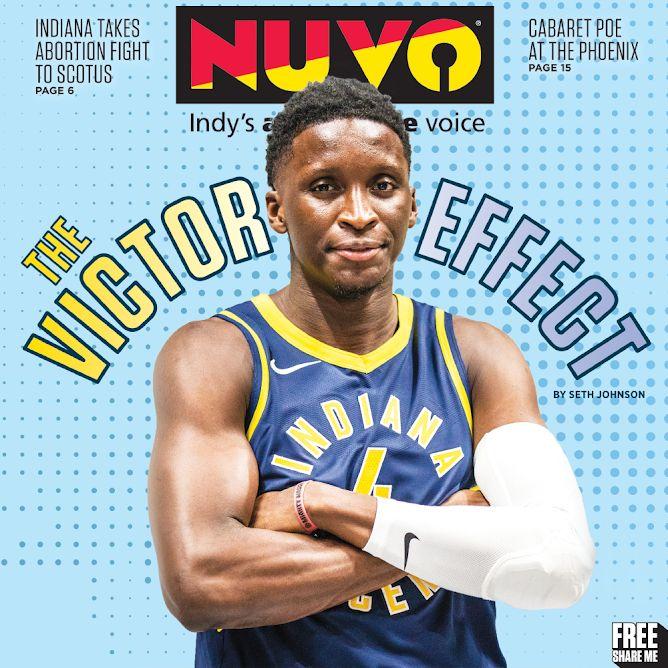 He continues, "I think we have a chance to create something really good this year. If we do and we have a successful year, that'll build on itself and you'll see other elite players say, 'I wanna be a part of that.'"
Headed into the 2018-19 NBA season, the Pacers will still carry the same underdog status as they did last year and know many NBA analysts and audiences are overlooking them. 
"We're still the underdogs in this league," Collison says. "We're still the underdogs in the Eastern Conference. No matter what we did last year, people still don't respect us, and that's fine with us." 
Like last season, the Pacers will again need Oladipo to come poised and ready to play every single game, which is a challenge he's fully up for.
"I believe if you just take it one day at a time and try to win today and win one day at a time, then everything else will take care of itself," says the man responsible for The Victor Effect.
"I think that's why we were so good last year. We didn't look too far ahead, and we didn't look behind us. We just focused on the there and now."