When you're riding your bicycle to the Indianapolis 500 and you reach 30th Street it's hard not to feel superior to your fellow race fans.
Because there they sit on 30th in bumper-to-bumper traffic for miles, all the way east to Riverside Drive.
And there you are getting ahead and making it look easy, passing cars like they're standing still (which they are), pedaling but not straining, getting some exercise but not too much.
Kevin McKinney, NUVO's publisher, and I have been doing this since 2004. We leave from Meridian Kessler, which means we approach the track from the north, from 30th Street. The trip is about seven miles. It takes us 35 minutes. Once inside the track we chain the bikes to a chain-link fence in the infield near Gasoline Alley. Nobody has ever messed with the bikes.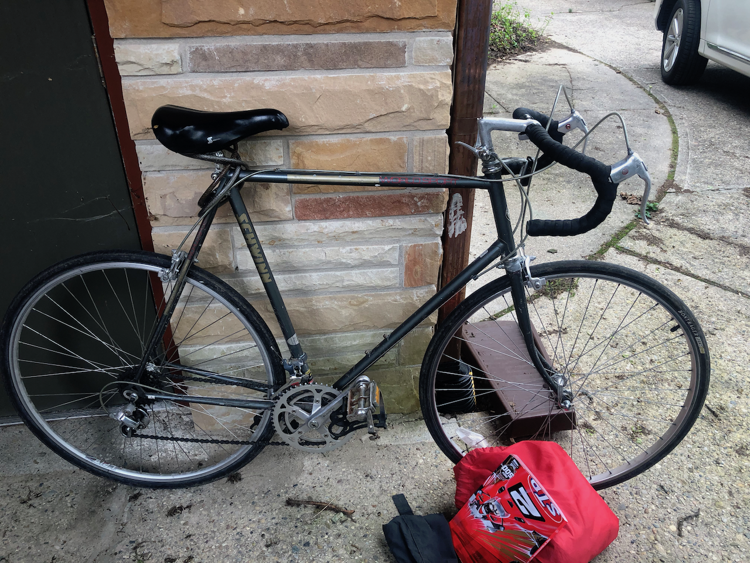 It's one smooth operation, almost always glitchless though this year while in the 3200 block of Harding Street we were set upon by a pitbull. But the dog wasn't angry or out for blood. It was friendly -- pitbulls, if treated well, are as nice as Labrador retrievers. The trouble was, the thing kept following us even after we said go home! We didn't want to be responsible for the dog getting lost, so we put on a burst of speed and the dog couldn't keep up and got discouraged and turned around and hopefully went home.
And we rode on towards the 103rd running of the Greatest Spectacle in Racing, slaloming between roadway and sidewalk, avoiding hitting pedestrians and avoiding being hit by motorists.
Yet in 15 Race Days, Kevin and I have encountered surprisingly few fellow cyclists, this year just 13 (though it's likely more arrived from the south via 16th Street).
Why wouldn't more people do like we do?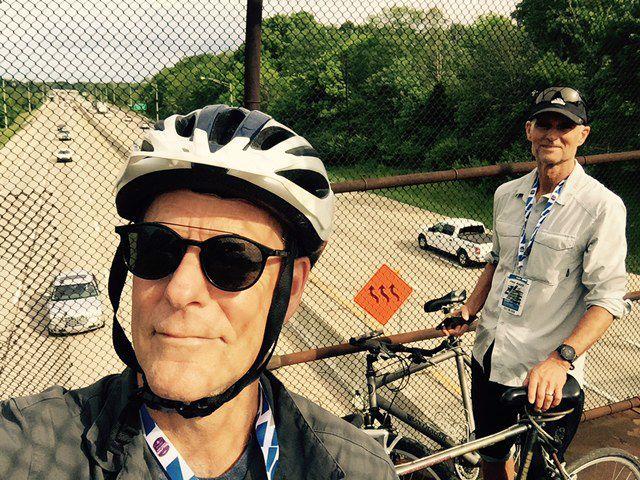 The best explanation is: For many people getting hammered is central to the Indy 500 experience, and you can't ride a bike hammered. You'd tip over.
We entered the Speedway around 10 a.m. through the "Snake Pit," a sort of giant outdoor dance club on the inside of Turn Three.
Here millenials do beer bongs and Fireball shots while wearing American flag-themed shirts, shorts, bandannas, tube tops even onesies.
What's with all the American flag-themed gear? Is it patriotism? Or is it irony? "It's both," said a 30-ish guy wearing an American flag shirt he'd paired with an American flag bandanna. He declined to give his name since he's a high school biology teacher, and it was 10 a.m. and he was drinking. "It's Memorial Day," he explained, "and I'm honoring America, so that's patriotic. But it's also the Indy 500 and I'm getting super drunk, so there's some irony, too."
In the Snake Pit, a deejay plays techno songs such "Bug Hunt" and "Bangarang" and "All is Fair in Love and Brostep" and plays it loud.
The music is so loud that a month ago, in an Indian restaurant in Broad Ripple, a grumpy baby boomer who for decades has watched the race from Turn Four said he was done going to the race because he could no longer hear the race cars for the damn music.
But the truth is, today's Snake Pit is far more chill than it was when that boomer was in his 20s. Back then, year after year there were first fights, bottles thrown, police officers assaulted. At least once people ran naked onto the race track. Mounted cops put down the insurrections with 36-inch nightsticks, and even tear gas.
Read this from the May 11, 1974 Indianapoils Star: "The young crowd began shouting obscenities, making obscene gestures and raining the police with bottles. Police and their vehicles were surrounded. Both police helicopters were put into the air. As soon as police put down trouble at one spot, it would break out somewhere else."
Kevin and I strolled Gasoline Alley, the restricted area that houses the race team's garages. We affected slight limps, hoping to be mistaken for race drivers of yore, brave, daring and now wizened bad-asses. In the 1980s race car design had the driver sitting way forward. This made their feet vulnerable when they crashed, and as a result many old drivers have bad feet, causing them to limp.
We limped as best we could but nobody asked us for a selfie.  
We headed to the track to look at the race cars as they lined up on the grid, and there encountered four real shapely females decked out in matching, skin-tight leotards emblazoned with the logo of a company called WeatherTech. The females were extremely friendly and popular. They were more than willing to pose with people for photographs, mostly harmless older folk.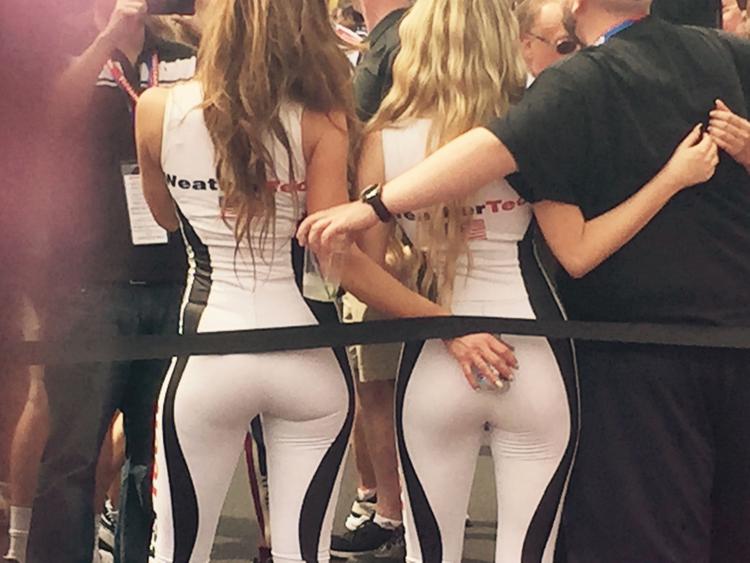 In this day and age, I said, how could that still be a thing?
We were a couple of dudes wandering the front straightaway of the Indianapolis Motor Speedway contemplating gender roles and the natural order of humankind when we stumbled upon great good fortune in the form of a friend of mine, JL.
JL was always a good guy but now he turned saint by handing us two tickets to the Pagoda, 7th floor.
The Pagoda is air-conditioned, and there's an open bar, and things to eat that are way higher up in the natural order than fried chicken. The Pagoda has a commanding view of the fourth turn, the front straight and the first turn – from the Pagoda you can see practically half the track.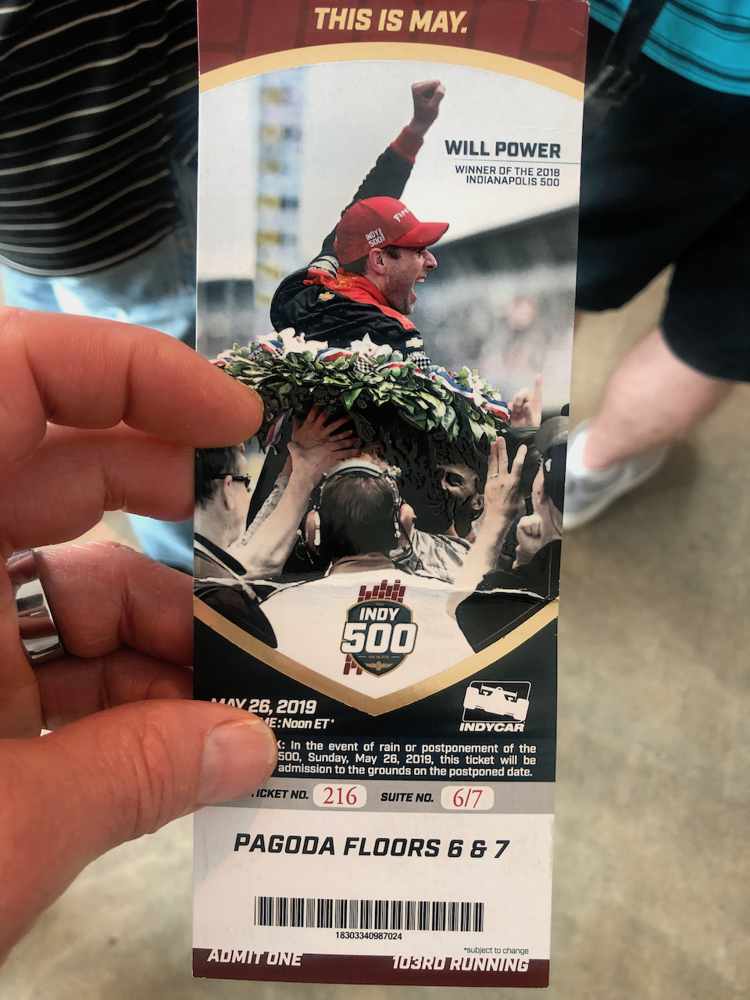 The people there were either important or else good looking (not to beat this natural-order business to death). Former Gov. Mitch Daniels watched the race from the Pagoda. Mayor Joe Hogsett? Pagoda. Author John Green? Pagoda. 1996 Indy 500 winner Buddy Lazier? Pagoda. And on and on.
The most interesting person we ran into all day, however, was not in the Pagoda but the media center. He was an old Colombian named John Reyes. We had lunch with him. Reyes was covering his 61st Indy 500. He was 91. He first came to the Speedway in 1958 to report on the Formula One star Juan Manuel Fangio's one attempt at the Indy 500. (Fangio, who was 47 at the time, took practice laps but did not qualify.)
Reyes looked decorous in a light-weight suit, necktie and straw hat, but he certainly said "fucking" a lot.
He was opinionated, too. "The car is everything, the driver means fucking nothing. Nothing!" the old man said. He paused, stood to leave and explained further: "Nothing! Think about it! Live with it!"
And all I'd said was, "Who's the best race driver you ever saw?"
Some peoples' favorite race driver of all time is the Quixotic and tragic Jim Hurtubise. Hurtubise died 30 years ago in January of natural causes and though he was born in upstate New York, he wanted to be buried in Indianapolis.
On our way to the track Sunday Kevin and I stopped at his grave (Crown Hill Cemetery, north mausoleum, Row 2 DD, space D-8).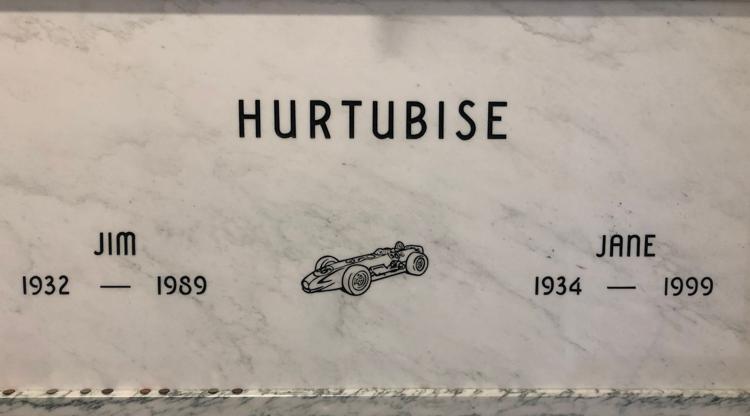 Automobile racing has many sad stories but Hurtubise's may be the saddest because though he himself was not killed in a horrific crash, apparently his soul was.
When he first came to the Speedway, in 1960, he was young and he was spectacular. In his very first year, Hurtubise (pronounced HURTuhbees) set a new one-lap speed record.
His tailspin began in 1964, following an accident in a race in Milwaukee, a fiery crash that was not his fault. He was burned over 40 percent of his body. His hands were burned and mangled, and he told his doctors to arrange them into claws so he could grip a steering wheel.
He returned to racing but was not the same. Hurtubise had always had a big personality but now he came off as not just playful and colorful but a bit unhinged.
The millionaires who own top-shelf race cars don't entrust them to such people so Hurtubise, desperate to stay in the game, built his own race car. Even brand new, the vehicle was obsolete, a hulking front-engine monster reminiscent of the 1950s. He called it the Mallard, which might have been one of his jokes because who names a race car after a duck?
For the next decade-plus Hurtubise showed up at the Speedway with this Mallard. He qualified it for the race just one time, in 1968. He completed nine laps before throwing a piston and quitting the race.
Hurtubise seemed to laugh along and even play up his wacko rep. One time, for instance, he donned his racing suit, rolled his Mallard out to the pits and appeared to be readying for a qualifying run.
He never even started the engine, however. After a while he opened the hood to reveal there was no engine. In place of the engine were five cases of Miller Beer. Hurtubise grinned at his joke and distributed cans of beer to amused onlookers. That Hurtubise!
But inside he was not grinning, said people who knew him, including the insightful and sensitive sportswriter Bob Collins of the Indianapolis Star.
When Hurtubise died, Collins wrote that the once so-promising racer had accepted the role of clown, and had played it well.
"But," Collins added, "it must have seared his soul."
Kevin and I were glad to see that Hurtubise is not forgotten. He still gets visitors. They leave coins on his grave. On Sunday morning there were five pennies and three dimes.