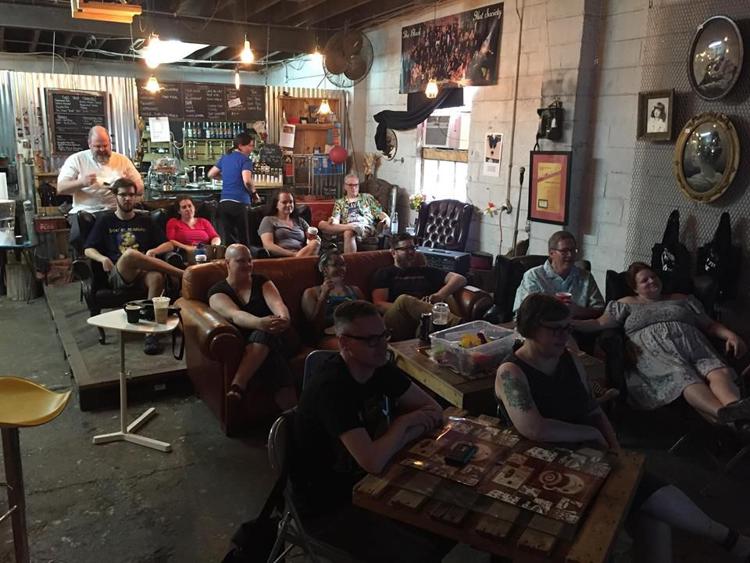 When I first heard about The Walter Paisley Movie House at Coal Yard Coffee, the timing couldn't have been better.
About a year ago at the suggestion of a friend, I started listening to the podcast How Did This Get Made, or HDTGM, which is essentially a few friends riffing on movies, typically bad movies. I not only listened, but I became obsessed. I'd listen while mowing the lawn, running errands, emptying the dishwasher, riding on airplanes—just about any time I had to just listen.
A few months after getting into that podcast, I was introduced to Dylan Roahrig at the Historic Irvington Halloween Festival. He mentioned he had just started the movie series at Coal Yard Coffee. Check out his website, wpmoviehouse.ning.com, and his Facebook page for upcoming events and for information about when the movie night will change locations to Irvington Ice and Coal.
While there isn't always a theme, for May Roahrig chose to show racing movies as a nod to the Indy 500. For June 9, because it's the same day as the Indy Pride Festival, he chose Bride of Frankenstein and A Nightmare on Elm Street 2: Freddy's Revenge. "These are two movies people don't realize are about people coming to terms with their sexuality that are masked as horror films," he said.
The movie night is something Roahrig has wanted to do for about 30 years. He told his wife when they were first dating that if he could have any job, it would be as a late-night horror movie host. He wanted to capture some of the magic he felt when he watched Sammy Terry on TV as a kid. He also knew he wanted to somehow tie it into Walter Paisley, a recurring name of different roles played by character actor Richard "Dick" Miller.
Unlike Sammy Terry, not all of The Walter Paisley Movie House movies have been thrillers, but Roahrig does have a few requirements.
"For me, a true so-bad-it's-good movie has to fit three criteria: 1. It was made with sincerity; 2. Everyone involved is giving it their all; 3. There should be at least three unresolved subplots, preferably more, though," he said. "When a movie hits these marks, then it is always a singular, unique, and utterly irreplaceable work of art. No one can try to make a [so-bad-it's-good] movie on purpose. There are many examples of those out there, and they are all failures. Camp and ineptitude cannot really be faked, but [it takes] a unique auteur with just enough ego, passion, and a slight touch of delusion to really make the magic happen. I would take Troll 2 over The Godfather any day of the week."
Some movies he won't show, even if they are important as cult favorites, because they are too long or not easy to watch.
For each movie night, Roahrig gives a brief welcome, plays a kid-friendly cartoon or short film, and then screens the first feature, usually a movie that is light in tone and something people already know. The second movie, which starts around 8 p.m., is meant for the 18 and older crowd due to potential language, violence, gore, and adult themes. Unlike when these movies are on network TV, he doesn't censor any of the films he shows. Plus, the vibe of the event shifts a little at 8 p.m., and Roahrig isn't sure what the audience might yell.
At the May screening, Roahrig was warm and welcoming to all of the attendees. He happily shared his extensive knowledge and opinions about low-budget movies and mingled with the audience.
By the time the second movie started, the small coffee shop, with its art-covered walls and eclectic seating, had filled with about two dozen people. They included regulars and first-timers, all looking forward to what is potentially the best film about racing in a dystopian future, Death Race 2000, which features David Carradine and Sylvester Stallone as the main rivals earning points for mowing down pedestrians.
"If you watch a bad movie with a group of people, you're going to have fun. You're going to yell at the screen. You're going to enjoy everything. The badness is just going to wash over you," Roahrig said.