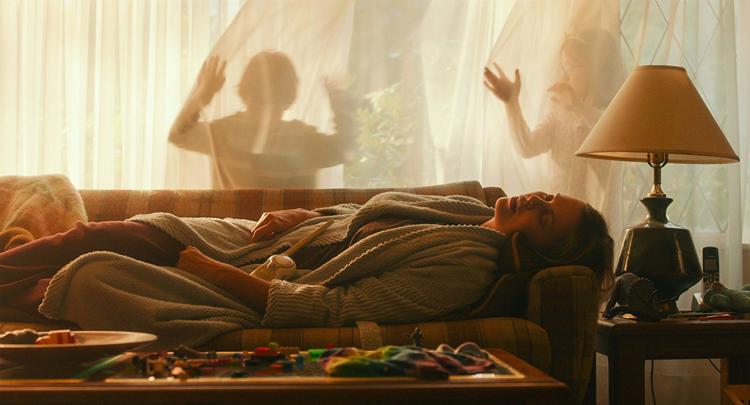 I think we take Charlize Theron for granted. I mean, sure, she's been nominated for awards throughout her career and is definitely in the A-list of this generation of Hollywood, but her versatility should put her among greats like Daniel Day-Lewis, Meryl Streep and Joaquin Phoenix. If America had a queen, she should maybe pencil in some time for crown fittings.
Compare Theron's work in Monster, where she played the hideously human serial killer Aileen Wuornos, and Mad Max: Fury Road, instantly redefining the role of women in action movies. Now she reinvents herself once more in Tully, gaining 50 pounds to play Marlo, a mother of three, including a newborn girl. She's almost unrecognizable from her earlier work.
Marlo is married to Drew (Ron Office Space Livingston), who works ungodly hours to support his family, but tends to check out into his X-Box when he gets home at the end of the night. With a son who's starting to manifest some behavioral disorders, a daughter struggling with her own self-image and a new baby screaming through all hours of the night, Marlo is exhausted in a primal way only mothers can really understand.
Enter Tully, a night nanny recommended by Marlo's bougie brother, Craig (the always welcome Mark Duplass). As Tully, Mackenzie Davis brings a warmth and effortless ease to the role. She's a DTF Mary Poppins combined with a lightly punk Tinkerbell. From 10:30 p.m. to 6:30 a.m., Tully doesn't just take care of the newborn, but has a few life lessons for Marlo in turn.
The story could have been a recipe for cheeseball schmaltz, but with a script from Diablo Cody (Juno) and direction from Young Adult director Jason Reitman, Tully is a much darker and incisive story than I anticipated. There are no big moments romanticizing parenthood or lionizing Marlo as a wife and mother, instead the film balances big laughs with a melancholy air of dreams deferred.
As great as Cody and Reitman's work are, it's Theron and Davis that make Tully a truly unforgettable film. Theron is widely considered to be one of the most beautiful women in Hollywood and her performance here is completely without vanity. With her Rubenesque curves and shapeless clothes, Theron inhabits every square inch of Margot from her exhausted stare to her bitter tongue.
Davis was excellent on AMC's Halt and Catch Fire and in Blade Runner 2049, but Tully should push her into an entirely different realm as an actor. It's a star-making performance in a movie that probably won't get as many viewers as it deserves. She's starring in the upcoming Terminator  reboot, so hopefully she'll cross over sooner than later.
I have no real criticisms of Tully, aside from an abrasive third act that at first seems out of place, but then becomes the thesis for the entire film. The trailers don't do the movie justice or really let the audience know what they're in for, but letting this remarkable little movie surprise you is an unexpected delight.