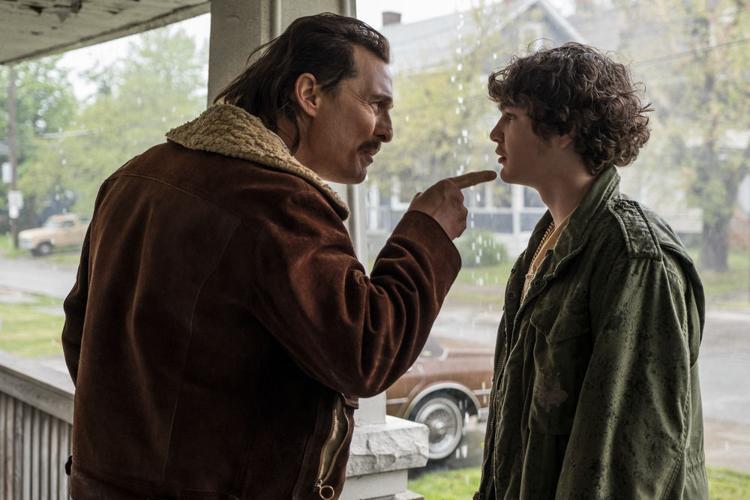 White Boy Rick is based on the life of Richard "Rick" Wershe Jr. (Richie Merritt), a teenage drug dealer who worked the meanest of Detroit's mean streets during the 1980s. Considering the way the movie's being promoted, I don't think it's a spoiler to reveal that Wershe spent over thirty years in prison for his assorted indiscretions.  
Much has been made of the way the FBI and the Detroit Police Department used and abused the naïve kid, and of the draconian sentence he received for crimes that were arguably less evil than those committed by others who got off comparatively easier. I understand where those critics are coming from, but let's take a look at who this guy really is.
Both Rick and his father, Richard Sr. (Matthew McConaughey) love their family and are pursuing the Great American Dream, albeit through some of the most perverse means imaginable. Granted, the Detroit of the 1980s wasn't exactly a garden of opportunity.  Picture the worst street in your city in the worst of times. Wershe's neighborhood isn't nearly that stylish. The city scenery was a nightmarish disaster of abandoned factories, boarded-up homes that served as crack houses, vacant lots, and burned out ruins.
Somewhere in those neighborhoods, though, there were kids pursuing their futures by studying hard and trying to make the best of things. Their parents survived by working two or three jobs. We never see any of those people in this movie. Meanwhile, Richard Sr. is building his nest egg by modifying assault weapons so they're able to kill people quietly. Jr. also has a way with guns, but narcotics are easier to acquire in bulk, so cocaine becomes his golden fleece of choice.
Junior and Senior both know the violence their merchandise generates. They know it, but do they understand it. At no point do we see a trace of guilt for the misery their enterprises bestow upon the already hopeless. Nonetheless, the last ten minutes of the film are a relentless attempt to gain our sympathy for the pair and generate outrage at the unfair way the system ultimately treats them.
The thing that keeps this movie from disintegrating into an obscene pile of self-pity is the quality work done by a first-rate cast. Richie Merritt is a revelation and a prodigy in the making. White Boy is the 17-year-old's first role. He doesn't even have an agent, yet. What he does have is a massive amount of charisma that makes even the vile character he's portraying sympathetic. His innocence and vulnerability makes you want to rescue him while your conscience is telling you,"This kid needs to be put away for good." Merritt is no teen-idol du jour wandering through an insipid romantic comedy. This kid's the kind of natural born movie star I haven't seen in a long time.
Speaking of movie stars, Matthew McConaughey, in this character actor phase of his career, continues to dazzle. He does whatever's necessary, from physically altering his weight to affecting a totally foreign gait in a quest to create eccentric characters who are utterly believable. Some critics dismiss him outright for his Zen stoner-type roles, driving a Cadillac while talking like Woody Harrelson on killer weed silliness. And there is that unfortunate Failure to Launch episode. OK, I'll admit, he did choose to live in postcards for a while. Criticize if you will, but what would you rather watch on a Saturday afternoon; McConaughey and Kate Hudson frolicking in the Mediterranean or the depths of human depravity in another Criminal Minds marathon? I'll go with Matthew in his underwear.
The "McConaughey Takes His Shirt Off" era aside, Dallas Buyers Club, Mud, and White Boy Rick prove the actor is capable of creating indelible impressions. Like Merritt's Wershe, Jr., McConaughey's Wershe, Sr. is a despicable low-life. Still, we can't help but feel sympathy for a poor schmuck who's hustling to stay alive. Given the circumstances, "You and me, we're lions!" is a truly pathetic epitaph.
Lately I've been kind to flawed movies because of the exceptional quality of the acting (Don't Worry, He Won't Get Far on Foot; Juliet, Naked).  White Boy Rick is no exception to this, as the acting is exceptional all the way around. Bel Powley as Rick's junkie sister Dawn is almost as good as Merritt and between them, Bruce Dern, Piper Laurie and Jennifer Jason Lee have been creating original and memorable characters for over 150 years.  Sometimes you just have to meet a movie halfway. This one is difficult and imperfect. It's also one that will haunt you.