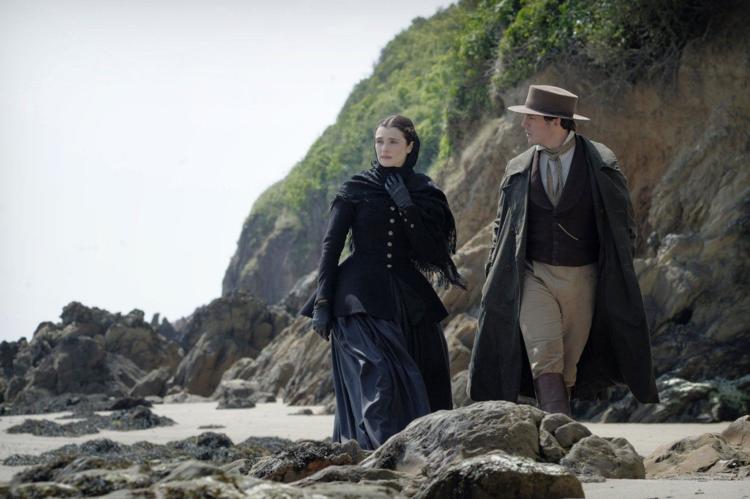 I generally avoid Victorian-era British romantic dramas, but I like My Cousin Rachel.
Pretty good opening sentence, eh? Draws you right into the essay. If you're a fan of the genre, you now know that even if I make some wisecracks about Victorian-era British romantic dramas, I won't be harsh to this one. And if you share my general distaste for this kind of film, you'll want to keep reading so that you can find out why I enjoyed this one. It's a little mystery. What fun!
The paragraph you just read is the result of stream-of-consciousness writing. I do this a lot (albeit in smaller doses), but I rarely draw your attention to it. That's because I understand that, while many of my regular readers find it entertaining when I go on a tangent, others find the practice indulgent and irritating.
I'm almost ready to explain why I like My Cousin Rachel, but first I want to answer the readers that ask why I refer to my weekly pieces as essays instead of reviews. I do it because a movie review should address and weigh all the pieces of a movie – from the cinematography to the score – before offering an informed critique of the production. As is obvious, I don't do that. I just watch movies and tell you about the experience. I refer to my stuff "essays" because that's the most appropriate term.
At this point even my most devoted readers are probably wondering why I'm still talking about the essay instead of the movie. Well … NUVO arts editor Emily Taylor is leaving the paper at the end of the week for a new job. Emily is smart, personable and devoted to doing her best and bringing out the best in others. She's going to accomplish great things in her new position. Space in the print edition of NUVO is often limited and Emily often must cut a couple hundred words from my essays (she always runs the full essays in our online edition, by the way). Today's column will hopefully make the editing task a bit easier. All Emily will have to do is lop off as much of my stream-of-consciousness chattering as she needs to make this fit the space in the print edition.
Thanks for everything, Emily. And congratulations.
Now about the movie …
Rachel Weisz and Sam Claflin star in My Cousin Rachel, the second adaptation of Daphne du Maurier's romantic thriller set in the late-1830s on a gorgeous estate near England's southern coast. Roger Miller directs, but Weisz owns the movie. Claflin plays Philip Ashley, who worships his beloved cousin and guardian Ambrose.
Philip is devastated when Ambrose dies. He heads for the estate to meet the widow Rachel, convinced that she murdered his beloved cousin, based on a series of increasingly disturbing messages Ambrose scrawled on the inner edges of letters sent to Philip. He could be right, or the messages may only have reflected the state-of-mind of a man dying of some undisclosed illness.
Ready for an epic confrontation, Philip (who is a self-absorbed boob, a real numpty) finally meets Rachel, who turns out to be charming. Philip is smitten, and Rachel is shaken by how much the young man looks like her deceased husband. Sparks fly … well, they certainly fly from Philip. As for Rachel, we watch and wonder if she is the person she appears to be, or an opportunist who knocked off her husband and may have similar plans for Philip.
I generally avoid Victorian-era British romantic dramas because the stuffiness and repression make me angry. Our time on Earth is too short to spend our days tip-toeing around to avoid pissing off others. Thankfully, My Cousin Rachel (it is so hard to refer to the name of this movie without typing "Vinny") pays little regard to what the neighbors think.
Sure, Rachel wants to make a good impression, but she certainly is no slave to the conventions of the era. And Philip is too busy being impulsive and clueless to address societal expectations. 
That's all the plot I'm going to address. Suffice to say that the "what are Rachel's true intentions" mystery is compelling, even during the slightly saggy middle portion of the film (don't blame the filmmakers – saggy middle portions are mandatory for the genre). Rael Jones' score is what you'd expect for a period mystery. It's overbearing at times, but generally effective. The scenery is gorgeous. You'll wish you could ride a horse along the path near the cliffs … no, forget I said that. I promised myself not to include cliffs notes.
I intend to watch My Cousin Rachel again. Yes, it's good enough to warrant a second look-see from a cranky essayist like me. And with that I need to wrap this up. For the last time, I need to get my work to my editor, Emily Taylor.