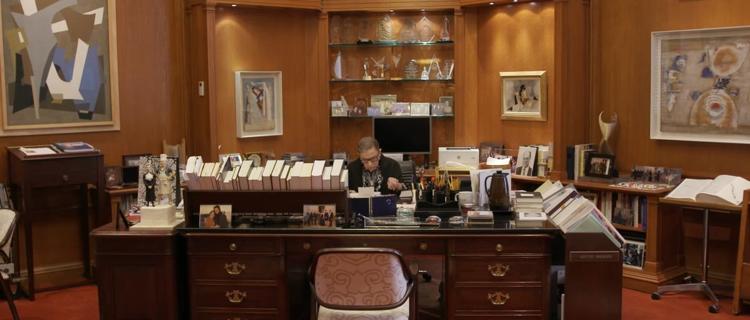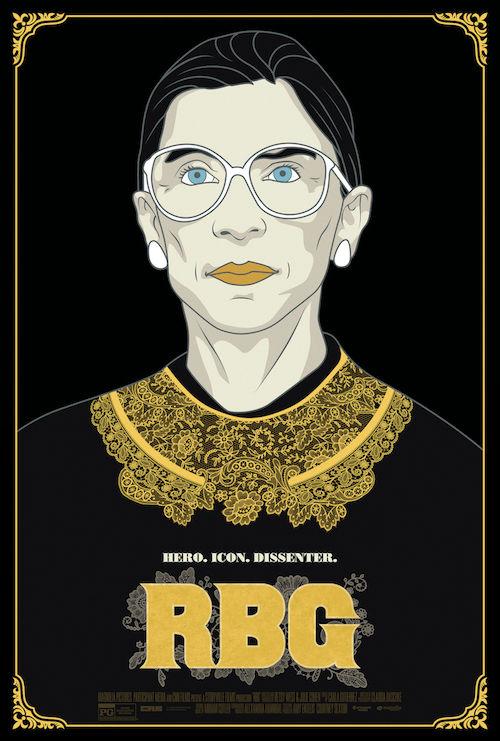 Editor's note: The 'RBG' documentary screens as part of the 15th annual Indianapolis Film Festival. Read more about the festival here.
Early in the documentary about her, Ruth Bader Ginsburg reads a quote by Sarah Grimké, an early American attorney, abolitionist, and feminist who wrote in 1837, "I ask no favors for my sex. I surrender not our claim to equality. All I ask of our brethren is that they will take their feet from off our necks and permit us to stand upright."
Ginsburg's smile as she finishes the passage indicates that she's revealed an essential truth about herself and told you all you really need to know about what has driven her to achieve her historic place in American history. Fortunately, the makers of the documentary spend the next 90-plus minutes illuminating exactly why those words ring so true.
It's a fairly traditional telling of an untraditional woman, beginning with her upbringing by immigrant parents, Russian Jews who settled in Brooklyn. Ginsburg credits them for instilling in her a passion for justice. "They taught me to love learning, to care about people, and to work hard," she recalls.
An excellent student, Ginsburg was admitted to Harvard Law in 1957. The school had only begun admitting women a few years earlier, and Ginsburg was one of nine female students alongside 500 males in her class.
"I became a lawyer in the days when women were not wanted in the legal profession," she explains and illustrates the point by telling a story about her time at Harvard.  Among the "many indignities," as she calls them, the nine female students were invited to dinner at the dean's house. During the course of the meal, he asked each to explain why it was OK for her to take a seat away from a male student.
Ginsburg was married to a fellow law student while at Harvard, and when he graduated the year before her and landed a job in New York, the couple and their infant daughter relocated, and Ginsburg finished her studies at Columbia. When she graduated in 1959, however, "No law firm in New York would employ me."
While teaching law at Rutgers, Ginsburg developed one of the first Gender and Law courses in the nation, and soon after, she began handling sex-discrimination cases as a litigator. Not long after that, the ACLU hired her as part of their Women's Rights Project.
For the next several decades, Ginsburg worked to change laws that branded women as inferior to men. "At that time," she explains, "being a woman was an impediment. We did not have equal rights under the law."
Starting with her first case arguing before the U.S. Supreme Court, where she defended a female Air Force officer's right to receive the same housing allowance for her family that her male peers were given for theirs, "I knew I was speaking to men who didn't think there was any such thing as gender-based discrimination," she recalls. "My job was to tell them it did exist."
Ginsburg won that case and many others that followed. In one of her more genius moves, she took the case of a young father  who was receiving less in Social Security spousal benefits than his wife would have received if he had died. Arguing in front of the Supreme Court that gender bias affects both men and women, Ginsburg won the case in a unanimous vote, and federal laws were changed.
These history lessons about Ginsburg's time as a litigator are the most inspiring, and the personal footage and stories about her love of opera and late husband Marty are the most endearing. Sprinkled in between are interviews with her supporters and detractors, all of whom acknowledge her importance and well-earned notorious stature. "She is the closest thing to a superhero I know," says Gloria Steinem. "She quite literally changed the way the world works for American women."
The RBG documentary recognizes the meme-laden consequence of Ginsburg's popularity in the age of social media, but it also delves deep to show that any adoration of her is well-deserved. Hero, icon, and dissenter, there is no question that Ruth Bader Ginsburg has persisted and emerged victorious.  
For the full schedule and ticket information, visit indyfilmfest.org.