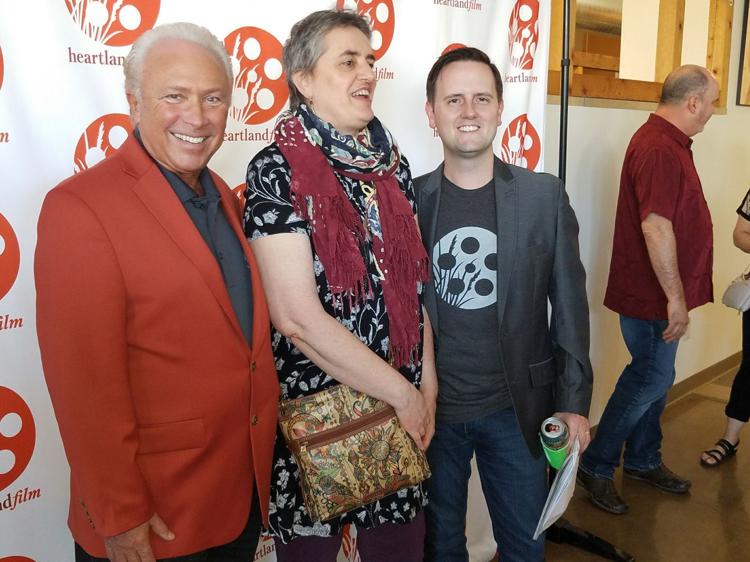 There are many diverse films in the Indy Shorts International Film Festival running July 26-29.
The official selections for the inaugural Indy Shorts International Film Festival were announced June 28 by its presenter, Heartland Film.  
While there are many international films, it's the shorts about Indy that are bound to attract the most attention. (See the blurbs below for the documentary shorts on the popular brunch spot Milktooth and the defunct Talbott Street nightclub.)
One film in particular seems especially timely.
American recounts the story of a 94-year-old Japanese American veteran who was in an American internment camp during WWII, before going to fight in that war. It stars George Takei—who was also imprisoned in one of these camps—best known for his role as George Sulu on Star Trek.
Takei is currently speaking out against Trump's "zero tolerance" policy against undocumented immigrants and comparing it to the policy that imprisoned him and his family.  
The operative word in all of these films—whether it's Zion, a documentary focusing on the life of Zion Clark, a young wrestler who was born without legs, or the animated short The Driver Is Red, which details the abduction by Israeli secret service agents of Nazi war criminals in Argentina in the early '60s—is short films. That is, films under 40 minutes running time.
"It's a focus on short films themselves, and it's an art form that's unlike any you'd see at a feature festival," says Heartland Film President Craig Prater. "I'm always convinced that a filmmaker of short films can do films [other filmmakers] can't do. In fact, feature people get carried away and it goes on forever. Short [film] people, they've got a few minutes to show their craft and they have to do it in that short period of time. Our ongoing joke is if you don't like that short, sit tight, it will be over, a new one will be on there in just another minute."
A definite highlight of the short-film fest is the Indiana Spotlight short films, which will be shown at the Indianapolis Museum of Art at Newfields. (The films must have a director and/or producer with former/current Indiana residency, and most of the film has to be shot in the Hoosier state.)
"There are dozens of short-film festivals, but there are thousands of these standard festivals," says Greg Sorvig, director of film programming. "It's a new trend. Being around for 27 years now for Heartland, we've got to do something fresh, and this is it."
The fact that Indy Shorts is giving out $25,000 puts Indy Shorts at the head of the pack, says Sorvig.  
The short-film finalists chosen by the Heartland jury will compete in the narrative, documentary, and animated categories for the $5,000 grand prizes.
But it's not just about the money.  
Indy Shorts is a qualifying festival for the Academy Awards within the live action and documentary short film categories. The winners of the grand prize for the best documentary and the best narrative short film will each qualify to compete in the short-film category of the Academy Awards.
Here's a sample of selected short films from the Indy Shorts Indiana Spotlight programs, shining a light on filmmakers from the Hoosier state, as well as on films made in the Hoosier state.
Milktooth: A Fine Diner:   
This documentary is a must for any fan of chef Jonathan Brooks' brunch creations. And even if you're not a foodie, you might feel some Hoosier pride in the fact that this Fletcher Place establishment has been recognized as one of the best restaurants in the world by Conde Nast.  
Queens Inside:
The loss of the gay nightclub and drag bar Talbott Street was felt beyond Indy's LGBTQ community. Now this documentary is giving everybody a chance to know about this unique gathering venue that served as a theater in the '60s before it became a gay and drag gathering place.
Destination Park:  
Destitute truck drivers and their fears and frustrations in Trump's America are the focus of this documentary.
Microwave Time Machine:
How can any fan of science fiction pass this narrative feature up? It's about a young scientist who makes a strange discovery. And since it involves ill-advised uses of kitchen appliances, weird stuff is bound to happen.
Left Hand:
Based on a true story, Left Hand is a coming-of-age drama set in 1944. George arrives at basic training and discovers that isn't bad preparation for the war in the Pacific, considering the bare-knuckles boxing and verbal assault common in that environment.
Reversal:
Here's a documentary based on Ian Pomfret, a mixed martial artist from New Palestine dealing with many personal struggles.