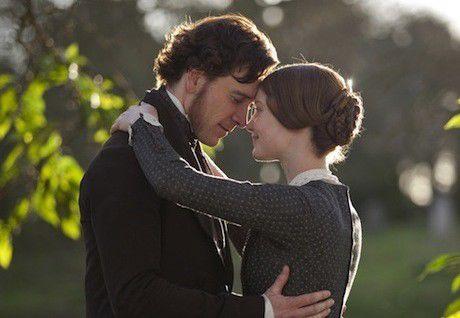 3.5 stars (PG-13)
The fact that director Cary Fukunaga decided to follow his feature debut Sin Nombre with a retelling of Jane Eyre, one of the most well-read and revered novels of all time, is impressive. What's more impressive is just how well the young director has succeeded, aided greatly by Moira Buffini's terrific screenplay and the superb performances of Mia Waskikowska (Jane Eyre) and Michael Fassbender (Edward Rochester).
Charlotte Bronte's classic novel has been translated to film more than two dozen times in the past 100 years, and Fukunaga's version is certainly one of the better. That doesn't mean, however, that it successfully brings the novel's depth of plot and character from the page to the screen in a way that will satisfy even casual lovers of the book.
Jane Eyre is a taut and tense two hours, and that is the film's biggest problem. In cramming the epic story into 120 minutes, Fukunaga, like his predecessors, has to either leave out whole sections or move too quickly. He does the later, and the result is much like being rushed at an expensive restaurant where each course is hurried in-and-out by an eager waiter seemingly hell-bent on breaking a land-speed record getting you to dessert.
Bronte's love story about a mousy 18-year old governess and her dark and brooding 40-year old employer is nearly legendary, as is the dark secret that Rochester keeps hidden in his attic. While it's hard to know how much of a spoiler it would be to reveal the secret of one of the most popular books of the last two centuries, suffice it say that the couple faces some fairly significant and scary obstacles on their way to the altar.
Unfortunately, Fukunaga doesn't give the love story any room to take root, grow or blossom. Months of sideways glances, double-entendre conversations and seething sexual tension that Charlotte Bronte recounts in chapter after chapter, are condensed with great accuracy and efficiency in the film. But it's simply not enough to be believable. The film doesn't provide enough evidence that true love can conquer the distance between Jane and Edward's ages, backgrounds, experiences and worldviews.
Crucial elements are condensed, out of necessity, to expedite the story; but other important elements are glaringly absent. The Gothic mystery of the novel taunted in the film's trailers figures very little in the actual movie, for example, and key scenes from the book are entirely skipped over in setting up Rochester's 'crime', which makes the climax seem, well, less climactic when it arrives.
When Fukunaga's film ends, quite abruptly and differently than the novel, those who have read the book will cringe at a few cut corners, but ultimately be left wishing it didn't feel so much like Cliff's Notes. Those who have never read Bronte's version are likely to think the romance too contrived, Rochester too much of jerk and Jane too much of a prig.
Fukanaga may come close to doing Bronte's novel justice, but he, like so many others, falls short in the end. Sometimes you just can't fit a round peg into a square hole. Until a filmmaker realizes that a novel as expansive and dense as Jane Eyre doesn't stay whole when squeezed into a two-hour narrative, maybe it's best left on the page (or as a BBC mini-series).