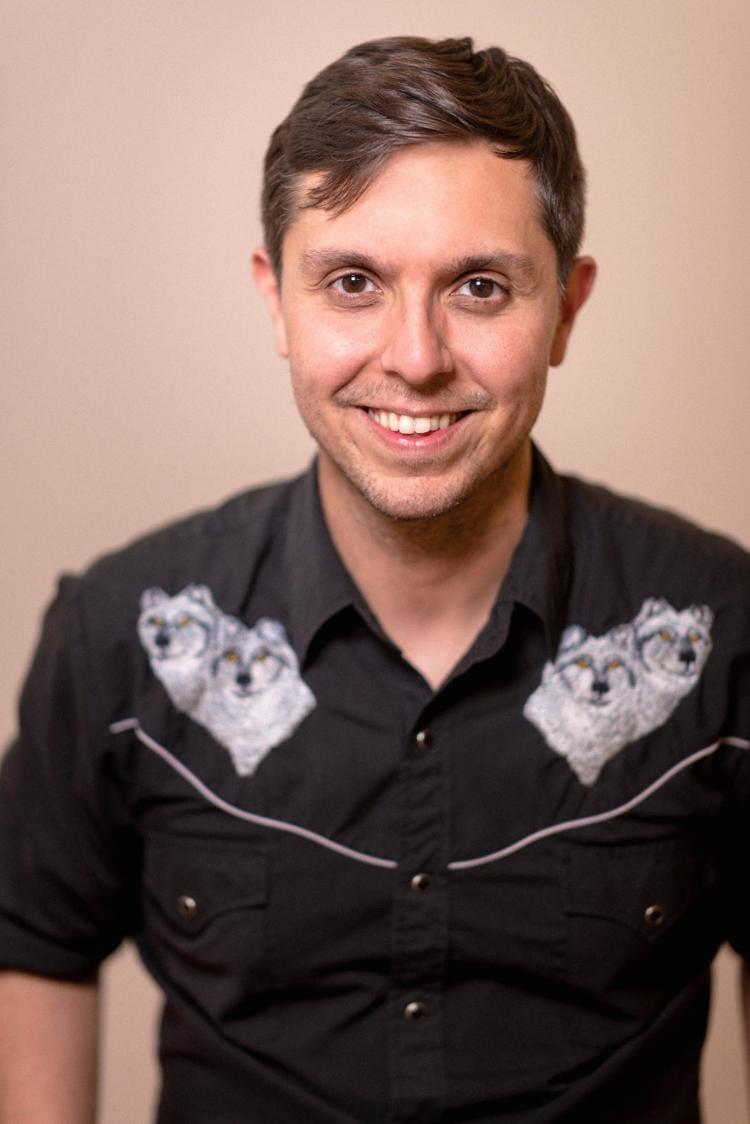 Comedian Tom Thakkar hasn't always been known as Tom Thakkar. For years, the stand-up comic and Bloomington native performed with the name he was born with: Tom Brady.
"I just had a realization one night that if I wanted to be on TV, especially a late night show, there was no way they were ever going to be like, "And up next, comedian Tom Brady,'" Thakkar says. "I'd get so many annoying tweets about it and stuff."
Since making the name change, Thakkar hasn't looked back, as he's steadily risen in the stand-up comedy ranks. Later this month, in fact, Thakkar is set to record a 30-minute Comedy Central Presents special, which will appear on the network later in 2019.
From Jan. 18-20, Thakkar will return to his beloved hometown for a string of shows at the Comedy Attic. Beforehand, we caught up with him for an in-depth phone interview.
NUVO: You mention your family a lot in your stand-up. Where are you originally from, and what was your upbringing like?
TOM THAKKAR: I'm from Bloomington, Indiana originally. I grew up with a really cool mom. She was basically a single parent. I had a stepdad, but he was not really a good guy. So I was raised by my mom and my sister with no dad, as I talk about a lot in my stand-up.
I was also a mixed-race kid in Indiana, which was kind of weird, especially in the part of Bloomington where I was. I didn't have my Indian dad or his family around, so I thought that I was Chinese for a while. I saw a Chinese person at the grocery store, and I just assumed I would grow up and turn into him. [laughs] Because he was the only dark person I had seen besides myself at that point.
NUVO: Did you attend IU?
THAKKAR: I did go to IU. It's weird though. A lot of people think of Bloomington as just being a college town, but I had no idea about the arts scene in Bloomington until I was 19 and lived in downtown Bloomington. With Bloomington, if you drive five miles from the campus, you could be anywhere, and it doesn't feel like a college town. But when you're in the city, it definitely feels like one. So I lived in two different Bloomingtons.  
NUVO: When did you first get involved with the comedy scene there?
THAKKAR: I got involved pretty early on. I was super into comedy growing up, specifically stand-up. I'd watch Comedy Central Presents all day when I could. I didn't know what it was, but I'd quote jokes to my buddies in high school. I had a friend specifically tell me that I should do stand-up, and I was like, "I don't even know how you do that." And then, Mr. Kennedy at Bloomington South had me do stand-up at the end of class for extra credit, along with a few other people. I was a super shy kid, so it was a weird thing to do. I needed someone like him to push me into it. It went fine enough, where I was like, "I wish there was a way to do this."
I started going to college. I wanted to be a doctor at that point, so I was taking bio classes and stuff like that. I was just like, "If I want to try stand-up, it's now or never." But there was nowhere to really do it in Bloomington at that point, so I just signed myself up for an open mic at Crackers in Indianapolis. So I did that, but there was nowhere to really keep doing stand-up in Bloomington at that point. I kind of just quit for a while, and I did improv at IU for a couple years because it was the only real option I had. I did that until the Comedy Attic opened.
When the Comedy Attic opened, I tried it [stand-up] a couple times. I bombed, and I was like, "I hate stand-up." Then, a buddy of mine was like, "Look man. I really want to try stand-up. Could you go with me to the Comedy Attic." I was like, "Fine. I'll do it one more time." That one time I had a good set, and I've never looked back since then.
NUVO: In looking at where you are now, how important were the Comedy Attic, Limestone Comedy Festival, and Bloomington's comedy scene overall to your coming up as a comedian?
THAKKAR: I wouldn't be a stand-up comic if it weren't for the Comedy Attic, and Limestone too. Limestone was a nice yearly benchmark. We all wanted to kill it at Limestone. It was the only time the industry was coming to Bloomington, including agents, bookers, and stuff like that. That was a good thing to have. I wouldn't have gotten to do Conan if it wasn't for that festival.
The Comedy Attic specifically gave me a place to go every week to watch great comedy that I could never have seen before in person. I would've had to drive hours to see the roster Jared put together. You had access to people who would freely give you advice [at the Comedy Attic]. I met so many cool comics who just gave me advice, and it really shaped my career.
Jared is also the most supportive comedy booker there is. I don't know anybody who cares as much about the comics that come from that scene. If you come from a scene where the club is supportive, that can be a huge bonus. It's just nice to have a someone who wants the comics to do well, who wants them to work, and who wants to see them grow and eventually leave. Jared is great about that. I definitely wouldn't be where I am without Jared.
NUVO: I know that your original name is Tom Brady. When was it that you decided not to go by that?
THAKKAR: In January 2017, I opened for Mike Birbiglia at the Comedy Attic, and I spent a weekend with him. The reality was that I had wanted to change my name for years. But I'm a very indecisive person, so it was hard to pick a name and go with it. I tried different things. I tried Thomas Brady. I tried Thomas Allen Brady. I tried switching it around as much as I could without actually changing my name, but it wasn't making a difference.
So I already wanted to change it, but then Mike Birbiglia was so adamant that I change it. He was like, "Look man. You haven't been on TV yet. It's not too late. You're funny. You have a future. If you didn't, I wouldn't say this to you, but you should change it." He even went on Bob & Tom and talked about how I should change my name.
I left that weekend. I had a 12-hour drive back to New York, and I spent the entire drive thinking about the name. I felt so weird picking a random name, so I just took my father's last name. It's a weird thing because my parents were never married. But I'm half Indian, and I liked the idea of that being reflected in my name. Tom Brady didn't feel like it really captured my life. [laughs] Tom Thakkar does.
NUVO: I'm NUVO's music editor so your podcast discussing bands that society loves to hate is particularly hilarious to me. Talk to me about the start of Stand By Your Band and why it was something you wanted to do?
THAKKAR: I had a podcast before called Girls' Night, where we did bits and it was really fun and silly. But it's hard to get an audience of some kind when you don't have a hook or a premise. My buddy and me who do Stand By Your Band were on a road trip. And at the end of it, when we were running on fumes, we wanted to hear music that is not exactly the coolest music.
I've always defended Coldplay. I feel like they've gotten a bad wrap.  When they played the Super Bowl, people were like, "I can't believe this," and it annoyed me. So I was like, "I really want to hear the other side of this." To me, it felt a little hacky to make fun of these bands. I liked the idea of taking another angle. I wanted to hear people talk about something from a positive perspective—especially something that gets made fun of most of the time.
I also like talking to comedians, and I wanted to get a new conversation out of them. With a lot of podcasts, it's just an interview. Like, "Where did you get started?" I wanted a new angle to talk to my friends.
NUVO: When you come to the Comedy Attic later this week, you'll be performing you Comedy Central Presents special. You mentioned that you've been a fan of the show since you were young. When you got the call to be a featured performer, what did it mean to you?
THAKKAR: It meant everything to me. It's really crazy. I feel like I'm dead to be honest. I don't feel like my life is real right now. Eight years ago, I had three goals. I wanted to perform at the Comedy Cellar, I wanted to do Conan, and I wanted to do a Comedy Central half-hour. Now, those three things have happened, and I have to make new goals.
NUVO: Now that you don't live in Bloomington, what spots are you excited to revisit when you come back for these shows?
THAKKAR: Bloomington is one of my favorite places in the world. If you could make a career the same way you can in New York but in Bloomington, I would live in Bloomington because I really do love it there. I make fun of Indiana a lot in my stand-up, and I think most people from Indiana know what I'm talking about. It comes from a place of love in the same way that I can make fun of my family but someone else can't. When people shit on Indiana to me, I'm like, "C'mon. You haven't even been there."
But I really love Bloomington, and I have a ton of favorite spots. I'm definitely going to be hanging out at The Bishop. It's my favorite bar in the world. I always go to Upland. I'm definitely gonna go to Landlocked. Michael's Uptown Cafe is great. There's Darn Good Soup. There's so much good stuff. I'm really psyched to go back.