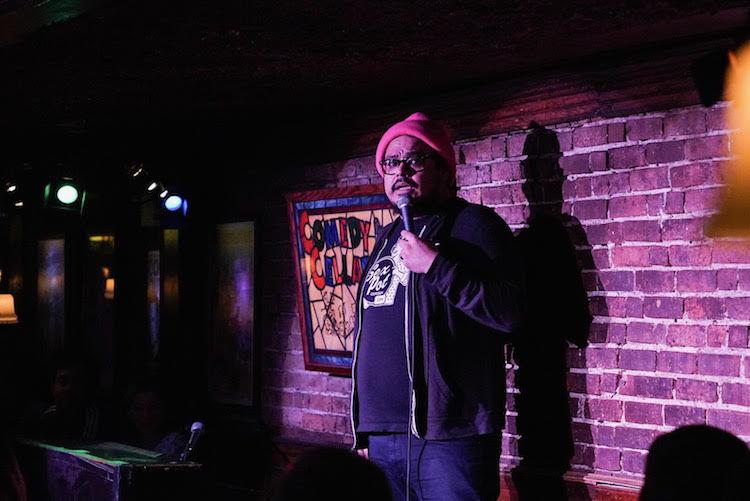 It's fair to say that Ramon Rivas II has been around the comedy block a time or two.
Long before making his television debut in 2016, the Ohio-born comic started his own comedy festival in Cleveland (Accidental Comedy Fest), where he saw things from a booking point of view. Having since relocated to L.A., Rivas II can now take a step back and reflect on the current state of comedy.
"It's an interesting time where the old greats and emerging generation are sharing creative space, and that's accelerating the conversations around comedy and what's being done within the form/craft," he says.
Rivas II visits State Street Pub today (Feb. 12) for an intimate show, headlining a bill that also features Cam O'Connor, Blake Hammond, Wille Bostic, Bridget Denman, LeMaire Lee, and Dorian Vasquez. Ahead of the show, NUVO comedy writer Seth Johnson caught up with Rivas II for a quick email interview.
NUVO: My family is from a town near Akron, Ohio, so I'm not stranger to smalltown Ohio. Tell me a little bit about Lorain. What was it like growing up there as a Latino?
RAMON RIVAS II: Lorain is known as "the international city" and had a very similar composition to NYC when I was growing up (when the steel and auto industries were still vibrant). Those all slowly died over the course of my life, so Lorain currently has more Dollar Generals than schools. But being Latino there was pretty good. I had a bevy of different cultures around that I really took for granted.
I got to college and met [white] people who had never met a person of color in their whole life! So Lorain may not have much industry left, but [it's] still chocked full of a broad range of humanity that really gave me a leg up as a person navigating the real world.
NUVO: In what ways has growing up in the Midwest had an impact on your comedy?
RIVAS II: It definitely made me more pragmatic and gave me a work ethic to absorb. People in the Midwest work hard without any purpose. [It's] just one foot in front of the other.
NUVO: I was actually at the Dulcé Sloan show in Indy, where you opened up for her. Tell me about the bond you two have. How has Dulcé helped you get better as a comic?
RIVAS II: I met Dulcé a few years ago when we were both moving to L.A., and we immediately vibed. Dulcé and many other friends help me become a better comic by constantly raising the bar, taking chances, and elevating within the game. Dulcé specifically has helped me a lot by taking me on some of her tour dates and paying for our snacks when we hang out.
NUVO: What did you enjoy about your experience acting in Broad City?
RIVAS II: It was a cool opportunity. They were looking for New York talent, but I sent in a self-tape from L.A. and wound up getting the spot. It's a very small appearance, and I "lost" money going to do it due to the last-minute plane ticket (and having to cancel a gig to make it to New York in time). But it's cool to have been able to be on one of the best shows of modern television. It's definitely one of those shows where you see a lot of comics in small roles that matriculate into cooler things, similar to Seinfeld/Curb Your Enthusiasm. [It was a] real honor to be a part of, even in the tiny way I was involved.
NUVO: Tell me a little bit about Accidental Comedy Fest. Why was that something you started?
RIVAS II: I was running showcases and mics around Cleveland so that I could perform more. Accidental grew from me programming a comedy stage at an existing music/arts/tech fest that has grown and hermit-crabbed from that fest under a bridge to independent venues around Cleveland. The last few years, [we] have been able to call Hilarities 4th Street Theater as host and co-producer of the annual festivities.
It serves as a big signal flare to the city and country that there's something really cool and special happening in Cleveland's performance art scene. Every year, a mix of curated headliners, invites, and comics picked from open submissions converge in Cleveland on Labor Day weekend at one of the country's best clubs...all because I put shows together and stubbornly love Cleveland.
NUVO: I often like asking comedians their thoughts on the current state of comedy when it comes to equal representation. What are your thoughts on this? Has the world of comedy gotten better about inclusion since you first started doing stand-up?
RIVAS II: More and more people are doing comedy now, which raises the talent pool overall. For example, when I started comedy in Cleveland 11 years ago, there was one weekly comedy open mic that struggled to maintain an audience; let alone five different comics a week.
Fast forward to now, and there are open mics and showcases every night of the week in Cleveland. The weekly Wednesday open mic at Lakewood Village Tavern boasts sign-up numbers from 35-60 most weeks. So now there's more women, comics of color, and queer comics than when I started, but also a lot more straight white dudes.
There's a lot more unique and dynamic points of view developing, but also a lot of stale redundant stuff. As someone who books/curates shows in addition to performing, I'm always trying to put together the best show possible for the crowd. Even if the show is free, it needs to be worth their time
So, as a show producer, I want the crowd to enjoy themselves, I want to be able to take the whole crowd into account, and I want to make sure there are a variety of perspectives being shared. Now that the scene has grown so much, it's much easier to book a well-balanced show where I'm not the only diversity.