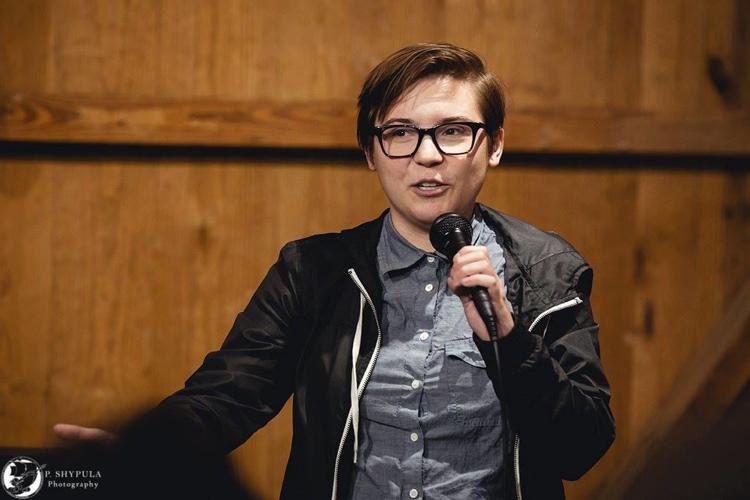 When Katlin McFee first started doing comedy in Indianapolis, she noticed something was missing.
"I personally am a queer comic, and when I started comedy in Indianapolis there was no LGBTQ showcase," says McFee, who is affiliated with the Indy-based stand-up group Rocketship Comedy. "There were some all-woman showcases, but there wasn't a regular queer showcase."
McFee decided to do something about this and put together her first all-queer comedy showcase, calling it LGBTQLoL. Not surprisingly, the show was a hit.
"It was incredible," McFee remembers of the first show she put together a year ago at Thirsty Scholar. "It was so packed that I'm pretty sure we violated fire safety codes."
Having continued forward with this momentum, McFee has organized the third installment of LGBTQLoL, slated for Friday, Dec. 21 at State Street Pub. Set to be a quarterly show at State Street from here on out, LGBTQLoL features a lineup of Midwest comics this time around, headlined by Columbus, Ohio's Brooke Cartus.
At one time an opera singer, Cartus originally moved to the Midwest to attend law school. Eventually, however, she decided to give stand-up comedy a try, which led to her coming out.
"When I first started telling jokes, I was still in the closet," Cartus says. "And then finally, another comedian pulled me aside, and she was like, 'Sweetie, we know. You don't have to hide it.' So [I found] comfort in the Midwest comedy scene to be myself."
Having now written for Huff Post: Gay Voices, Cartus approaches stand-up a little bit differently than some might. "I want to make people learn, feel, and laugh all at once as much as possible. But not about the emoluments clause," she says, laughing. "We keep it light."  Much like other all-queer showcases she has been a part of, Cartus believes LGBTQLoL will be a uniquely entertaining night full of laughter for all.
"I think sometimes people are like, 'Oh, it's going to be about gay stuff,'" she says. "Well, there's going to be some gay stuff, but it's about our identity and our lived experiences."
Note: Those who attend LGBTQLoL also receive free admission to a second night of comedy at State Street Pub the following night (Dec. 22), where McFee will present a sketch comedy show she's conceived.